This man spent over a year proposing to his fiancé by recording sweet messages in an adorable proposal video
When Josh Schmitz decided he wanted to propose to girlfriend Danielle Roesch he knew it had to be big. Over the course of a year the hopeless romantic films himself holding up a white board with a sweet message on it each day. Although a large percentage of the shots feature Josh at work, he also manages to record whilst with Danielle.
WGN TV reports the Chicago man had one close call when he dropped the board in front of Danielle while she was cooking. Thankfully she didn't notice!
The video which is set to first dance favourite, 'Thinking Out Loud' features messages such as, 'will you marry me?', 'you make my life so much better' and 'you are my one and only'.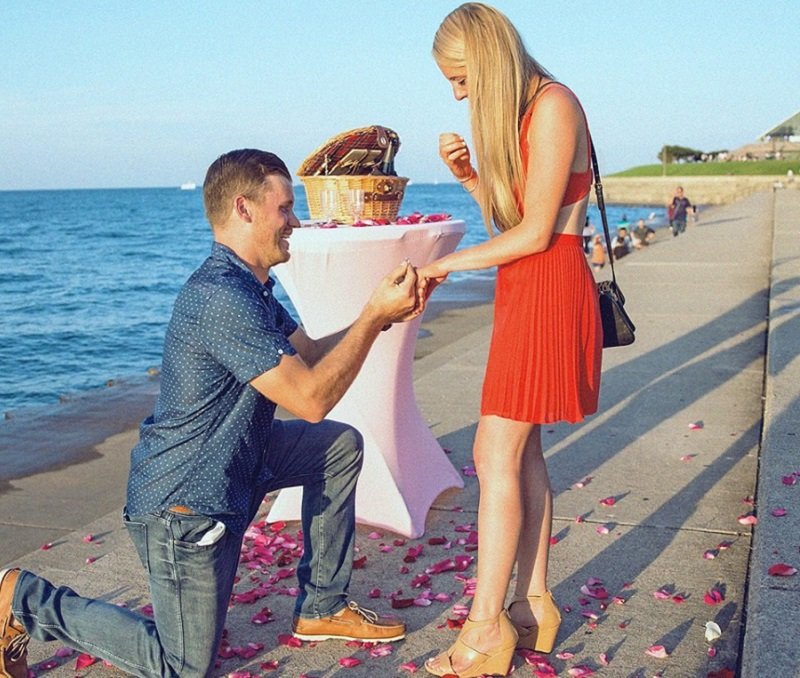 We especially love the beginning of the video when Josh says,
I can't wait for it to be a year from today.
On the day of the proposal Josh worked closely with Danielle's friends and family, to arrange a huge surprise for the bride-to-be. He wanted the final proposal to be in Adler so he asked a friend to send a fake invitation to Danielle inviting her to an event. The invitation advised 'cocktail attire' to ensure Danielle would look the part for her grand proposal.
When Danielle arrived she watched the video until the final message says,
Meet me down by the lake! I have a question to ask you.
The lake in question was Lake Michigan, a significant detail that Josh had orchestrated. The couple had met on Tinder and Danielle's profile picture at the time had been a photograph of her at Lake Michigan so Josh wanted the proposal to be in the same spot!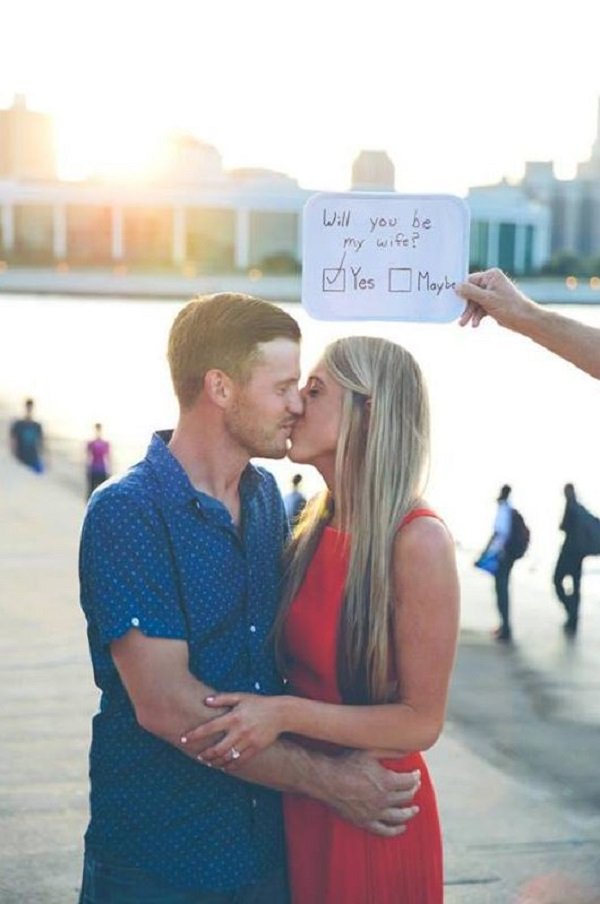 At the lake, with the city skyline in the background Josh popped the question among scattered rose petals. Danielle also checked yes in permanent marker on the white board.
The couple then celebrated with over 50 of their nearest and dearest some having travelled from as far as London and New York for the event.
Featured image credit- Danielle Roesch Facebook