Having little ones at your wedding can sometimes be tricky, as adorable as they may be! From tantrums, strops and cheeky behaviour, the Royals are no different…
At the wedding of Pippa Middleton and James Matthews on Saturday, Kate (The Duchess of Cambridge) seemed to be on full mummy duties in looking after Prince George and Princess Charlotte as well as the six other little members of the bridal party. Kate was pictured shh-ing the little page boys and flower girls and keeping a close eye on the group to make sure the boys and girls were on their best behaviour. However, there was one particular page boy who was being a cheeky chap in the entrance to the ceremony, pulling faces and gestures to the cameras, prompting Kate to have a stern word!  Boys will be boys as they say, and he certainly intended on having a good time regardless of whose wedding it was!
https://www.instagram.com/p/BUZsO0iA7Im/?tagged=princegeorge&hl=en
Although with the bridal party looking so adorable in their bespoke Pepa & Co outfits, it would be impossible not to forgive them all for their silly antics!
Cheeky Prince George was also seen getting a telling-off from mum Kate, after it appeared he intentionally stepped on auntie Pippa's dress, had a tantrum and began sulking. It seemed the hour in church was a little too much for the three-year old prince who was tearful in leaving the ceremony. Nonetheless, he seemed to pick back up to his perky self within a few minutes and was seen smiling and waving to the crowd. Kate did a great job in keeping the kids entertained during the ceremony despite a few tricky situations!
Although we love having little ones at the wedding to bring fun and spontaneity to your big day (think twirling dance moves, cute photographs and hilarious one-liners), we look at top tips on how to handle having lots of kids at your wedding day if you have decided to invite families for both the ceremony and reception…
Supply Tricks & Treats
A must-do for any wedding reception with children, we suggest having colouring-in books, puzzles and stickers to occupy little minds. Try matching the entertainment packs to your wedding theme and colours so your wedding photographs still look sophisticated. It's a win-win!
Keep the ceremony intimate and romantic
If you keep the ceremony sacred, you can relax a little for the reception. The only tears you will want during the exchanging of vows will be tears of love and happiness! If your church has a side room, a new idea has seen brides fill it with toys and entertainment to occupy distracted or cranky children. You could also consider placing parents at the front of the church at the end of the pew so they can easily get in and out and make a quick exit if their child starts crying.
Practice their roles
Ask the parents of the flower girls and page boys to help them practice what they're going to be doing on the big day, whether it's at an official rehearsal or in their spare time at home.  This way it won't be unexpected and they won't get confused or overwhelmed on the day. Also keep it simple and age appropriate for your mini bridal party, keep younger kids lining the aisle with petals and leave any readings to older kids.
Have Kids menus & munchies
To avoid any hunger meltdowns, having child-friendly snacks on hand will keep those tantrums at bay! You could also consider a child friendly menu or 'lunch boxes' to keep them amused during meal time and throughout the speeches. Children naturally have a shorter attention span so every little thing helps!
Entertainment
If you've got a bigger budget and a venue with lots of room, some event firms can host kiddie parties at the venue to keep them occupied. It could be a bouncy castle, a treasure hunt, magician or a crafts based activity. Children are the best behaved when they let off some steam!
Mini members of the bridal party
Also consider how comfy the clothing is for your flower girls, page boys or ring bearers. Anything too hot or itchy and you run the risk of a cranky child.
Ultimately, it's down to the parents or carers of the children invited to your wedding to keep them happy and entertained , many parents are prepared armed with their child's favourite toy or an iPad for the older ones to entertain them during 'boring bits!'.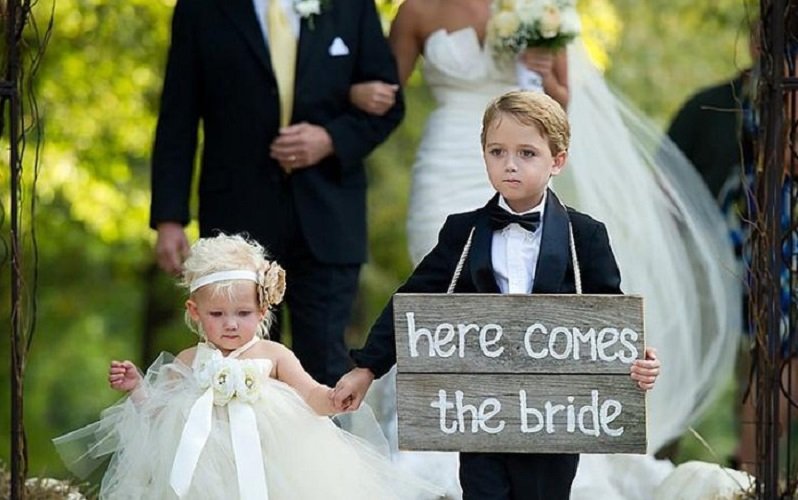 Set Featured Image Credit: Pippa Middleton Wedding, Mario Amera, Flikr