You have probably kissed your man a million times before your big day, so you never gave much thought into that all important first kiss as husband and wife. No big deal, you've got this! That is until the big day arrives, your tummy has 'wedding butterflies' and all eyes are on you…
Contending with large dresses and trains, conservative relatives and anxiety in from of a large crowd can be overwhelming for many couples, prompting them to worry about that first kiss at the altar. This has seen many brides and grooms result in awkward fumbles and the bumping of heads trying to lock lips as man and wife- It can easily happen!
We have put together tips on how to get over first kiss awkwardness and make it as natural as possible, even in front of an audience…
Practice body movements
It seems silly, but if you don't practice you could find yourself with dangling arms leaning too far forward to kiss your spouse. Avoid this awkward 'teenage kiss' look by naturally embracing each other first of all, such as romantically holding each other's hands before going for a kiss. Remember to kiss a little longer than usual (but not too long!) so the photographer can get the perfect shot.
Ask your officiant to step aside
If it makes you slightly uncomfortable knowing someone would be right there as you share you newlywed kiss, in the rehearsal politely ask your minister or registrar to step aside, this way you won't have anyone in the background or 'photobombing' your first kiss photographs!
Don't over think it
Although practice makes perfect, the first kiss should look and feel natural to you, as well as the audience in the congregation.  Stay true to yourselves and do what makes you comfortable, think this way as you can alleviate any unnecessary pressure on a joyous occasion!
https://www.instagram.com/p/BULfUdVgxP8/?tagged=firstkiss&hl=en
Keep it sweet and polite
Avoid awkward lipstick smudges by keeping the kiss delicate and loving. Enough to be more than a peck, but not too much to make conservative guests uncomfortable! Although there's nothing wrong with passion between two newlyweds, keeping it PG will ensure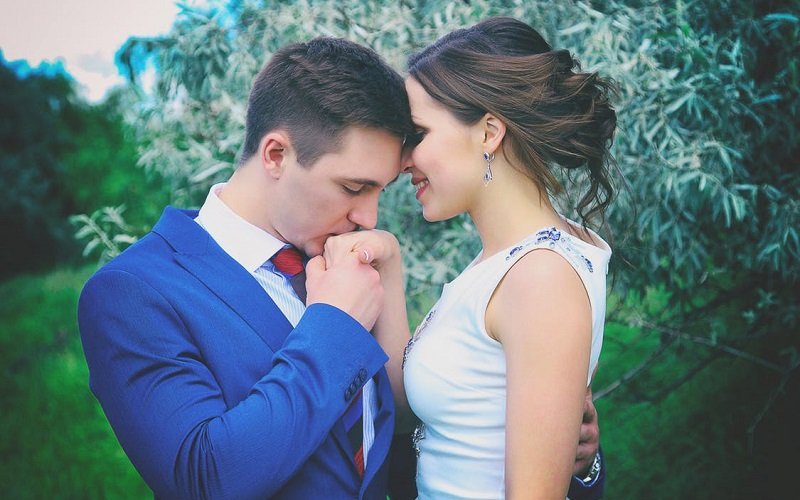 When it comes to it, there is no right or wrong way to share your first kiss as newlyweds. Stay true to yourselves, and keep it as sincere and natural as possible. After all, you are sealing the deal as husband and wife, a joyous and romantic exclamation of love. Then you can officially say you are married and continue the celebrations!
Set Featured Image Credit: Pixabay