Where would you be going? Facebook
5 Irish men are travelling 3000 km to attend their friend's wedding in China. Have a look at our tips for happy wedding guests who have travelled from afar!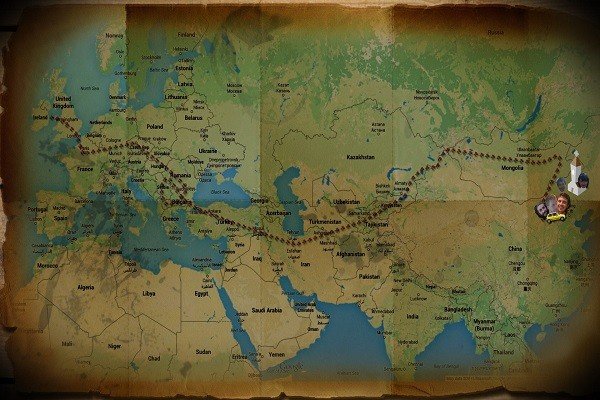 Three men from Ireland are driving the 13,000km from Nenagh to Beijing to attend a childhood friend's wedding. The trio expect to take nine weeks driving a route which will take them through Europe, The Middle East and Russia before finally arriving in China. Two of the three travellers will be groomsmen in the wedding party.  The group will also be fundraising along the way for LauraLynn a children's palliative care charity.
The boys state on their website that they're taking the extensive journey for adventure, craic and fundraising but at an initial outlay of around €3000  each, this wedding is proving to be an expensive adventure for the trio! Although the boys are clearly doing it for fun, sometimes as Brides-to-be we get so caught up in the little details of wedding planning that we forget what a costly exercise our own weddings will be for our wedding guests.
5 Tips for Happy Wedding Guests
Hotel discounts
When choosing your wedding venues research the type of accommodation that's close by and compile a list to help your friends and family. Speak to Hotels and Guest Houses and inquire about group bookings as many offer discounts for a block of rooms being booked together.
Have a weekend wedding
Having a weekday wedding is a great idea for Brides on a budget, as often the costs of suppliers and renting a venue can be slashed in half by holding your wedding on a non-traditional day.  However, float this idea amongst the people that you most want to attend and give them plenty of time to book the day off work. Don't throw a Bridezilla style strop if some can't make it, asking your loved ones to take at least one day of work and add in travel and accommodation expenses can make it quite a pricey venture!
Refreshments
We're not suggesting you have an open bar because who can really afford to have all their Uni pals knock back endless glasses of champagne on their dime? Try to offer your guests the best drink package you can manage and work with your venue to create an affordable welcome drink. A fruity punch or a spiced mulled wine are yummy ideas for a welcome drink that cost much less than the more traditional champagne!
Provide transport between venues
When booking your ceremony and your reception venue, think about the ease which guests can travel between the two. Lots of couples are hiring bus companies to ferry their guests from their ceremony to their reception which means everybody travels together; nobody gets lost and they look like a scream! If extra transport isn't in your budget, include a detailed map of directions to the venue in the order of service and try to arrange a responsible family member to get a convey going with those who aren't local!
Be gracious
Weddings are an expensive business for guests with travel, hotel stays, drinks and a new outfit all adding up. Be gracious about wedding gifts; treat them as a welcome bonus but not a necessity. Wedding etiquette states that a guest has a year from the wedding to purchase a gift, which not only takes the pressure off your loved ones but imagine how lovely a surprise gift six months after the wedding would be?
Keep up to date with the lads progress on their Facebook page: Wherewouldyoubegoing?