Tissues at the ready, the heart warming vows this groom makes to his three-year old stepdaughter are simply adorable in this wedding video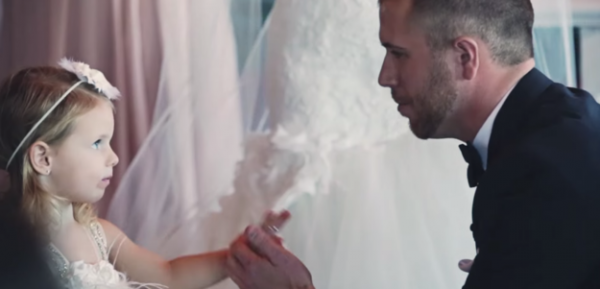 A video of NASCAR driver Brian Scott's wedding vows to model Whitney Kay and her young daughter has just gone viral. The couple who were married in January 2014, celebrated their perfect day in front of friends, family and Whitney's daughter from a previous relationship.
*watch the video – the best bit starts 4.13 seconds in***
The video, set in the snow covered mountains in McCall, Idaho shows scenes of the Bride and Groom getting ready on the morning of the wedding, interlinked with footage from the ceremony.
The camera portrays a tearful Whitney reading a letter on the morning of her wedding, that her future husband has written for her. In the note, he states how intense his feelings for her are and how at the beginning their relationship he felt insecure at his ability to be a good father to Brielle, Whitney's daughter.
A series of tear-jerking vows see the charming newlyweds promise to love each other forever.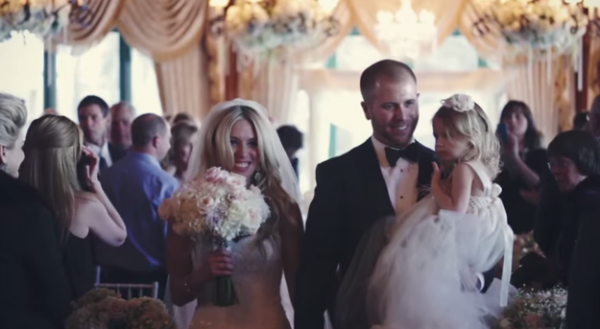 Dropping down, so that he's eyelevel with the 3-year old the Groom says, 'Brielle can I tell you something?'.
Choking back tears, he makes promises to:
'always hold her hand, skip with her down the street and bring comfort to her life'
The camera pans the congregation, all of whom are wiping tears from their eyes as he says,
'I vow to show you how a man should treat a woman in my relationship with your mother.'
He finishes by declaring,
'And above all else, I vow to protect you, care for you and love you forever.'
There is not a dry eye in the room at this adorable scene.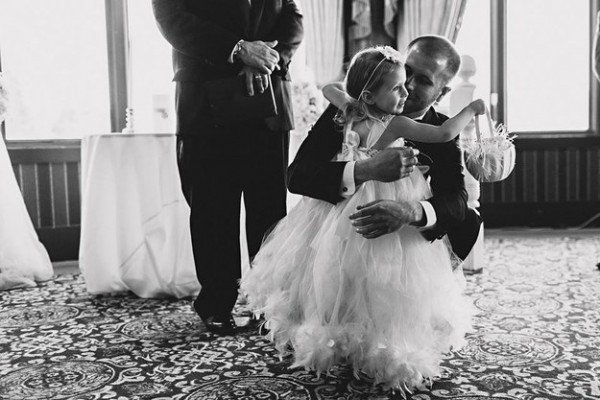 It looks as if the Bride has got everything she ever wished for, as in her own vows she says, 'I prayed to God every night that he would find the perfect man, to not only love me, but to love my little girl and he has more than answered my prayers.'