A couple asked their guests to celebrate their love by delivering random acts of kindness as a wedding present
Newlyweds Leigh McManus and James Clark Jr. came up with a novel way of celebrating their love for each other and 'sharing the love'. They sent out wedding invitations requesting that their guests give random acts of kindness as a wedding present to them. Leigh said:
We invited people to participate if they felt so inclined. We asked if they did participate to email or text me or use the hashtag #kindleigheverafter.

"They really had a lot of fun with it. I find that every time someone does a random act of kindness, they're amazed at how much they benefit as much as the person they're helping."
The couple tied the knot on September 26th and one month on the newlyweds are still seeing the impact of their gesture, as details of random acts of kindness continue to be shared on social media by their guests.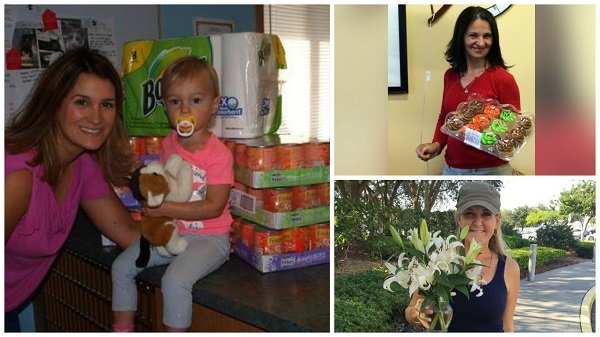 Bridesmaid Emily Schairer bought pet supplier for a local animal shelter. Other good deeds include donating supplies to a women's shelter, buying lunch for a stranger, delivering donuts to a nail salon, and baking biscuits for the delivery man. Leigh and James donated their wedding flowers to a nursing home and a local hospital. Leigh added:
It was just a way to celebrate the love of our wedding. It was nice to have such a big chapter of our lives not only create love and happiness for us and for our guests, but for others as well."
Leigh sells inspirational artwork on Etsy and is known to do random acts of kindness on a daily basis. WJ think her idea could definitely give the traditional wedding gift list a run for its money!
Featured image credit: abcnews.go