All brides want their big day to be perfect, and most of the time, it generally does! But as the day has been and gone, many brides and grooms reminisce about their wedding day and what they could have done differently, if given the chance.
No matter how meticulously it has been planned, sometimes there are minor details that you either miss, such as missed photo opportunities, or DIY decorating disasters. From getting a wedding tattoo, to having #dressregret we take a look at celebrity wedding regrets…
Sarah Jessica Parker
Regret: Wearing Black
Actress Sarah Jessica Parker revealed to Harper Bazaar that she only has one regret when it comes to the wedding of her and her husband of 20 years, Matthew Broderick- her wedding dress!
The style icon decided to opt for a low-key black wedding dress, she says "I was too embarrassed to wear white, and both Matthew and I were reluctant to have people pay so much attention to us". The couple invited friends and family to what they thought was a party- only to reveal that they were going to take their vows.
However, she says she regrets not having a proper wedding celebration in a traditional bridal gown, stating "I'd wear a beautiful, proper wedding dress, like I should have worn that day"… she also said to Martha Stewart Weddings in 2015 saying she'd love a white "Oscar de la Renta feel, pockets below the waist, a very fitted bodice, a huge skirt, in taffeta and duchesse satin". With the couple's wedding anniversary approaching it would be the perfect occasion to rock a white dress the second time around to renew their vows.
Blake Lively
Regret: Burning Her Wedding Dress
Our favourite celeb couple Blake Lively and Ryan Reynolds married in a South Carolina reception in September 2012 and when reminiscing of their wedding, Blake spoke to Vogue Magazine about one minor mishap on her wedding day. She revealed that her custom-made Marchesa wedding gown got burnt! She says "My wedding dress has a big burn mark from one of the sparklers… It was just so heartbreaking… Later my dress was hanging up and Ryan said, 'Isn't that beautiful?' and he pointed to the burn. He said, 'You'll always remember that moment…' Now that's my favourite part of the dress"
Lauren Conrad
Regret: Taking On Too Much Wedding DIY
Fashionista and reality star Lauren Conrad is a self-confessed Pinterest addict (like us all we must admit), where she loved nothing more than getting stuck into planning and decorating her wedding through the use of DIY. Lauren decided to do to some of her own floral arrangements for the wedding reception, and things got so messy that she had to get husband William Tell to run to the local farmers market for flowers on the morning of the wedding for more! Speaking to Glamour Magazine, she says "figure out where your strengths lie and go there… don't do it all because it's very difficult"
Katherine Heigl
Regret: Letting Her Beau Go Skiing
Before their impending nuptials, Katherine Heigl's husband Josh Kelly insisted on going on a ski holiday. Katherine reveals that she warned Josh saying "I don't think you should ski" to which he replied "No, I'm a good skier- I'll be fine". That day, of course low and behold he broke his nose going over a bump!
Note: this is why the bride is always right
Kaley Cuoco
Regret: Getting A Wedding Date Tattoo
Kaley Cucuo was married to Ryan Sweeting for 22 months, when the said news that they had split surfaced. Kaley and her ex-beau however decided to get matching tattoo's on the day of the wedding with the date in roman numerals! According to the Daily Mail, Kaley says "The tattoo was, yeah, a mistake, had to cover it…Note to self—do not mark your body with any future wedding dates,".
https://www.instagram.com/p/vTysoSLoCX/?tagged=kaleycuocowedding&hl=en
Chrissy Teigen
Regret: Not Having A First Dance
Marrying one of the biggest music icons John Legend would surely mean you would have an epic first dance song choice and waltz? Not for Chrissy Teigen, speaking to the Insider, she says "I do have one regret…not having a first dance. I refused to have a first dance because I can't dance and don't like dancing in front of people. But everything else was just perfect,"
David Beckham
Regret: Wearing A Purple Suit!
David and Victoria Beckham set the precedent for the ultimate luxurious wedding for their nuptials in 1999- bringing in a new era in their 'Beckingham Palace'. Although all the rage back then, David and Victoria were not ones to shy away from attention and all things wacky and wonderful- the couple took to the reception in matching deep purple outfits!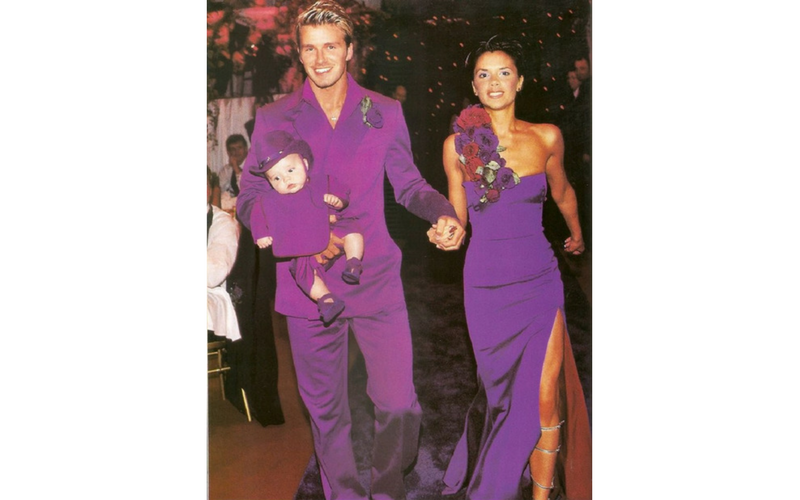 David says when speaking to BBC Radio 4 "Yeah that was bold. Victoria's was pretty nice. Mine? What was I thinking? I looked like the guys out of 'Dumb and Dumber' when they went to that party and wore those ridiculous outfits. I even had a top hat in purple, as well. Unbelievable!"
Brides: take note! Looking back at our celebrity weddings and their big day regrets, we have come to the conclusion that you could plan from now until forever and still wish there was something you could change ! Our advice is to plan well in advance and enjoy the process- if a little something goes wrong it will at least be a funny memory to always look back on.
Set Featured Image Credit: Flikr