Are you are looking for some hen party inspiration? If so check out the following nine activities all of which are available in Ireland…
Rally Driving Experience
Put pedal to the metal at the Rally School Ireland's Rally Driving Experiences. Race the other hens in a Subaru Impreza Turbo, BMW 325i or another speed mobile, accompanied by an experienced instructor.
After the excitement of 'rallying er out tight' around a dusty circuit, you may want to relax and enjoy the serenity of a spa experience. Luckily there are lots of hotels locally offering exactly that, including the Hillgrove Hotel, Leisure and Spa, and the luxurious Castle Leslie Estate, both of which are 15 minutes from the circuit. Rally School Ireland will be able to advise you on the accommodation nearby and the exclusive 'Rally Pamper Break' with Castle Leslie Estate.
Location: Gola, Scotstown, Co. Monaghan
Cost: Half day experience from €120 pp.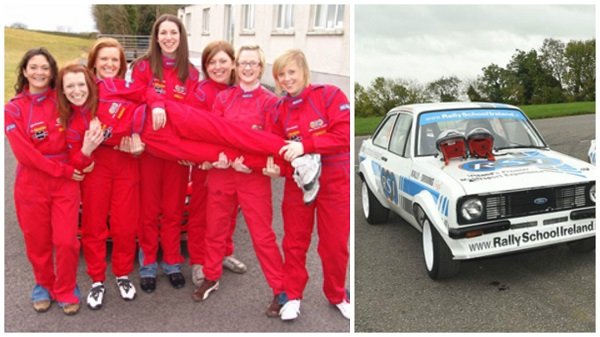 Dublin Bay Cruise
Hop aboard Dublin Bay Cruise and go for a leisurely trip around Ireland's capital taking in sights including Dalkey Island, Joyce's Martello Tower and the Baily Lighthouse.
Location: Dublin Bay Cruises, Dublin City, Dublin
Cost: From €22 pp
Cow-milking
Yes, cow-milking! City slickers get your hands dirty at Causey Farm bog-jumping and cow-milking, before getting tidied up for a spot of soda bread-making, a hoe down ceili-dancing session, and another few surprises.
Location: Causey Farm, Kells, Co. Meath
Cost: €35 pp
Glamping
If you are planning a vintage, shabby chic, or rustic themed wedding, why not extend this to the hen party too at Teapot Lane. Go glamping and stay in a wooden tree house, yurt, vintage caravan, or Bluebell country cottage, with lots of candle light, floral bunting and handmade décor.
The campsite is renowned for a festival vibe and is a fantastic option for brides looking for a girlie get-together without a hefty price tag. Hens can bring their own food and drink and have a party around the camp fire come evening time. If you would like a professional caterer this option is offered too along with a DJ!
Location: Teapot Lane, Tawley, Co. Leitrim
Cost: Two night stay packages cost from €185 pp.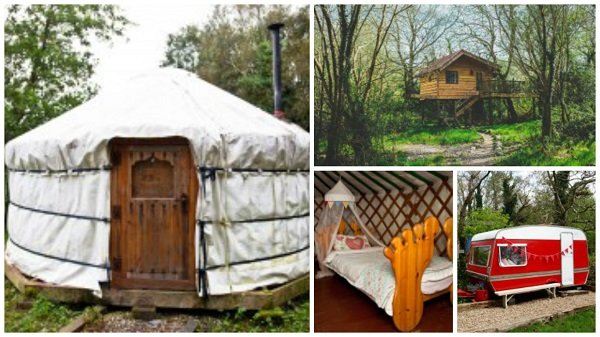 Knicker stitching
Well it wouldn't be a hen party without a bit of silliness and giggles are guaranteed at the knicker making class offered by The Craft Lounge. The knicker stitching party begins, as all good one's do, with a glass of champagne.
Location: The Craft Lounge, Dublin
Cost: €20 for groups of 20
Real Makeover
Hens get a makeover from an award-winning professional makeup artist before posing for individual and group photos.
Location: Real Make Over, Newcastle, Co. Down
Cost: From £65 pp
A Victorian Escapade
Seven Irish sisters who love to party, are the brains behind the Victorian Escapade party. On arrival, everyone dresses as servants to do some of the household chores, perhaps have a chamber pot race, set the table, or light the fire, with the emphasis very much on fun rather than work! Next hens move to the dressing room and changes attire to become ladies, before moving upstairs to the drawing room for some parlour games, a traditional dance and of course a few photos for the society pages. Hens (ladies!) are then treated to afternoon tea in the grand dining room, oh I say…
Location: A Victorian Escapade, Dublin Road, Co. Monaghan
Cost: €50 pp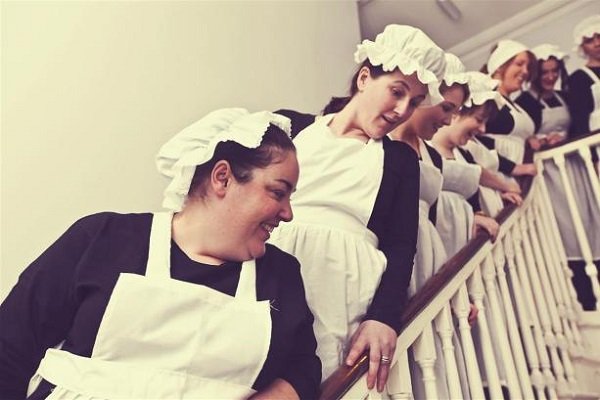 Galgorm Resort and Spa
The Galgorm Resort and Spa is a firm favourite with brides-to-be in Northern Ireland and further afield. The brand new Thermal Spa Village is pretty spectacular and features bespoke Shell Showers, Celtic Sauna Ritual, log fired dutch tubs, sunken firepit, outdoor hot-tub, and a pool with pressure-point pebble flooring, in addition to the infinity hydrotherapy pool, Jacuzzi, ice fountain, heated loungers and more. The Half Day Hideaway package includes a 25-minute treatment, hand or foot massage, use of the Thermal Spa Village, hot drinks, chocolate, cupcakes and a glass of bubbly, lunch and exclusive use of the Boudoir. Evening and overnight stay packages also available.
Location: Galgorm Resort and Spa, Fenaghy Road, Ballymena, Co. Antrim
Cost: The Half Day Hideaway costs from £900 Monday to Thursday and from £1,000 Friday to Saturday.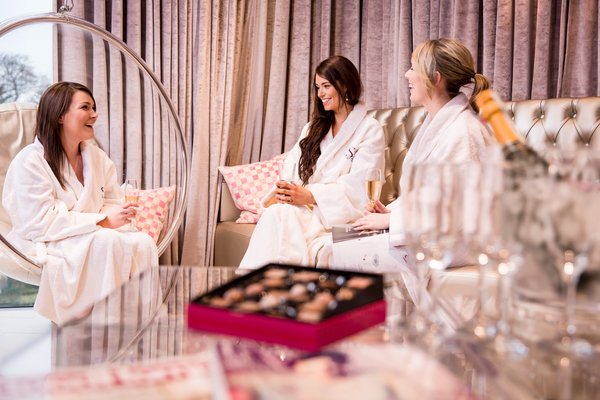 Burlesque Party
Taught by professional burlesque dancers and is fun mix of Classical and modern Burlesque using feather fans, Garters, Cane's and fabulous showgirl moves which are put together into a show stopping routine.
Location: Irish Burlesque School, Dublin
Cost: €250 for up to 15 ppl
Featured image credit: Victorian Escapades