Everyone's talking about upcyling at the moment, so we asked the experts to explain more about this massive trend and how to upcycle a wedding venue
What is upcycling?
"Upcycling is, by definition, the act of taking something old and giving it a new, more beautiful life," explains Catherine Cunningham proprietor of the Crafty Bird, Wicklow. She adds:
It has most likely reduced the amount of household skip usage over recent years due to absolutely everything in your home possessing the potential to be re-used.

Furniture upcycling is not new; people have always mended, sanded and repainted furniture but all this activity did not have a name until now. Now upcycling is cool – it's trendy, it's brave and it is everywhere."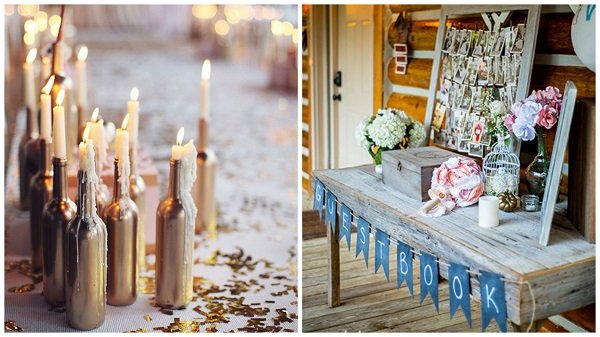 Why upcycle your wedding venue?
An obvious benefit of upcycling old pieces and re-using them as wedding venue décor props is to save money and do your bit for the environment. Lynn Haughton founder of the Upcycle Movement organisation, Dublin says:
The benefits of upcycling items for your wedding include the personalisation of the pieces you use – which makes the venue more special and personal to you on your big day.

The Upcycle Movement offer hen parties for brides-to-be and their buddies to create upcycled pieces for the day, from centre pieces to place names, favours, signs, and anything in between – which not only helps with getting things ready but also makes for a memorable, fun creative day with your nearest and dearest!"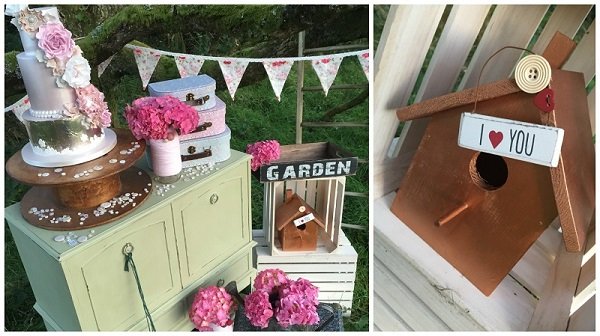 How to upcycle your venue
Catherine explains how to transform any old furniture item to get it wedding ready with four simple steps: sourcing, preparing, decorating and finishing, she says:
Charity shops are good places to visit for second-hand furniture. You're not guaranteed to find something each time, but with patience and persistence you will eventually find something that suits your style.

Ikea also have lots of apple crates in raw wood which are very reasonable (€6 for small crate and €15 for large).  These can be painted in multi colours to liven up a venue.

In an ideal world, and to keep your wedding budget intact, try get the piece for free.  In the real world, try not to spend more than €5 for a chair, €10-20 for an occasional table, €40 for a bureau or chest of drawers (large) or €50 for a large dresser, dining table and chairs.

Clean down your furniture with sugar soap and rinse off when finished. Dry with kitchen roll.  Next, lightly sand off any 'shine' from the surface with medium grade sandpaper.

When choosing colours for your wedding, I recommend neutral or calming colours such as Curracloe Dunes, Shannon Slate, Blushing Cailin or Galway Bay from The Crafty Bird Antique Milk Paint range."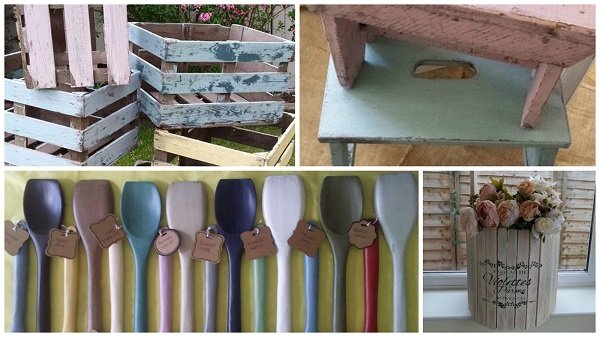 Top Tips
Samantha Douglas upcycling professional from April Road, Donegal encourages all brides-to-be to try their hand at upcycling. She firmly believes that everybody can upcycle and all that's required is an interest – prior experience is not necessary!
Samantha shares her top tips for upcycling your wedding venue, she says:
Firstly look for potential, every single piece of furniture can be fabulous; look at the size, condition and price. Allow yourself plenty of time before the big day to avoid any unwanted pressure.

Secondly choose colours that suit the style of your wedding but also colours that will fit in your home post wedding – there's no need to be wasteful.

Lastly be as bold or as safe as you're comfortable with, there are no hard or fast rules. If you want a vintage theme choose soft romantic shades, pale greens, pinks or powder blue. Navy, deep greys or black can be really elegant without being too girly and pretty. Yellow, reds and hot pink can be really quirky and add fab pops of colour."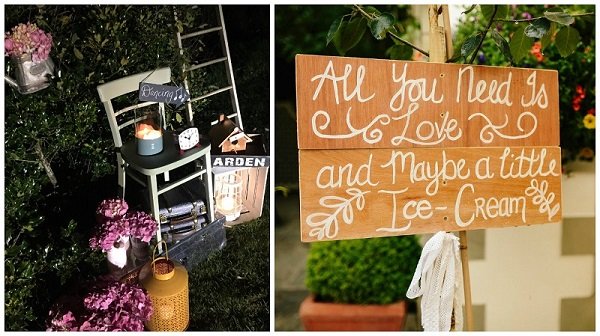 Featured image photo credit: April Road