It's a rare combination- but we present to you healthy cupcakes for your wedding day.
But when Wedding Journal approached Belfast-based baker/photographer Sharon Duffin to create a healthy, delicious wedding cupcake inspired by us and appropriate for our Health & Fitness Month, she rose to the challenge.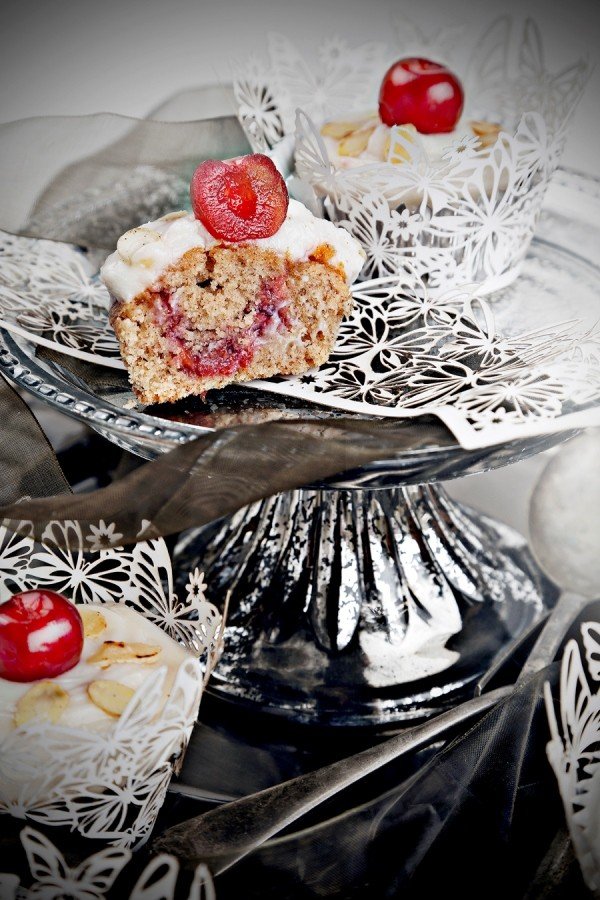 What she came up with made us drool from the words alone- Almond Cherry Bakewell Cheesecake Cupcakes. I mean, has a more decadent recipe ever been created? And to top it off, Sharon's recipe is a sweet treat that won't break your calorie bank. She used one of our favourite products of the moment, Keen Almond Butter, to lower the sugar of the cupcake and make it appropriate for those watching their waistlines before the big day. She also added healthy substitutes like agave syrup and almond milk in place of their calorific alternatives, and opted for light cream cheese as a topping.
Whether you'd like these stunning cupcakes at your reception, or at your hen do or bridal brunch, they are an easy way to indulge without going over the top. Cupcakes act as fabulous wedding favours as well as you are guaranteed they will be enjoyed!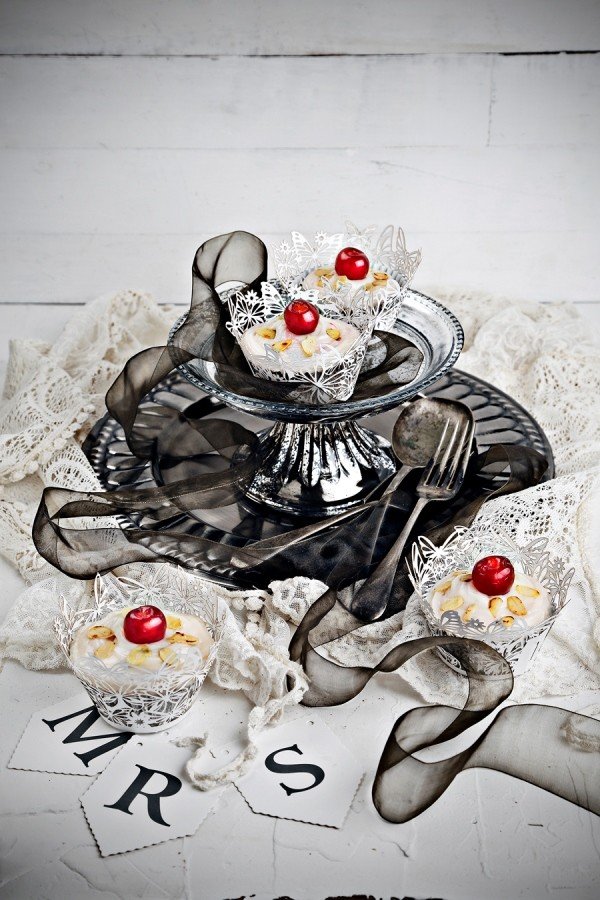 Here's Sharon's delectable recipe for Almond Cherry Bakewell Cheesecake Cupcakes if you'd like to see how easy (and tasty) they are for yourself…
Ingredients:
For the cakes… (makes 20)
4oz Keen Smooth Almond Butter
30z Golden Caster Sugar
4oz Self-Raising Flour, sifted
2 Medium Eggs
120mls Almond Milk
1/2 tsp Almond Essence
For the cherry compote filling…
1 Tin of Cherries in Light Syrup (425g)
2 tbsp Maple Syrup, Honey, or Agave Syrup
1 tsp Lemon Juice
3-4 tbsp Water
1 tsp Cornflour
For the cream cheese icing…
500g Light Cream Cheese
4-8 tbsp Icing Sugar
Swirl of Cherry Compote
Toasted Flaked Almonds to decorate
Method:
Preheat the oven to 170c and line muffin trays with cupcake liners.
To make the cherry compote, put the cherries in a heavy based pot and bring to the boil. Smoosh them a bit, add lemon juice and syrup, then leave to simmer for 10-15 minutes before mixing the cornflour and water and adding that to the cherries. This will cause it to thicken immediately. Set aside to cool.
Meanwhile, beat the nut butter in a large bowl for three minutes until it has loosened. Add almond essence and sugar, then beat for a further 1-2 minutes. Add in the eggs one at a time, and don't be surprised when the mixture is quite thick. Add almond milk, then sift in flour. Fill the cupcake liners halfway and bake for 10-15 minutes until they spring when pressed. Be aware that the cupcake will be darker due to the nut butter.
Allow to cool, then scoop out a small piece for the centre of each cupcake and set aside. Spoon a small amount of cherry compote into each cupcake, then replace the sponge.
For the cheesecake topping, beat the cream cheese to loosen, then add icing sugar until you get your desired sweetness. Swirl in 3 tbsp of the leftover compote for a marbled effect. Top your cupcakes with icing either by spooning it on or pipping. Decorate with toasted flaked almonds and place a cherry on top!
Happy baking, brides!
Featured Image- Etsy