After hearing Lava Shell treatments were the hot new beauty trend, we knew we had to give it a try.
One thing we love about the beauty industry is that it is constantly evolving. That's why we were thrilled when stunning Galgorm Resort & Spa announced they would be holding an exclusive Lava Shot evening for guests to experience the hot new trend, Lava Shell Treatments, as well as to indulge in a few decadent cocktails, canapes and goodies.
The intriguing treatment has been on the lips of many a celeb in recent months and seemingly has taken the industry by storm. The likes of Lizzie Cundy, Jessica Wright, and our own Callum Best have been raving about its soothing and relaxing qualities, so the opportunity to experience it for ourselves was not one to be missed.
The pampering evening was hosted by the charismatic Lava Angels team, who led us through a demonstration of exactly how a lava shell massage works. First and foremost, the shell is the world's first self-heating massage tool and is powered by a heated 'shot' which lasts for up to an hour and contains a patented combination of vitamins and minerals. The shells are genuine, recycled Tiger Clam shells which means they are environmentally friendly.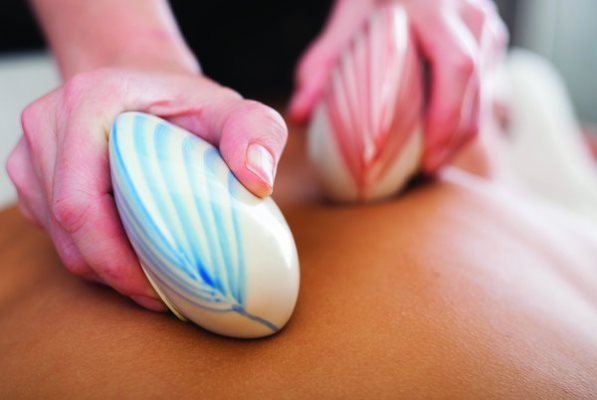 Once the shells have heated, they are eased into muscles and joints to simultaneously relax and sooth strained and tired limbs. Their list of helpful qualities is endless, but includes promotion of relaxation, stress-relief, improved circulation, improved skin appearance and the relief of tight, damaged muscles.
Lava Shell treatments range from the traditional lava shell massage to versions created to target specific ailments, such as the Rescue Lava Shell treatment which is a deep tissue massage using both hot and cold shells with an emphasis on reducing inflammation, healing aches and pains and eliminating toxins. For brides searching for a pre-wedding glow, the Lava Shells Facial is designed to boost the complexion and relief unnecessary tension- a desperate need for many suffering the stresses of wedding day planning!
After experiencing a 'Lava Shot' for ourselves (a shorter, 15-minute version of the full Lava Shell treatment) the benefits of the massaging tool were obvious. Tight, stressed neck and shoulder muscles were immediately relaxed, while the gentle heat of the shell created a warm, soothing sensation. The professional team of spa therapists from the Galgorm Spa were obviously well-trained in the art of Lava Shells and made sure to target all the best pressure points to leave us feeling calm and noticeably more limber.
Combined with the delicious scents of coconut body oil and Ed Sheeran in the background, you couldn't have asked for a more relaxing and rejuvenating evening.
Lava Angels, the hosts of the evening, also offer an at-home package perfect for bridal beauty days or hen parties. A trained Lava Shell therapist will join you and your bridal party in the comfort of your own home where you can experience a series of 15-minute Lava Shot treatments to kick off your wedding celebrations and get that radiant glow before the big day.
To book your own Lava Shells treatment at the Galgorm Spa, please contact spa-reservations@galgorm.com, where prices start at £55 per treatment. 
To host a Lava Angels event, please contact info@lavaangels.com.