Contouring is the beauty buzz word of the moment. Here Make-up artist Paddy McGurgan shares his tips on how to make bridal contouring work for you…
To understand contouring you need to understand make-up. Every cosmetic product we place on the face comes to life because of the contrast it creates against the natural tone of the skin.
To contour is to heighten the contrast between the light and dark areas of the face, the objective being to create a slender and more defined face where features appear more symmetrical as a result.
Contouring can be your best friend, or your worst enemy if you get it wrong. Here are some points to consider before you lift your makeup brush.
Not everyone can have the same level of contour. The paler your skin the lighter your contour must be, otherwise the contrast will too unnatural. As a rough rule of thumb, choose a contour shade about two shades deeper than your natural skin tone.
If you are blonde, be sure to contour before you get your hair done on the big day as baby hairs at the hair line may accidentally get tinted resulting in a messy makeup hairline that needs to be gently removed with a wipe before your hair is completely styled
For a very soft contour on the face use a matte bronzer that doesn't have any orange/red tones, instead choose a deep golden bronze tone.
If you have a deeper skin-tone or plan to have a spray tan on your wedding day, apply your makeup as normal i.e. foundation primer, concealer, foundation and setting powder then take your cream contour palette and build up your contours in the right areas as too much bronzer will begin to look caked on the face. Don't worry about using a cream over powder – that was a very old beauty rule and was directed to more talc based face powders.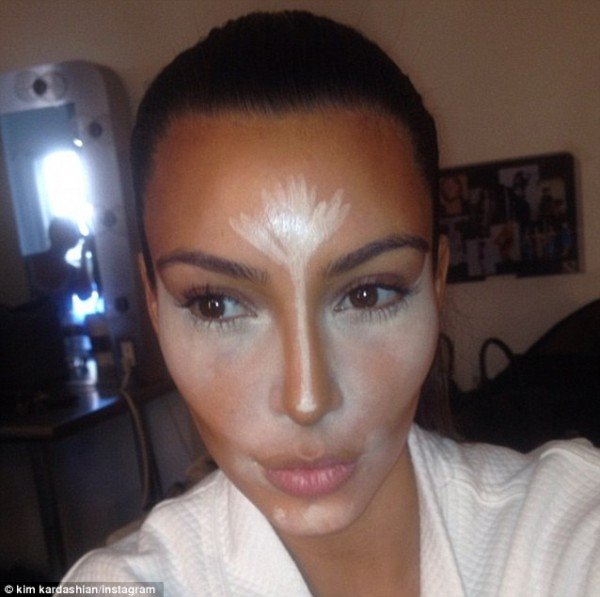 Where to place the contour?
Every face is unique but there are some general application tips on where to place the tones that apply to all.
Imagine you wanted to draw an oval outline on your face making the oval as large as possible without coming off the edge of the face.
Look at your face shape and see what stops it from being oval i.e. the forehead is too big or the jaw line is square. Apply darker tones wherever there's an area of the face or feature you want to recede or de-emphasize. Use lighter colours on areas you want to emphasize or bring forward.
Really look at your face and work out where best to apply the light and dark tones and how far to bring them into the face. For example, if your temples and the top half of your face is quite narrow but your jaw line is square or wide, then you want to avoid placing any dark tone on the temples as this will make the jaw line appear even larger.
Experiment with different shades and contouring areas before your wedding day and on the day itself, make sure to blend!