We've picked our favourite plus-size wedding dresses from top designers for the curvy bride!
Dresses for the curvier bride have stormed catwalks for the last few seasons as designers recognise an increased demand for stylish options to complement a fuller-figured woman. Top bridal boutiques have also taken the emerging market on board by stocking sample dresses in bigger sizes, perfect for plus-size brides-to-be who want to try on dresses then and there.
We've rounded up our favourite plus-size wedding dresses to suit traditional bridal styles and emerging trends. In other words, we've done the searching so you don't have to!
Mermaid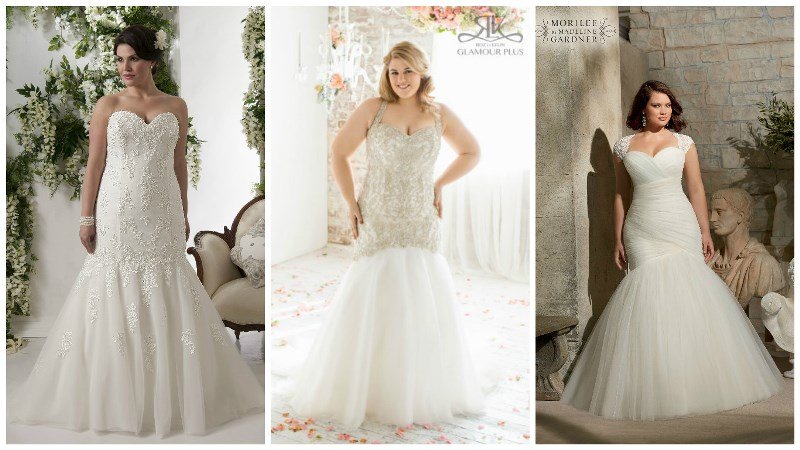 This favoured bridal style is the perfect choice for the fuller-figured bride. Not only do mermaid (or fishtail) gowns feature a fitted silhouette to smooth out any troublesome areas, the careful skirt placement emphasises an hourglass shape. When it comes to the neckline, think strapless for classic, halter for oceanic or cap sleeves for support.
Ballgown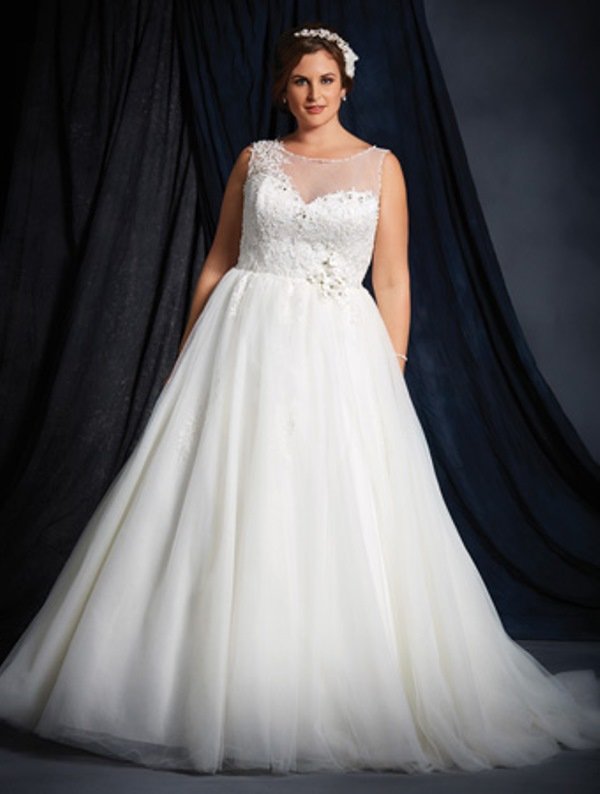 For the bride who wants to feel like a princess on her big day, then a ballgown dress is the only  option. Featuring a close-fitted bodice which leads into a full skirt, these stunning dresses are flattering, flirty and fabulous for the true woman. We love ballgowns featuring layers of tulle, lace and a bit of careful detail but be careful not to over-accessorize with this style. Let the dress be the talking point instead.
Top Tip: The Ballgown is one of the most comfortable wedding dresses you can get married in. A breeze to wear all day (as long as the fit is right), you won't want to take this dress off and silver lining… most likely you can go to the loo in it too!
V-Neck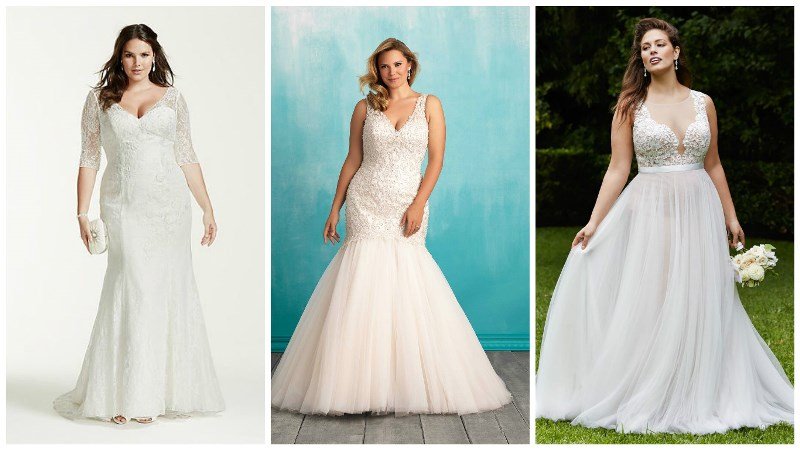 Many curvier brides want to highlight their best asset on their big day- their cleavage. Low cut wedding dresses are a sexy choice and easily found on the bridal catwalks as women want to use their wedding day as an opportunity to wear a dress they never would normally get the chance to wear. The key to a gorgeous V-Neck dress is support, so opt for a manufacturer who specialise in it, like Allure Women. If going for a deep V on its own is too daring for you, combine a V with sheer panels to guarentee everything stays in place as you walk down the aisle.
Sheer Paneling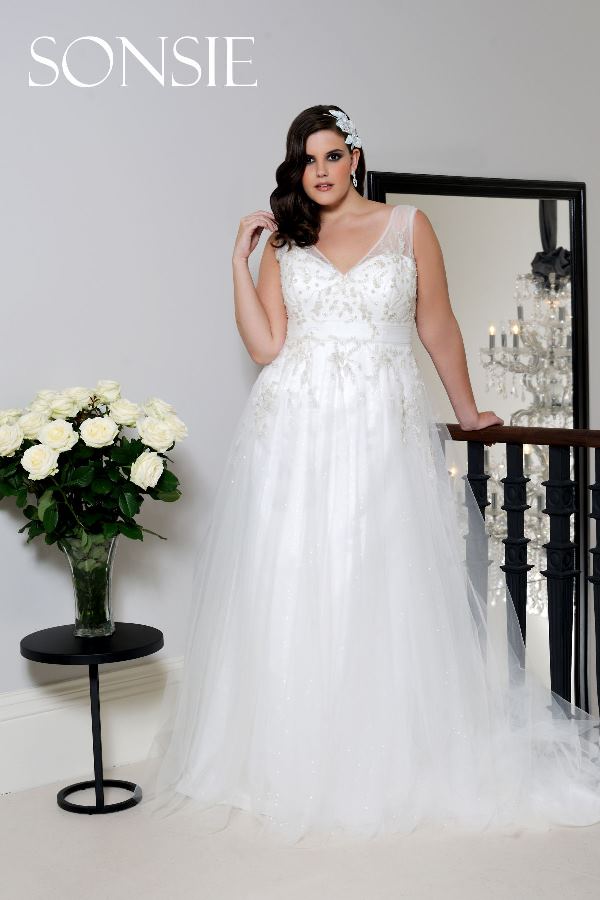 One thing we love about plus-size dresses is that many do feature seductive sheer panels on the sleeves, necklines and waist of the gown. This popular style is a great way to show off a hint of flesh without getting carried away and is easily incorporated into almost any bridal design. We particularly love sheer fabric when used in place of straps.
Top Tip: Almost any strapless gown can have straps added to it. If you've found a strapless style you love but need some added support, ask for sheer straps to be stitched on to it. Nine times out of ten it won't be a problem.
Blush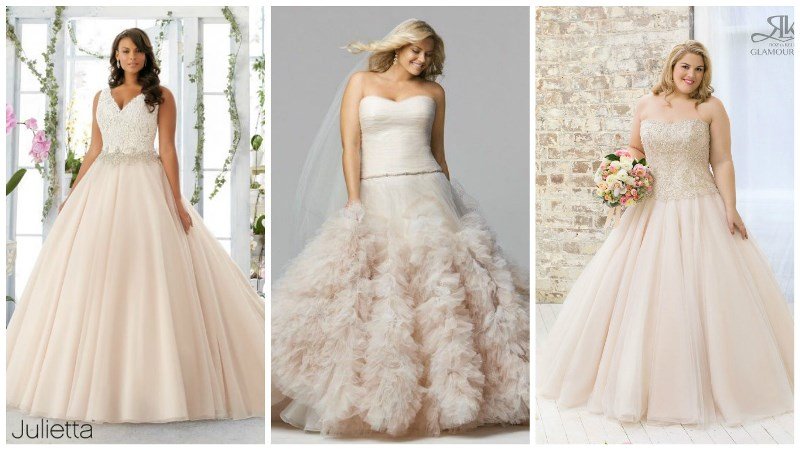 Coloured gowns are hot for 2016 and blush is a particular favourite in the WJ office. This feminine colour is a romantic choice ideal for a winter or spring wedding with a pastel colour scheme. It lends itself well to ballgown silhouettes combined with modern features like feathers (another 2016 trend), dramatic ruffles or intricate sparkles.
Lace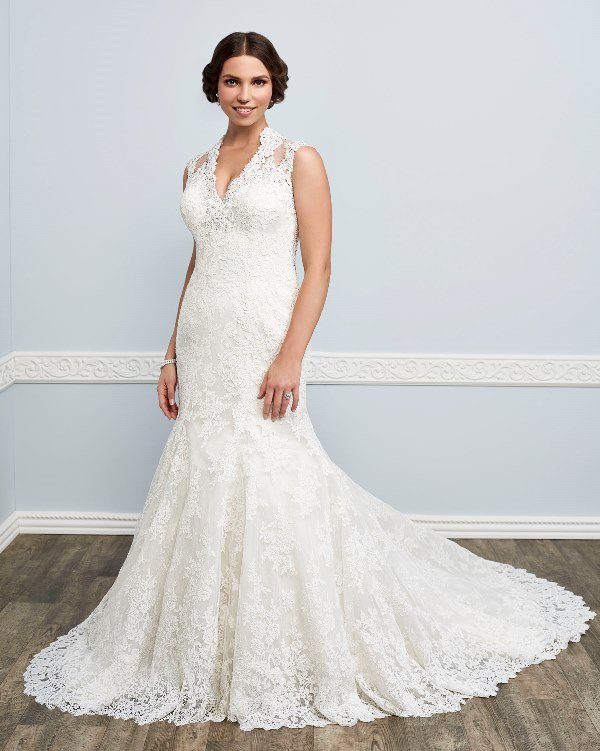 Lace remains one of the wedding world's most popular and celebrated fabrics when it comes to wedding dresses. While many plus-size dresses abandon the favoured fabric for ruched satin or tulle, lace is still a sought-after choice and ideal for a bride seeking a traditional wedding dress. Use it as a decorative feature as well, by increasing its usage around the neckline.
Top Tips for Picking the Perfect Plus-Size Wedding Dress
Support is everything. Boning, wire and structure are your best friends.
Don't buy online. You need to try on a shape and style that will suit you.
Consider your best feature, then choose a dress to suit. Do you want to bring attention to your hourglass shape, or your chest?
Only buy something you're comfortable in. Don't think you need to pick a dress because it's "on trend". Wear what makes you happy.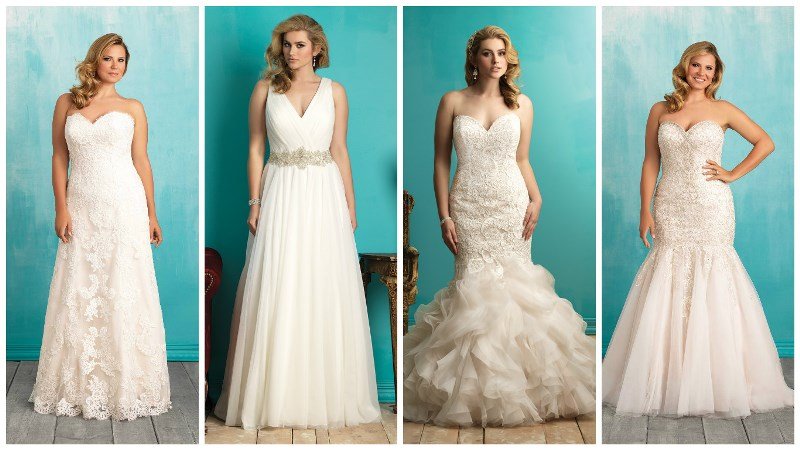 Featured Image: Allure Women