Pamela and Catherine Miller Devlin share details of their stunning wedding day at the Ballygally Castle Hotel
Photography by Bannon and McCabe
Catherine surprised Pamela with a proposal during a holiday to Elounda, Crete. "I prearranged the setting with champagne on ice, a fresh fruit platter and a personalised sign on our balcony at the foot of the infinity pool," Catherine explains. "On the day of the proposal the staff had everything set up for our return from the beach. All that was left was for me to pop the big question so having peeled her away from her cocktail; I managed to get her up to the balcony… thankfully Pamela said 'yes' straight away and we celebrated with a gorgeous meal on the seafront, enjoying seafood, fresh from the ocean."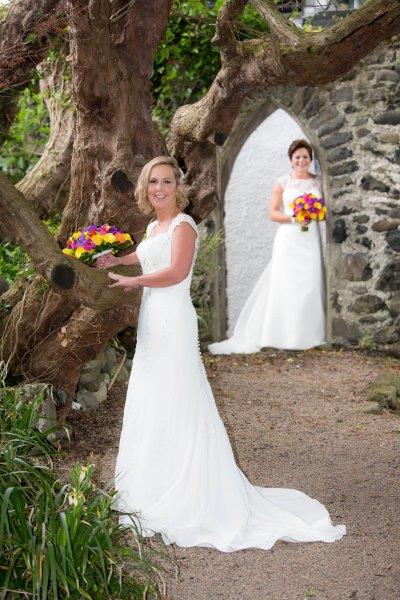 The couple wasted no time in decided on Ballygally Castle Hotel as their dream venue. "As soon as we walked into the hotel for an exploratory visit, we looked at each other and right away knew that we wanted to have our special day here," Pamela says. "The coastal setting is simply stunning and the water glistened throughout the day, creating a truly magical ambiance, coupled with such beautiful gardens – we were spoilt for choice in terms of photo opportunities. The interior of the hotel is also magnificent, having been recently refurbished. We really enjoyed that a castle was ours for the day!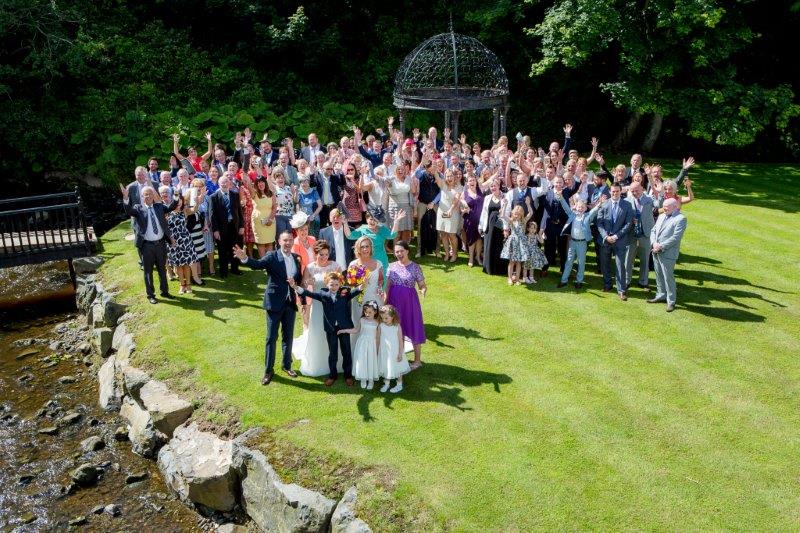 "The staff, above anything else, which made our day as perfect as it was. They could not have been more willing to meet every single request. Their level of attention to detail went above and beyond what we had ever hoped for. The venue location most certainly delivered the 'wow' factor for us. Another talking point during the day was the quality of the wedding banquet, the food and wine were top notch, to say the very least."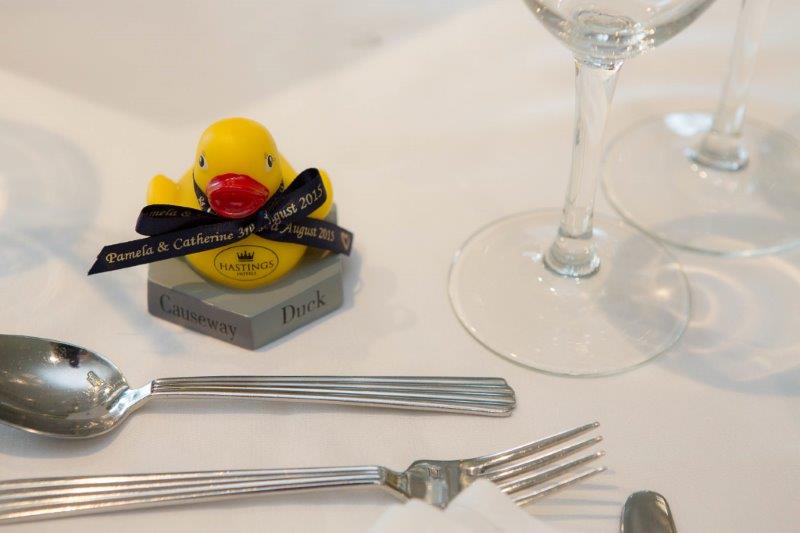 The couple used local wedding suppliers to help bring their wedding vision to life.
"Sam at the Ballygally Castle Hotel was invaluable the night before the wedding, with his wealth of experience and innovation, he was instrumental in the finer details regarding room décor," Catherine enthuses.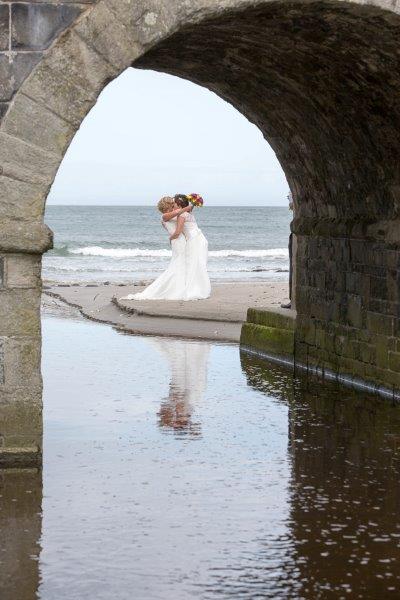 The couple decided to keep their wedding dresses a secret from each other prior to their big day. Pamela wore a Lillian West creation from the Wedding Box, Newtonards, and Catherine wore a unique design by Margarett from Star Tiara, Coleraine.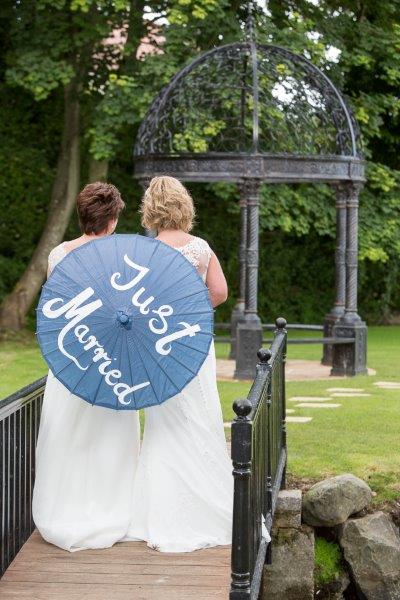 "Both mothers saw both dresses and assured us they complemented each other beautifully," Pamela says. "On the day itself, it was so nice to see each other in our dresses for the first time and we were very surprised but delighted as to how well they looked together. We both had small blue handmade bows sewn in to the inside of our gowns which was one of our few nods to tradition!"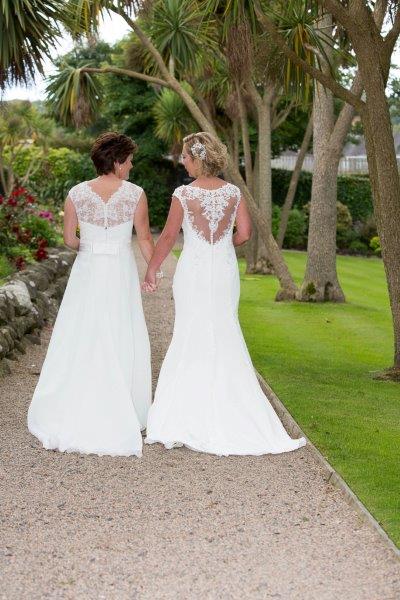 "As unique as was our day so was our wedding party," Pamela says, "Catherine had a bridesmale who wore a suit from Balmoral Suit Hire. My sister Suzanne, was 8 months pregnant at the time, was my bridesmaid and wore a purple chiffon dress embellished gown from Asos."
Lynda at Leaf Designs created the wedding flowers. The couple designed and created their own wedding stationery. "In keeping with our love of travel, we used brown parcel card with cord accompanied with cream luggage label styled tags with printed details," Catherine says.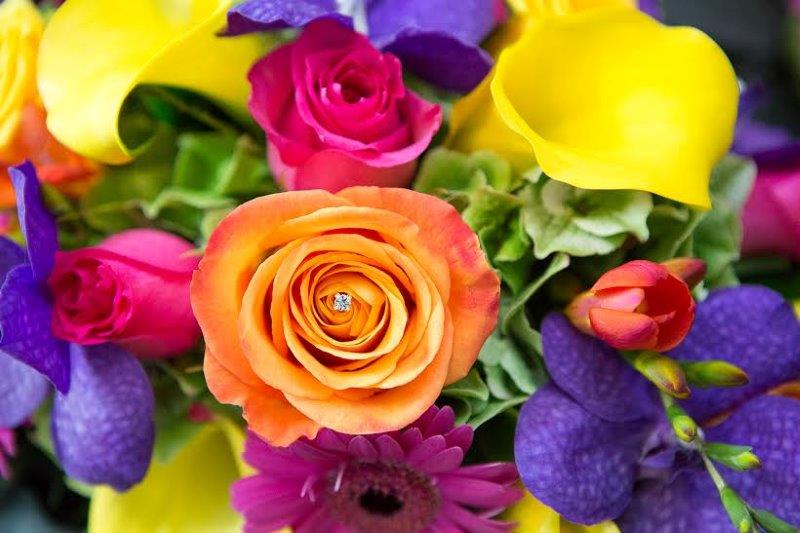 The couple's friend Jilly Hayden designed the wedding cake. "Jilly is creative, visionary and dynamic in her approach to baking and above all she is a perfectionist, which we both love," Catherine says, "as Pamela teaches French, we decided to have a French Fancy styled cake, in keeping with the traditional 'petit four'."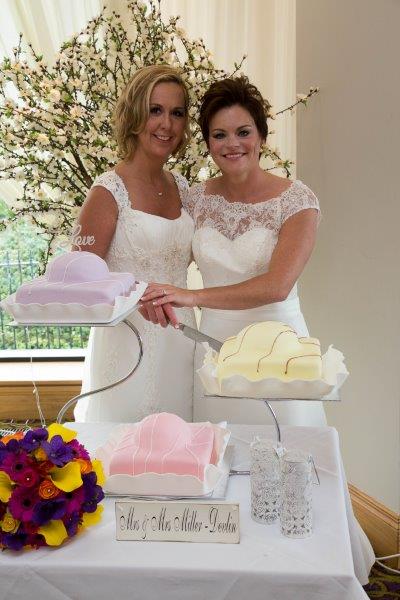 Both brides say the most special moment, without a doubt was the ceremony itself. "The Kintyre Ballroom had been adorned with candles and flowers, exactly how we wanted it and it took our breath away when we saw the finished product," Pamela says. "Together with the folk music, there were tears in many guests' eyes as we walked down the aisle towards the bay window overlooking the sea, reminiscent of our time in Crete."