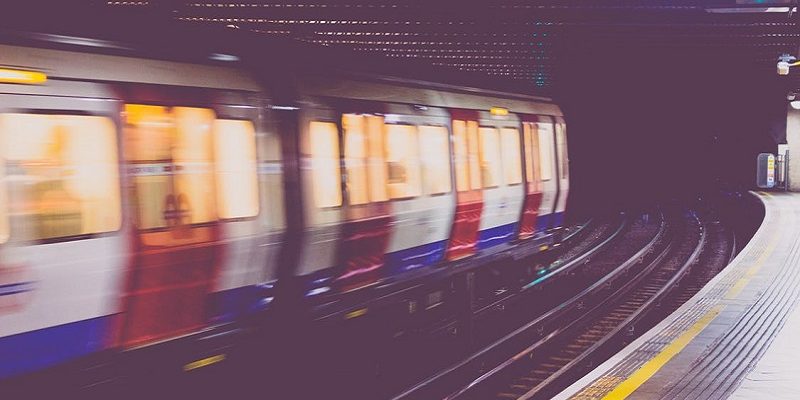 Falling In Love With A Stranger On The Train
When writer Zoë Folbigg fell for a stranger on her daily commute, she didn't expect where their relationship would lead.
Back in 2003, Zoë Folbigg noticed a handsome stranger on her daily commute from Hertfordshire to London.
Despite not appearing to be interested in anything other than the book he was reading,  Zoë looked out for the mystery train man every morning and regularly confided in her friends and co-workers about her new crush.
Finding that she couldn't look past 'what could be', Zoë plucked up the courage to approach the man on the train ten months after she first saw him.
Telling BBC Five Live presenter Emma Barnett, Zoë said,
'I wrote a note because it was my birthday and I thought that could be my way in…he seemed like a lovely soul so I asked if he would like to go out for a drink.'
Despite Zoë's plan of casually handing him the note before breezing up the carriage, she found when she reached train man, she just couldn't bring herself to part with the piece of paper.
'I did that for probably another 10 or 11 days until I did finally give him the note, and it was excruciating because he hadn't heard me the first time, so he asked me to repeat it by which time all the other commuters around us ears had pricked up.'
'I said "Oh, excuse me. Can I give you this?" He took it looking baffled and I walked up the carriage as fast as my shaky legs could take me.'
But, as we are well aware, the path to true love doesn't always run smoothly. The man on the train emailed Zoë later that day to say Happy Birthday, and that while he appreciated the courage behind the note, he already had a girlfriend!
As you can imagine, poor Zoë was mortified and went back to burying herself in her own book on following journeys to avoid the embarrassment of catching his eye.
Fortunately for Zoë these things have a way of working themselves out and two months after the note incident, train man's circumstances changed and the relationship with his girlfriend was over. Lacking Zoë's bravery, it took him another seven months to send Zoë an email finally accepting the previous offer of a drink.
"It was the best email I've had in my entire life. I squealed and all my mates were so excited,' says Zoë.
It didn't take long for the couple to fall in love and train man (now known as Mark) even remarked that he had noticed Zoë's ''sparkly eyes' on the train. Three years later the couple married and they now share two sons together. Zoe has even written a book called 'The Note' loosely based on how they met!