Don't miss the Lagan Valley Island Wedding Fayre on Sunday 11th September 2016

Whether you can't wait to start planning your big day or are working on the finishing touches, you will not want to miss the Lagan Valley Island free Wedding Fayre taking place on Sunday 11th September 2016 from 2pm – 5pm.
This show promises to be bigger and better than ever before. Couples can expect to be introduced to over 45 top local suppliers who can provide a wealth of knowledge and expertise you would expect to find from the finest in the wedding industry that will help create their dream day. There will also be live performances from wedding bands and a catwalk extravaganza at 4pm to enjoy. Couples attending the show enjoy free entry and free car parking.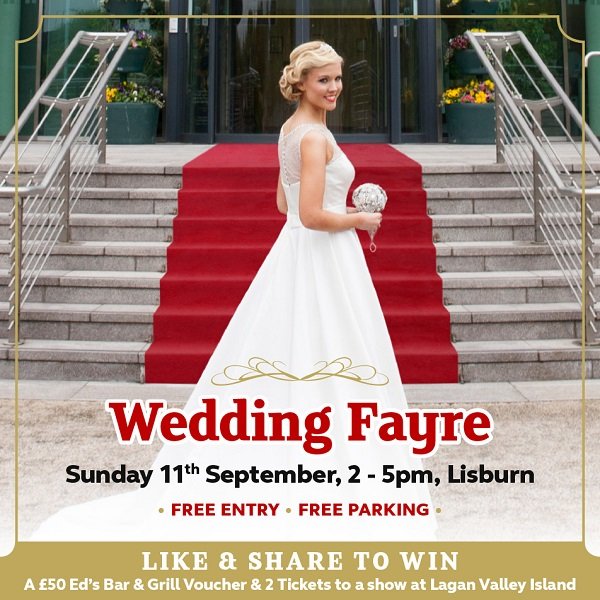 The Wedding Fayre is a great opportunity to view the stunning wedding facilities for up to 220 guests at Lagan Valley Island. Choose from the fantastic packages on offer e.g. book your reception for 60 guests for less than £1750. This includes room hire, a four course wedding banquet, chair covers, centrepieces, fairy light backdrop and much more. Tours of the stunning wedding facilities will be provided throughout the day of the event.
Those in attendance can meet with Lagan Valley Island's experienced Registrars, wedding co-ordinators and catering team to take the first steps towards planning that special day. Check out www.laganvalleyisland.co.uk for more information on holding your wedding at Lagan Valley Island.
For more information on attending or to book a stand at the Wedding Fayre, contact Perfect Bliss Wedding Events on 07845 357339 or email: info@perfectblissweddingevents.com
Check out the Lagan Valley Island Facebook page to enter their Wedding Fayre launch competition to win a meal for two in Ed's Bar & Grill and two tickets to a show at Lagan Valley Island. www.facebook.com/laganvalleyisland