Sarah Jessica Parker's Bridal Footwear Collection has just launched with a stunning array of wedding shoes that Carrie Bradshaw would be proud of!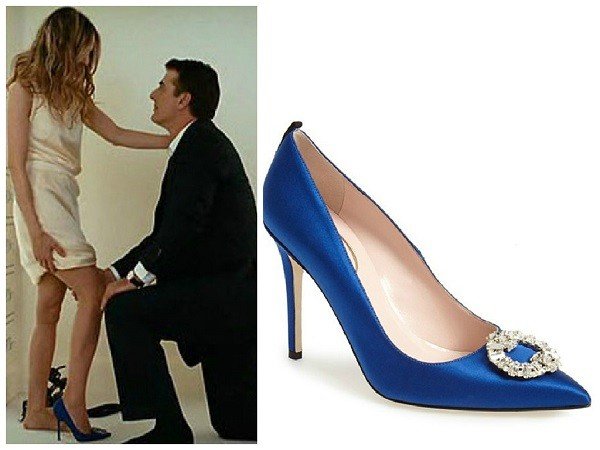 The colourful mix plays homage to SJP's famous Sex and the City alter-ego by shying away from tradition and incorporating a variety of vibrant hues, heel heights and styles. Carrie Bradshaw's original sense of style catapulted SATC into television-history so it comes as no surprise that one of SJP's key bridal designs is a pointed, royal blue pump embellished with a diamante buckle- not unlike the Manolo Blahniks Carrie Bradshaw wore to marry Mr Big.
The acress-turned-designer's new wedding shoe range features adorable satin pumps adorned with a little bit of bling, in a rainbow of colours from pale green to vibrant purple.  WJ adores the cream lace style with a pale blue ribbon on the heel, to incorporate the 'something blue' custom in a shoe range that is anything but traditional!
The fashion savvy actress unveiled the glamorous new additions to her collection in the latest issue of Martha Stewart Weddings and shared her fashion tips for brides to be.  She said:
"If I were getting married today, I'd likely wear cream. I would want my dress to have an Oscar de la Renta feel, pockets below the waist, a very fitted bodice, a huge skirt, in taffeta or duchesse satin. That silhouette appeals to me because it's old-fashioned yet can look very modern."
SJP advises brides not to get too caught up with following traditions, especially if they don't complement your own individual style, and reminds ladies that rules are there to be broken. She also has a word of wisdom for bridesmaids;
"Remember, it's all about the girl in white. It's incumbent upon anyone who is included in a bridal party to wear what the bride wants – to make it work and not complain."
Well said SJP!
You can purchase the SJP by Sarah Jessica Parker shoes from shop.nordstrom.com.
For brides-to-be in search of the perfect shoe, if SJP's new range isn't quite what you are looking for check out these wedding shoe alternatives.