MEET EMMA & MATTHEW
Emma and Matthew have been together for a decade, even with Emma being an award-winning florist, the topic of marriage never really came up between them. However with a little help from Google and some much needed R+R, perhaps the timing was perfect.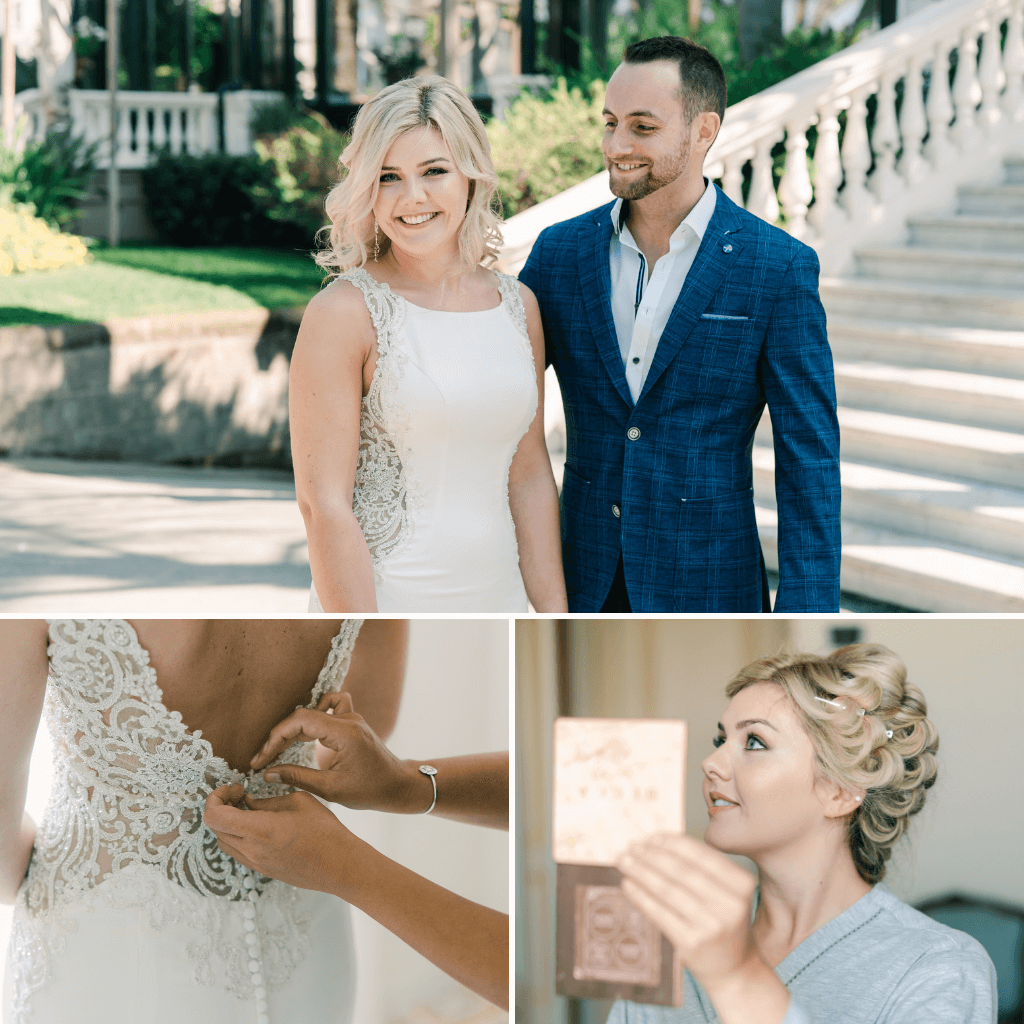 'After looking at summer holidays for summer 2018 and realising this would mark 10 years together, we started to look at where we wanted to go. Sorrento & the Amalfi Coast had been recommended to us by several people and one of the first things which comes up when researching Italian holidays is of course weddings. With it being one of the few places where it is legal to get married it got us thinking.'
THE PROPOSAL
There was no official proposal as such, but Matthew did drop several hints to show Emma he was eager to get married.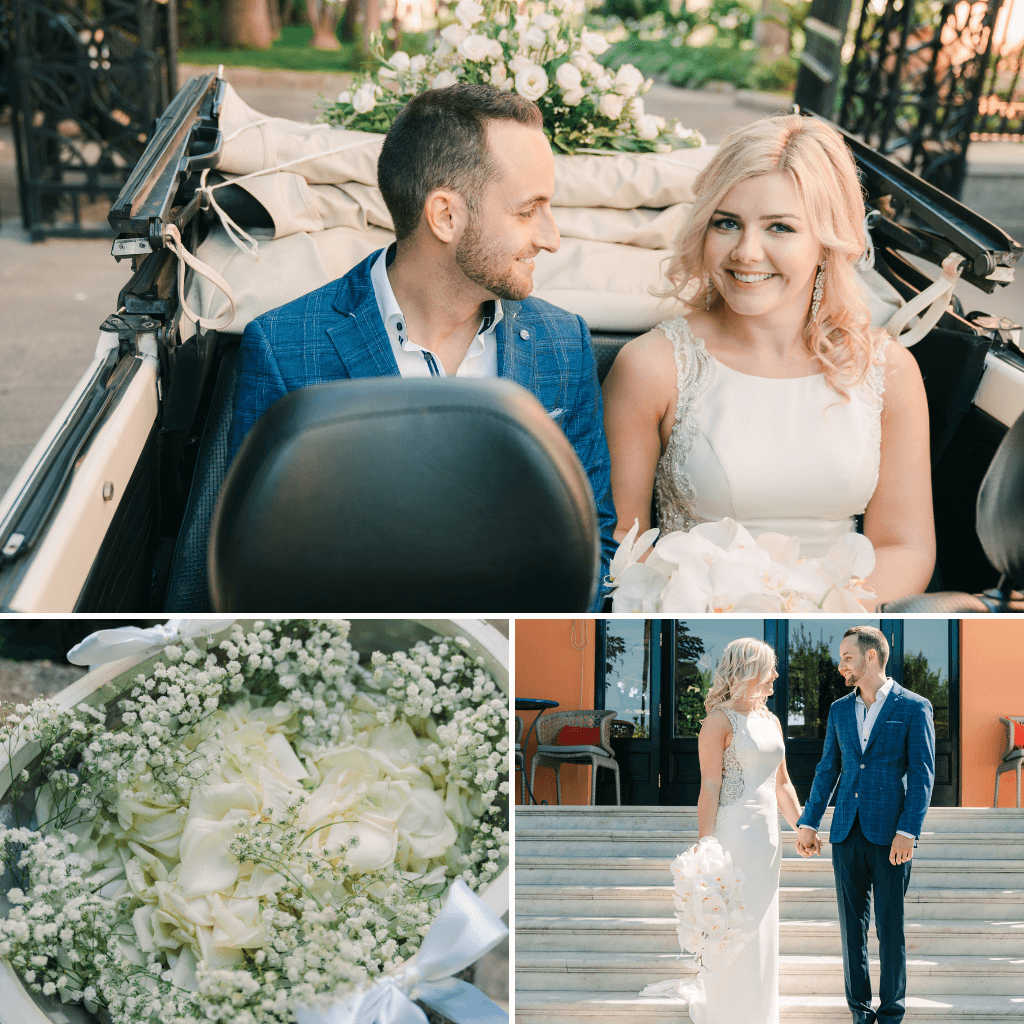 Emma shares how it all started; 'we knew that a big traditional wedding was not for us, a more intimate day would be best. We wanted to have a great holiday, get married on one of the days and then simply return as husband and wife. No fuss, no stress, just us; we are anything but conventional.'
THE RECEPTION
Matthew shares a little bit on the ceremony venue, 'the Sorrento Cloister is a beautiful open-air greenery filled courtyard which dates back to the 14th Century. The medieval building is next to the church of San Francesco and is associated with the town hall, therefore it's possible to have a civil ceremony in an outdoor space. As soon as we seen images online, we fell in love with it.'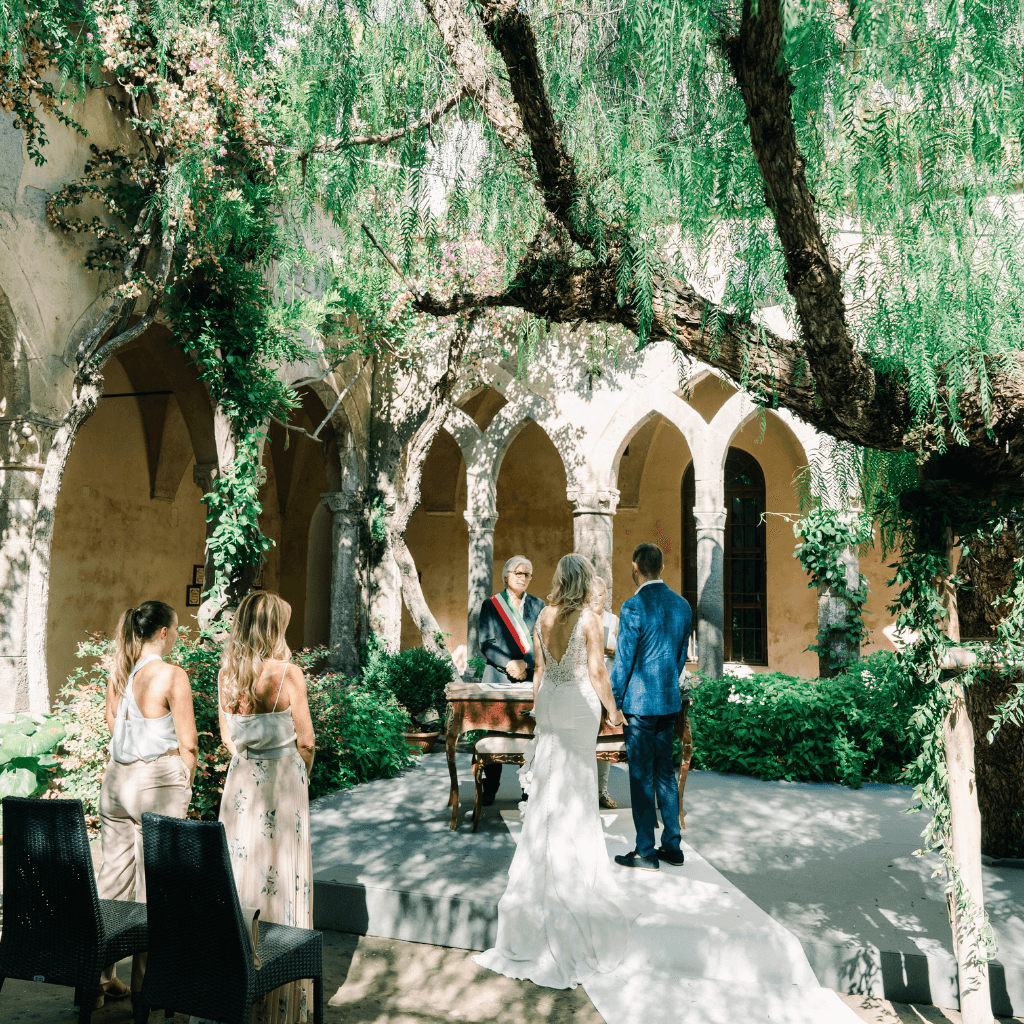 After starting to research weddings in Sorrento, Emma came across Cheryl and the team at Bella Sposa Wedding Planning on Instagram. 'Cheryl had been tagged in quite a few of the hotels we were looking at online. After contacting her and explaining what we were planning to do, we waited to see if she could help us. Cheryl replied straight away and to our relief confirmed that she did cater for elopement weddings as well as bigger weddings and not only did her services provide help with the paperwork process but also she would be the translator for the ceremony too!'
Sorrento and the Amalfi Coast is becoming increasingly popular for weddings, with only three civil ceremony venues, which are buildings of historical significance and linked to the town hall, they get booked fast and months in advance. 'Thankfully Cheryl had a cancellation for Cloisters, the venue I had set my heart on towards the end of our dates so I snapped it up without hesitation,' recalls Emma.
'Cheryl provided options for us to choose from for everything imaginable, from the colour of the carpet aisle runner to the instruments used to play the ceremony music. She figured out what we liked and gave us exactly what we wanted.'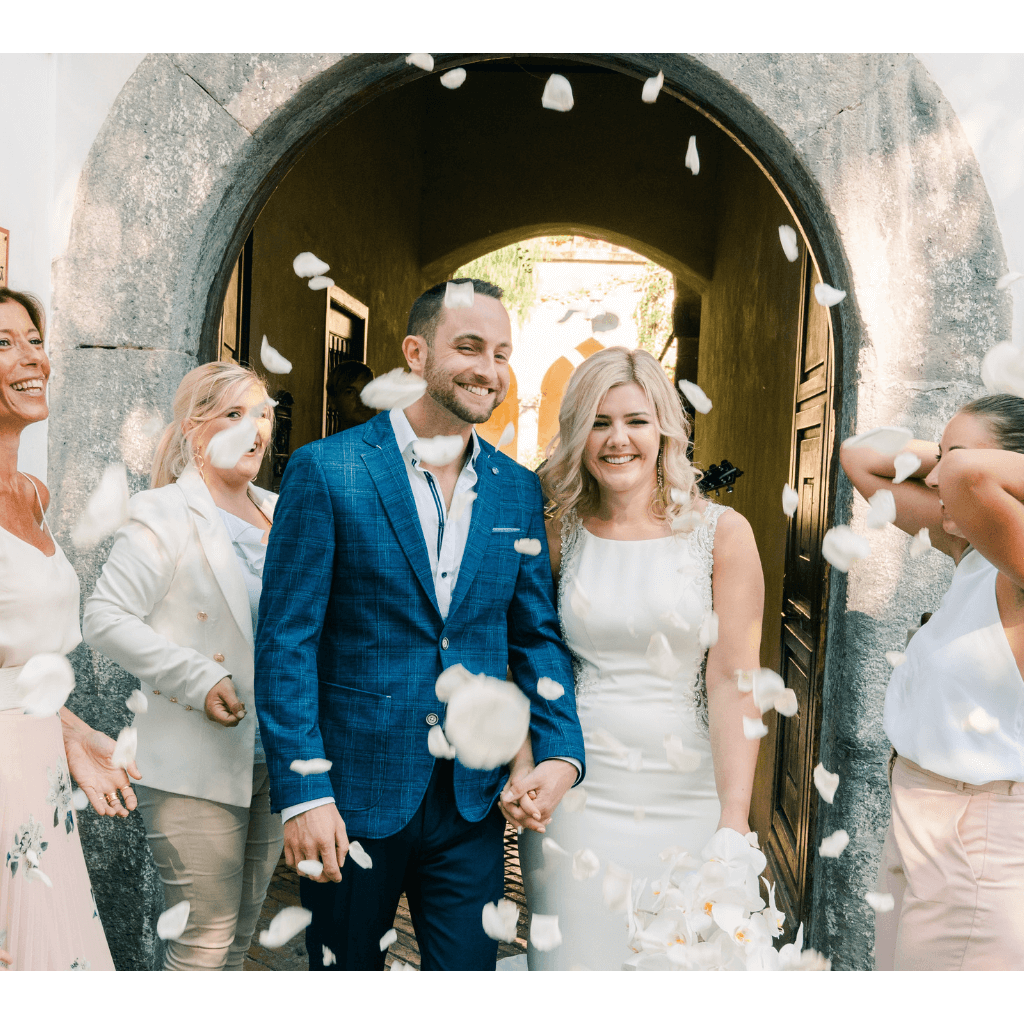 'As a wedding florist I knew it would be very difficult for me to hand over control to someone else. I sent Cheryl several photos of the style of bouquet I would like using white phalaenopsis orchids. The arrangements for the registry table and car were designed by Giovanni Castellino, they were stunning. I had no need to worry as it was just as fabulous as I had imagined.'
After the ceremony at Cloisters, Emma and Matthew headed to the Grand Hotel La Favourita for celebratory drinks, followed by a stunning photo shoot amongst the cobbled back streets of Sorrento.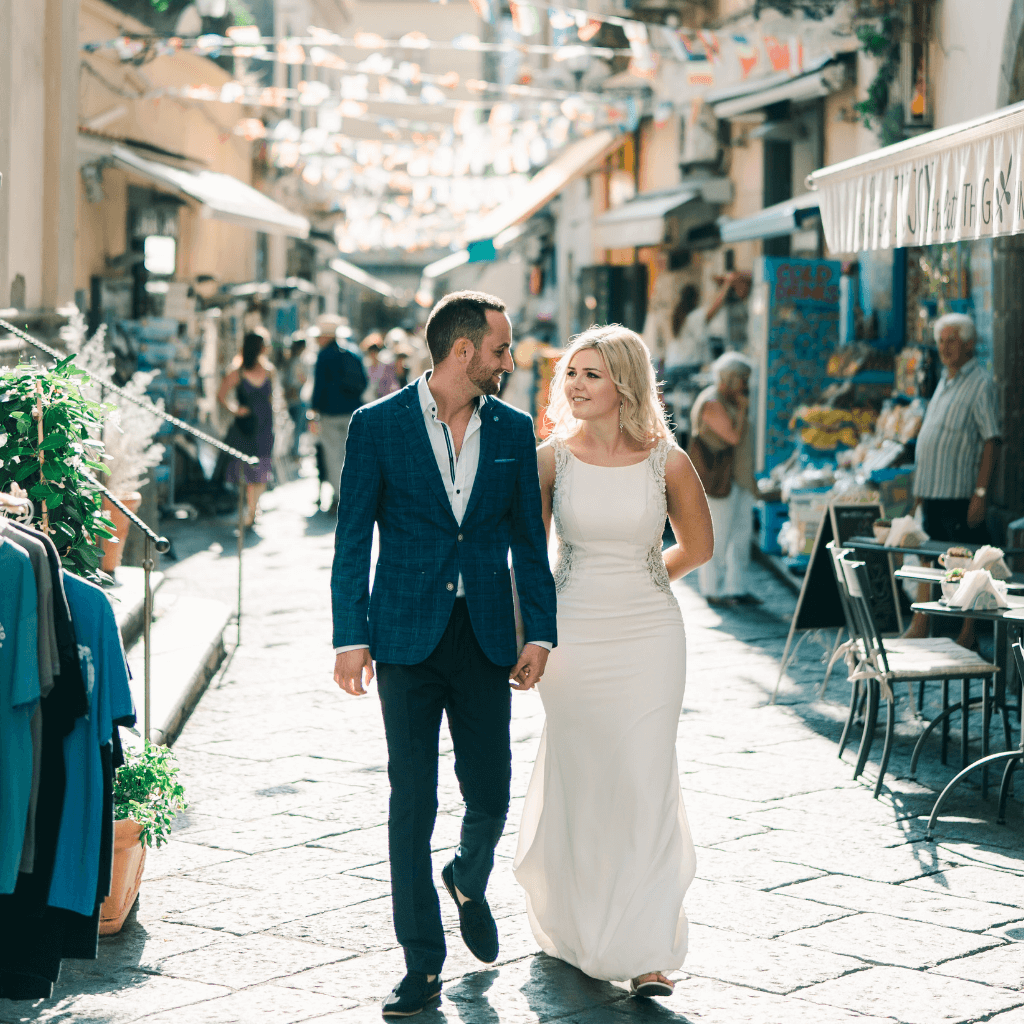 The wedding car, a vintage Maggiolino Cabriolet then took the newlyweds to the marina, to then sail off in the sunset on their private boat to island of Capri. Matthew shares a particular highlight from the day was stopping at a beach club called Conca Del Sogno for dinner; 'Beyonce & Jay Z hired out that very beach club exclusively for dinner this summer, we knew it was going to be amazing.'
'We knew we definitely didn't have anything to worry about when it came to food, we were spoiled for choice, we both love Italian cooking, so we were in our element.'
WHAT THE BRIDE WORE 
As Emma works in the wedding industry, it was much harder to keep everything a surprise. They tried to keep it a secret to everyone apart from a couple they were close to.
Emma had a particular style of dress in mind, 'I knew I wanted a high neck, something very simple and elegant, with no fuss. I visited a sample sale at Marie Me Bridal in Randalstown, and as luck would have it, I found my dream dress. I picked a Stella York gown in a crepe material, with buttons flowing down the entire train. The staff were so helpful, I bought the dress straight away and left with it that very afternoon. My dress was perfect, I felt comfortable all day, plus Matthew loved it too. I found the perfect matching accessories from The Little Pearl Co in Ballymena, I picked crystal 'Laurel' Earrings and a classic pearl clutch bag.'
Matthew knew he could trust an old friend Chris Suitor from Suitor Bros Menswear in Belfast to kit him out for the occasion. He picked out a blue checked blazer, with co-ordinating tailored trousers and braces, plus navy suede loafers – the perfect look for a destination summer wedding.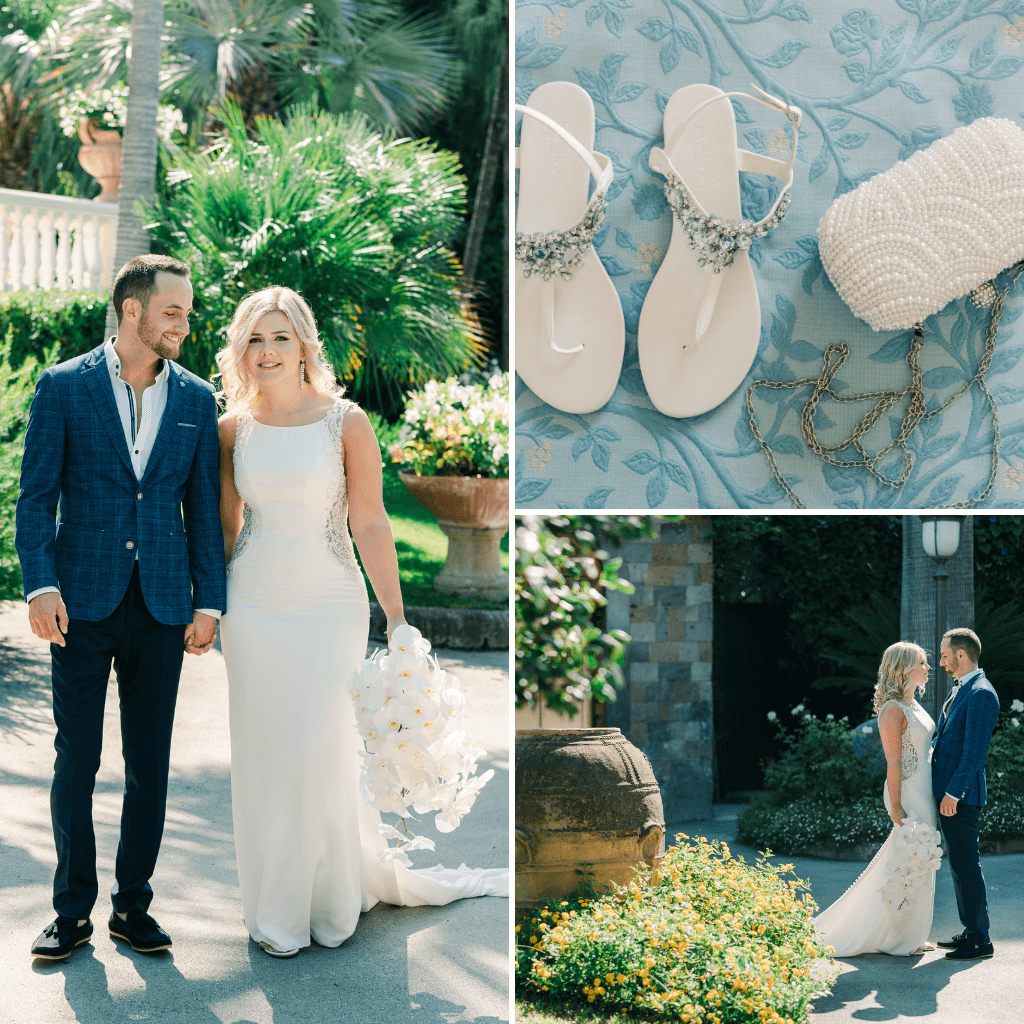 As this wasn't a traditional wedding, Emma and Matthew chose to walk up the aisle together. Possibly the only tradition the couple kept was Emma only revealing the dress on their 'first look' photo shoot, capturing Matthew's reaction to his soon-to-be wife.
CAPTURING THE DAY
'Our wedding planner provided us with several options too choose from, each photographer had a different style and at different price points- I knew from the second I saw Francesco Detito's work that it had to be him. I loved every image on his gallery and knew we were in safe hands- thankfully he was free on our date, and the album turned out beautifully.'

Emma and Matthew managed to keep the wedding a secret until the day after they got married; 'we phoned our families and friends and sent them the photo of us sitting on the back of the boat and shocked them all.'
Emma and Matthew's Dream Destination Wedding Team
Reception Venue – Conca Del Songo
Wedding Planner – Cheryl Pagano, of Bella Sposa
Wedding Dress – Marie Me Bridal, Randalstown
Bag & Earrings – The Little Pearl Company, Ballymena
Hair & Makeup – Jimena Puy
Groomswear – Suitor Bros
Photography – Detito Fine Art Photography
Rings – Murray & Co, Belfast
Car – Exclusive Dreams- Sorrentoelo
Boat Hire – Angela Cappiello