23rd April 2016. Ceremony at Holy Trinity Church, Ratoath, Meath, followed by reception at Tankardstown House, Slane, Meath
Photography by Julie Cummins
It turns out the chat up line 'do you come here often?' actually works!
The couple
Meath couple first met in a local nightclub The Vortex back in August 2007. "It was my first night out ever in a nightclub," Sally begins," this guy pulled his chair over to me with the cheesiest smile, and asked 'do you come here often?' And that was it! Guess that line actually works haha!"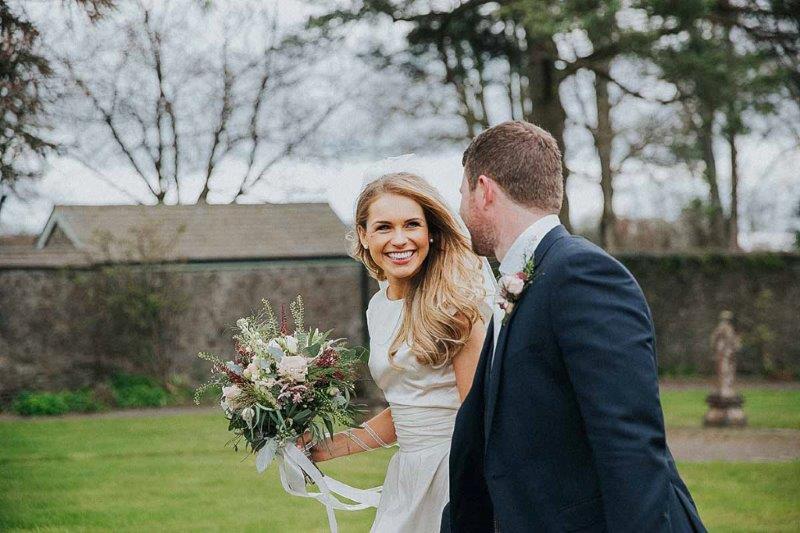 The proposal
Anthony popped the question with the help of their pet pooch. "I was watching the X Factor one Sunday night and Anthony was outside throwing the ball for our dog," Sally explains, "Anthony brought Joey into the house and sent him into the front room to me, where I saw this big ivory ribbon around Joey's neck with the ring attached to it, and that's when he got down on one knee and proposed! Before the proposal Anthony was outside trying to tire Joey out before he put the ring on him because our dog is like a kangaroo in the house!"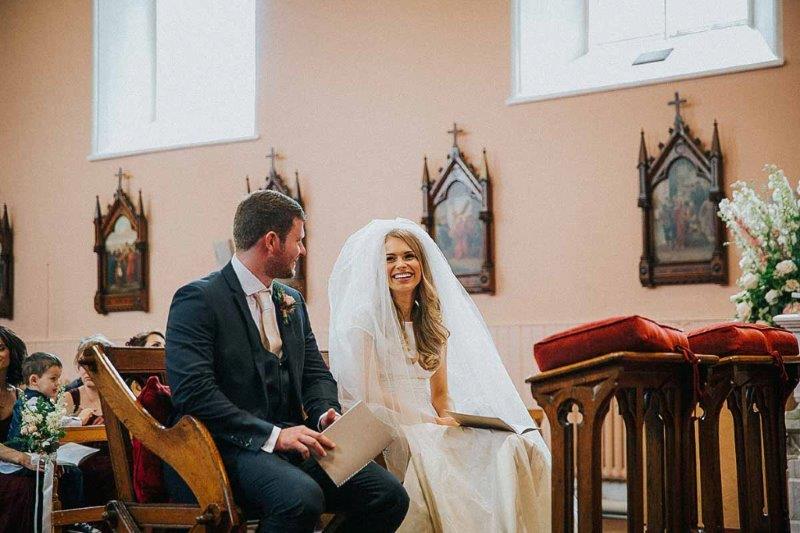 Venue
"We chose Tankardstown because we attended my cousin's wedding there and thought it was absolutely amazing, we viewed a good few venues but nothing came close to Tankardstown!" Sally enthuses. "The main house, the reception room and the grounds are all beautiful. It's truly picturesque! Gillian in Tankardstown was such a lovely person to deal with, nothing was an issue. She was another reason why we chose Tankardstown; she made us feel very special."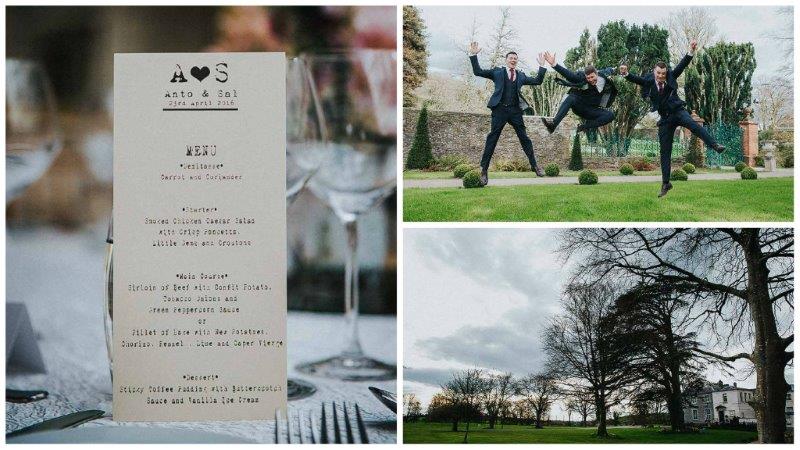 Theme
The couple opted for a casual rustic, farm–themed wedding day, with a few cows thrown in! "We based our tables on different cattle breeds. We chose cows because where our new house is has all my Dads purebred cattle around us and they're called 'salers'" Sally says. "Our top table was named after them and the picture on our table was drawn by my friend Claire. She copied the image off a photo of my Dad's favourite bull – Lambert. It's a lovely keepsake to have. The rest of the tables had other breeds, our stylist Kyna done such a fantastic job of making the cows look pretty. Anthony and my Dad cut lots of ash for the wooden plates on the tables and the flowers had plenty of green to add to the natural look."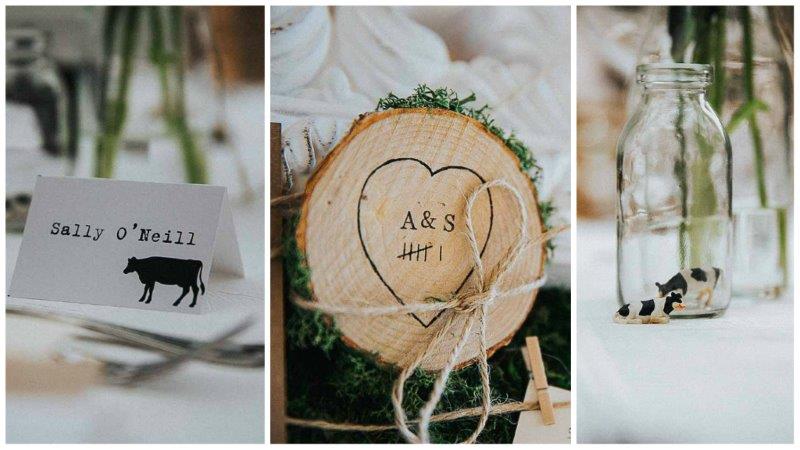 Photography
Julie Cummins captured the wedding photography. "Julie is a local girl and we would have been devastated if she wasn't available on our date, but thank God she was – we just love Julie!" Sally says, "her style of her photography suited us so well. She is quick, easy going, super talented and such good craic! She had us laughing all day. We would highly recommend her; she got all the right shots and gave us great tips throughout the day."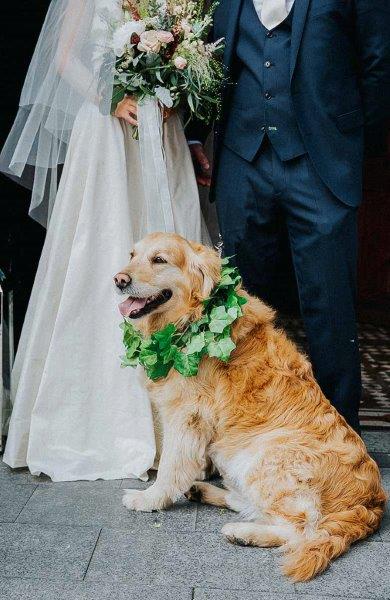 Venue stylist
"Another local girl called Kyna was our venue stylist, and what a talent she is," Sally enthuses, "so creative and had so many great ideas. She supplied a very cool rustic style candy table with lots of wood, lace and twine. She styled the tables with the wooden plates, flowers in the milk bottles and illustrated cow pictures. She scattered little milk bottles and tiny cows beside them around the place and even printed out some Polaroid style pictures of the two of us and stuck them out of milk bottles. Her attention to detail was amazing. She also makes bridal headpieces, there is nothing that girl can't do!"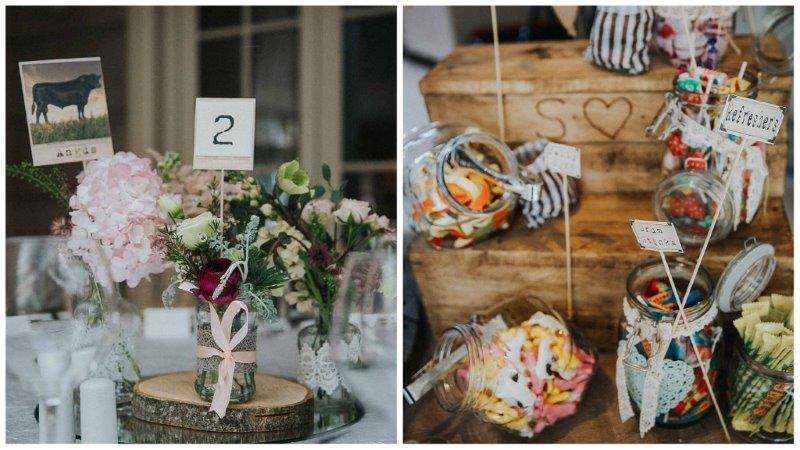 Wedding dress
The bride looked sensation in a Sharon Hoey two-piece ensemble. "I wore a silk top with a round neck and capped sleeves with button detail on the back," Sally explains. "The skirt was raw silk with a gorgeous gathered detail on the waist and of course, pockets! I wanted a really laid back style dress, not much fuss and something really comfortable. In the evening I changed my top into an oatmeal colour cashmere top with 3/4 length sleeves and put my hair in a high ponytail. It was great because I felt so relaxed and like myself in it, I really loved it!"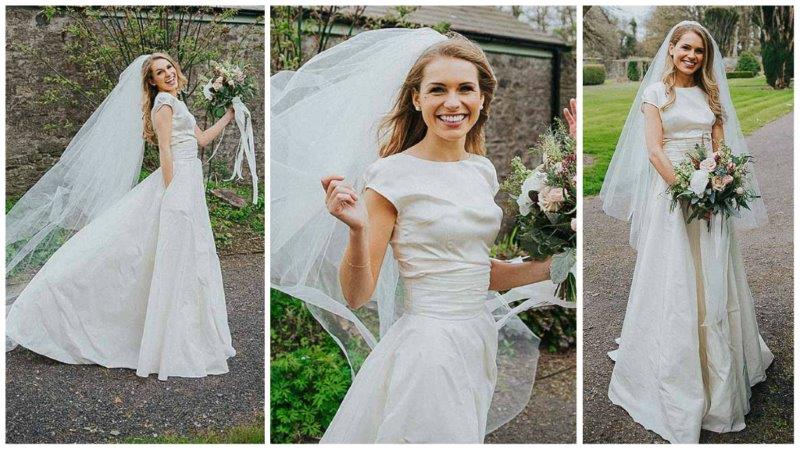 Groomswear
The groom wore a Frency navy coloured suit by Remus Uomo from Arnotts, Dublin, accessorised with shoes from Aldo.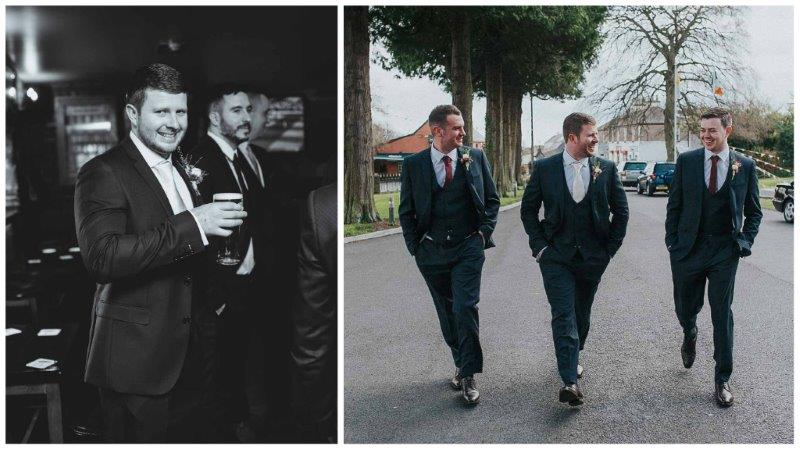 The bridesmaids
The bridesmaids wore a Needle & Thread dress. "They were so simple and casual," Sally enthuses, "Just what I wanted, and we got them in the sale in BT2! The junior bridesmaid Yasmin got the same dress but we got it altered to a ballerina length and thicker straps."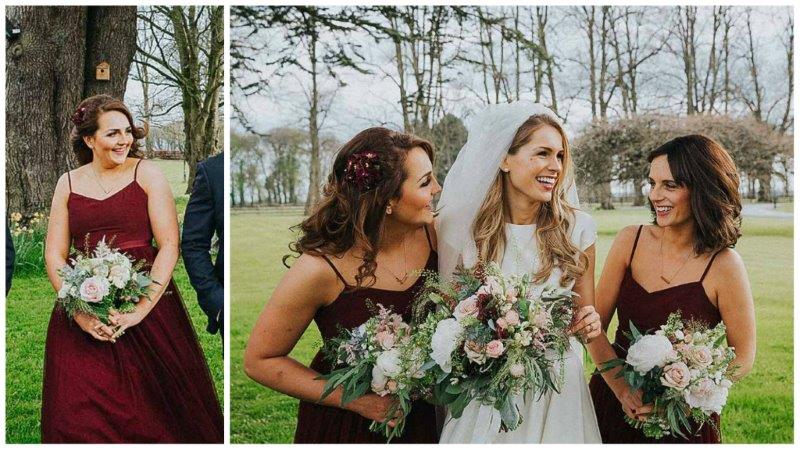 Wedding flowers
Flowers by Moira, Dunshaughlin provided the wedding flowers. "The flowers were loose, natural and there was plenty of greenery," Sally says, "going with the theme of casual and country style Jenny knew exactly what to do! I just showed her my dress and the girls' dresses and let her do her thing."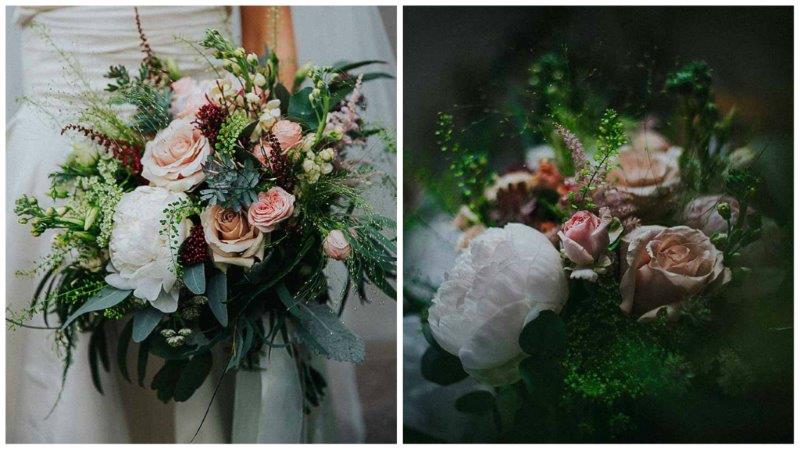 Stationery
"The invitations were by a local girl called Ruth Maher; she is so talented and just does it as a hobby," Sally explains. "They were on brown card with a lace panel with a pretty bow on the front – Ruth did such a great job!"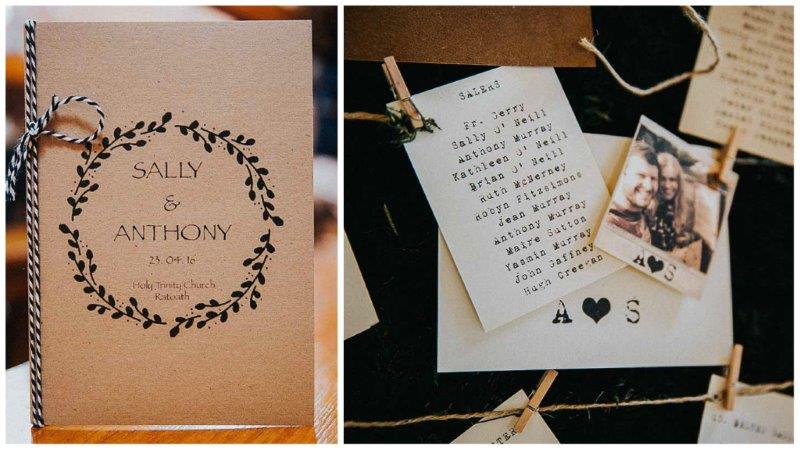 Wedding cake
The couple's good friend Rachel Maher made the three-tier wedding cake. "I wouldn't of had anyone else, other than Rachel make the cake… her baking is unreal and she is so particular," Sally praises. "I left her to do whatever she wanted, so it was so nice to have it as a surprise on the day. It was a three tier, lemon drizzle on the top and chocolate biscuit in the middle and the bottom, It was so tasty. Oh and Rachel done the mass booklets too. We have very talented friends!"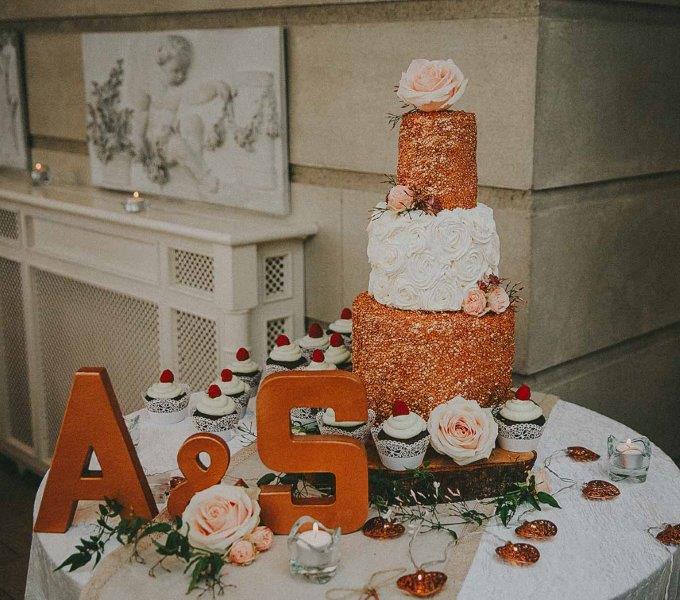 Favourite moment
Anthony:  The whole day was excellent. I was so nervous when I was standing at the alter with my back to the door and even more so when I knew Sally was walking up behind me, but once I laid my eyes on her and her beautiful smile I was the happiest man in the world.
Sally: I had so many! But what stood out to me was walking up aisle. I'll never forget it, I couldn't stop smiling and I didn't know where to look, There were so many people there for us! And the best part was getting to the top and finally seeing Anto.