19th February 2015. Ceremony and reception at the Village at Lyons, Co. Kildare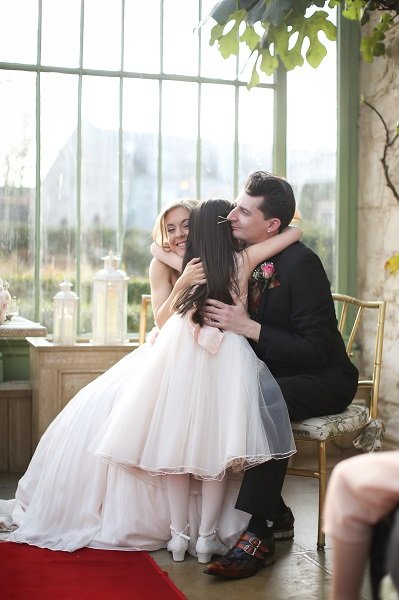 Photographer by Will O'Reilly
The couple
"We met in 2002 when I was in a motorbike club and we went away for a weekend trip to Athlone," Paul begins. "One of my friends was going out with one of Sharon's friends at the time and they decided to meet us down there. I brought Sharon for a short spin on the bike and we met up again as soon as we got back to Dublin."
"We moved in together in 2004 and got engaged at Christmas 2012," Paul adds.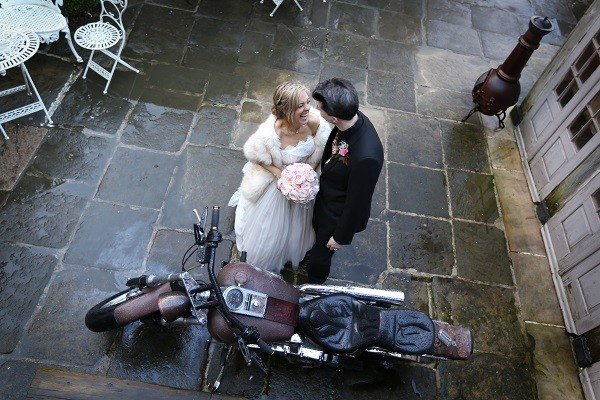 The venue
Sharon and Paul had their heart set on the Village at Lyons in Kildare. "We loved the venue from the moment we saw it," Sharon recalls. "There was so much character and beautiful detail everywhere we looked. We couldn't believe our luck that such a nice venue was only 10 minutes drive from where we live!"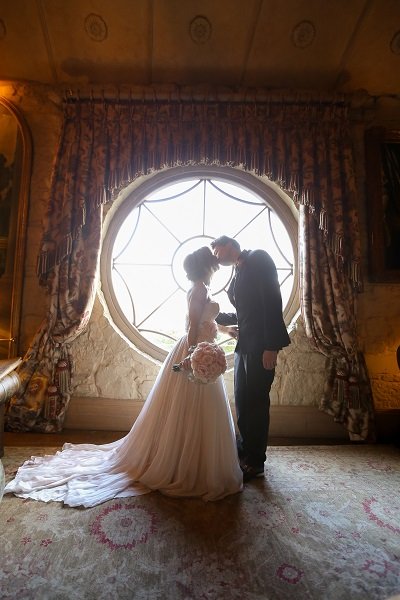 Wedding theme
Keen to include their daughters in the wedding day as much as possible, the couple chose the girls' names as their theme.
"Eight-year-old Rose and Pearl who is two, were the inspiration for the theme," Sharon explains. "The wedding cake had handmade roses and pearls on it, which were made by Paul. The bouquets, my dress and the flower girls' dresses had roses on them. I wore pearl earrings and necklace, and the bridesmaid dress and flower girls' shoes had pearl detail."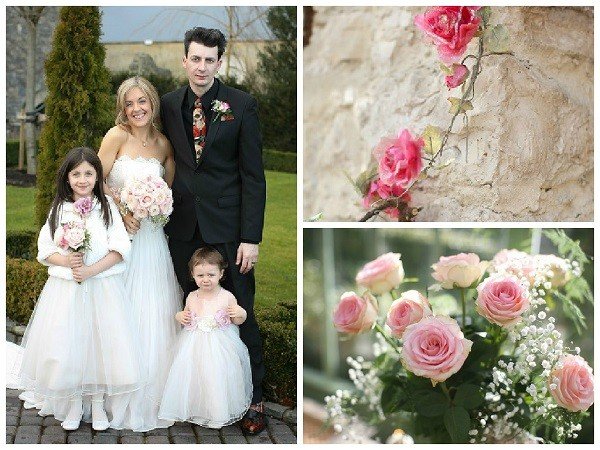 Wedding dress
Sharon wore a stunning Naomi Neoh wedding dress. "It had a French lace bodice, a pale pink handmade silk rose corsage, and layers of beautiful silk chiffon with a faint blush underskirt. This dress felt so light and comfortable and it made me feel elegant," Sharon enthuses.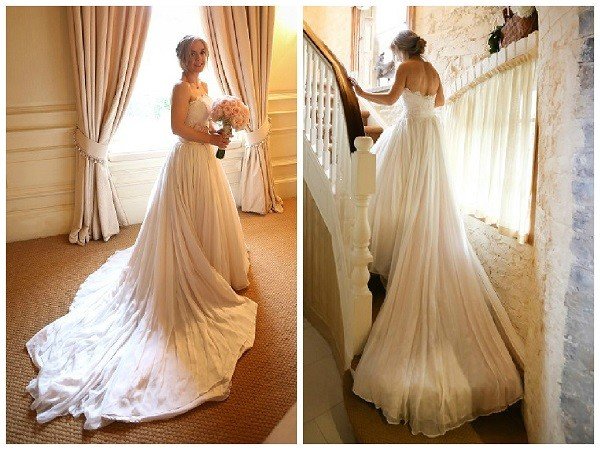 Grooms wear
Paul wore a black suit and shirt from River Island, flame print shoes from New Rock, and he custom made the tie himself.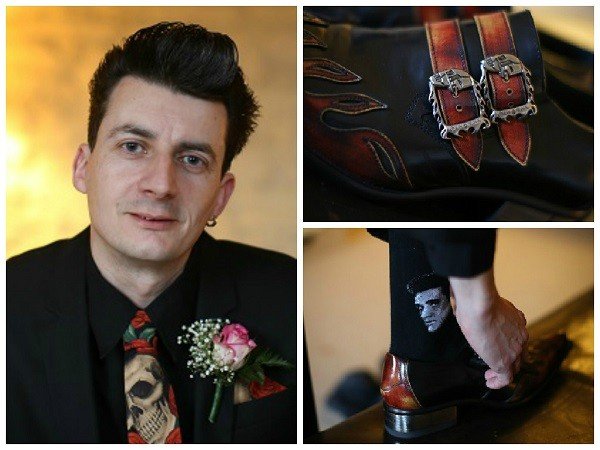 Bridesmaid
The bridesmaid's dress was from Dress Code and it was a mushroom coloured gown with pearl shoulder blade detail.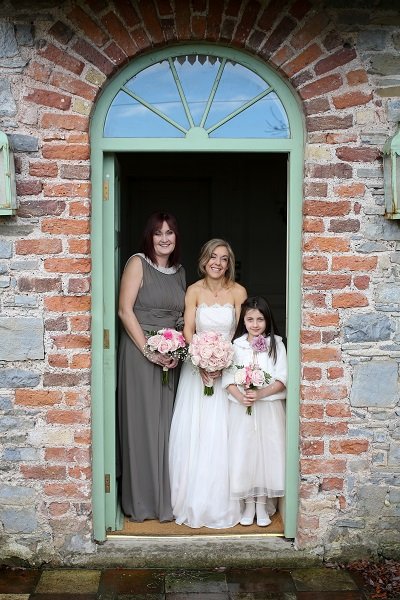 Wedding flowers
Sharon bought the flowers and the couple created the floral arrangements and bouquets themselves. The bouquets were made using David Austin roses.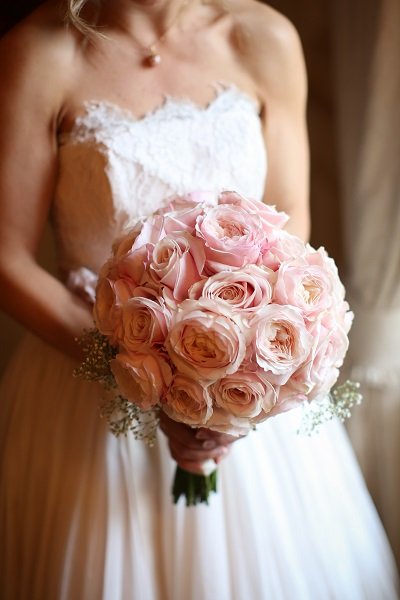 Wedding cake
The cake was a three-tier lemon sponge made by Paul's friend Joanne. Impressively all the decoration was done by the groom himself. "In keeping with the theme of our daughters' names, Rose and Pearl, the cake was decorated in sugar paste roses with pearl strings between the tiers," Paul explains.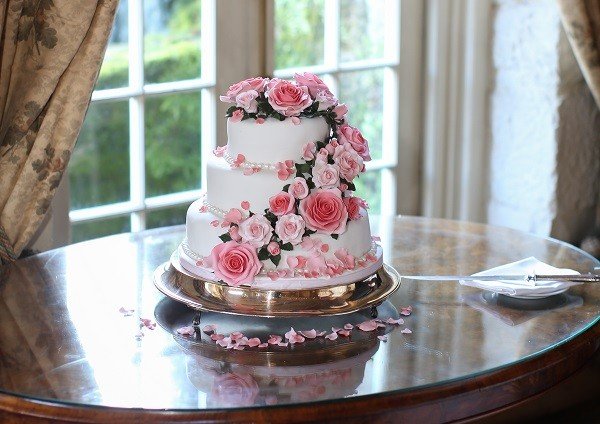 Favourite moment
Paul: I loved when our daughter Rose read a piece at the ceremony that she wrote herself wishing us love and happiness together.
Sharon: Walking up the aisle with my Dad.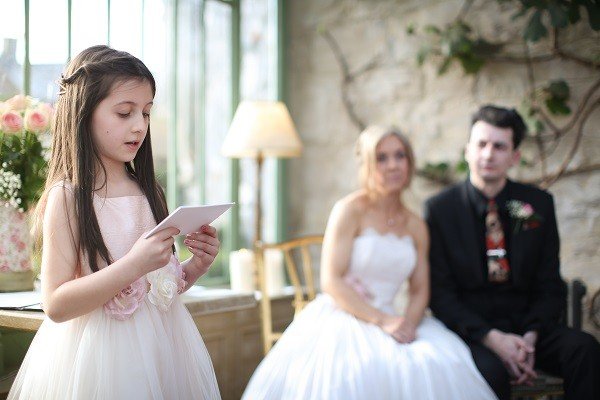 Top tip
Paul: Choose the right bride! Also, don't spend too long away from your guests getting photos taken- we didn't and the guests remarked how great it was that we were around.
Sharon: Make your wedding as personal as you can.