18th August 2015. Ceremony at Hebron Free Presbyterian Church, Ballymoney, followed by a reception at Larchfield Estate, Antrim
This groom managed to pull off the perfect surprise proposal …
Photos by Peter Thomas Photography
The couple
The Co. Down groom met his Antrim bride at a birthday party, partly due to the persistence of a 'cupid friend'. "We had a mutual friend who was determined to set us up on a date," Ashleigh beings, "later that month we kept meeting at different social events. Finally we exchanged numbers, the first date was arranged and the rest is history!"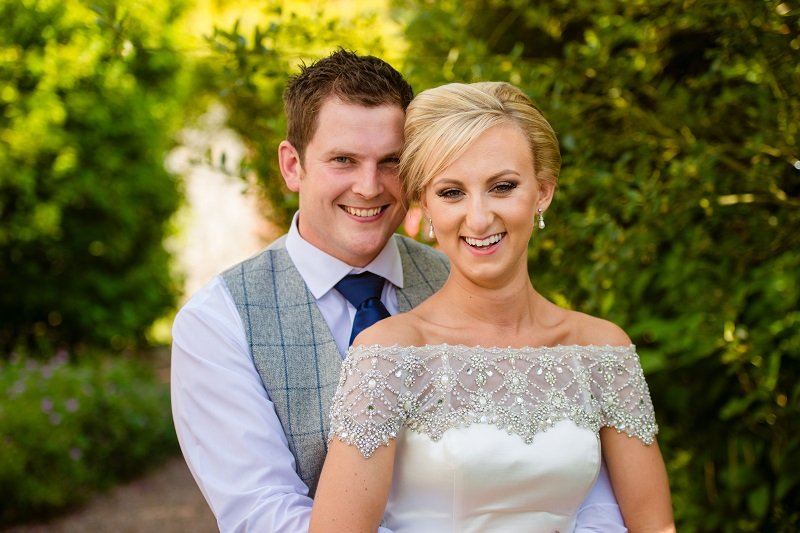 The proposal
"Paul asked if I would accompany him on a trip to a machinery sale in Scotland," Ashleigh says, "I was unsure as machinery isn't really my thing, but decided I would accompany him as I had no other plans. We drove through the Lake District and arrived at Lake Windermere. I began to ask questions but Paul just said we were early for the sale and we should kill a few hours at the Lake District. We got ice cream and booked a little boat by the lake; it was a beautiful day and the lake was a perfect romantic setting. I began to realise that there was no machinery sale! We sailed out into the middle of the lake Paul reached into his pocket pulled out the little box, opening it he asked me to marry him. I was so excited – immediately I said yes! It was perfect."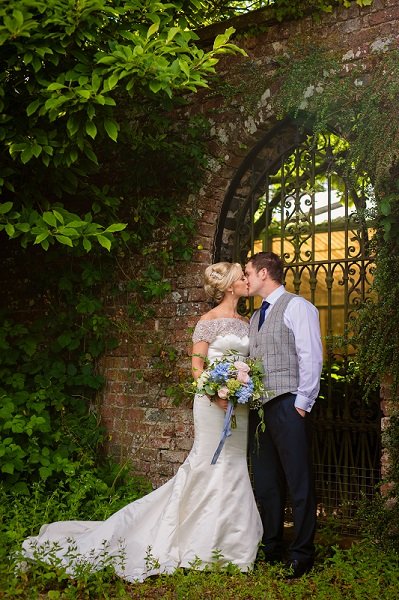 Venue
The couple chose the Larchfield Estate outside Lisburn as they loved the beautiful country barn, courtyard and gardens.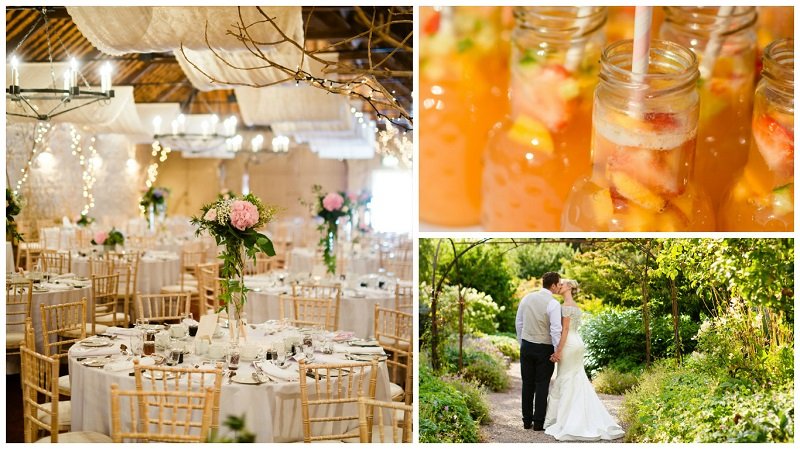 Theme
A 'vintage glamour' theme set the tone for the day incorporating a blue, silver and grey colour scheme.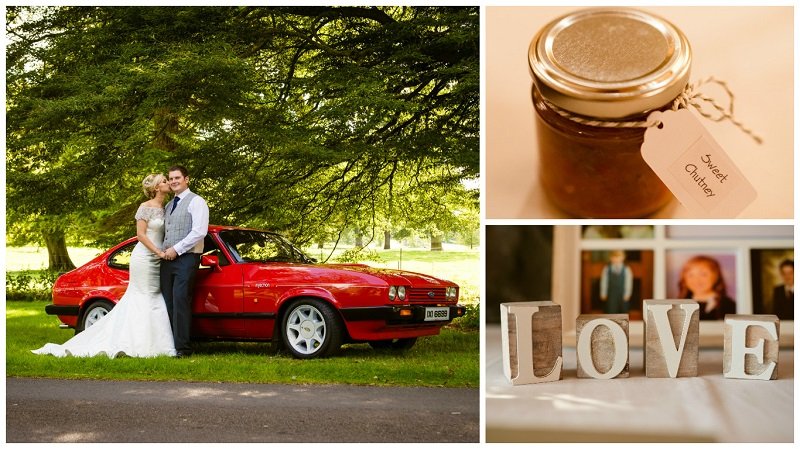 Wedding dress
The bride looked stunning in an ivory Justin Alexander wedding dress from Bride at Logans, Antrim. "I absolutely loved the silk and heavily embellished detail at the top, and the buttons that went the whole way down the back of the dress," Ashleigh says.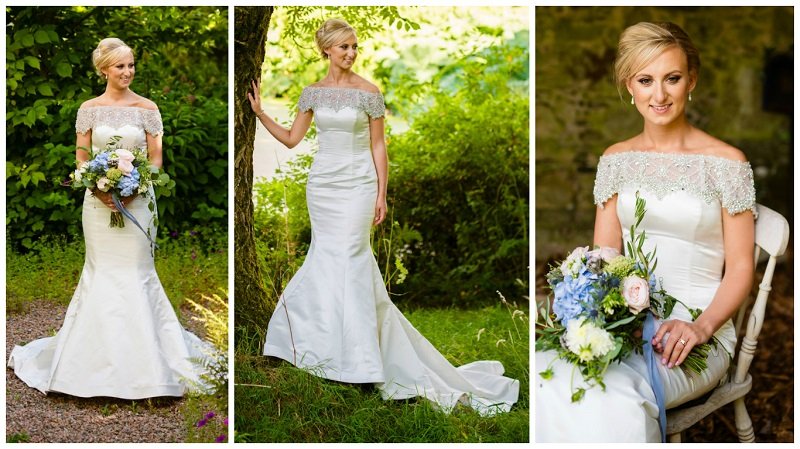 Bridesmaids
The bridesmaids wore Larkspur Dessy dresses also from Logans Fashions of Cloughmills.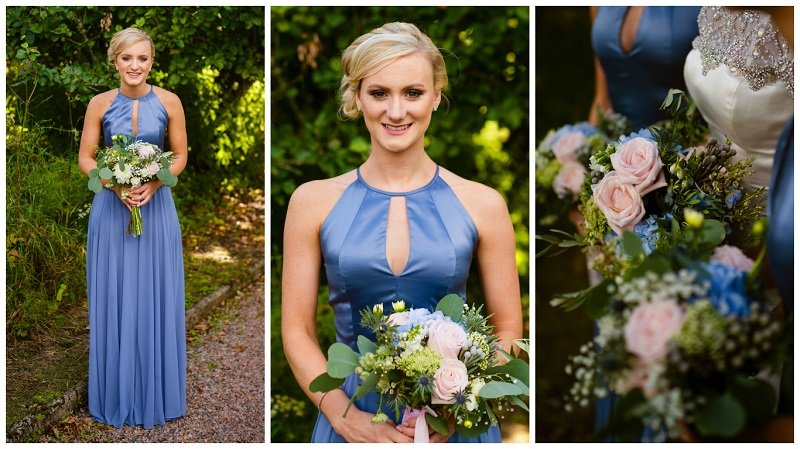 Groomswear
The groom and best men wore dark navy, long tailed suits with grey and navy checked tweed waistcoats from Kelvin Graham, Ballynahinch.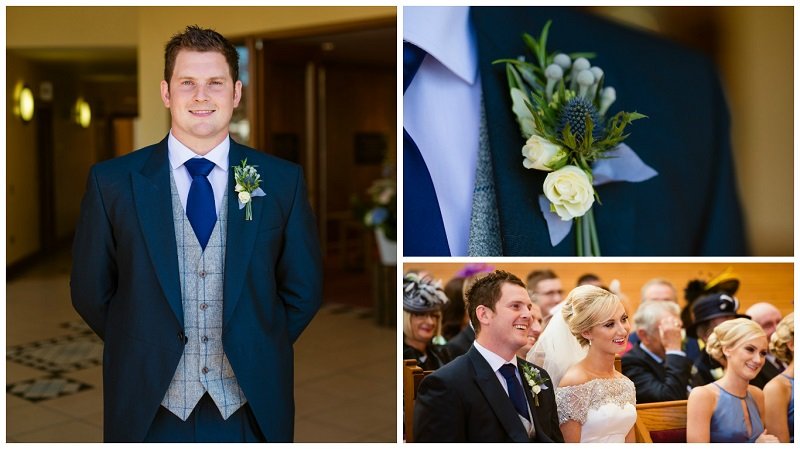 Wedding flowers
The Stables, Coleraine provided the wedding flowers. "My bouquet was made up of avalanche blush roses, pale blue hydrangea, white dahlia, white roses, blue thistle, astrantia, wax flower, brunia, white phlox. It had eucalyptus, olive beaches and passion flower trails," Ashleigh says.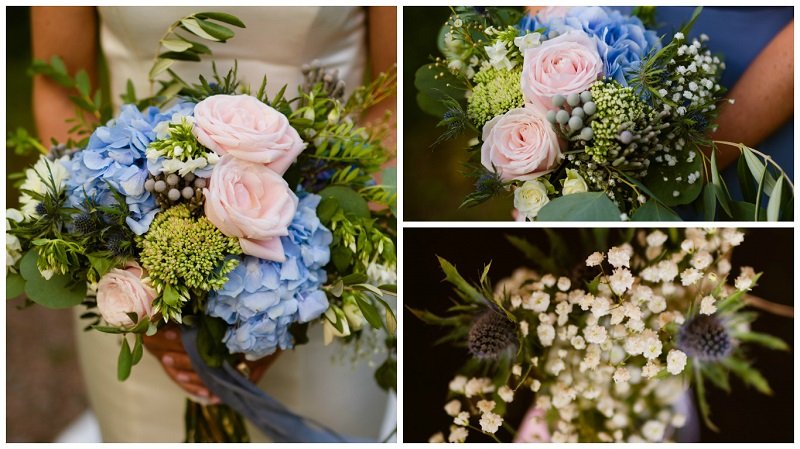 Wedding cake
The mother of the bride made the four-tier wedding cake. "Each tier was round with a mix of blue, silver and ivory icing," the bride explains. "The bottom tier was surrounded with iced ruffles, and the other tiers were surrounded by sparkly ribbon or pearls.  On the top was a blue iced hydrangea. The cake tiers featured flavours; fruit, chocolate and plain."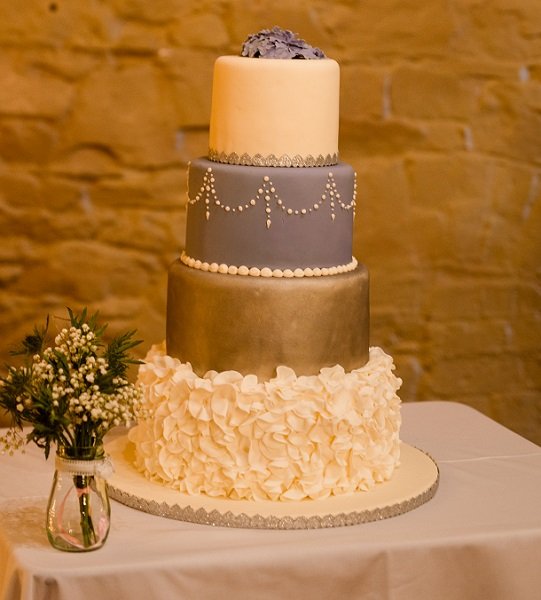 Favourite moment
Paul: "Having all of my family and friends together to share the day was amazing. Waiting to see Ashleigh walk up the aisle was also exciting; she looked absolutely beautiful! The food was probably one of my highlights though – Ashleigh allowed me to organise that. Planning to go for something different I choose a BBQ. Thanks to Old Barn Event it was a great decision. The courtyard at Larchfield also provided the perfect location and to top it off we had fantastic weather."
Ashleigh: "The whole day was fantastic! Walking up the isle with my Daddy, seeing all my family, friends and most importantly my husband to be at the top was amazing. The service was perfect and saying the vows was a surreal yet exciting experience. My two sisters, my bridesmaids, sang and it was absolutely beautiful. Everything was great and I wish I could do it all over again."