5th June 2015. Ceremony and reception at Brownlow House, Lurgan, Armagh
Photography by Ciaran O'Neill
This couple were brought together by Facebook and fate.
The couple
"We first met 12 years ago through a friend and dated for a short time," Lisa begins. "We hadn't seen or had contact with each other for a long time until we got in touch again via Facebook. I guess fate had its way!"

Proposal
When Lisa organised a weekend away as birthday treat for Bjorn, little did she know what he had planned for her. "I booked a trip to the grounds of Bjorn's second love – Manchester United. We did a tour of Old Trafford and headed back towards the hotel. Bjorn asked me to get us a drink and he went up to the room to get ready. When I got upstairs and knocked on the door he didn't answer so I knocked again, and the room key card was slipped under the door to me. I hadn't a notion what was going on; I opened the door and there he was on one knee with an engagement ring."

Venue
"I have always loved Brownlow House or as I call it Lurgan Castle," Lisa explains. "The surroundings are absolutely beautiful and the building itself is amazing. I always said I wanted to get married in a castle, so picking this venue was the start of our happy ever after."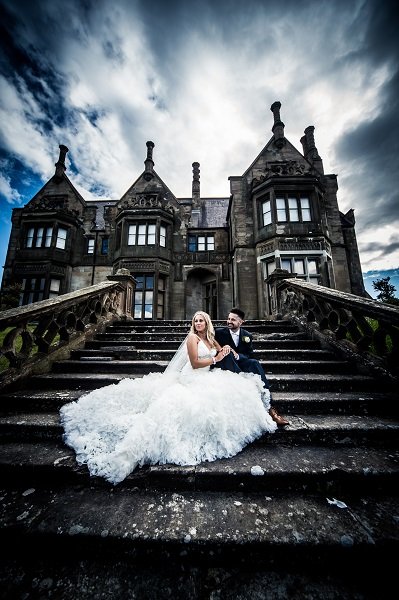 Wedding planner
The couple didn't have a wedding planner, but there could be a career in it for Lisa's mother! "Mum had many surprises for us on the day including a champagne fountain, ice-cream stand, candy cart, and light up alphabet letters," Lisa explains. Emma from Altered Images did the room décor and lighting. "For the evening we had a white LED dancefloor. The tunnel in Brownlow was our main entrance to the evening reception and Emma dressed it completely front to back and inside with draping and lights; it looked magical," Lisa adds.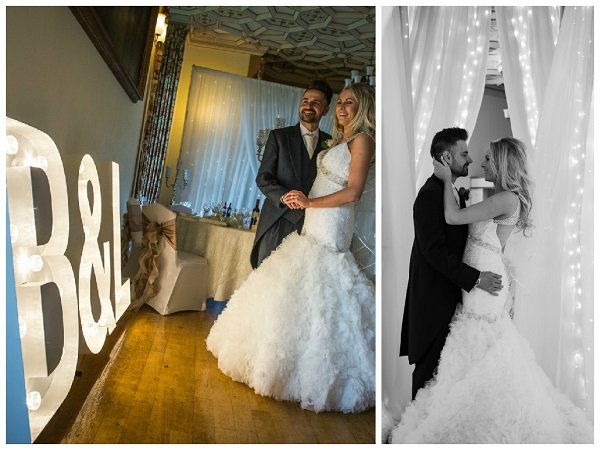 Wedding dress
A self-confessed 'girlie girl', when Lisa spotted her Mori Lee gown in a magazine she knew it was the one for her. "My wedding dress was mermaid style and ran from a fitted top into a ruffle bottom, with lots of pearls and diamante embellishment," Lisa explains. "When it comes to sparkle – the more the better, and that's just what my dress had. When I found it in the magazine I discovered that the only stockist in Northern Ireland was Perfect Day. As soon as I put on the dress and looked in the mirror I felt amazing and just like a princess. Needless to say I didn't want to take it off!"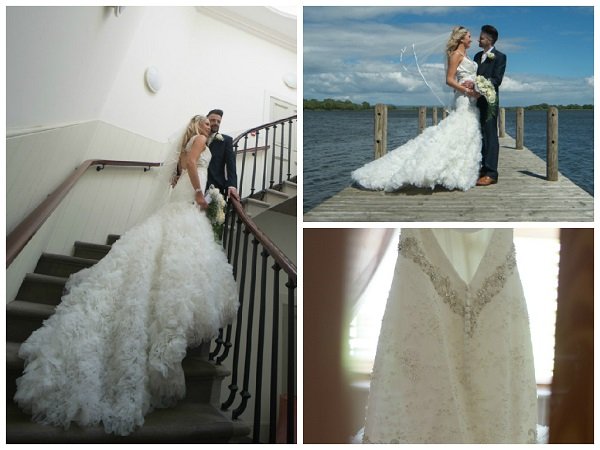 Groomswear
Bjorn wore a navy suit from Dapper Dudes in Randalstown.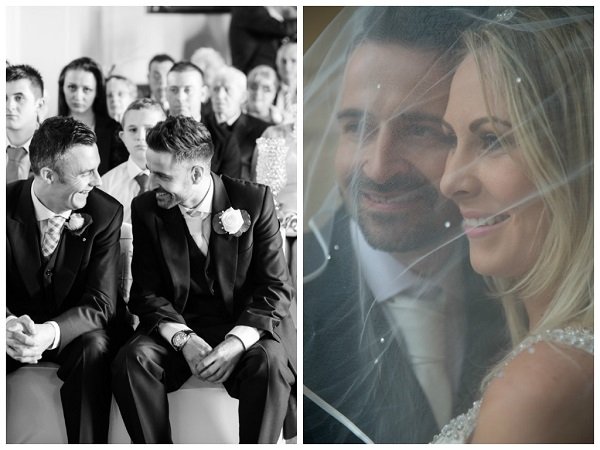 The bridesmaids
The bridesmaids wore salmon chiffon dresses with lace keyhole back detail from True Bride collection.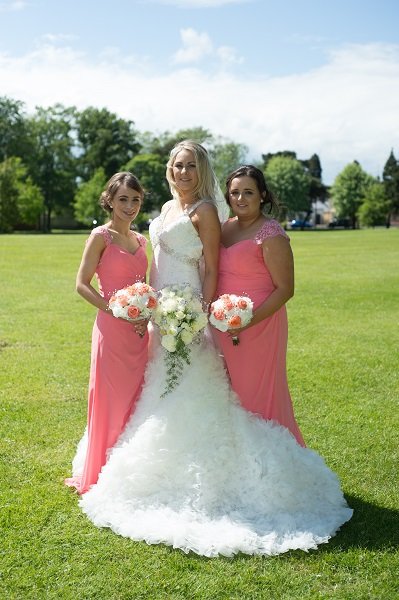 Flowers
Designs by Therese, Pomeroy created the flowers. The bride's bouquet was made out of white roses and diamante brooches, and the bridesmaids' bouquets contained peach roses and brooches.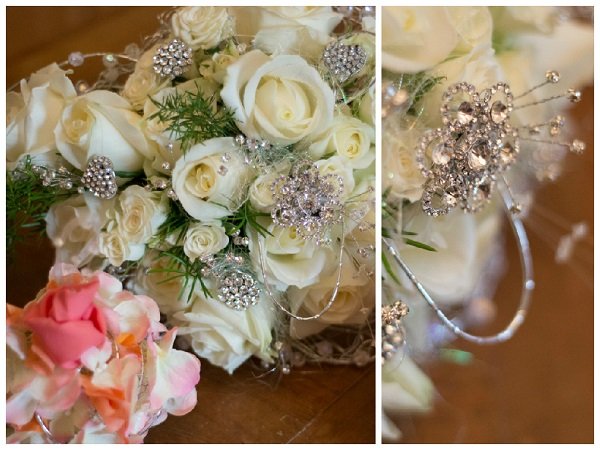 Stationery
Wedding Invitation Boutique designed the stationary. "On the front of the invitations there were large ivory fabric roses on the top with a small diamante added to each side of the text," Lisa recalls. "All the stationery matched; I had a guestbook, table plan, order of service, place cards and table numbers all made to match."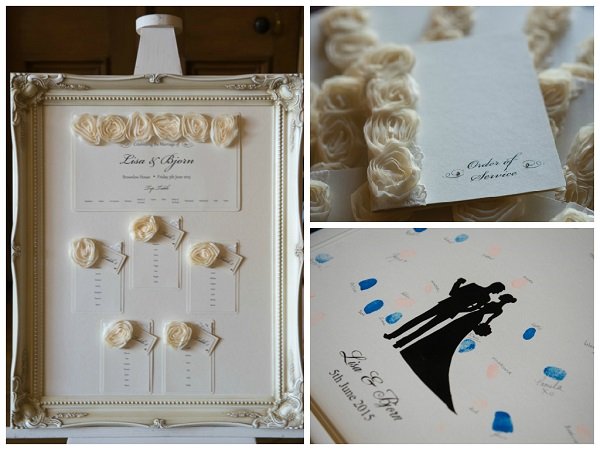 Wedding cake
Christine Cakes, Loughall created the wedding cake based on photos the bride found online. Lisa explains: "The bottom tier was actually two tiered with ruffle ivory icing. The middle tier was a gold colour with very little detail, and the top tier was also a double tier and had detailed ivory icing. The top of the cake was finished off with icing roses with a salmon centre to match the colour of the bridesmaids' dresses."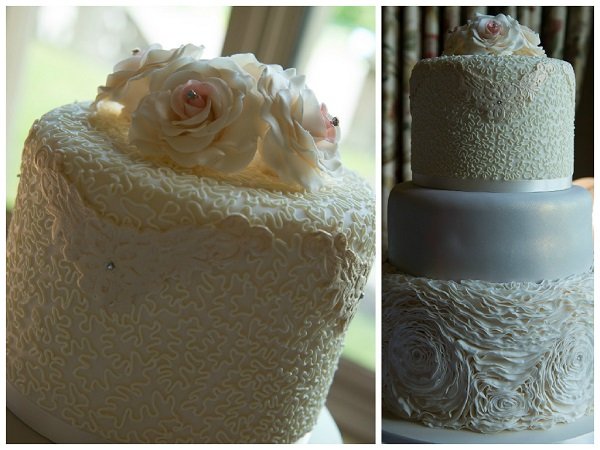 Favourite moment
Bjorn: "When I saw Lisa walking towards me."
Lisa: "When I was walking down the aisle to my soon-to-be husband, and seeing that all the hard work and planning myself and my Mum had put in all paid off. I also loved having our family and friends around us to share our special day with us. I am a big country music fan and I organised for my favourite Irish country singer Derek Ryan to sing at our ceremony."