19th March 2016. Ceremony at St Michael's Church, Laois followed by reception at The Keadeen Hotel, Kildare
This couple opted for a chic black-tie affair
Photography by Weddings by Kara
The couple
Eddie and Katie first met in college in Maynooth back in 2006. "We were both in our first year of college and met at the house of a mutual friend before a night out," Katie begins. "I was studying Irish and Eddie convinced me he spoke it fluently and that he could help me with an assignment! We haven't looked back since."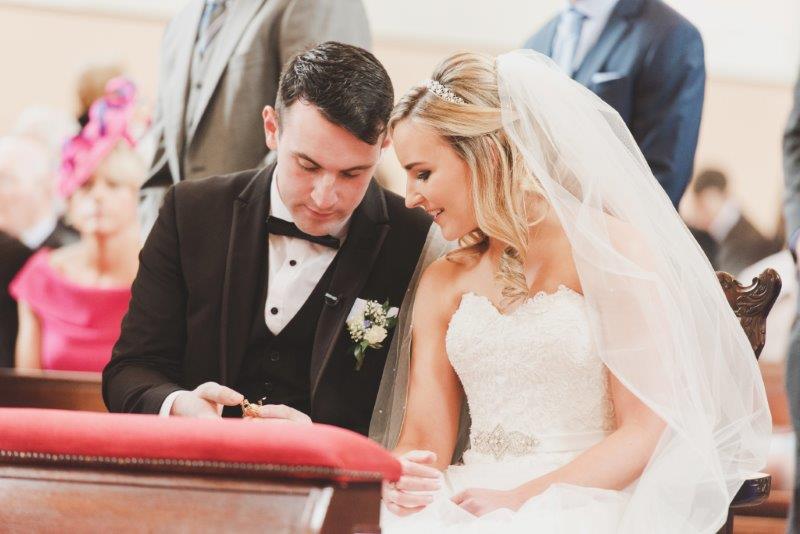 The proposal
Seven years later Eddie popped the question during a trip away to Cork. "We usually go away for a few days around April as it's close to our anniversary. "We got a ferry out to Whiddy Island, which is a small island just off the coast of Bantry," Katie says, "we spent some time exploring and found a little secluded beach. That's where Eddie proposed – he had been planning it all along and had even spoken to my parents about it the previous week. It was a perfect day."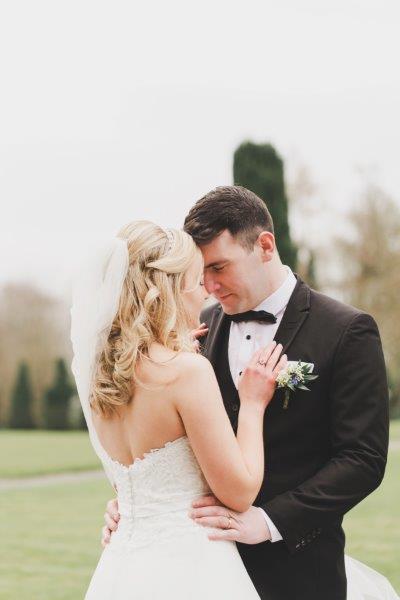 Venue
After spending time researching venues, the couple fell in love with the Keadeen Hotel. "As soon as we visited the Keadeen, it just felt right," Katie says. "It's a family-run hotel that has a lovely cosy and relaxed feel to it. We wanted somewhere that could comfortably cater for all our guests, and the Keadeen ticked all the boxes. It has a great reputation for its food and beautiful gardens too. The staff (particularly Tina) were excellent – from the food tasting to room layout, no request was too big or too small!"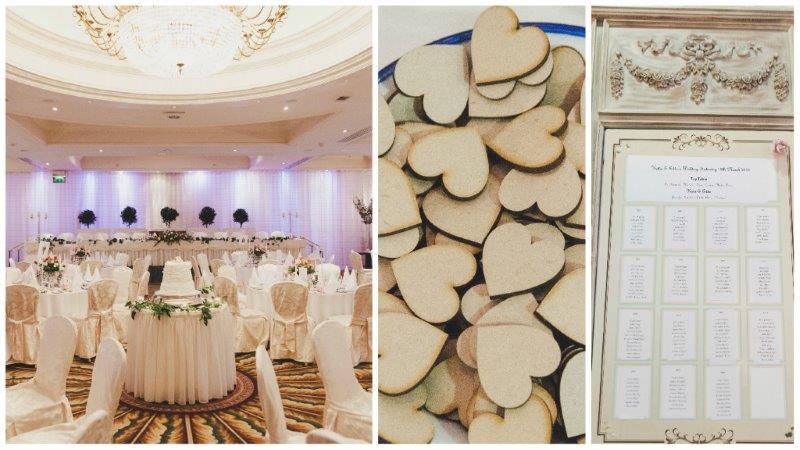 Theme
"We didn't start out by planning for a theme as such, but as decisions started being made we realised we wanted everything to have a sort of timelessness about it," Katie explains, "we didn't want it to age. So we went for traditional tuxes for the men and soft colours for the bridesmaids and flowers – it all kind of came together naturally. It also helped us choose our table names – each table was named after a year in our lives."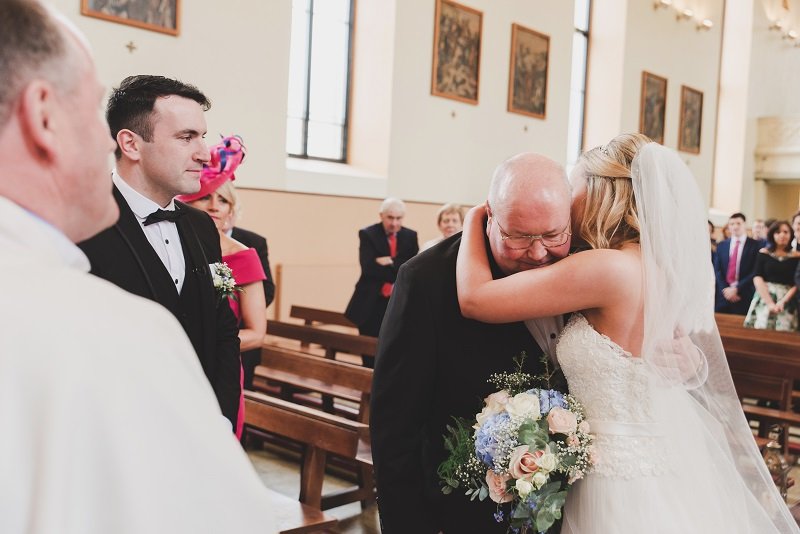 Wedding dress
The bride looked radiant in a Ronald Joyce wedding dress from Amarra Bridal, Newbridge. "The owner of Amarra Bridal, Mary, is fantastic and I absolutely loved trying on the wedding dresses," Katie says. "I don't think I tried any I didn't like, but I did find myself going back to the same style all the time. It's a bit of a cliché but as soon as I tried on my dress I knew it was the one I wanted."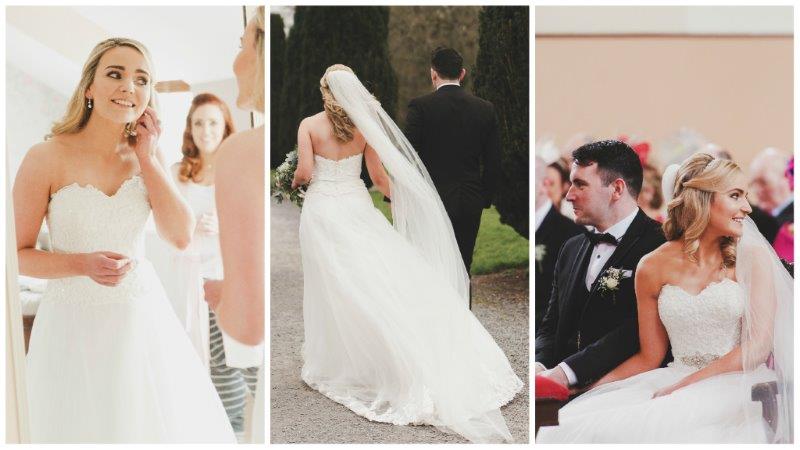 Groomswear
The groom and his groomsmen wore tuxes from Moran's menswear, Thurles. " The black tux was one of the first decisions we made; they are classic and never go out of style," Katie says. "Moran's were fantastic to deal with and did everything in their power to fit the lads out in bespoke tuxes at reasonable rates."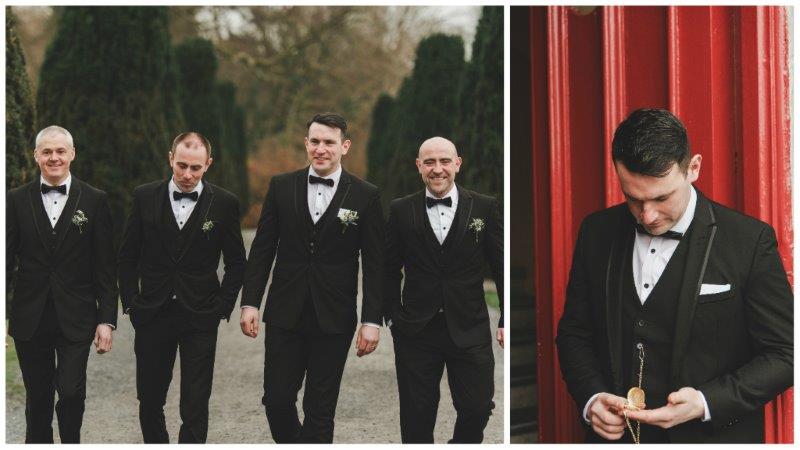 The bridesmaids
The bridesmaids wore dresses by Dessy, also from Amarra Bridal.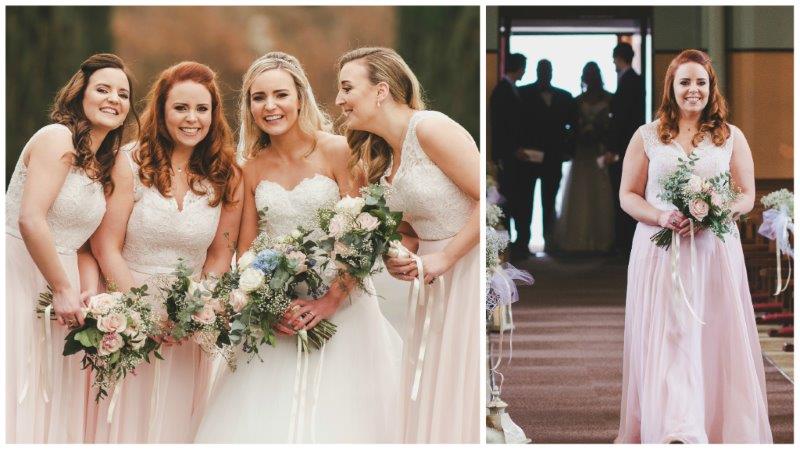 Wedding flowers
Dee from Forget Me Not Flowers, Kildare created the wedding flowers. "I knew I didn't want them too structured and loved the arrangements Dee came up with," Katie recalls. "The blue hydrangeas in my bouquet complimented the roses perfectly. Forget me nots are actually some of my favourite flowers, and Dee even managed to incorporate some into my bouquet and Eddie's buttonhole."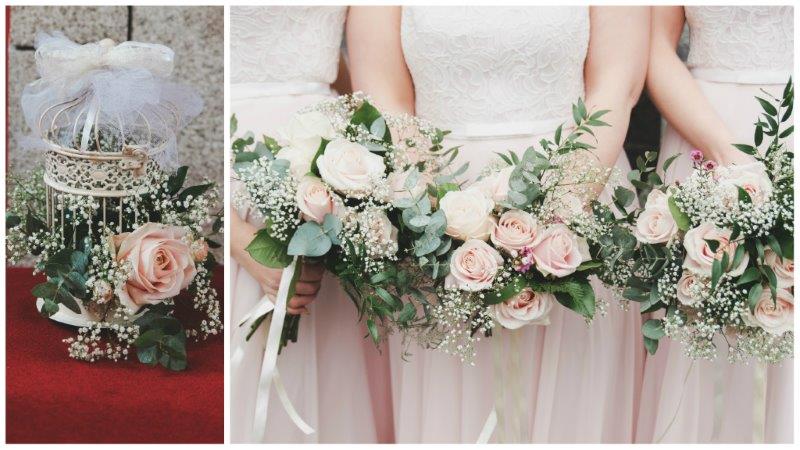 Stationery
The bride designed the stationery myself using Vistaprint and found it straightforward to use.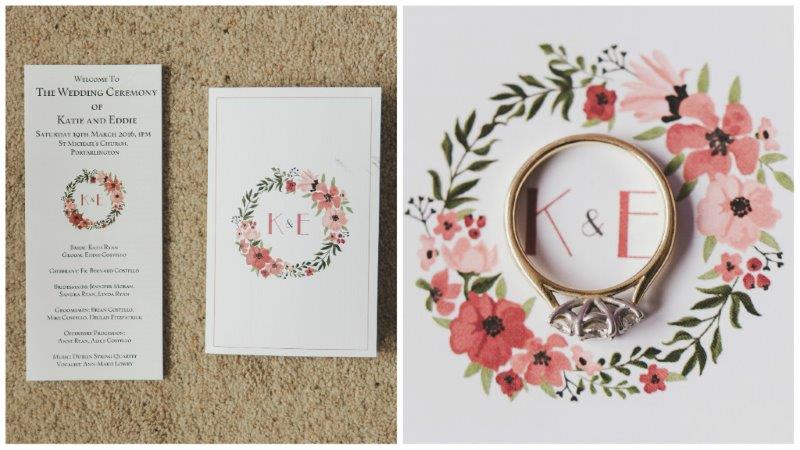 Wedding cake
A family friend made the wedding cake.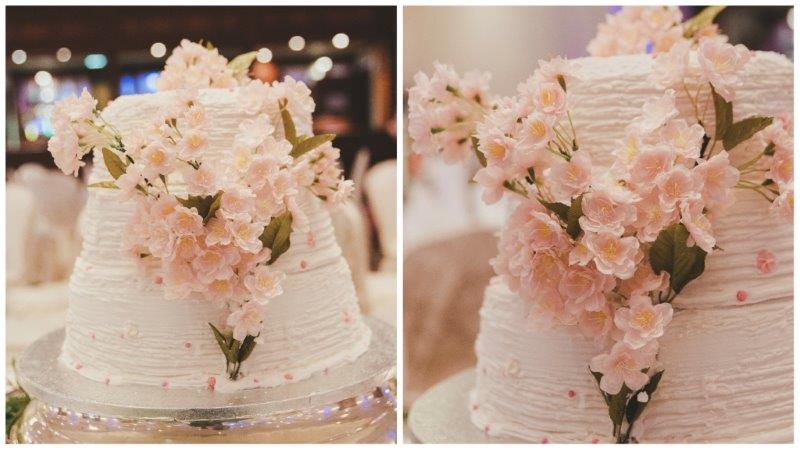 Favourite moment
Eddie: My favourite bit was waiting in the church with my brothers and brother-in-law beside me. We were chatting and laughing away nervously amongst ourselves and the priest – my uncle Ben. Also having my parents, sister and sister in law all behind me made me feel more comfortable too, until Katie appeared up the aisle in front of me. She was stunning. I didn't feel nervous anymore. I couldn't take my eyes off her for the rest of the day.
Bride: Saying our vows, the speeches, feeling the support of friends and family, seeing everything come together. The wedding ceremony was probably my favourite part of the day – walking up the aisle with my Dad, and seeing Eddie waiting for me at the top – I was so excited to see him and felt like I'd loads to tell him, even though it had only been a couple of days since we'd seen each other! It was a very personal ceremony and a friend of mine, Ann-Marie, sang for us in the church and was accompanied by the Dublin String Quartet. I think all of this added to the relaxed atmosphere of the day.