27th February 2015. Ceremony and reception at Ballymagarvey Village, Co. Meath
Photography by Gareth McGaughey
And the bride wore blue bridal shoes…
The couple
"We were classmates and so met each other on our first day of college," Alan says. "I made an excuse to speak to Jacqueline by pretending we needed referees for a football match and asked her if she looked good in black and white. Soon after we had our first date."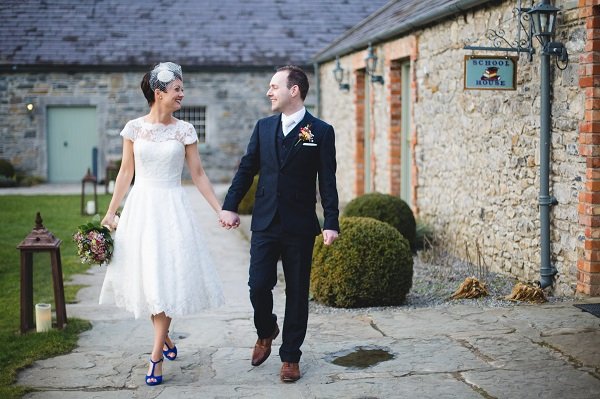 The proposal
10 years later Alan popped the question in December 2013 while they were putting up the Christmas tree. "I bought a baby vest and had the message 'Mammy will you marry Daddy' printed on it," Alan says. "I was in the middle of putting it on our daughter Amelie but then had to change her nappy."
Jacqueline adds, "I noticed he was gone a long time so I went in to check if everything was okay. I looked over his shoulder and just kept staring at her vest. I couldn't believe what I was reading." Alan then got down on one knee and proposed using his mum's engagement ring.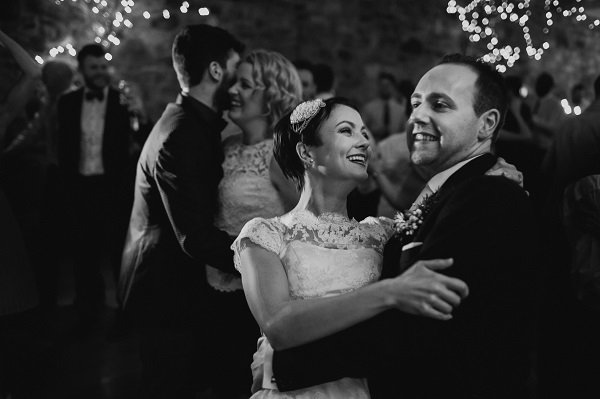 Venue
The couple's search for an intimate wedding venue brought them to Ballymagarvey Village. "Nothing else we had seen before could compare," Jacqueline says. "It had such a homely feel, the staff came across as genuinely friendly and interested and the banqueting room took our breath away."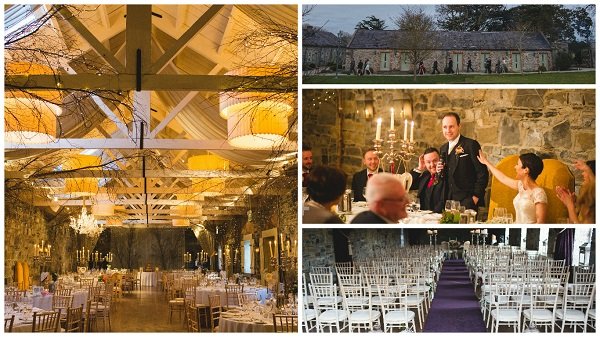 Theme
"The theme was very simple; family, friends and fun," Jacqueline says. "We wanted the day to reflect what was important to us which is our family and friends. We tried to incorporate them throughout the wedding for example: our wedding invitations had sunflowers to represent Alan's Mam who had passed away, plenty of framed photos of family and friends scattered throughout the house, and little details like the charms around my bouquet with photos of both our parents on their wedding day. I also wore a pearl cap which was made from a necklace my nana left me after she passed (my something old)."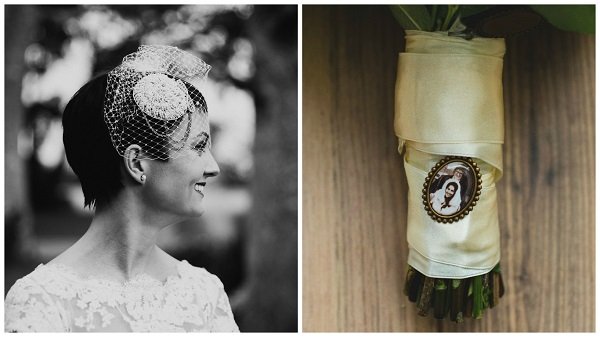 Wedding Dress
Jacqueline wore a tea-length wedding dress from House of Mooshki. "I wanted a dress that showed off my personality and style," she explains. "I tried on a variety of dress types but as soon as I saw this I knew it was for me. It was so comfortable to wear; my bridesmaids didn't have to keep fixing it for photos and was perfect for dancing later in the night. It was a short tea-length dress with a cap sleeve, there was a satin bodice overlaid with lace and had buttons down the back.
I got my shoes in The Shoe Garden in Arnotts. As my dress was 3/4 length I wanted to get something which stood out. I wasn't originally looking for blue but when I seen them I fell in love and loved how they could be 'my something blue'."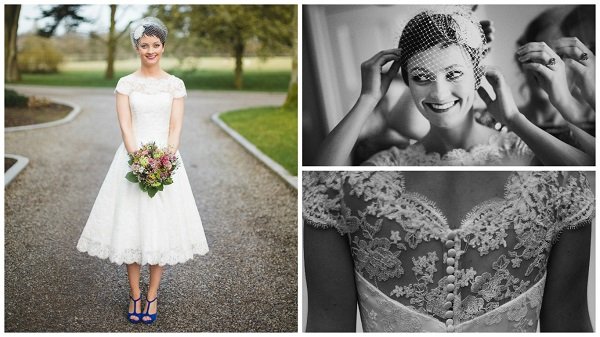 Groomswear
Alan wore a blue tweed three-piece suit by Gibson London from Tony McDonnell Menswear in Dundalk.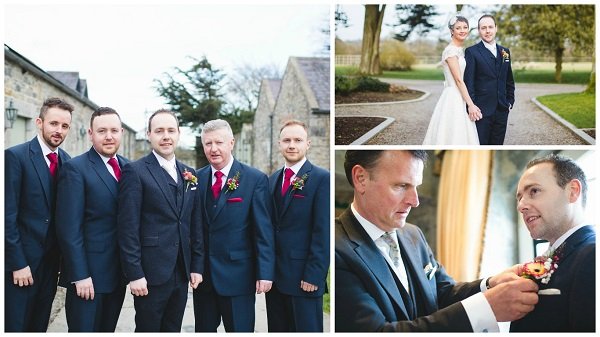 Bridesmaids' dresses
The bridesmaids wore Virgos Lounge dresses which were bought online.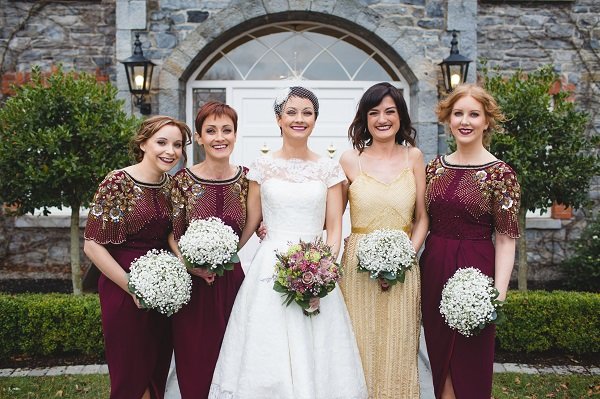 Wedding flowers
The wedding flowers were created by The Flower Studio, Dundalk. "As it was a spring wedding, we wanted flowers that looked like they had been just picked from a meadow," Jacqueline says. "I absolutely loved my bouquet and think the colours really stood out. We went for something simple for the bridesmaids as their dresses had lots of embellishment. Amelie had a flower ball but I don't even think that made it up the aisle."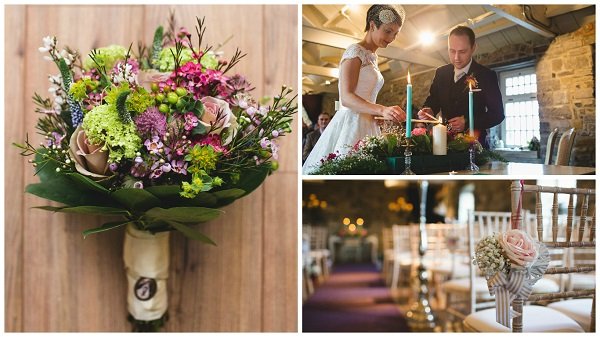 Stationery
The stationery was designed by Suzanne Cunningham who is based in Adee, Louth. "Suzanne created a vintage style incorporating brown coloured paper, twine, sunflowers and the wording 'dreams really do come true,' Jacqueline recalls. "Words don't do it justice; they were so beautiful and had that personal touch which meant a lot to us."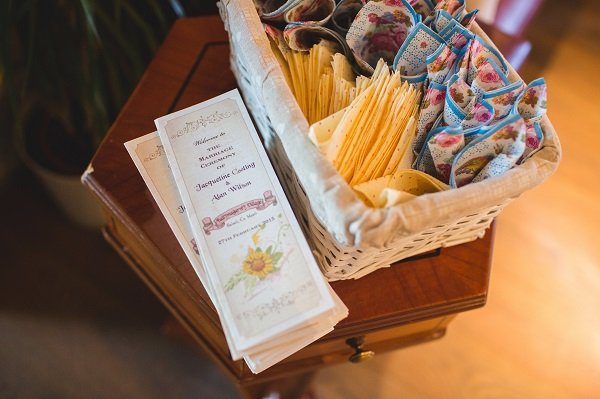 Wedding cake
Heavenly Cakes in Carlingford, Louth created the naked wedding cake. "We've been going out since 2004 – hence the 'Finally' cake topper! We have a running joke with Alan's brothers that you have to be going out for 10 years before they'll propose," Jacqueline laughs.
 
Favourite moment
Alan: "The binding of the ribbon; I was holding my daughter in one arm and tying a ribbon around my future wife. I could not have felt more proud and in love at that moment."
Jacqueline: "Walking down the aisle. From the moment I saw Alan it felt like we were the only two people in the room. I wasn't nervous at all (which is shocking for me) and just couldn't wait to become his wife."