18th June 2016. Ceremony at St Alphonsus' Church, Barntown, followed by reception at Ferrycarrig Hotel, Wexford
A fun festival themed wedding
Photography by Katie Kavanagh
The couple
This Waterford couple met in Ruby's Lounge Bar in Waterford one Sunday night out back in 2009. Aoife and her friends spotted Andy who is quite tall at 6' 8" and Aoife who is 5'1 asked for a photo with him. They got talking, hit it off and became 'official' on 15th January.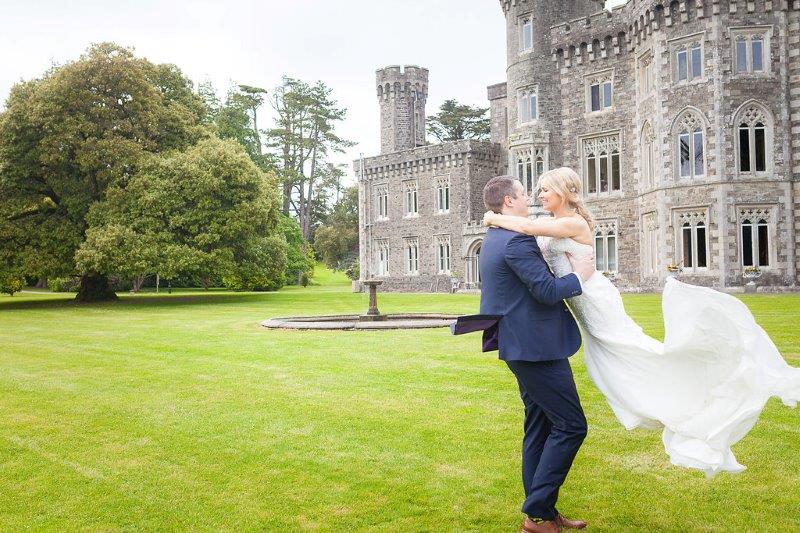 The proposal
Andy popped the questions during a trip to Bali in July 2014. "Andy had booked us a fancy dinner in Breeze Restaurant, Seminyak, for our second night there," Aoife begins, "our table was on the terrace overlooking the beach.  We watched the sunset and enjoyed an amazing dinner.  While sipping cocktails, Andy got down on one knee with a beautiful gold token ring in hand, and popped the question with some lovely words.  I said, 'Of course I will,' but that whole part was a total blur afterwards!  We took about an hour to ourselves and Andy told me that he had met my Dad, to 'ask for permission' beforehand.  When the shock had died down we started ringing our families and friends to share the news."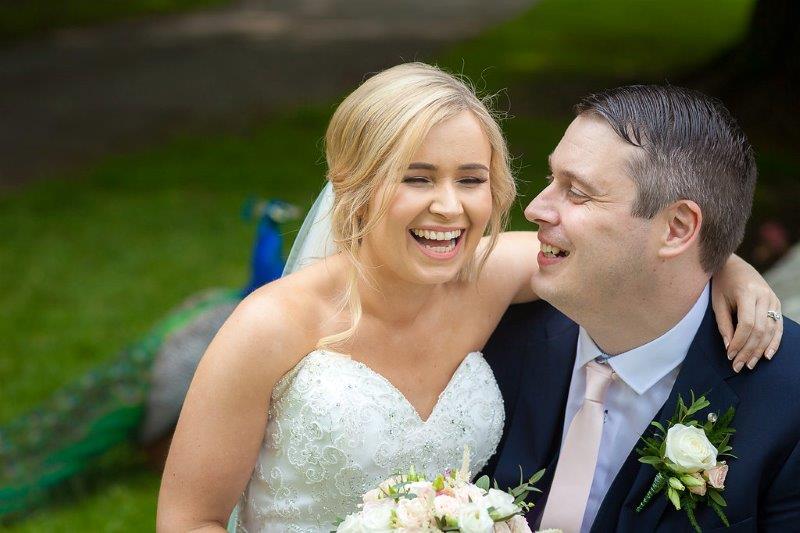 Venue
After researching wedding venues located within an hour's drive of Dungarvan and Waterford city the couple booked the Ferrycarrig Hotel. "We had been at a New Years Eve wedding in the Ferrycarrig previously and thought it was beautiful," Aoife explains. " We received such a warm welcome when we went to look around and thought it was such a beautiful place.  I think the view of the river from the ballroom really sold it to us.  We are both from coastal areas (Clonea and Tramore) and love the water."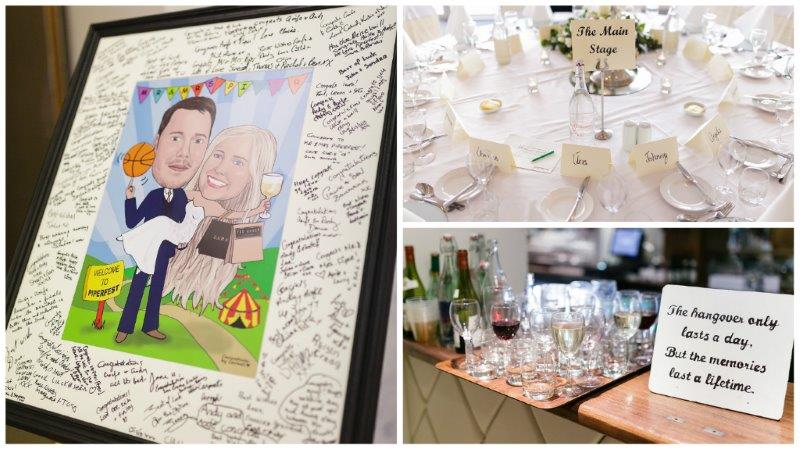 Theme
"We wanted a fun, relaxed vibe, and decided on a festival theme for our wedding," Aoife says. "We had festival tickets for our invites and a 'Line Up' of stages etc. for our seating plan.  My mother made colourful bunting to hang around the venue, while my sister and I made free-standing quote signs.  One of the groomsmen made road signs, a signpost was borrowed from my school, and a number of friends helped to cut out and assemble 'fan' mass booklets.  Our florist ensured that our arrangements weren't too structured and made flowercrowns for the flowergirls. We chose a campervan as our wedding transport from Volksweddings.  Our second day celebrations also carried these vibes as a barbeque in my parents' home."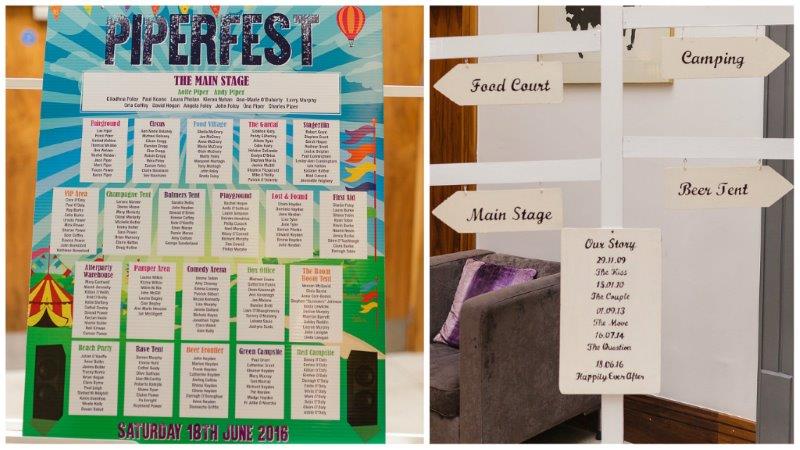 Photography
"Our photographer was the extremely talented Katie Kavanagh," Aoife enthuses, "Andy was groomsman in a wedding that she shot before, and told her then that she would be his wedding photographer if and when he got married – mainly due to the fact that she could control his friends! We were thrilled with our wedding photos.  Katie, and second shooter Kevin Curry, captured the whole story of our day in a fun, relaxed way. We didn't even know they were shooting most of the time and we had so much fun with the formal shots.  We hadn't expected to actually enjoy that part of the day!"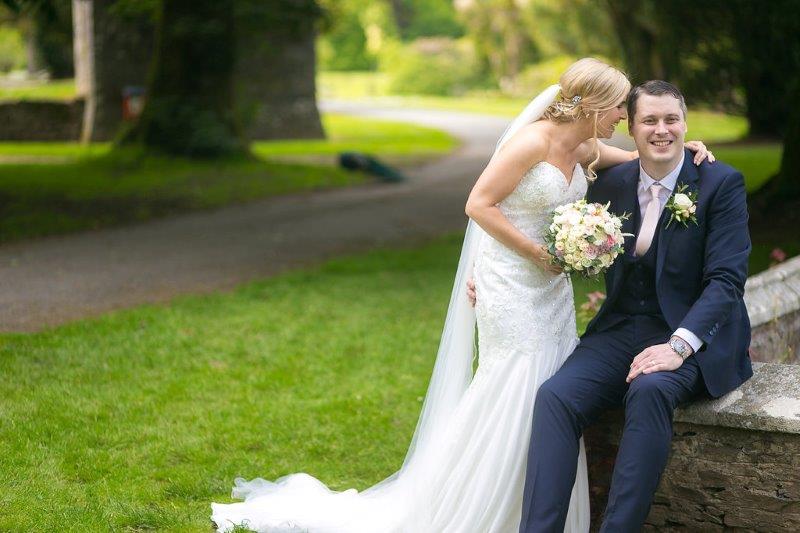 Wedding dress
Aoife looked radiant in a Justin Alexander wedding dress from Bijou Bridal, Tramore.  "It was the third dress I tried on and couldn't stop smiling according to the girls," Aoife recalls. " I had organised a big day out dress-shopping the following week with my mum and four bridesmaids, but kept comparing each dress to the one I had seen so it was then that I really knew it was 'the one'.  It was strapless, with a sweetheart neckline, fitted to just under the bum and then flowed freely in chiffon. There was pearl and jewel embellishment on the fitted part and I wore a cathedral veil.  I loved my dress!  When I put it on that morning, I felt so beautiful. My amazing hair and makeup stylists had also done an amazing job; Cathy from www.bridalhair.ie and Anita from The Powder Room, Gorey."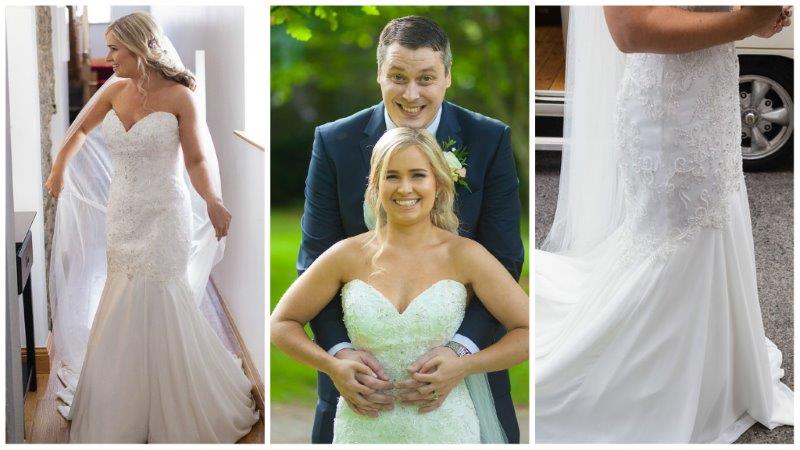 Groomswear
The groom and groomsmen wore Bartoni navy three-piece suits from Gregory's Clothes for Men, Waterford.  The groomsmen and best man's ties were pale blue while the groom wore a peach tie, like the flowergirls' dresses.  All of the men wore tan shoes and superhero socks.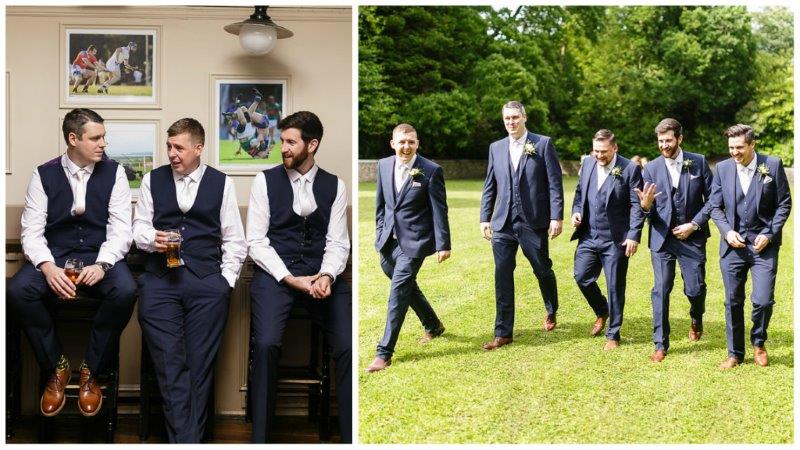 The bridesmaids
The bridesmaids wore pale blue Ronald Joyce dresses purchased in Amarra Bridal, Newbridge. The dresses had a lace top, were fitted with beautiful button detail on the back, and chiffon fabric flowed across the body from the waist down.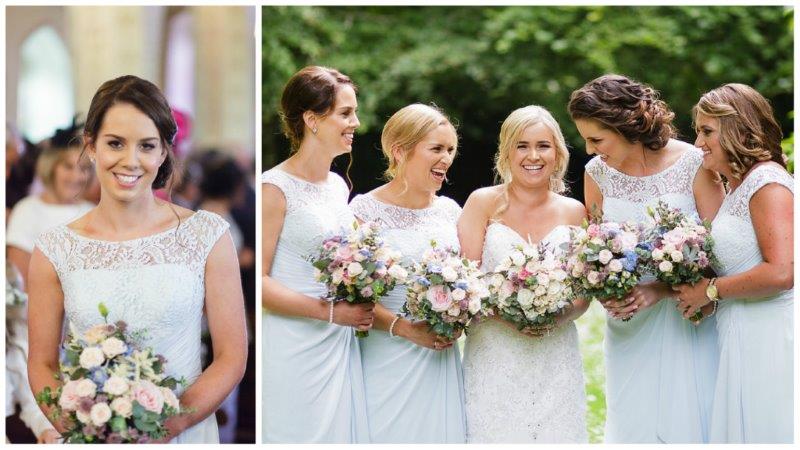 Wedding flowers
Melanie from The Fussy Peacock created the wedding flowers. "I went to her with our colour scheme and said I wanted something free and not too structured, in pastel colours," Aoife recalls. "She went through every flower that she would include with me, and did a fantastic job, creating beautiful bouquets and buttonholes, seasonal flower pew-ends, flower crowns and an altar piece."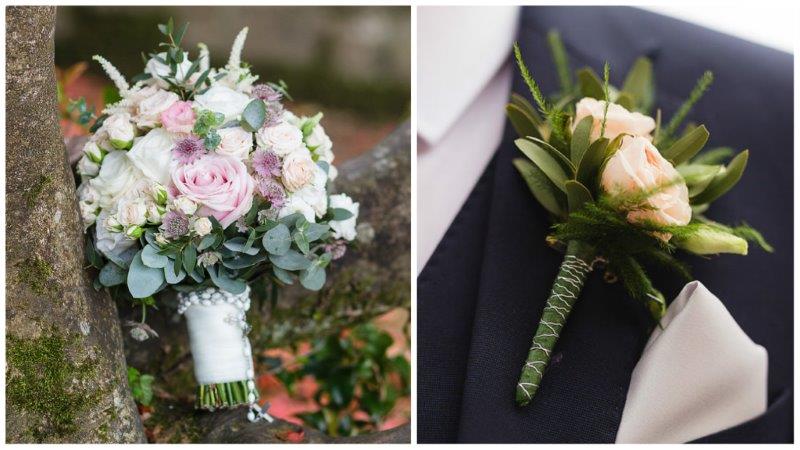 Stationery
Marina Moloney created our festival-themed ticket invitations and table plan. "We sent on a few images from the internet of what we were looking for, but the sample Marina sent back was even better than what we imagined," Aoife says. "Carmel from Caricatures by Carmel created a fun caricature as our guest board.  The mass booklets were home-made, using a fan template, and assembled by our friends."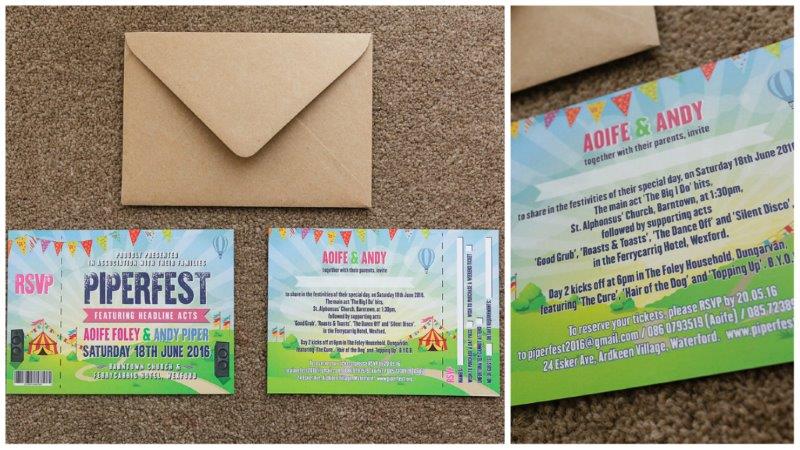 Wedding cake
"We had a dessert table, containing a three-tier naked cake, traditional fruitcake, chocolate biscuit cake and brownies," Aoife says. "My sister Cliodhna who has a baking blog – www.forcakesake.net, made the naked cake, biscuit cake and brownies, while my Mum made and iced the fruitcake.  All were arranged on rustic tree slabs."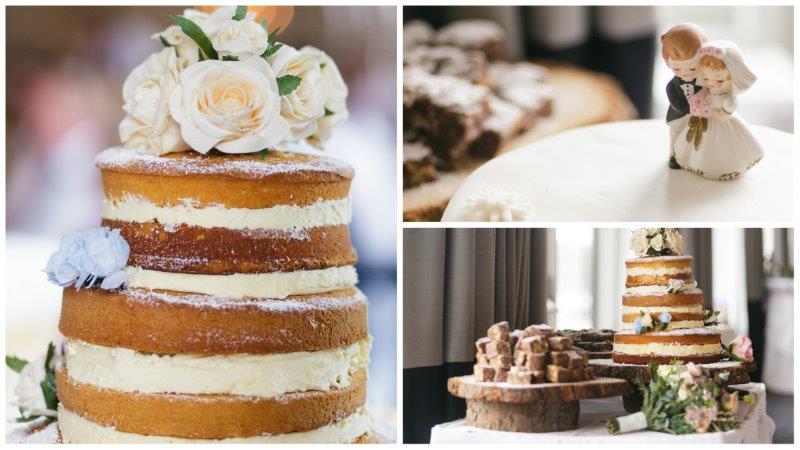 Mother of the Bride and Groom
Angela the Mother of the Bride wore a white, blue and gold drop-waist Linea Raffaelli dress from Nicola Ross, Naas, and a gold headpiece from Bonzi in Waterford. Úna, the Mother of the Groom wore a long coral dress from Nightingales and a blue headpiece was from Signet, Dungarvan.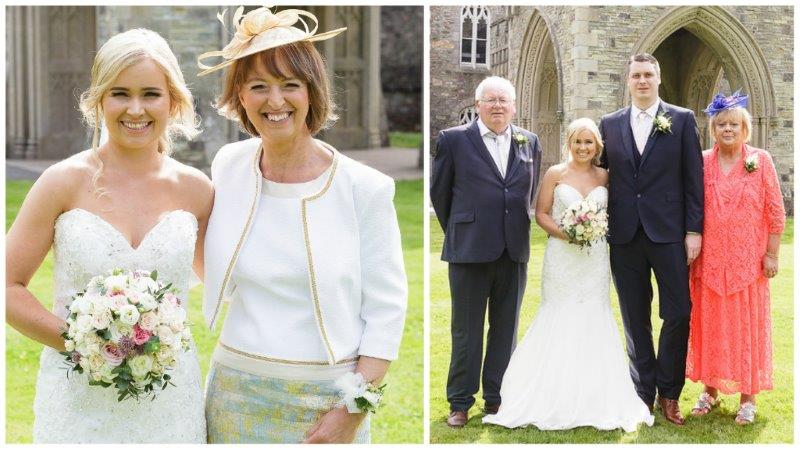 Favourite moment
Andy: My favourite moment was turning around to see Aoife and her father walking up the aisle.  Aside from that, I loved having all of our family and friends in one place.
Aoife: I absolutely loved walking up the aisle to Andy. and seeing all our family and friends there for us, I started bawling crying.  I thought I'd be nervous, but got so excited as we pulled up to the church.  I also loved all the dancing, especially the Silent Disco at the end!