20th July 2016. Ceremony and reception dinner at The Lower Barracca Gardens, Valletta, Malta followed by an after party at Haywharf Clubhouse
This couple got married in magical Malta
Photos by Matt at ThisIsHush
The couple
The couple first met at work and got together at a mutual friend's birthday party.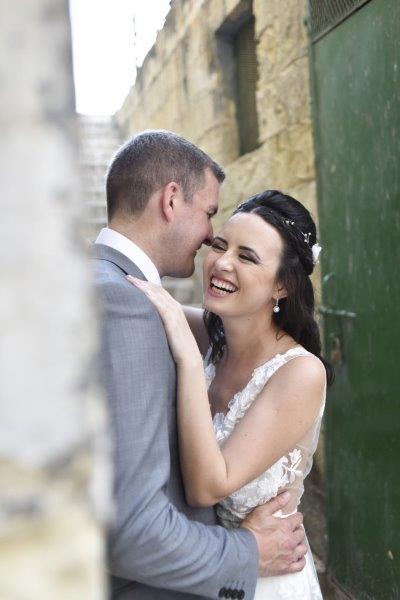 The proposal
David popped the question during a surprise trip to Iceland. "We had just finished dinner and were walking into the town for a drink through a park when he called my name," Aoibhin recalls, "I turned to look at him and he was down on one knee with a ring. We had talked about marriage and getting engaged a while back but I honestly didn't expect it."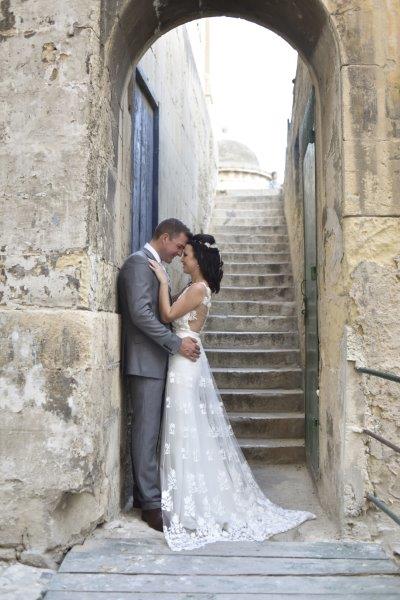 Venue
"We both have a lot of friends in London and family in Ireland so it was always going to be hard for us to pick a perfect, convenient place to get married," Aoibhin  explains, "and given my aversion to bad weather, a warm location was my preferred choice. A few weeks after the proposal my friend, sister and mum went along to a wedding fayre in Belfast. We all liked the photos and the approach of the team at I Do Knot. I consulted with Dave and he loved the idea, given that we had been to Malta a few years previously. We flew out to look at venues and I Do Knot took us to visit a list of venues, which left us very overwhelmed with the choice. But our final decision was to pick the Lower Barracca Gardens for its grandness and privacy at the same time. The venue is actually a public garden which can only be rented out 12 times per year on exclusive basis, so we were lucky to secure the last slot for 2016; it was meant to be!"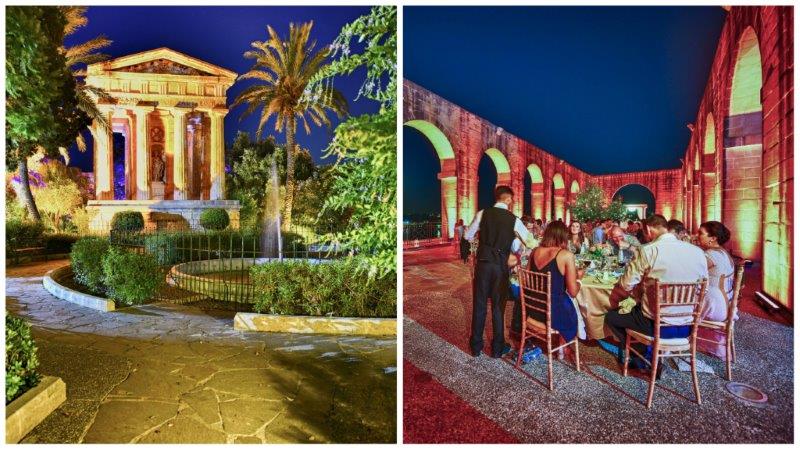 Photography
Matt at ThisIsHush captured the wedding photography. " We were very happy with the choice as we wanted natural rather than posed photos," Aoibhin  says, "in fact there are a couple of favourites, but the photos in the old town of Valetta with just myself and Dave are all fabulous."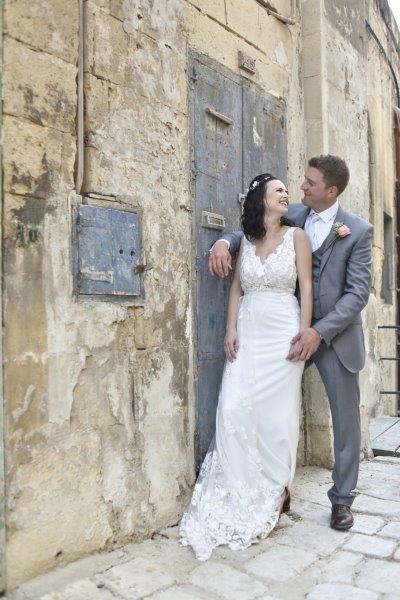 Wedding planner
"I Do Knot wedding planners were extremely helpful – we couldn't have asked for more," Aoibhin  says. "They took care of us right from the moment we met until the day itself, taking care of paperwork, logistics, land arrangements and even accommodation for us and our guests. Everything was very well organised and in place before we even travelled for the big day… we just had to confirm paperwork in person at the registry before the wedding, Petra from I Do Knot also accompanied us for this appointment, and the big day itself was a breeze – totally enjoyable for us and stress free. The décor of the venue was also designed by the I Do Knot team based on their expertise and the final result was nothing but spectacular.  The venue itself is already very prestigious enjoying beautiful sea views in Malta's majestic Capital City of Valletta.  Thus this, together with lighting and venue décor was a wow factor to everyone including ourselves."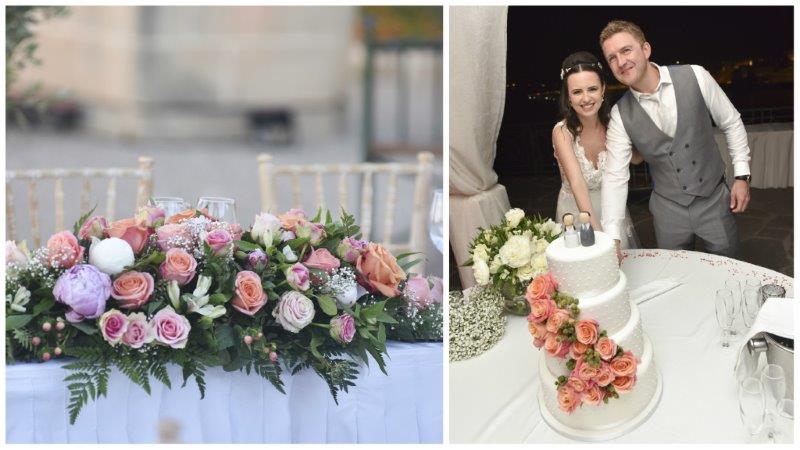 Wedding dress
The bride looked sensational in a Rime Arodaky wedding dress from White Gallery. "I was looking for something quite different to a traditional bride,"  Aoibhin  says, "as it happened, my dress was the first one that I tried on. I knew that I loved it, and though I went to try on others, I was back at the White Gallery that same evening to order the dress."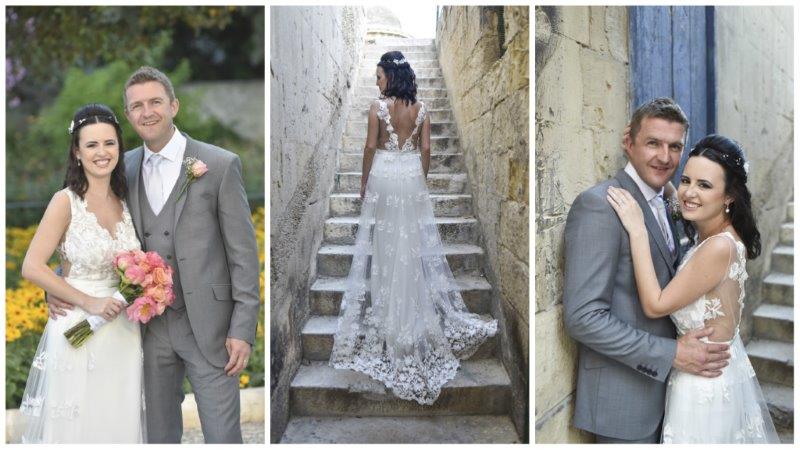 Groomswear
The groom wore a grey three-piece suit, with a white shirt and a silver-grey tie.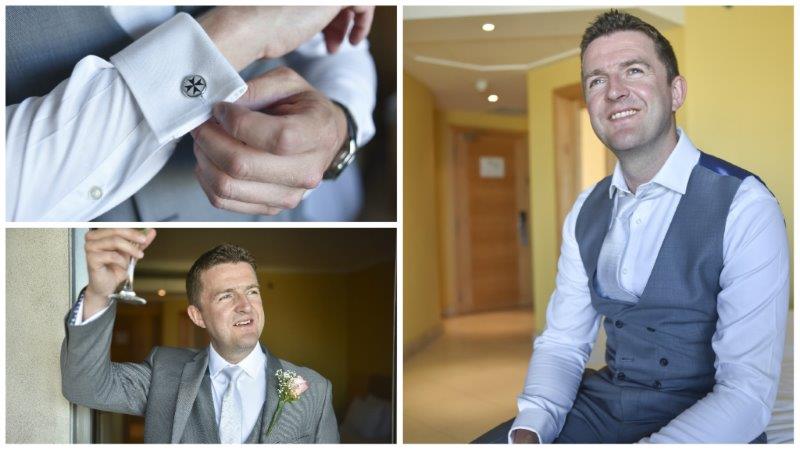 The bridesmaids
The bridesmaids wore dye-to-order Cassidy dresses from White Gallery.
 
Wedding flowers
"The wedding flowers were by David from The Floral Designer, one of I Do Knot's trusted a vendor who was recommended to us," Aoibhin says. "We discussed the floral requirements with Petra and based on the colour scheme, she guided us and communicated with the florist to provide accordingly. We chose a mixture of coral and pink flowers, with some white gypsophelas for the bridesmaids. The flowers on the day were fabulous, from the bridal bouquet to the fresh flowers in the bridesmaids' hair and the floral centrepieces…Wow!"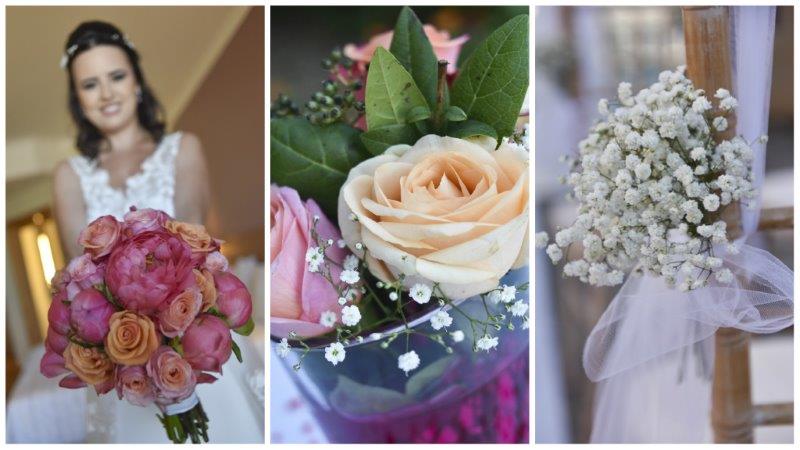 Stationery
I Do Knot prepared all the necessary wedding day stationery. "Petra suggested a really innovative idea; personalised dolls, hand-painted to look like guests," Aoibhin explains, "so we sent her photos of everyone attending and the vendor replicated them on little wooden dolls. We had ours done slightly larger to use as a cake topper as well. Besides working as place names, guests could also take them home as favours; it was priceless seeing guests trying to recognise themselves to find their seat!"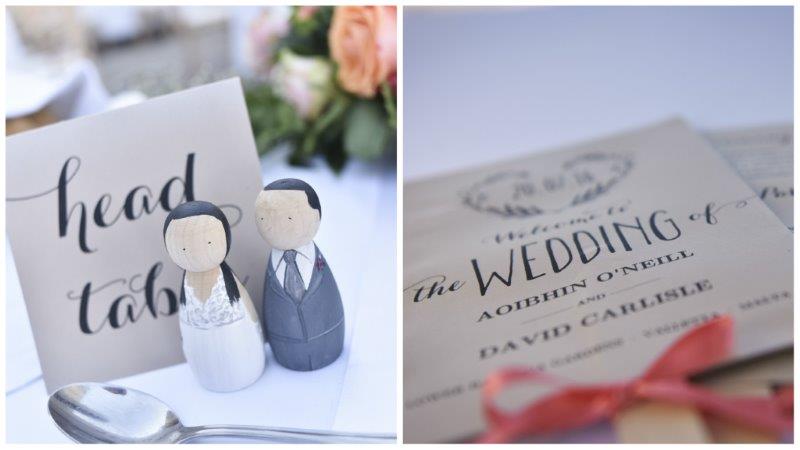 Wedding cake
The bride's sister organised the traditional Maltese bacio cake.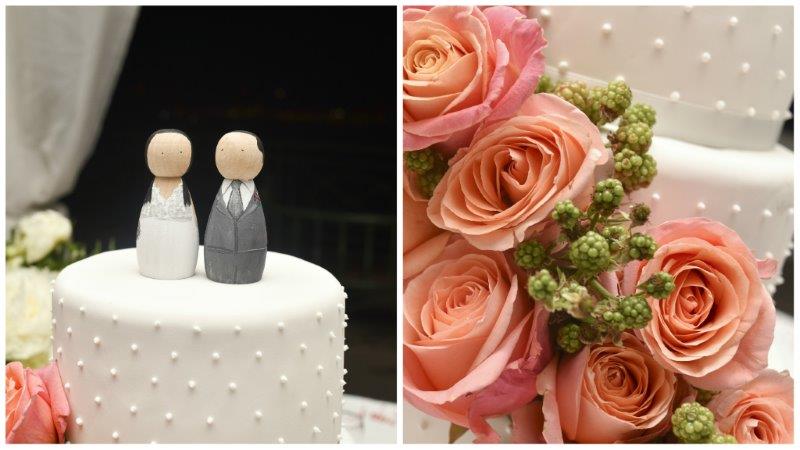 Favourite moment
David: Aoibhin walking down the aisle.
Aoibhin: I thoroughly enjoyed the drive with my bridesmaids to the venue in our open-top car. This massively calmed my nerves and put me at ease as they kept me laughing the whole way. And then of course seeing my husband watch me walk down the aisle.