23rd February 2017, Ceremony at St John's RC Church, Lylo followed by a reception at The Merchant
Photography by Angel Photography NI
The Couple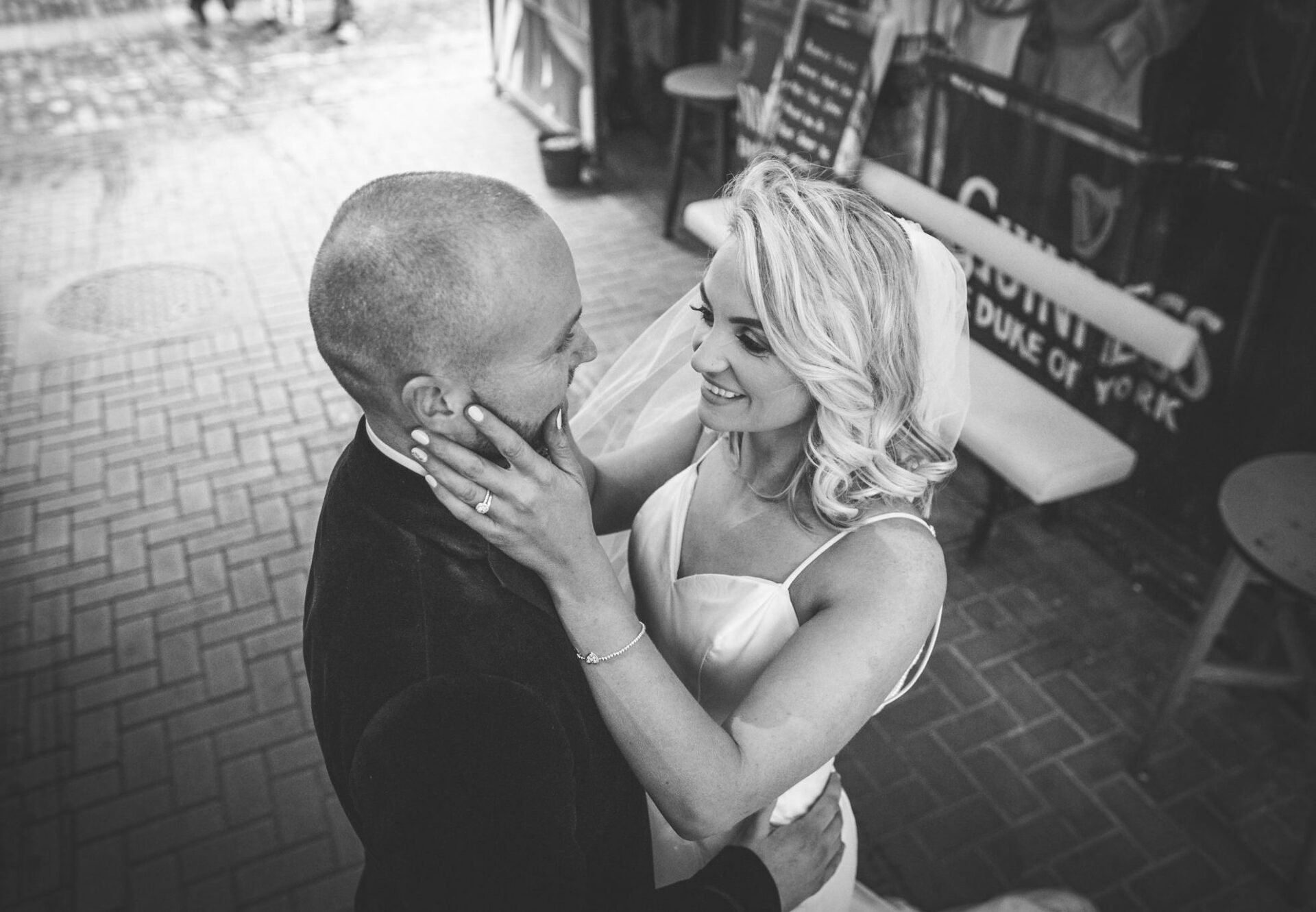 This sporty couple met at the gym approximately four years ago.
The Proposal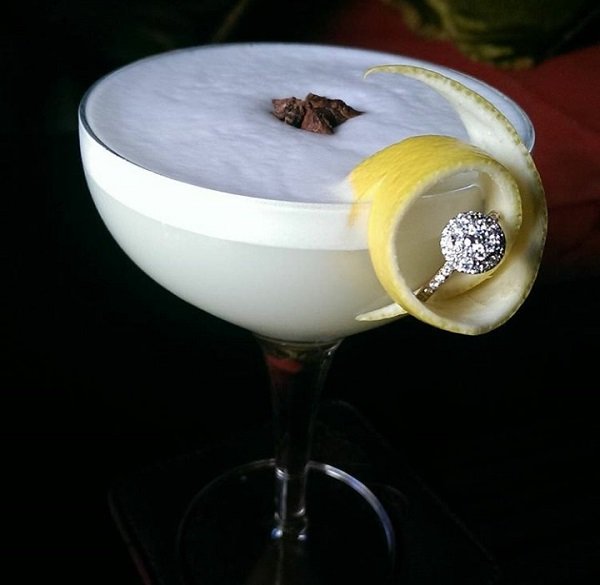 The proposal took place Decemeber 8th 2015 in The Cocktail Bar at The Merchant Hotel. "Trevor went up to order drinks and had the bar staff attach the engagement ring to my drink, Alison remembers fondly. "When the server carried down the drink they turned the glass to reveal the ring and Trevor got down on one knee. When I could finally speak I said yes!"
Venue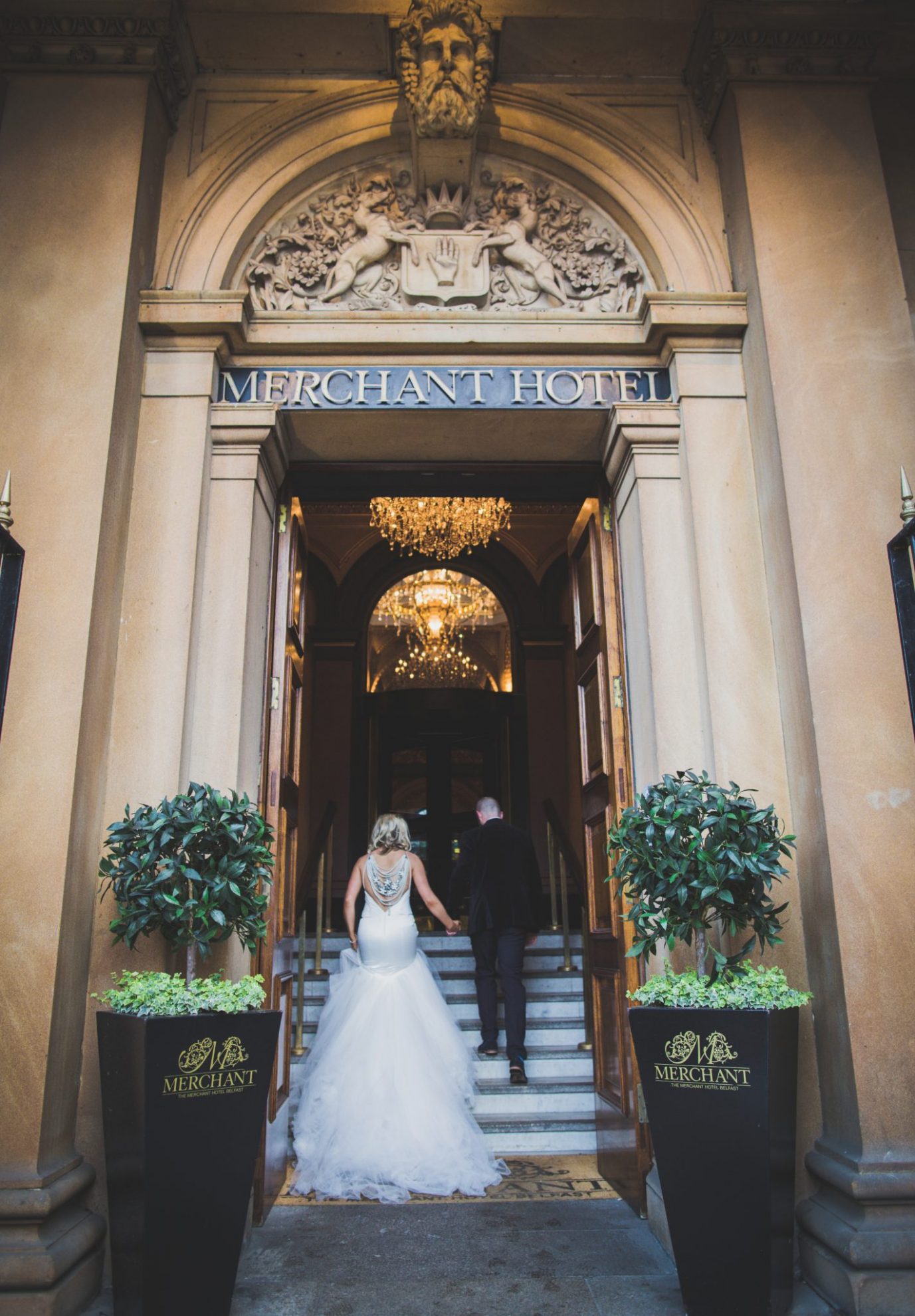 Trevor and Alison had always loved visiting The Merhcant, and after getting engaged at the Belfast city centre hotel no other venue could compare. Alison said, "The fact we got engaged at The Merchant made it that little bit more special."
Theme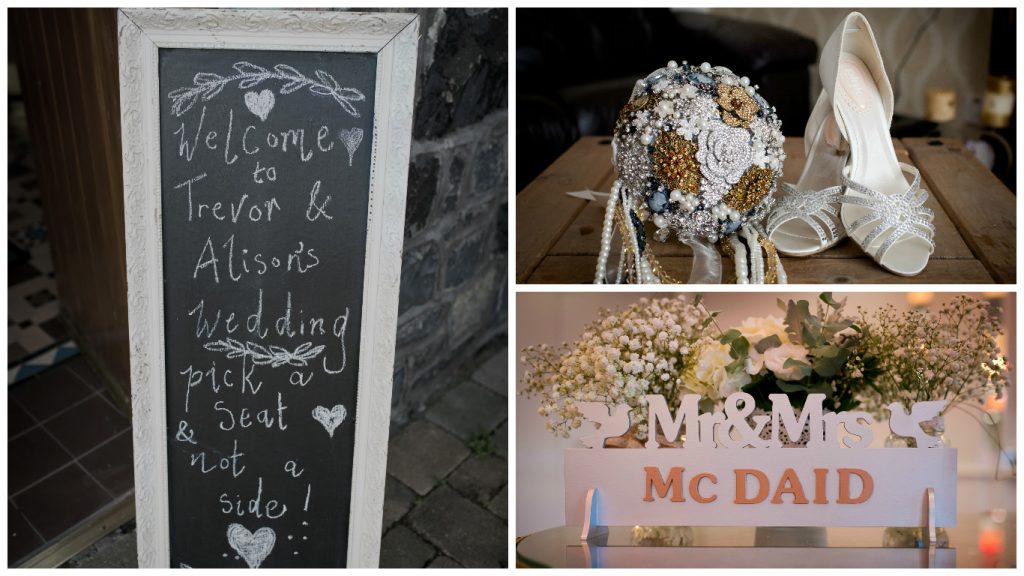 The couple chose not to have a specific theme, but after finding the perfect bridesmaids' dresses the style of the wedding began to fall into place. "I started to piece together a vision; I think all little girls have an idea of what they want from when they're a child. I worked hard and made sure it was something that reflected both Trevor and myself. We worked well together and had equal inputs into the day – well maybe we split it 70/30!"
Photography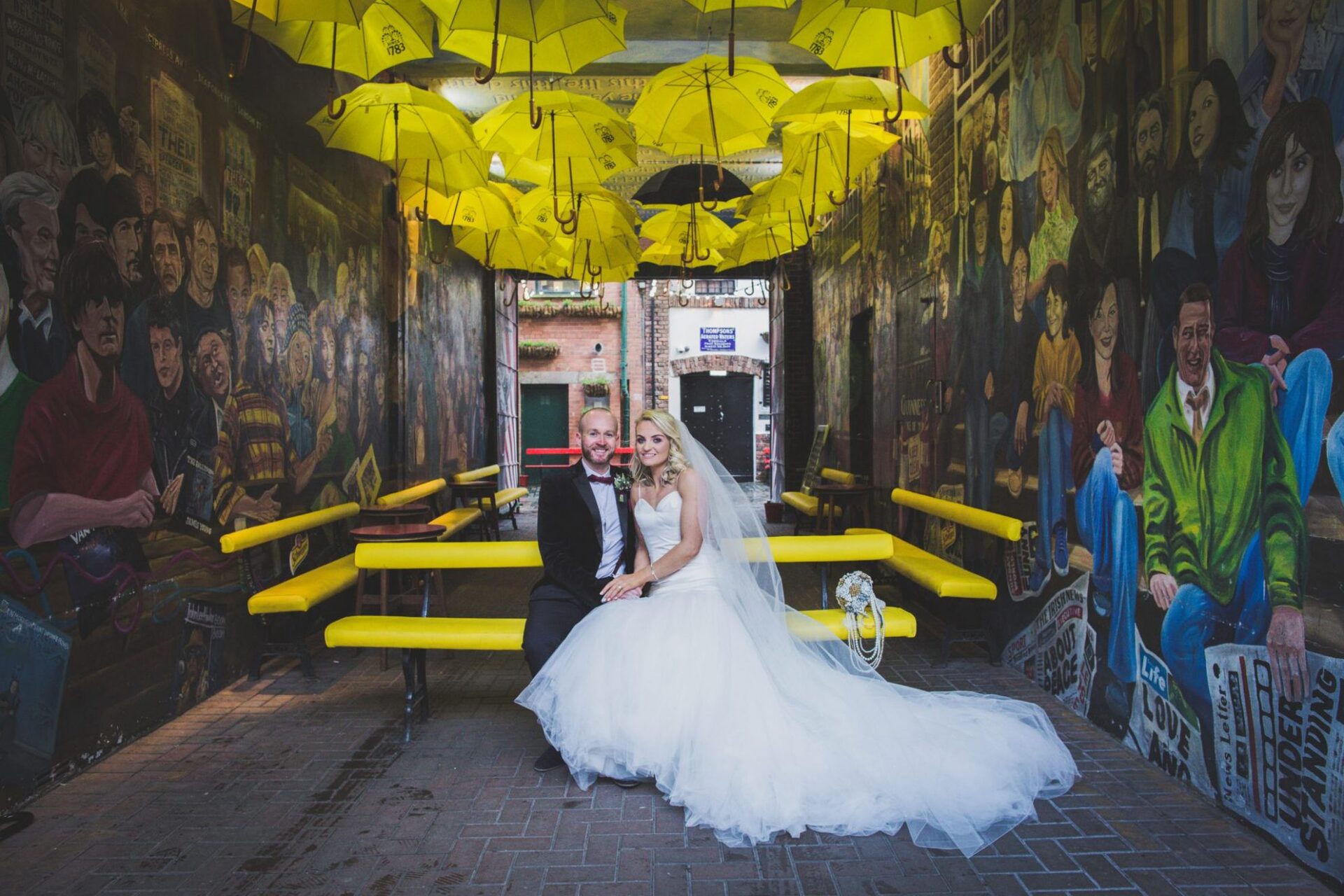 Andrea from Angel Photography was the photographer for the wedding.
"We chose Andrea after coming across her work on a bridal website. During the first meeting we found out we had similar quirky personalities and we just clicked, says Alison. "We knew she would be able to bring a modern twist to a very traditional day and capture out personalities in the images as well. We are extremely happy with our wedding photographs and can't thank Andrea enough; she was much more than just our wedding photographer – she is now a great friend!"
Wedding Planner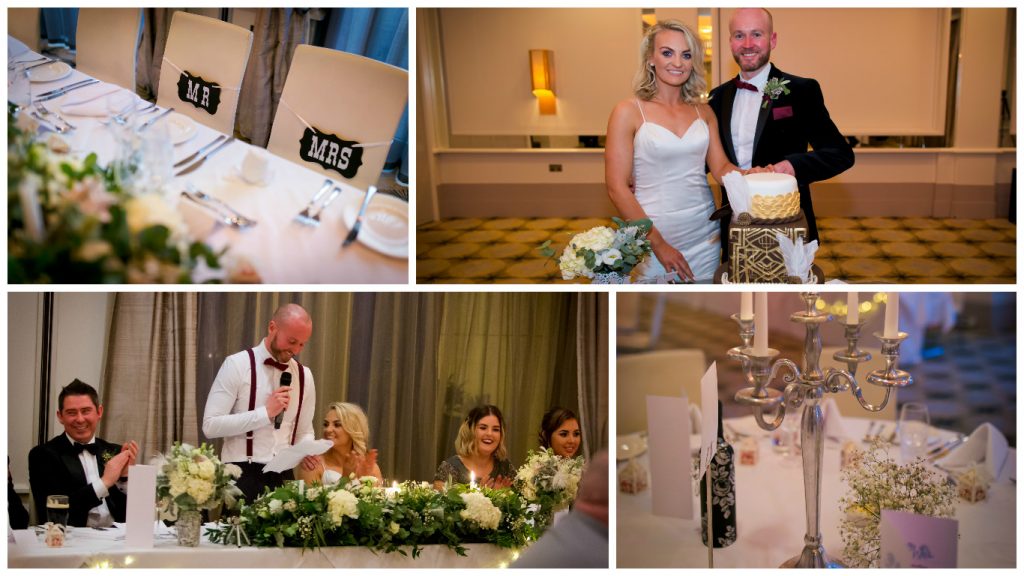 "Rebecca Mackey was our wedding co-ordinator at The Merchant, says Alison. "It's a question of what didn't she do! Nothing was too much trouble for Rebecca and thanks to her, our big day ran like clockwork."
Wedding Dress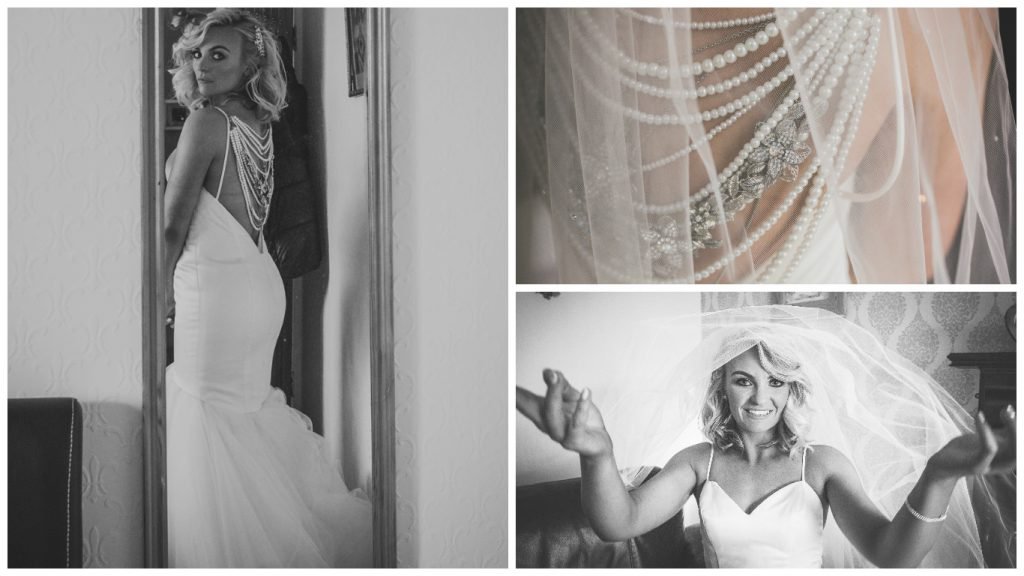 Alison had her exquisite gown made for her by local designer Andrea Rachael Design. "Andrea understood my vision and created something even better than what I imagined possible. I felt like a million dollars in my dress; we called it my second skin; I forfeited breathing it was so tight! I love a simple and classy style but my dress also had the wow factor with a satin finish, fine straps and four layers of pearls and diamonds draping down my back. There was nothing I didn't love about my dress and I couldn't recommend Andrea enough.
Groomswear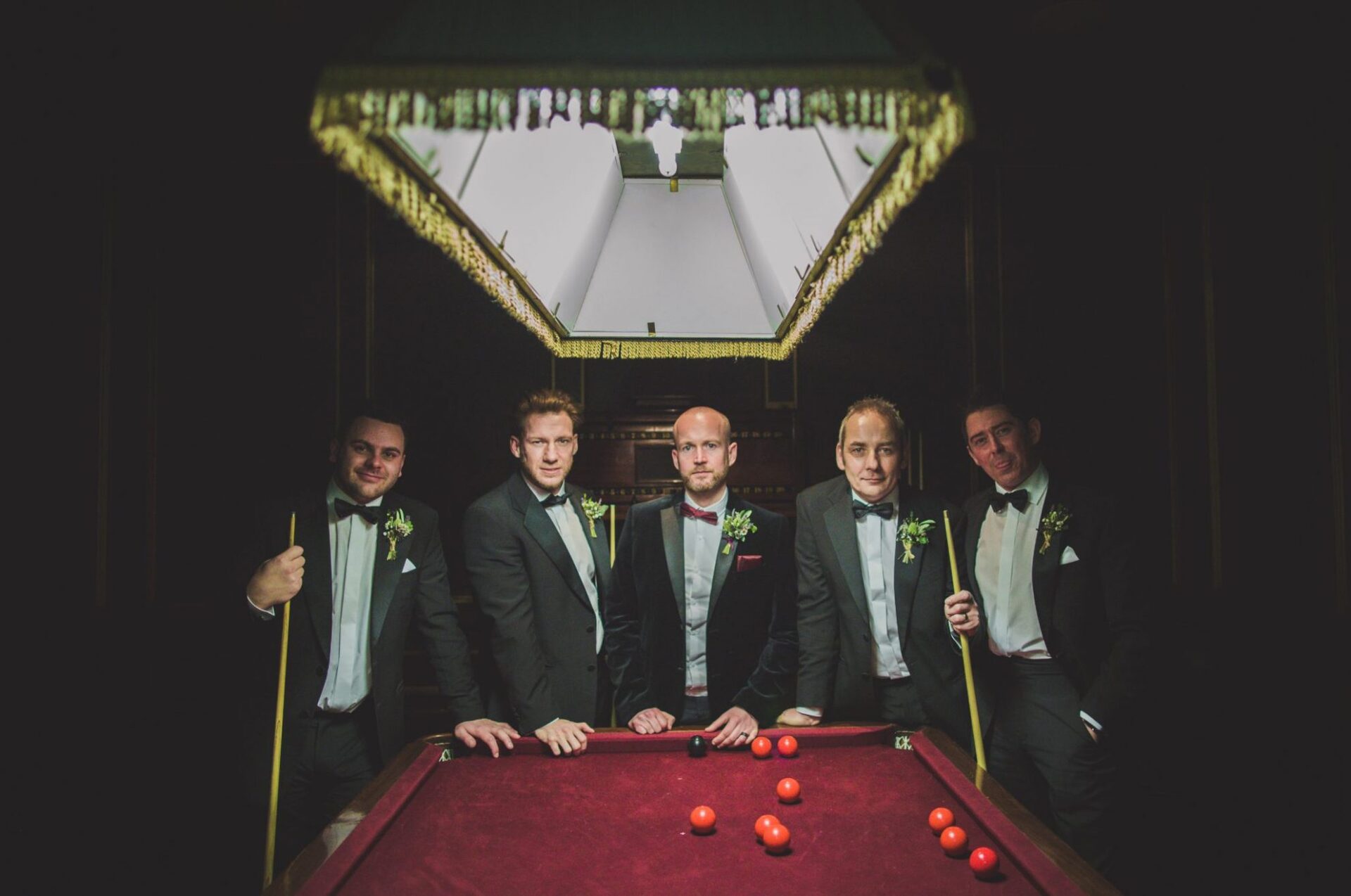 The groom wore a navy tuxedo with a velvet jacket. He completed the look with a burgundy bow tie and braces all of which were purchased from H&M
The Bridesmaids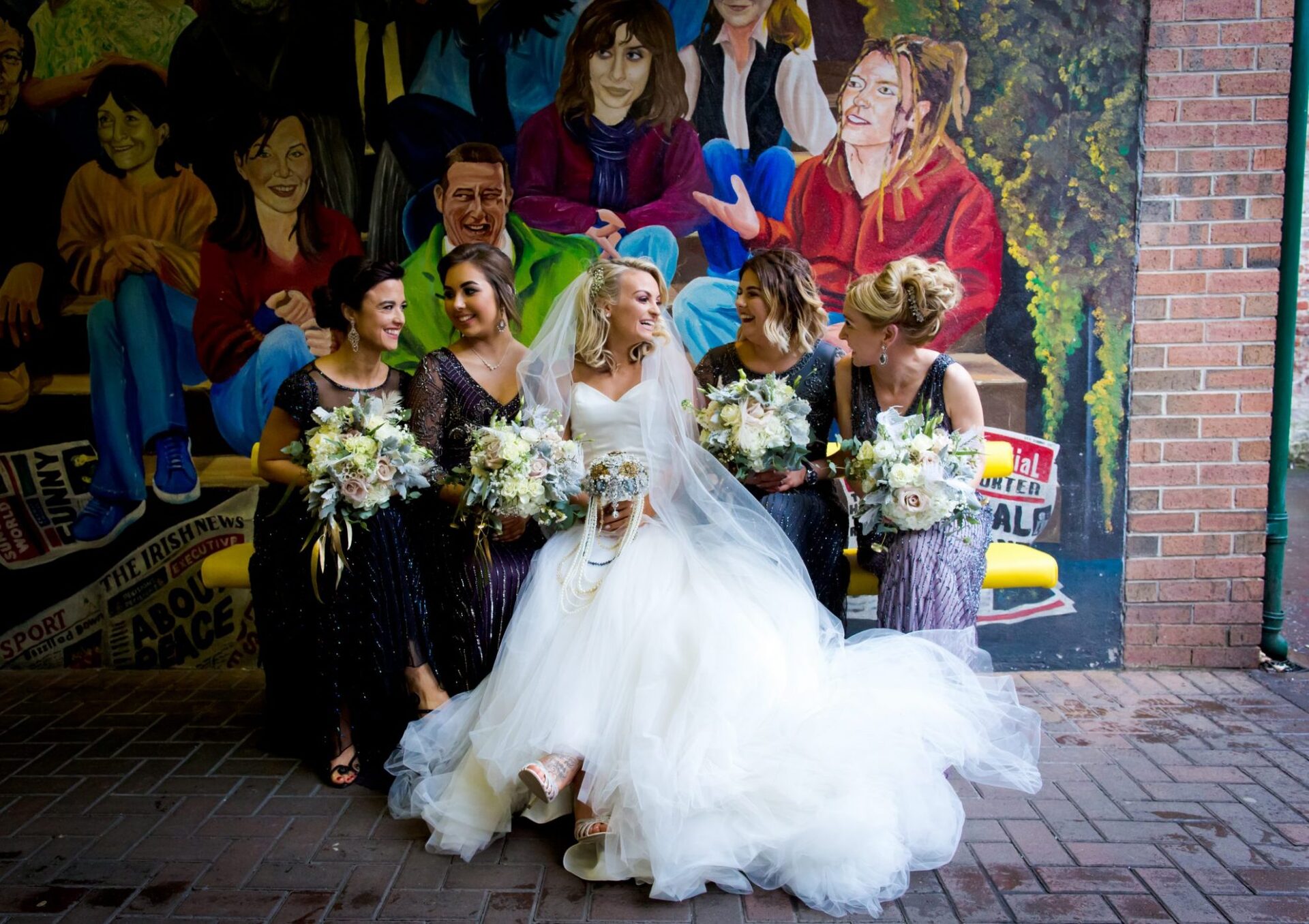 The bridesmaids wore a selection of different colours and styles from Pisarro Nights purchased from TK Maxx.
Wedding Flowers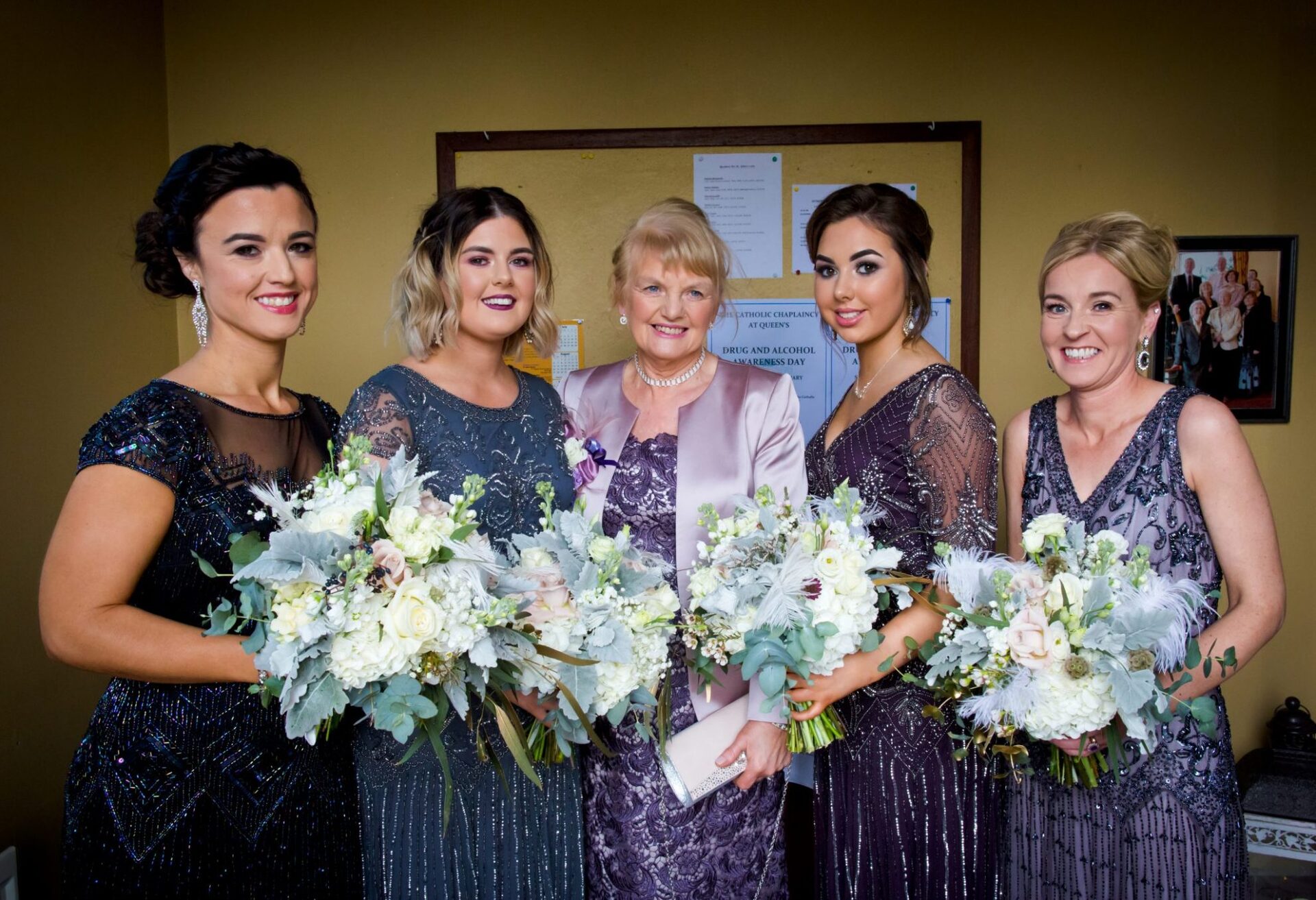 Alison carried a glamorous brooch bouquet and the rest of the wedding flowers were by Kathryn Strafford from Posy Barn. "I wanted feathers and individual bouquets that weren't exactly the same as each bridesmaid had a different dress, shoes, hair and makeup, says Alison. "I had a pin board where I could see the types of flowers that would be going into the bouquets and I was at complete ease with how they would turn out. The final result was stunning and exceeded my expectations!"
Stationery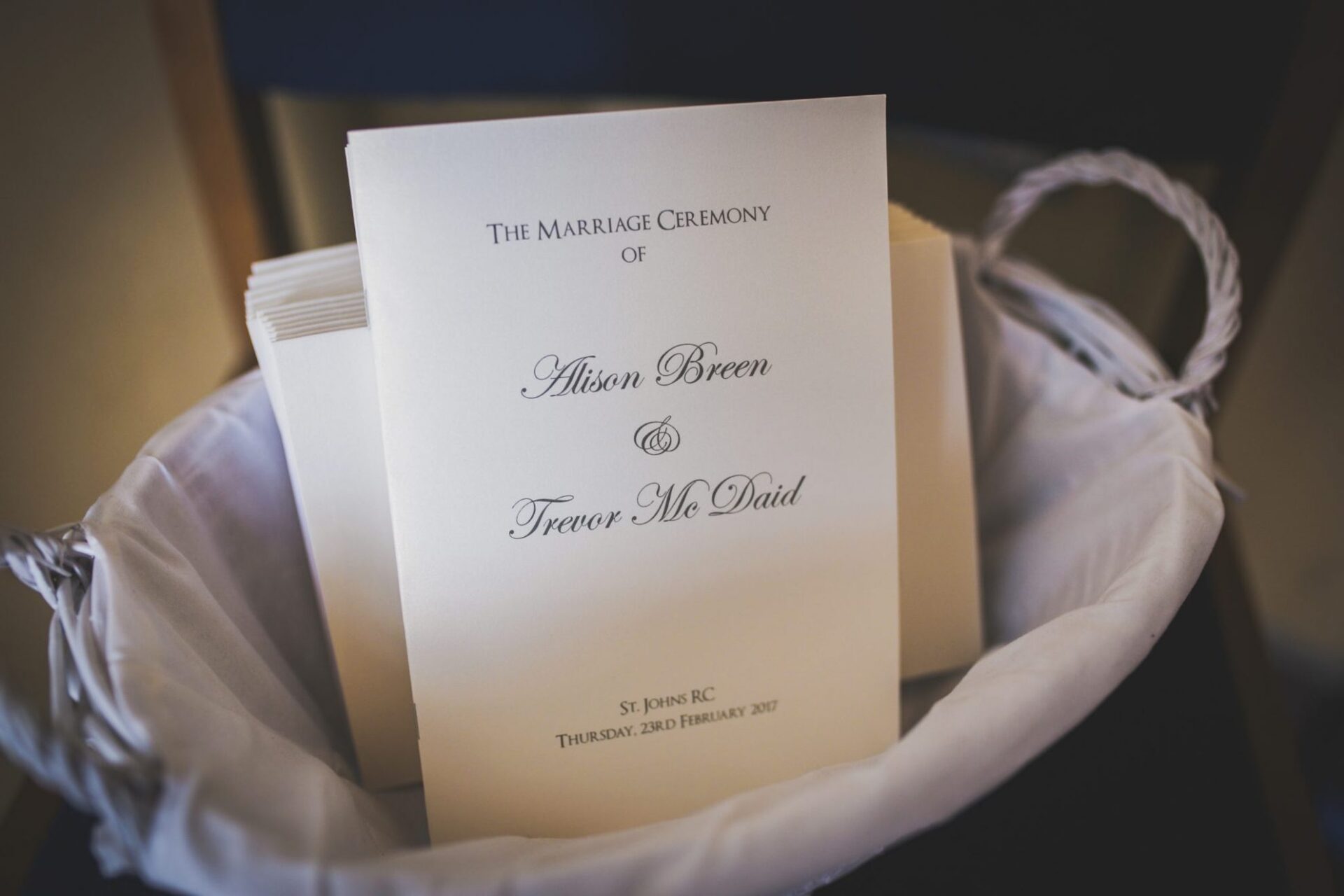 All the stationery and invitations were made by the crafty couple themselves! "We spent many nights deliberating ideas with glue and glitter everywhere!"
Mother of the Bride/Groom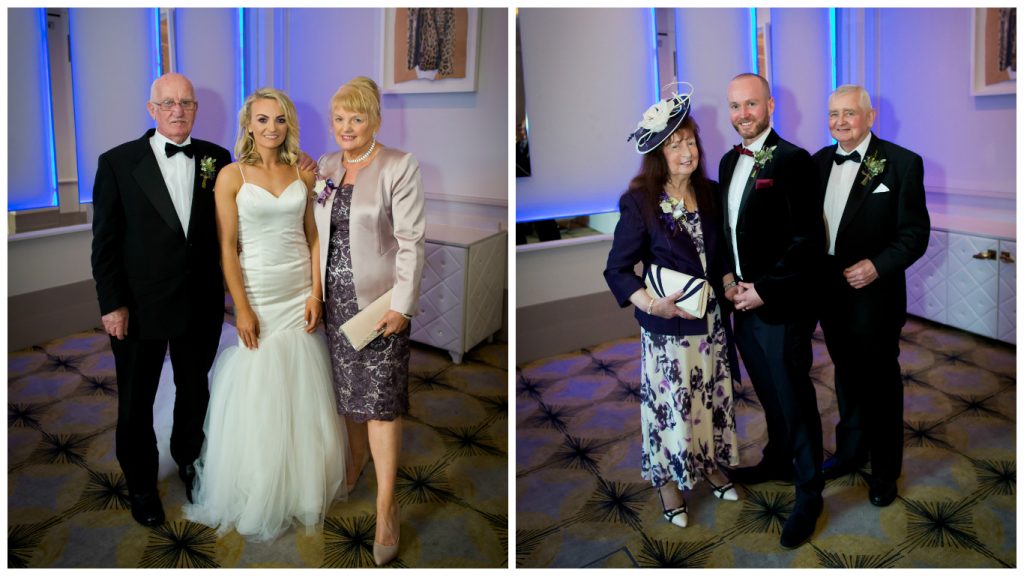 Both the Mother of the Bride and Mother of the Groom wore outfits from Jacques Vert at Debenhams. They shopped separately but both ended up picking shades of purple that matched perfectly.
Wedding Cake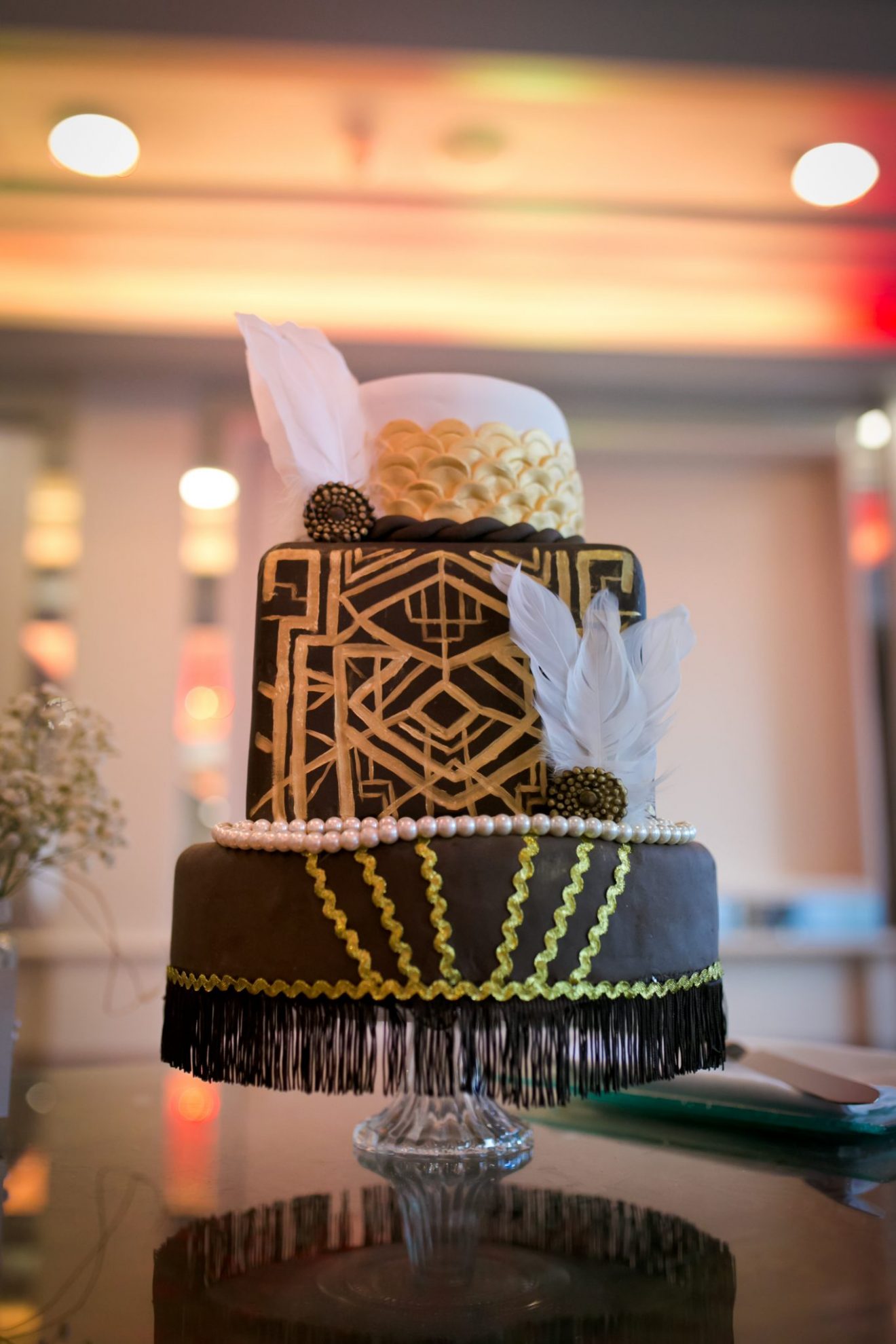 "Our wedding cake was in the style of Great Gatsby and was by Yummy Mummy Cakes. At the very last minute we decided we wanted to keep our cake forever so we had a dummy cake made and our guests had a selection of cakes that we had chosen for them in four different flavours."
Favourite Moment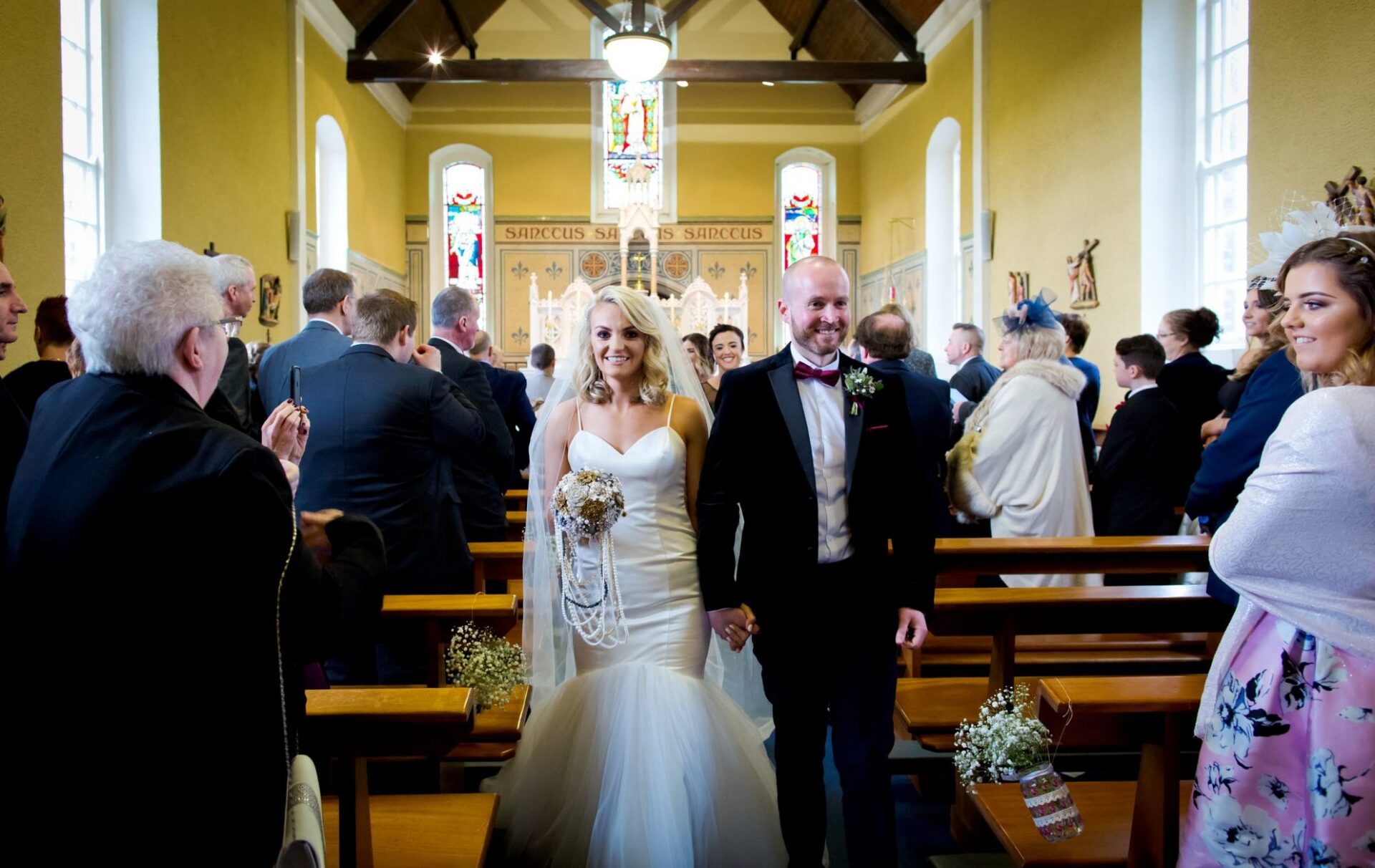 Bride: "The whole day was magical but if I was to pin point a moment, it was when everyone was in place at the chapel and it was just me and my dad left to walk up the aisle. It felt amazing to walk with my dad and see our two families together ready to share out special day."
Groom: "It's very difficult to choose one specific moment but it would have to be my speech. It was the first opportunity I had to express my thanks to my wife in front of our friends and family for everything she does for me. I would also say our first dance as I had been practising for weeks, learning a dance routine to surprise our guests with. I still can't believe I agreed to do it or that I managed to remember it"
Top Tip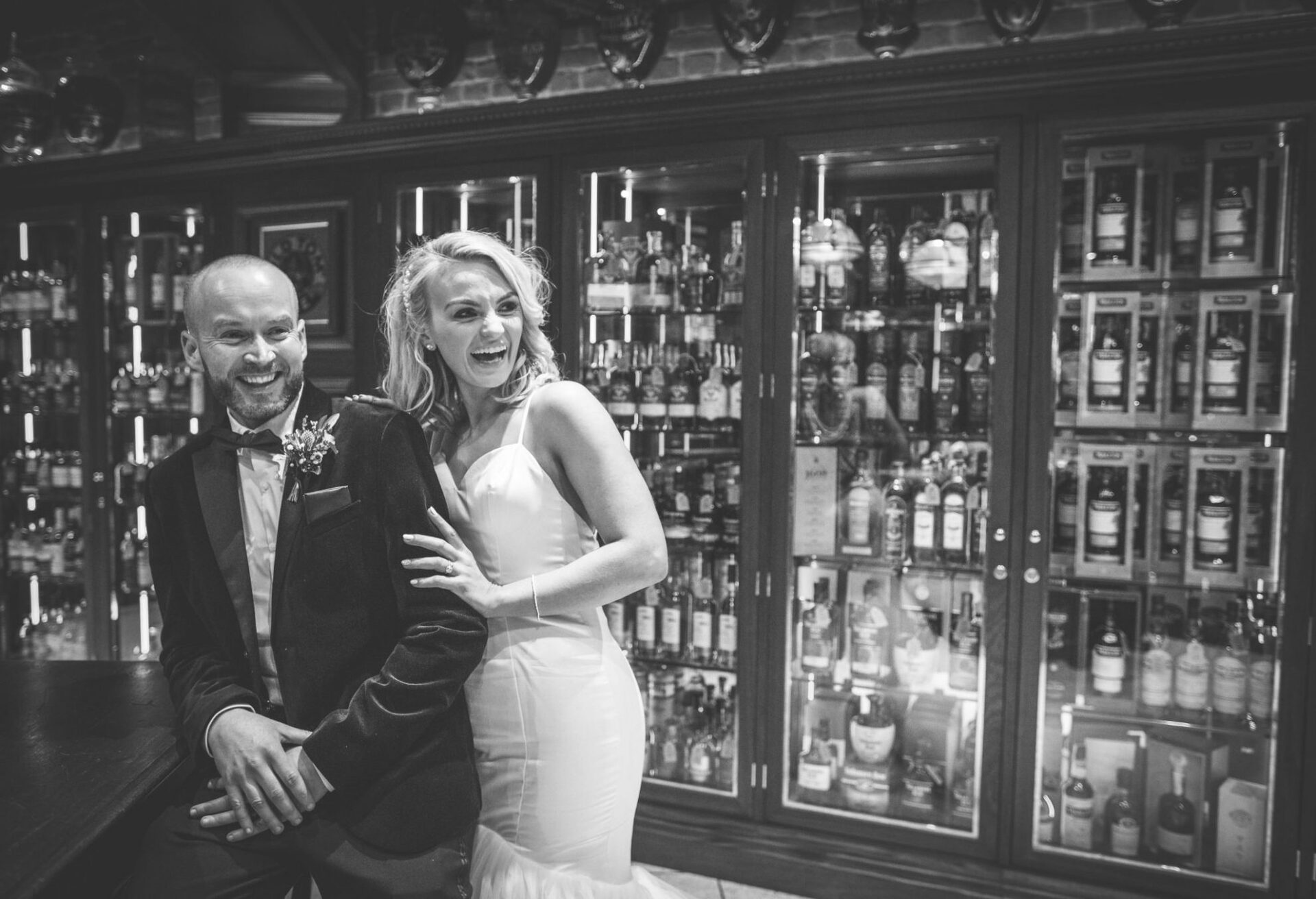 Bride: "It's your day so do what makes you happy! The most important thing to remember is to enjoy it as it goes so quickly."