How They Met
Mikey and Alex met each other on their first night out celebrating Gay Pride in Gran Canaria. Mikey recalls 'it was towards the end of the night when I went to the bar with my friend to order a shot of Jagermeister. The place was so busy I was the only able to reach the bar as there wasn't enough space for two people.
After I was served I turned round to give my friend his drink and he had vanished. Instead of taking two shots myself, I turned to the guy beside me, tapped him on the shoulder and said 'drink this.' Little did I know that that stranger at the bar would one day be my husband.' Every year since then the couple visit the island and share a traditional shot of Jagermeister!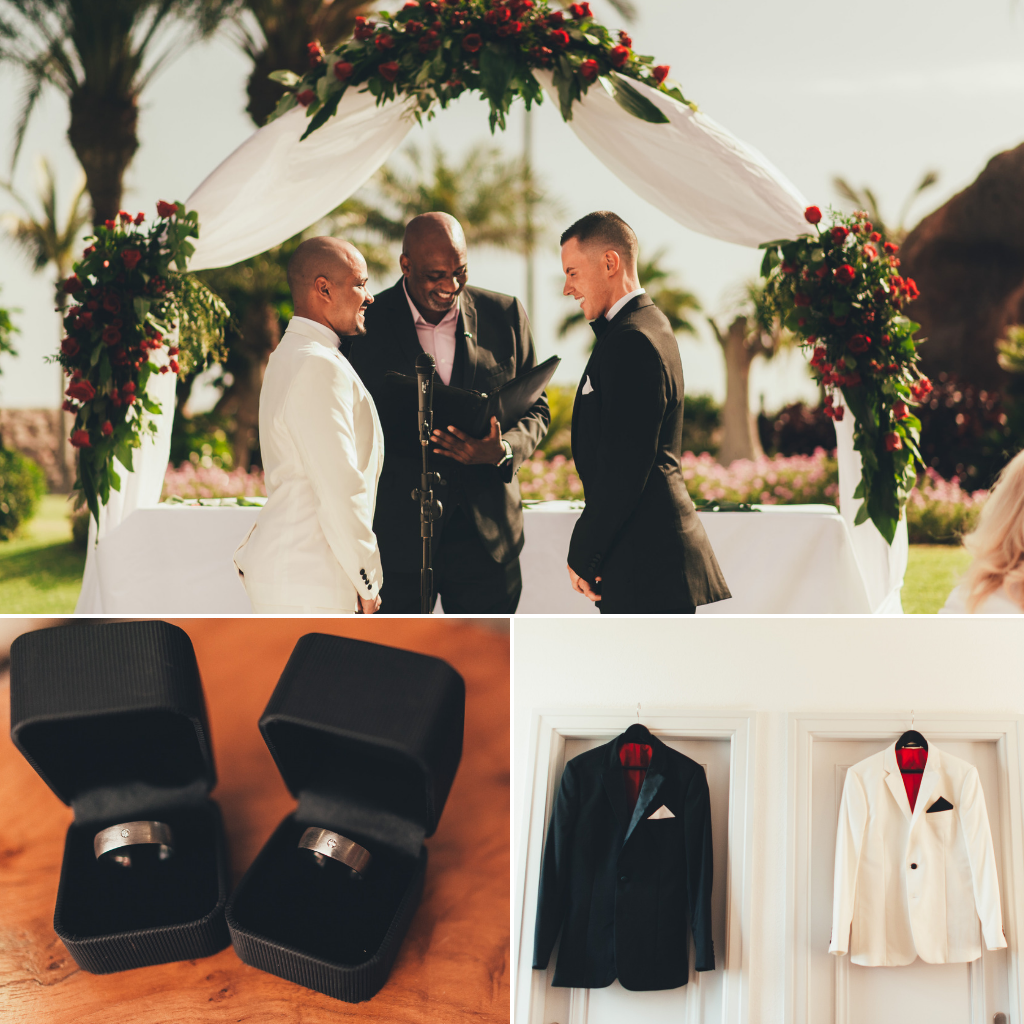 The Proposal       
Alex's original proposal didn't quite go to plan; they slept through a 5am wakeup call to visit a day spa in the Swiss Alps. Mikey, unaware of the plans, couldn't understand Alex's anger until he finally admitted that he had been planning to pop the question. 'The booking was non-refundable and he knew my answer would have been yes so I asked him just to ask me, 'right here, right now' laughed Mikey.
Alex being so disheartened by the mishap with a cheeky grin replied, 'no, I had my chance, now you can propose to me!' Mikey couldn't wait another second, 'my heart took over and I asked him in the living room in our pyjamas to be my husband, and of course he said yes, it was perfect!'

The Venue
Mikey and Alex picked the most perfect spot to declare their love for one another and recite their vows, on Anfi's heart-shaped Island in Gran Canaria, with their reception at Maroa Club del Mar. '
After asking around a dozen people, the same name and company was recommended to us for the perfect wedding, Bernadette Garside from The Perfect Wedding Company in Gran Canaria.' Alex shares his experience of organising a destination wedding, 'Bernadette was great; she helped with everything, she brought all our ideas to life and recommended the best suppliers; we couldn't have done it without her.'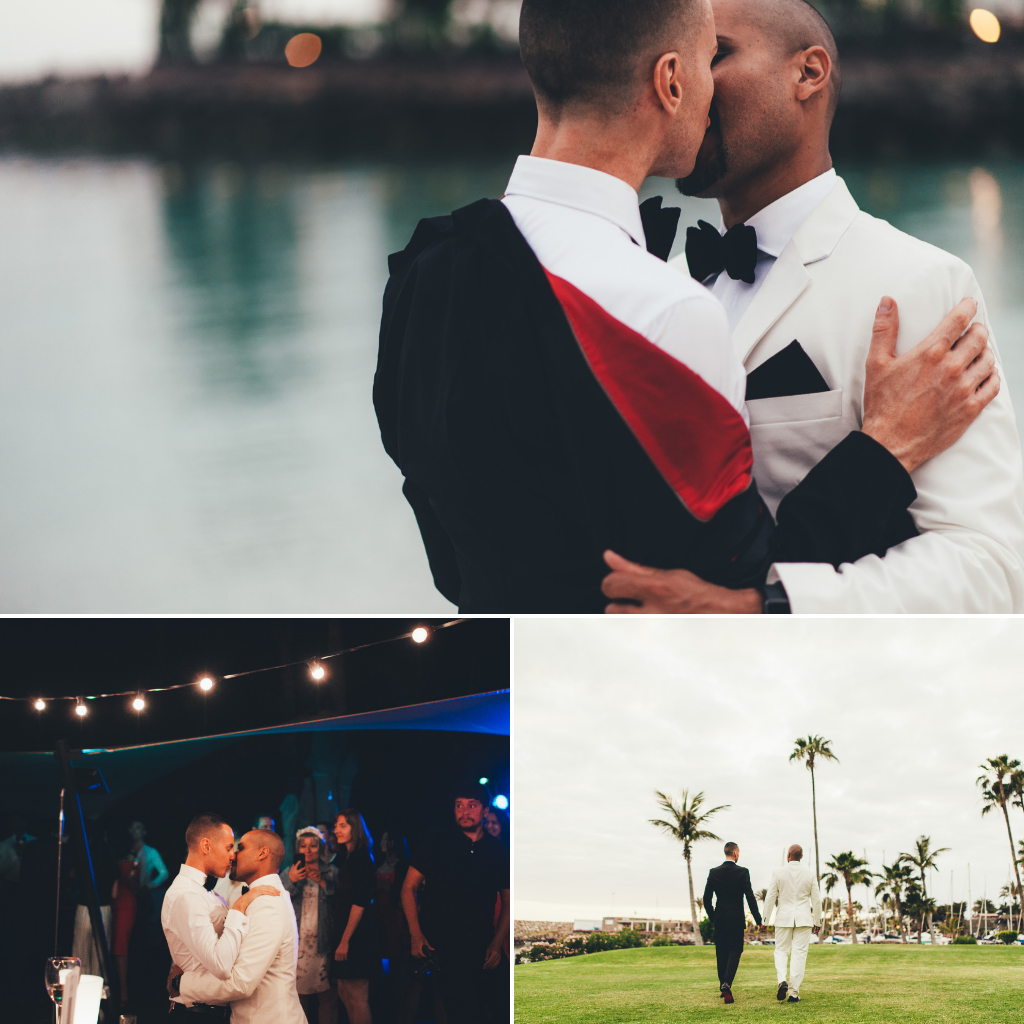 The Decor
During the first eight months of their relationship Mikey travelled a lot with work, so the pair got used to seeing each other just a few times a month. Every time Mikey came home, Alex would pick him up from the airport with a single red rose. 'We had to use red roses throughout the day, no other flower means more to us both. Fresh petals were scattered down the aisle and sat in our blazer lapels.'
Mikey continues to describe the venue decor; 'our tables and chairs were dressed with white linen with large glass bowls on top filled with red rose petals and white candles which were lit after sunset. As we had guests coming from all corners of the world, we thought that it would be best to have floating canapés all evening, our guests could eat and drink as they wanted, without being restricted to a table, our guests loved it.'
Mikey & Alex's Wedding Trailer from Vimeo
What The Grooms Wore
Mikey and Alex spent months searching for the perfect tuxedos to walk down the aisle, but this wasn't an easy process. 'We wanted to look similar but different; we typically have different tastes in fashion, so this was always going to be a challenge.
A friend recommended an online company that custom designed tailored suits, called Suitopia. This allowed us to have the exact fit, colour and style that we felt comfortable in and we were able to include our own little finishing touches.' These details included the suit lining matching the grooms' Christian Louboutin shoes and having their names and wedding date engraved inside the left breast pocket close to their hearts.
If you're on the hunt for your Groom's suits, check out our exclusive new labels in our online directory!
Eating & Drinking
Food on the day consisted of hot and cold canapés, from mini Greek salads; smoked salmon roses, beef fillet skewers, mini chicken burritos to desserts and cheeseboards afterwards. These were all washed down with a constant flow of champagne followed by a traditional shot of Jagermeister when they toasted to 'Love' at the end of the speeches. 'At the end of the night after everyone had destroyed the open bar we had a serving of typical party food including mini pizzas and burgers, and ice cream and cake pops.'
On the outside Mikey and Alex's cake was a classic three tiers covered in white icing with black satin ribbon separating each tier, and of course a scattering of red icing rose petals. Alex divulged, 'instead of having two grooms at the top of the cake we honoured our three babies who could not be there – our three Chihuahuas, Coco, Chino and Chanel.' A surprise twist revealed the inside layers of sponge were the rainbow colours of pride, filled with a lemon zest.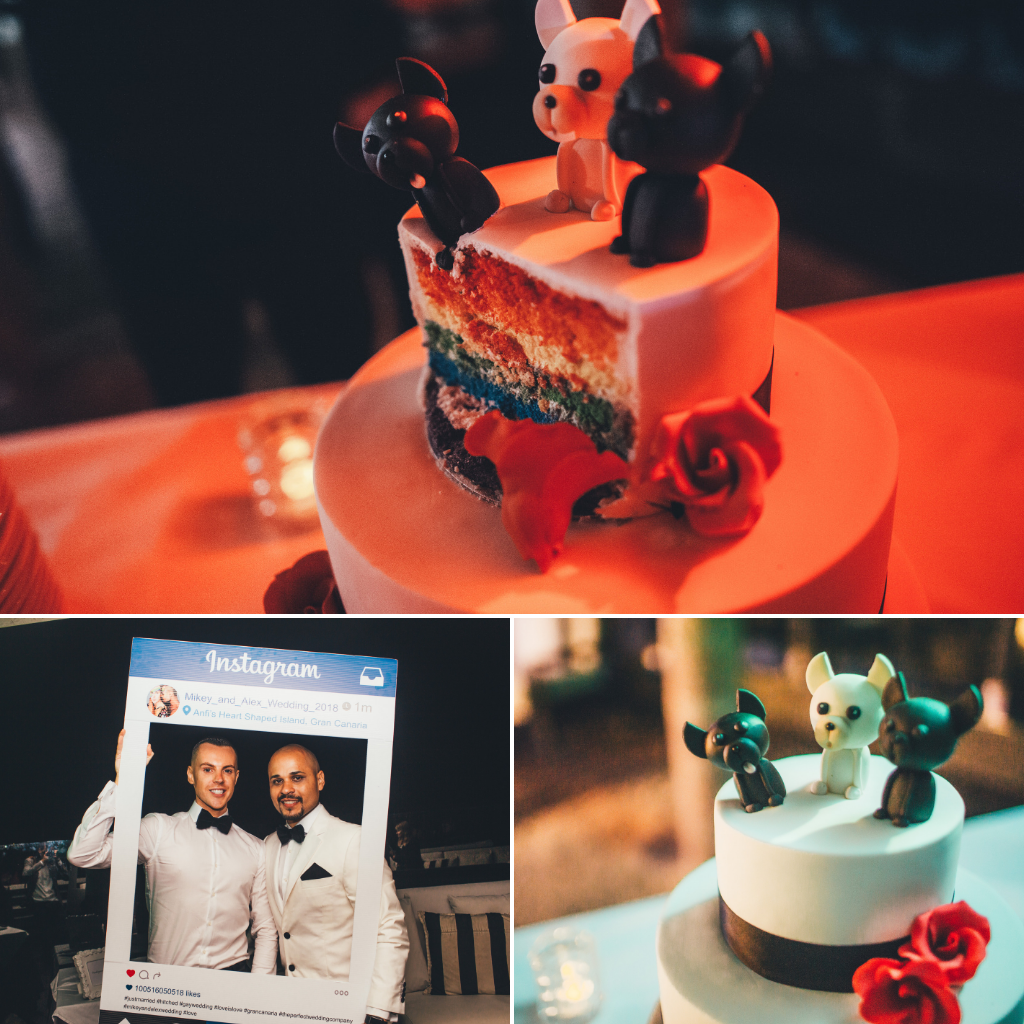 Capturing The Memories
With this being a destination wedding, Mikey and Alex did plenty of research for the perfect photographer and videographer. 'We were given lots of suggestions from our wedding planner; we trusted and valued her opinion. We both loved the style and emotion captured from one company in particular, The Perfect Wedding Company, so this was an easy choice, we are obsessed with our wedding album.'
Highlight From The Day
Trying to choose a favourite moment, Alex admitted that two particular things stood out, their sunset photo shoot and Mikey's niece singing 'Wings' at the reception. 'Looking through our pictures I feel like you can really grasp our personalities in them, and the love we share for one another.
Mikey's niece was also fantastic that evening, we used to play this song to each other when Mikey was travelling for work and we weren't together,' he recalled. 'It was a special moment without a dry eye in the house!'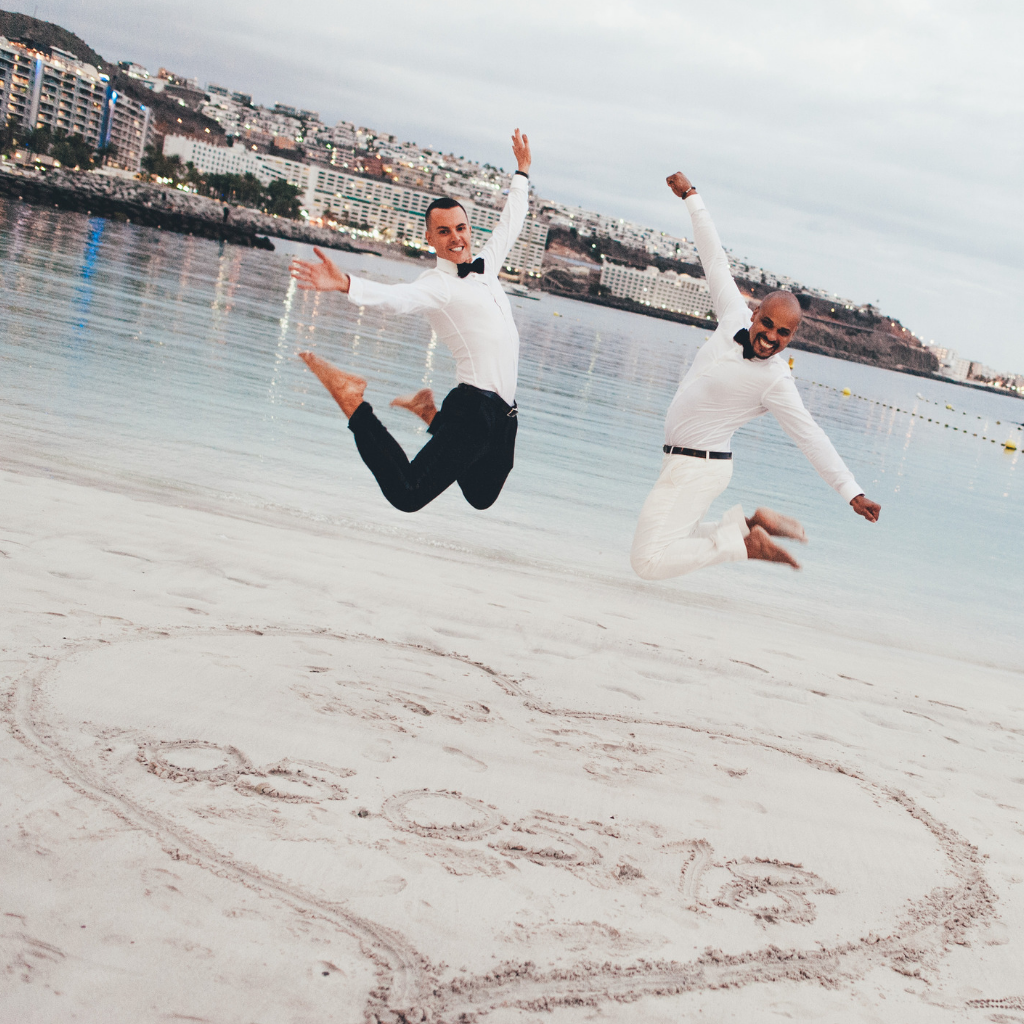 Final Comment
When asked about their decision to get married in Gran Canaria, the newlyweds explain, 'we chose to get married in Gran Canaria because we met there. Unfortunately, in the place where we met and fell in love, Alex's hometown of Switzerland and my hometown in Northern Ireland it is illegal for same sex couples to get married.
We are very happy in a civil partnership and this day will always be our wedding day. While all marriage may not be recognised by everyone, love is undeniable and love always wins, we cannot wait for the day that we can celebrate as husbands in Northern Ireland when that day comes!'
______________________________________________
Mikey & Alex's Dream Wedding Team
Venue
Maroa Club del Mar, Gran Canaria
Photography
The Perfect Wedding Company, Gran Canaria
Groomswear
Flowers
Cake