HOW THEY MET
Alister and Rachel met each other when they worked together at homeware retailer Alexanders of Markethill, Co Armagh. Initially starting off as friends, they started to grow closer. Rachel gushes, 'We worked with each other in retail for about a year. Even though we were friends, there was such a spark between us. In the end, I bit the bullet and made the first move, but Alister would disagree he did!'
Rachel believes that being such great friends at the start they had a great foundation for their relationship and subsequent marriage. 'It was nice that we were friends beforehand,  we pretty much knew from the start that it was it for us.'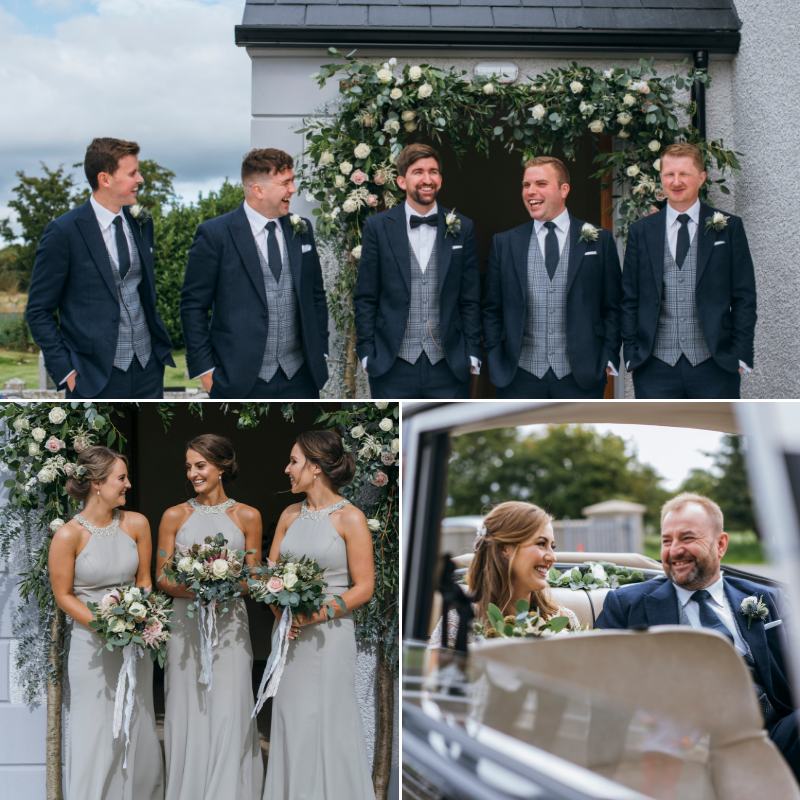 THE PROPOSAL
The couple were holidaying on the romantic island of Cyprus when Alister popped the question. Rachel explains, 'One evening, we decided to go on a walk to a place called Love Bridge in Ayia Napa. It's one of the most romantic places in Cyprus and while we sat enjoying the sunset, Alister got down on one knee.' Shocked, Rachel couldn't believe what happened. 'I was so pleased. I didn't want too much fuss, but it was just perfect. I think I cried the whole way through dinner afterwards. I was so happy.'

THE VENUE
Alister and Rachel married at Tullyvallen Reformed Presbyterian Church and held their reception at Slieve Donard Resort & Spa, Co Down. Alister and Rachel enjoyed their church ceremony and kept their venue simple and classic with a bit of glamour thrown in. Alister said, 'The ceremony was perfect for us and Slieve Donard for our reception suited our tastes so well. It was understated but stylish at the same time.'
PHOTOGRAPHY 
When it came to choosing their wedding photography, Rachel got inspiration from a friend. She says, 'One of my friends had booked Francis Meaney for their wedding and their photographs were absolutely stunning. I looked up his work up and instantly fell in love. Thankfully, he was available for the date of our wedding, so we booked him straight away. He is truly an amazing photographer. We loved how our wedding photographs turned out.'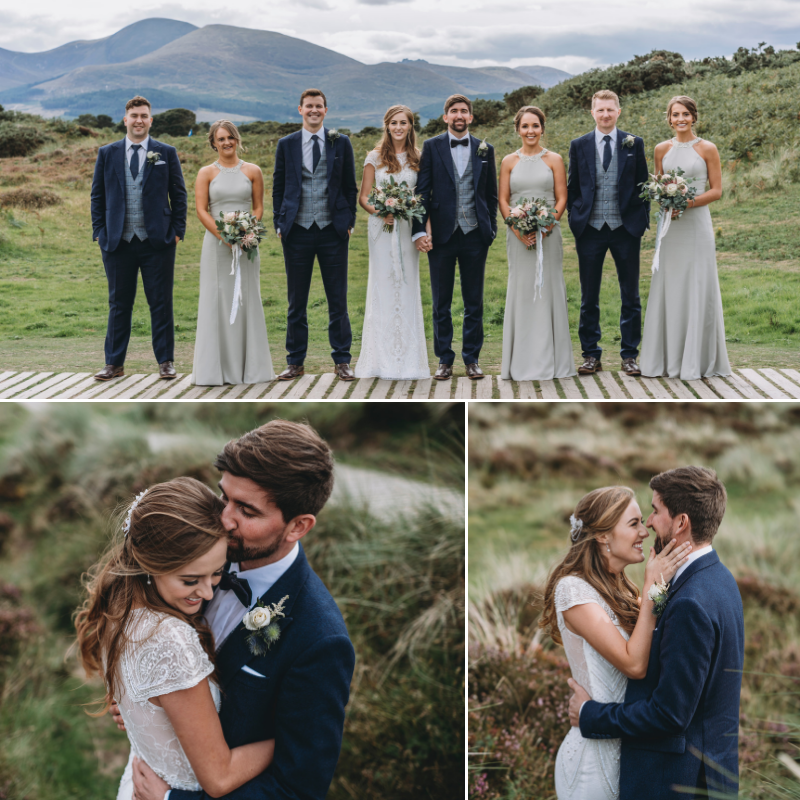 THE DÉCOR
Seeking a simple, clean look, Alister and Rachel went with a floral theme. Rachel says, 'I wanted a flowers everywhere and actually got the idea from one of  our photographer's photos. It was a gorgeous bouquet with a few wild flowers and thistles and I knew I had to go for a similar look.'
Rachel continues, ' I kept the colours subtle but I did want a hint of pink alongside the thistles, which were my favourite part. I always wanted plenty of flowers, so we made an arch in the church, with lavender and eucalyptus at the end of each pew and two pedestals at the front, flowers in the centre of each table and along the top table with four pedestals behind the top table.
'Overall, we didn't want to go too overboard with the room décor and had drapes behind the top table which was a last minute add on. It was definitely worth it, as combined with the fairy lights, it really added a lovely bit of sparkle. We also had Moanco chairs, light up letters and a few lanterns which really accentuated the theme.'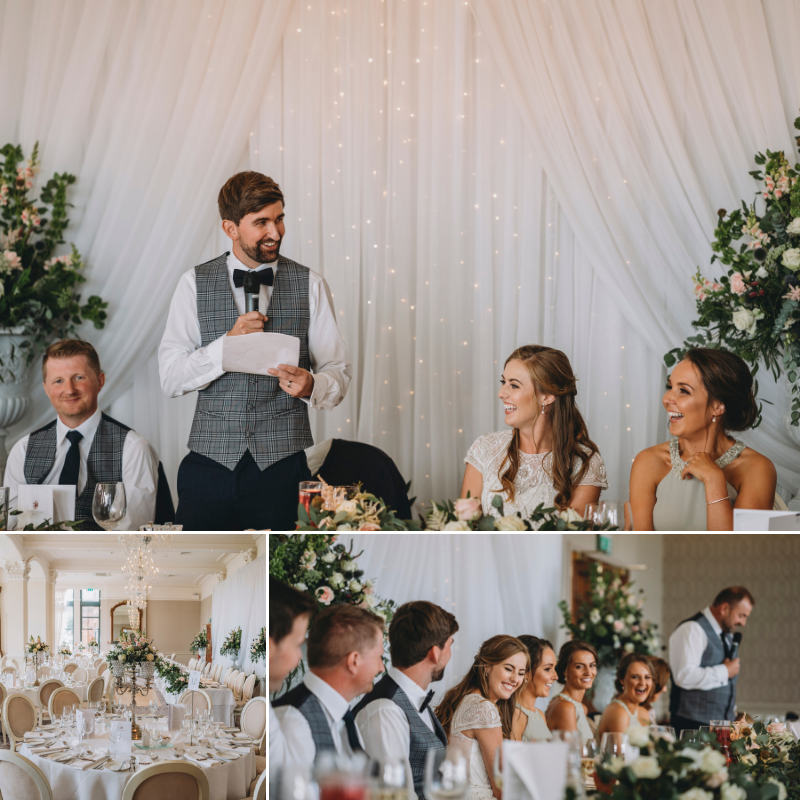 WHAT THE BRIDE WORE & THE REST…
When it came to choosing the perfect dress, Rachel shopped around. She says, ' We went to Perfect Day Bridal Boutique in Lurgan. I showed the shop assistant a few photos of dresses that I had previously picked out. Luckily, the boutique had just ordered in a floor length, short sleeved, embellished white dress, similar to one I had picked out. When I tried it on, it felt like the one. However, I wanted to shop round and decided to try elsewhere.'
Rachel said that she visited five bridal boutiques and tried a range of different styles. However, in the end, Rachel decided to go with the first dress. 'After trying on different dresses, nothing compared to the first. I knew I had to go with it, my heart was set on it. Strangely, it was very nerve racking saying yes to the dress, but I'm so glad I did.'
On the day, Alister and his groomsmen looked smart in grey and black checked three piece suits. Meanwhile, Rachel's bridesmaids appeared stunning in cool grey dresses, also purchased from Perfect Day Bridal Boutique, Lurgan.

IT'S ALL IN THE DETAIL
When it came to choosing wedding stationary, the couple got inspiration from the website Pinterest. Rachel explains, 'I wanted something with a floral and pastel design, with a touch of rose gold that would compliment the bridesmaids. Luckily, I was able to find a suitable design.' For their wedding cake, Alister and Rachel purchased their cake from Christine's Wedding Cakes based in Dungannon, Co Tyrone.
Rachel says, ' We decided to go for a range of different cakes to suit different tastes, such as fruit, raspberry and white chocolate, chocolate fudge and chocolate biscuit. On the day, I loved the cake's design, it complimented our wedding so well, especially the marble effect and the design on the bottom tier. Thankfully, it tasted amazing, too!'
FOOD & DRINK
For starters, the couple had on offer a trio of melon, cream of Mourne vegetable soup and warm wheaten rolls. For mains, they offered a choice of Daube of Northern Irish Beef or Turkey and Ham, served with crushed carrots, parsnips, broccoli, champ and dauphinoise potatoes. Then, finally for dessert, the bride enjoyed pavlova and the groom profiteroles. Alister says, 'Our favourite part of the meal was the turkey and ham. It was done to perfection!'

HIGHLIGHT OF THE DAY
Alister and Rachel both agreed that the highlight of their wedding day for them were the speeches. They say, 'The speeches were just so special and added such a romantic yet funny and lighthearted element to the reception. It was definitely one of the highs of the day.'

_______________________________________________________
Alister & Rachel's Wedding Team
Venue – Slieve Donard Resort & Spa 
Wedding Dress – Perfect Day Bridal Boutique
Wedding Cake – Christine's Wedding Cakes, Dungannon
…………………………………………………………………………………………………………………………..
Are you a bride or groom to be? For more tips and inspiration, make sure you head along to The Wedding Journal Show Belfast on Sat 5th & Sun 6th Oct – get your tickets

here!