Orla & Jay tied the knot 28th April 2017 at St Peters Church, Philsborough, Dublin followed by a reception at Clontarf Castle
Photography by Mark Donovan Photography
The Couple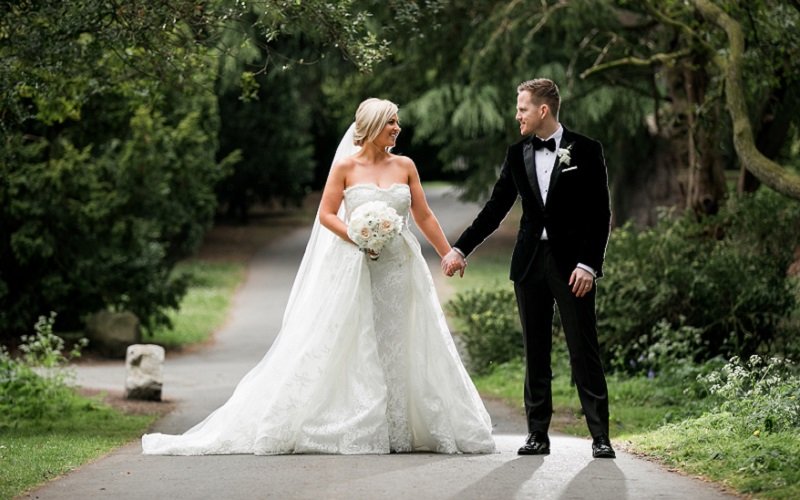 Orla and Jay met through mutual friends on a night out in Barcode, a club that used to be close to their chosen wedding venue!
The Proposal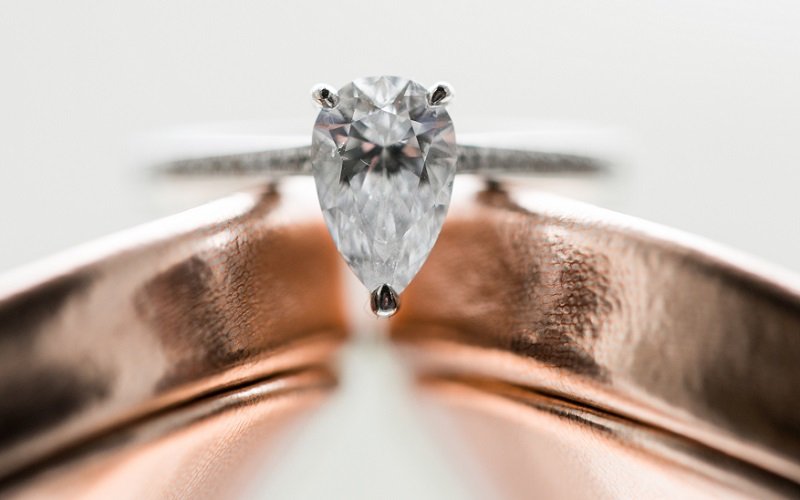 Orla & Jay planned a once in a lifetime trip to New York followed by a Caribbean Cruise. The couple were staying with Orla's cousin and unbeknownst to Orla, Jay had been in touch with him before their holiday to arrange the proposal. "We had been in New York for a few days and had planned to rent bikes and cycle around Central Park," remembers Orla, "Jay  cycled ahead to a hill overlooking the lake and when I caught up with him he was down on one knee! The ring was beautiful and I was in shock. He had some more surprises up his sleeve, and we rounded off the perfect day with a romantic meal in Quality Meats and a trip to the top of the Empire State Building that evening."
Venue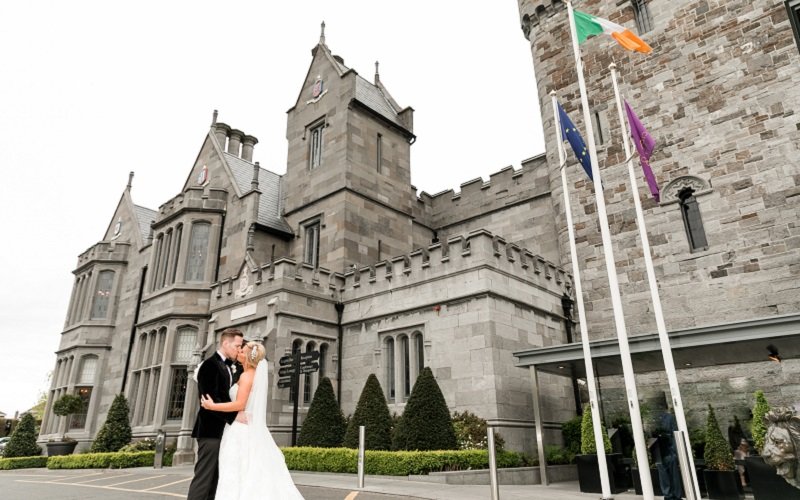 "We love Dublin and really wanted to stay in the city," says Orla, "We looked at a few venues but when we walked into Clontarf Castle it had everything we were looking for including character and a nice Great Hall that could comfortably house all of our guests.  We were also extremely happy with the service we received."
Theme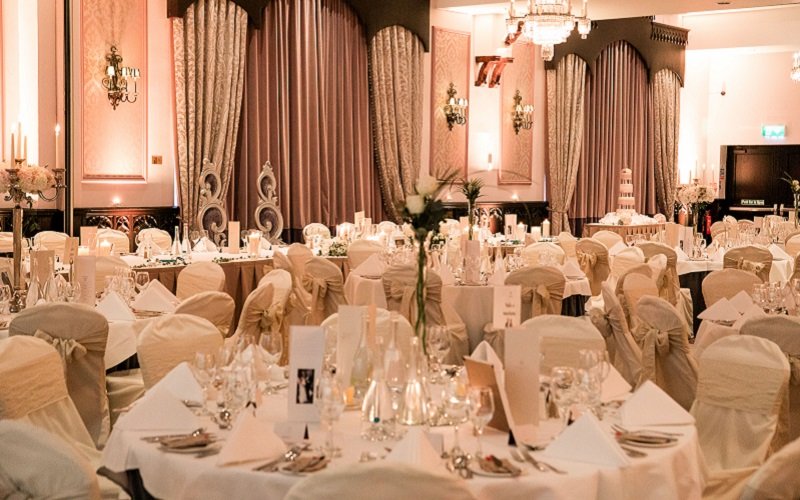 Overall the couple chose a relaxed and playful theme and incorporated neutral colours into their decor. "Our seating plan was a map of the world and we named our tables after different places we had traveled. We incorporated photographs of our travels and tried to seat people at tables were they may have had a connection with the destination."
Photography & Videography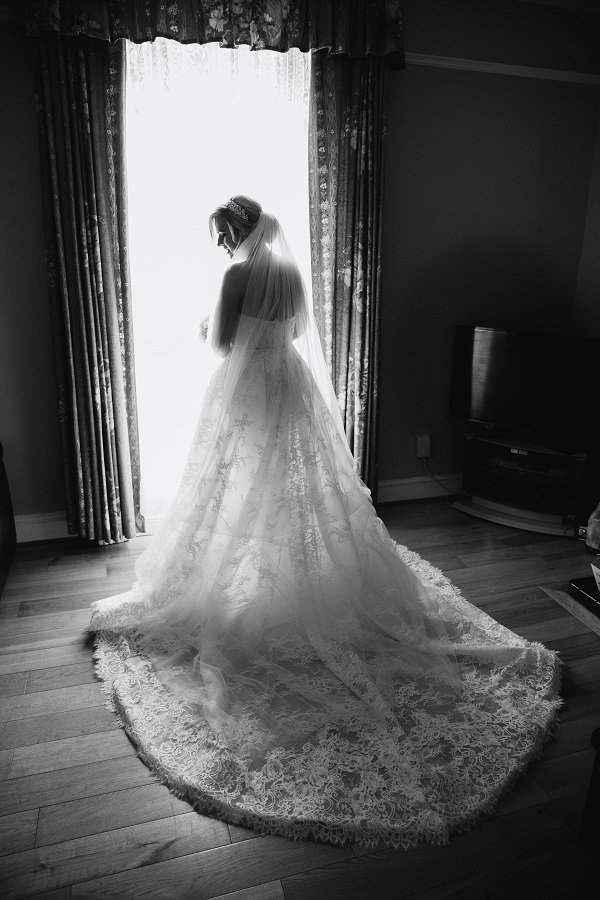 Orla & Jay chose Mark Donovan Photography to capture their big day. "We were so pleased with the natural feel of our photographs and love how Mark was able to capture us in the moment," says Orla, "We also had a videographer called Kevin Bennett from Mi Wedding Film. Again, he was barely visible and I love having a video to watch back with all the little moments and looks exchanged."
Wedding Planner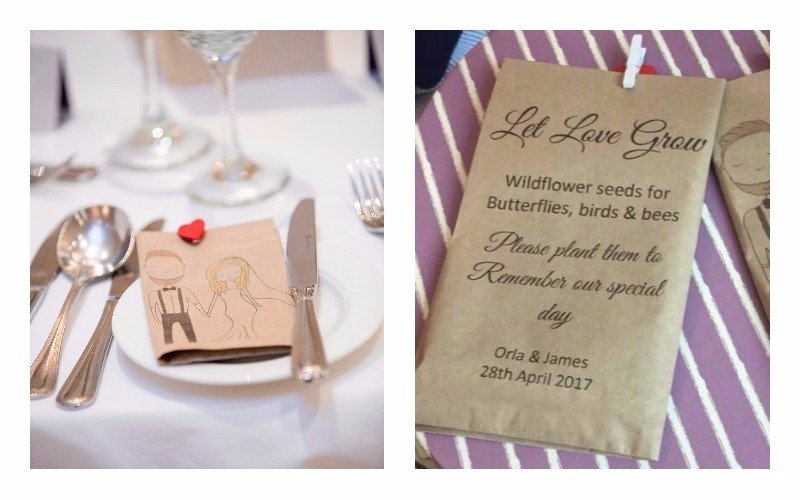 Orla and Jay planned the whole day by themselves using inspiration from online.
Wedding Dress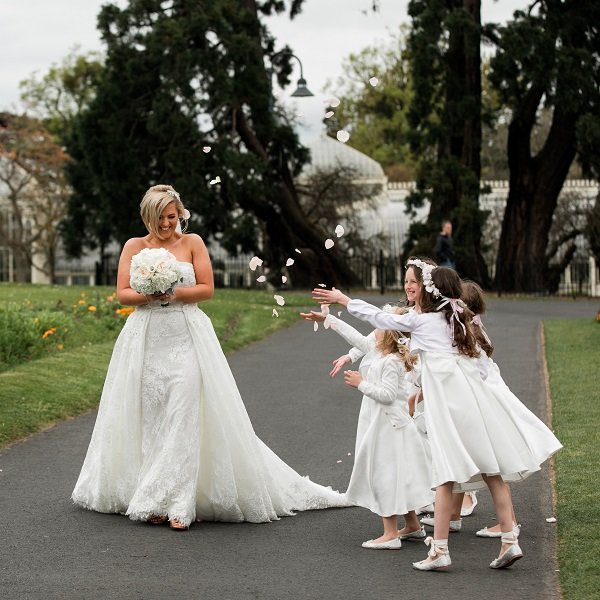 "I was inspired by Sophia Vegara's wedding dress and fell in love with the idea of having a fitted dress with a detachable skirt over the top. I couldn't find exactly what I was looking for, so I was delighted when I saw in Ireland's Wedding Journal that Pronovias Atelier 2017 had launched a new collection with similar designs. I called every supplier in Ireland, but nobody stocked the new collection so I booked a flight for my sister and I to visit The Wedding Club in Birmingham.
I tried on the Edith gown and instantly knew it was the one. I loved the soft lace detail and the fact the overskirt had a cathedral length train. The dress was light, easy to wear and I felt amazing! In the evening I removed the overskirt for dancing."
Groomswear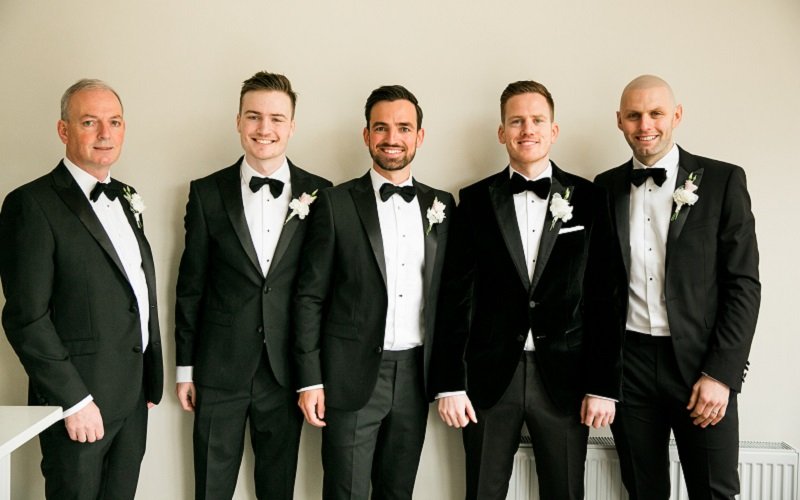 The groom looked dapper in a black tuxedo from Hugo Boss with a velvet jacket. "He really looked the part – his bow tie was from Savoy Taylors and his shoes from Dune," Orla says.
Bridesmaids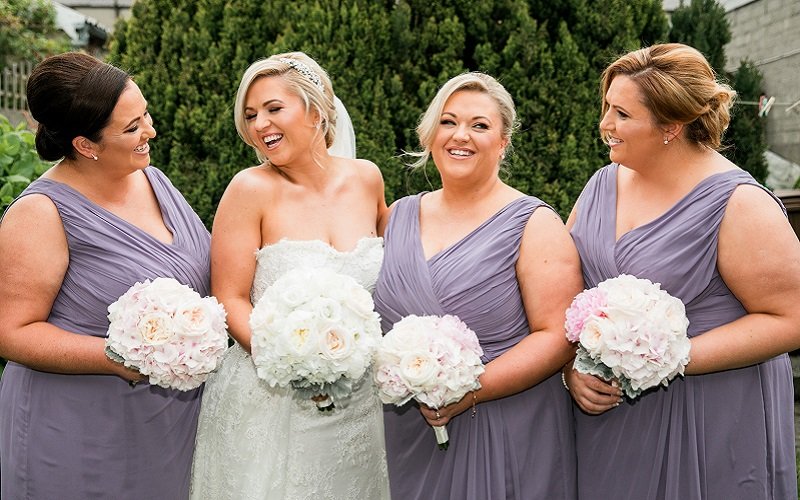 The bridesmaids' looked stunning in lavender Dessy gowns purchased from Trim in Abelle Bridal Shop. Orla says, "Josephine looked after us and even kept the shop open so we could have a fashion show including dressing me up as a 50's bride!"
Wedding Flowers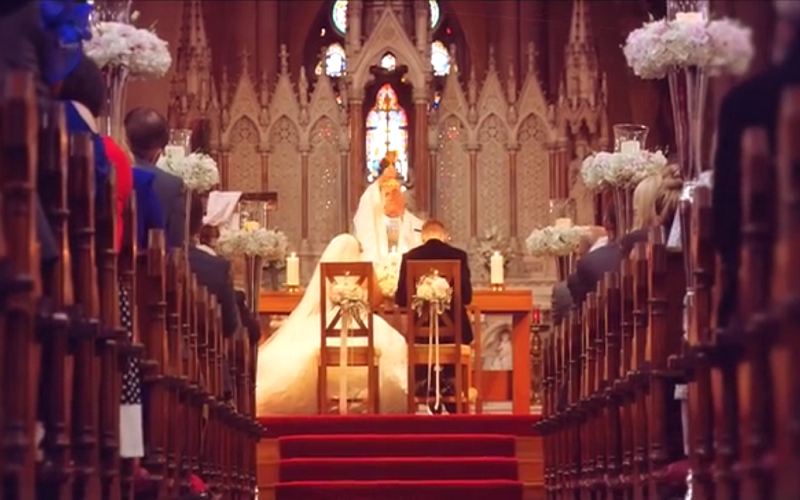 The flowers were from VP Flowers who were located locally to Orla's church. "Vita was amazing," says Orla, "I asked for candelabras and she sourced them especially! My flowers were beautiful and perfectly complimented the bridesmaids'. Vita made stunning flower crowns for the girls and added lots of personal touches to the decoration of the venue including the chairs and tall candelabra for the church."
Table Plan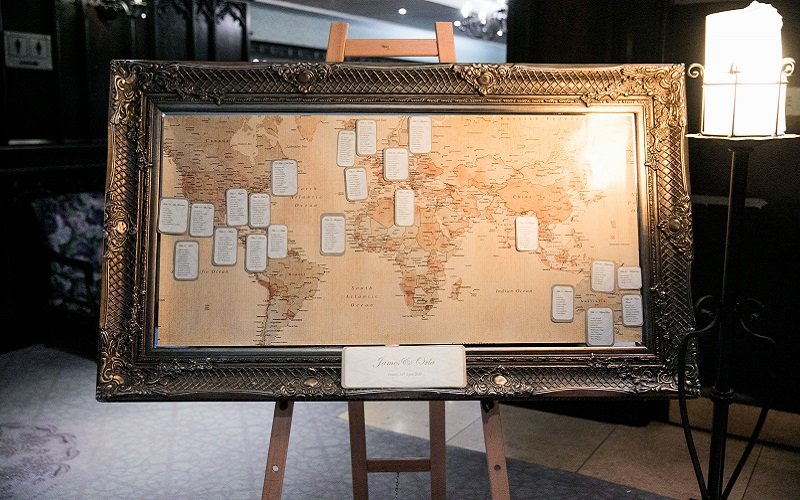 "We bought a world map and sized it to a Clontarf Castle mirror. The girls in Clontarf were amazing and Ciara, who was our wedding co-ordinator went above and beyond perfecting our table plan and the small details we included in our day," says Orla.
Stationery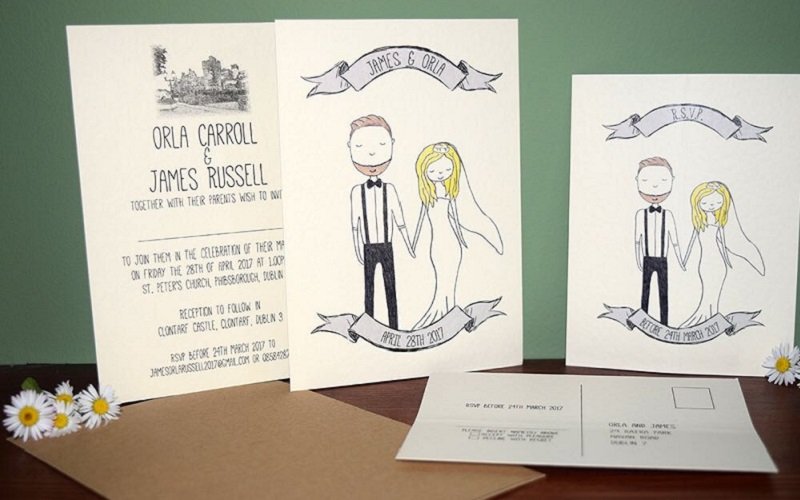 The couple chose Wedding Stationery by Amanda as they liked the cute and playful nature of her designs. "We sent her a few pictures of ourselves and she designed the invite around us. I would highly recommend Amanda as she worked so closely with us right up until print and delivery," says Orla.
Honouring Lost Loved Ones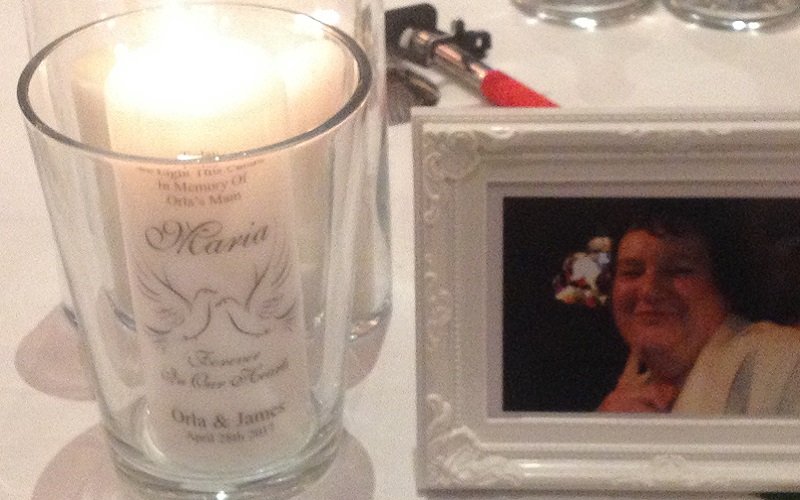 Orla's Mam passed away so the couple included her by lighting a candle at the start of the ceremony and kept a picture of her on the top table for the entire day.
Mother of the Groom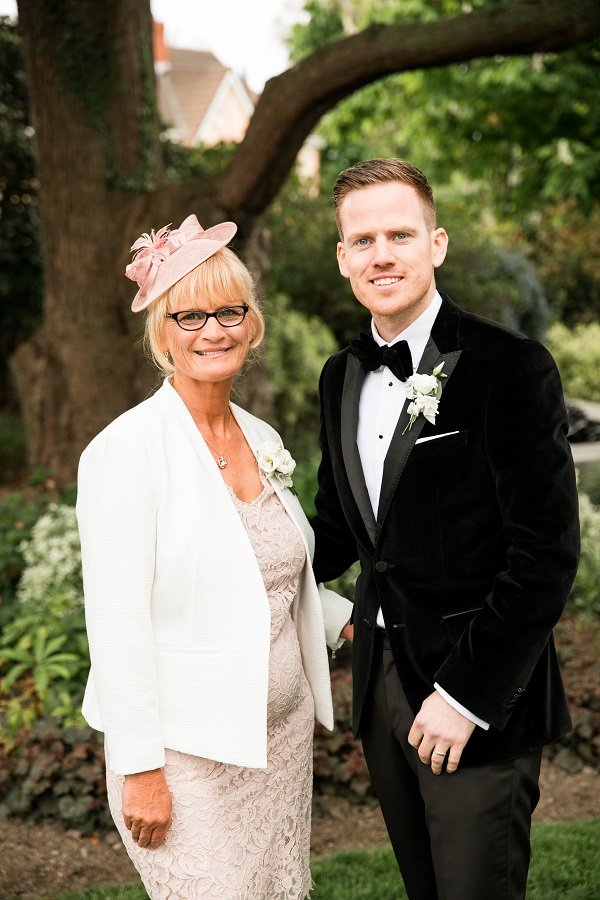 Jay's Mam wore a dusty pink dress from Debenhams which she paired with an elegant head piece.
Wedding Cake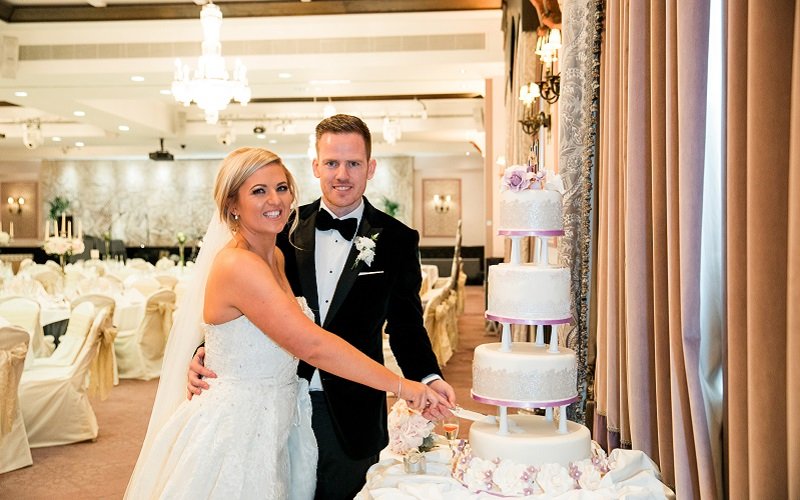 "Our cake was by Bella Sweet Creations. We opted for a traditional four tiered cake with fruit cake, chocolate biscuit, lemon sponge and oreo flavours," says Orla.
Favourite Moment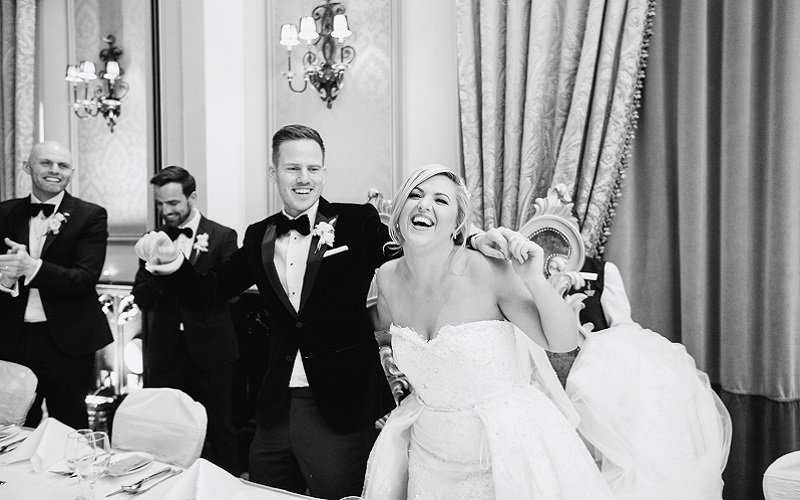 Groom: "Walking into our reception – we had booked Tropical Storm to play during our drinks reception and they really had our friends and family in high spirits. We walked into an upbeat song and everyone was dancing and cheering for us both."
Bride: "My favourite moment was meeting Jay at the altar and sitting down taking it all in.  It was quite surreal that our day was finally here. That coupled with it being the the church I grew up in felt very special."
Top Tip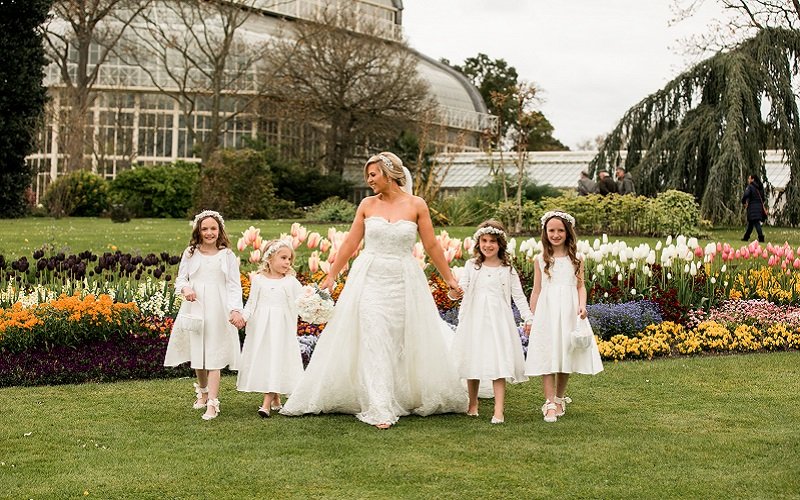 Groom: "Talk to each other and agree on what you both want from your day. What becomes important to your partner becomes as important to you and the way you will feel on your wedding day makes it very special."
Bride: "I would say the same thing. Write down what you both want on your day and talk through it.  The build-up is great fun so really enjoy all the planning with your friends and family."
If you're getting married and are looking for a unique and gorgeous dress design, take a look at our brand-new directory. We only recommend the highest quality Wedding dress & Bridal Shops in Limerick.