How they met
Joseph and Aine met back in 2010. 'Joseph spotted me at a party but never approached me. A couple of days later I had a friend request on Facebook and I accepted it. We started chatting and here we are 8 years later, thanks Zuckerburg.'

The Proposal
'In March 2016 Joseph surprised me with a trip to Paris for my birthday. After running around the city for the day Joseph had a private booth booked in the Gordan Ramsey restaurant at St Trianon's Palace, Versaille. I had no idea what was to come, I told Joseph he went way over the top for my birthday and there was no need for it. We ordered food, which still to this day we have no idea what we actually ate, and next thing I know Joseph was down on one knee asking me to be his wife. He had planned it so well he even had a photographer to capture the moment.'

The Reception
The ceremony took place in Honan Chapel, UCC, in Cork. 'Our priest was born and raised in Cork and spent over 20 years in Nigeria as a missionary priest before returning to Cork a few years ago. When everyone was seated in the church he spoke a few words in Yoruba which really welcomed Joseph's family and friends, who travelled from all over the world to be there to celebrate our wedding day. They were all shocked that he knew their language but it really started the day off on a high.'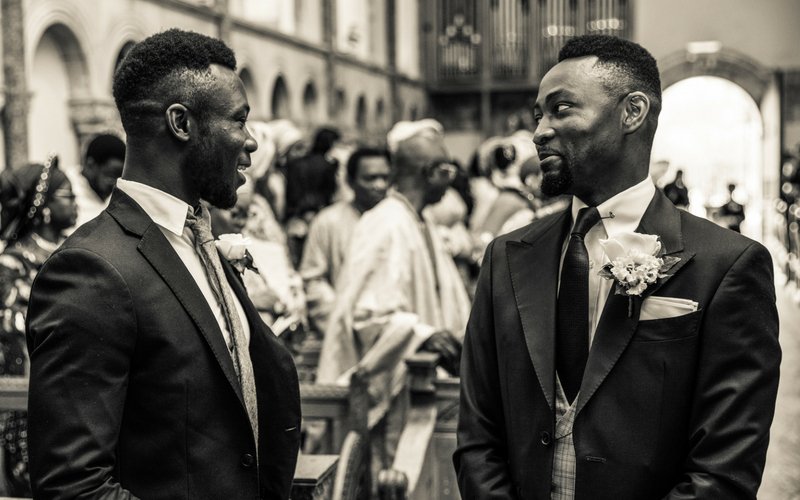 Aine & Joseph fell in love with the character of the Imperial Hotel. 'They really went above and beyond to accommodate us. The entire events team and hotel management were really involved in the day and made everything run seamlessly. The one thing Joseph was conscience of was choosing a venue in the city centre but it was magical.'
The Decor
'We didn't necessarily have a theme as we focused on amalgamating traditions of both an Irish and Nigerian wedding. This was a huge task as a Nigerian wedding is usually spread across two separate days, known as the engagement and the white wedding and we chose to squeeze everything into one day.'
The young couple live in the UK, so battled with the idea of hiring a wedding planner to ease the planning process, however they decided not to. 'Aine's mom was a great help. She was running around paying deposits, looking for guest accommodation and constantly had her eyes peeled; we really appreciated her hard work.'
'Mandy at Elegance Florists in Cork was a superstar. I was so laid back when it came to the flowers. I would have loved peonies but they are not in season at the beginning of April. Mandy recommended the David Austin rose and it's just as beautiful.'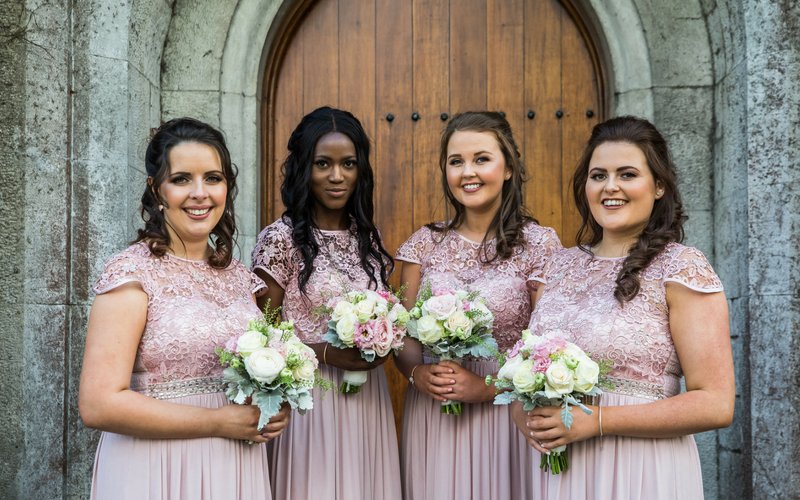 Douglas Print in Cork  were the couple's choice for all things stationary. 'We had three separate parts to our invitation as we wanted to ensure that everyone knew what to expect on the day, with a few hidden surprises.'
What the Bride wore & the rest…
When it came to the all important dress, Aine originally had a completely different style in mind, 'I thought I wanted something very slim and fitting, with a lot of detail but it wasn't flattering on me.' Instead she opted for a Morilee gown, featuring a frosted, embroidered lace bodice accented with crystal beaded straps and waistband and dreamy layers of flounced organza.
The bridesmaid dresses were from Pamela Scott, they were a dusty pink shade, and matched accents in the flowers and the cake.
Joseph opted for a custom fitted suit by Morts & More, London. Joseph took inspiration from the 20's/30's jazz era.

Eating & Drinking
'We had a choice between a typical Irish meal (beef or fish) but also had a Nigerian dish on the menu which was jollof rice and chicken. We spent some time with the venue to ensure the Nigerian dish was correct. It took a few tries but the chef managed to get it spot on.'
The wedding cake was created by Wedding Journal Reader Award Finalists, Baker Boys Cakes. Top tier – vanilla & raspberry, second layer – lime & coconut, third layer – lemon drizzle and bottom layer – white chocolate biscuit cake filled with Malteasers, Rolo and Munchies.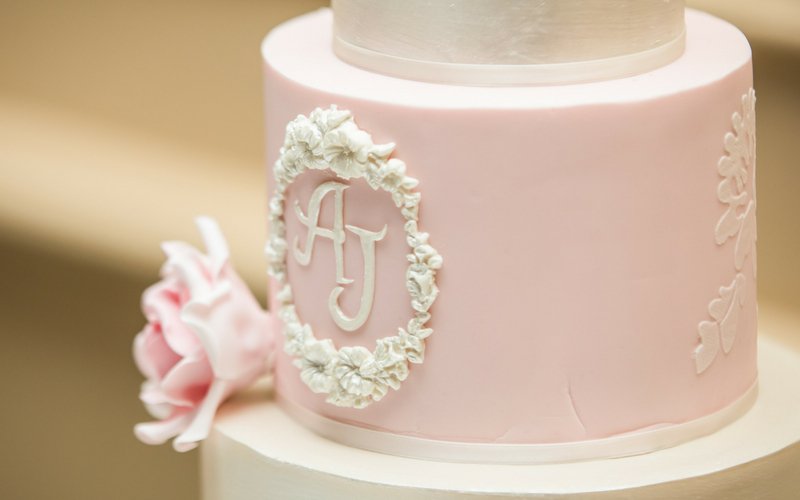 Capturing The Memories
Laura & Benny Photography were their chosen photographers. The husband and wife duo really did capture the atmosphere of the day.
'Aine's mom met Laura at the Southern Bridal Show and knew that she was the kind of person we would gel well with and she wasn't wrong. We wanted really natural pictures, not too much posing and we couldn't be happier with the results.'

Favourite Moments
Joseph describes Aine walking down the aisle. 'It felt like the longest and shortest walk at the same time. I had mixed emotions. It was a life defining moment. I saw a glimpse into the past but also all the possibilities the future holds for us became clear. I tried to pay close attention to the feelings I felt at that moment, I thought I would be overwhelmed etc. but all I felt was immense joy and I knew we were supposed to be together.'
Aine's favourite moment was their entrance into the ballroom as husband and wife. 'I know with Nigerian weddings the newly weds dance into their venue but we didn't plan on doing this. However, on the day while waiting outside to walk in I heard music and looked at my husbands excited face. I was 100% for it but slightly worried for my bridesmaids as 3 of them never experienced it before but they all took it in their stride and had the whole room standing on their chairs trying to get a glimpse of the action. I reckon this is the moment everyone knew they were in for a high energy evening.'

Words of Advise
'Be open to suggestions from vendors, after all they do know best. No matter how much you plan things will always change so keep an open mind for changes.'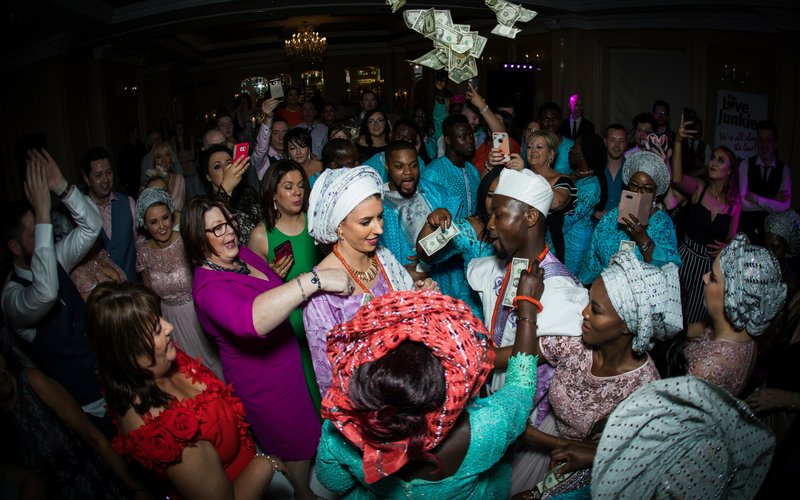 Aine & Joseph's Dream Wedding Team
Venue – Imperial Hotel, Cork
Dress – Morilee, London
Groomswear – Morts & More, London
Cakes – Baker Boys Cakes, Cork
Flowers – Elegance Flowers, Cork