How They Met
Stephanie McCollam met future hubby Harry Thompson at an awards dinner hosted by Young Farmer Club of Ulster, where they were attending with their separate clubs. Stephanie knew it was for life when Harry brought her to meet the 400 four-legged ladies in his life!

The Proposal
Harry surprised Stephanie with a farming related engagement at Harvey's Point, Donegal. The pair had went out for the day to climb Cuilcagh Mountain, otherwise known as Ireland's Stairway to Heaven, the day wasn't over when they came back to the car, as Harry surprised Stephanie with a romantic dinner and overnight stay at Harvey's Point.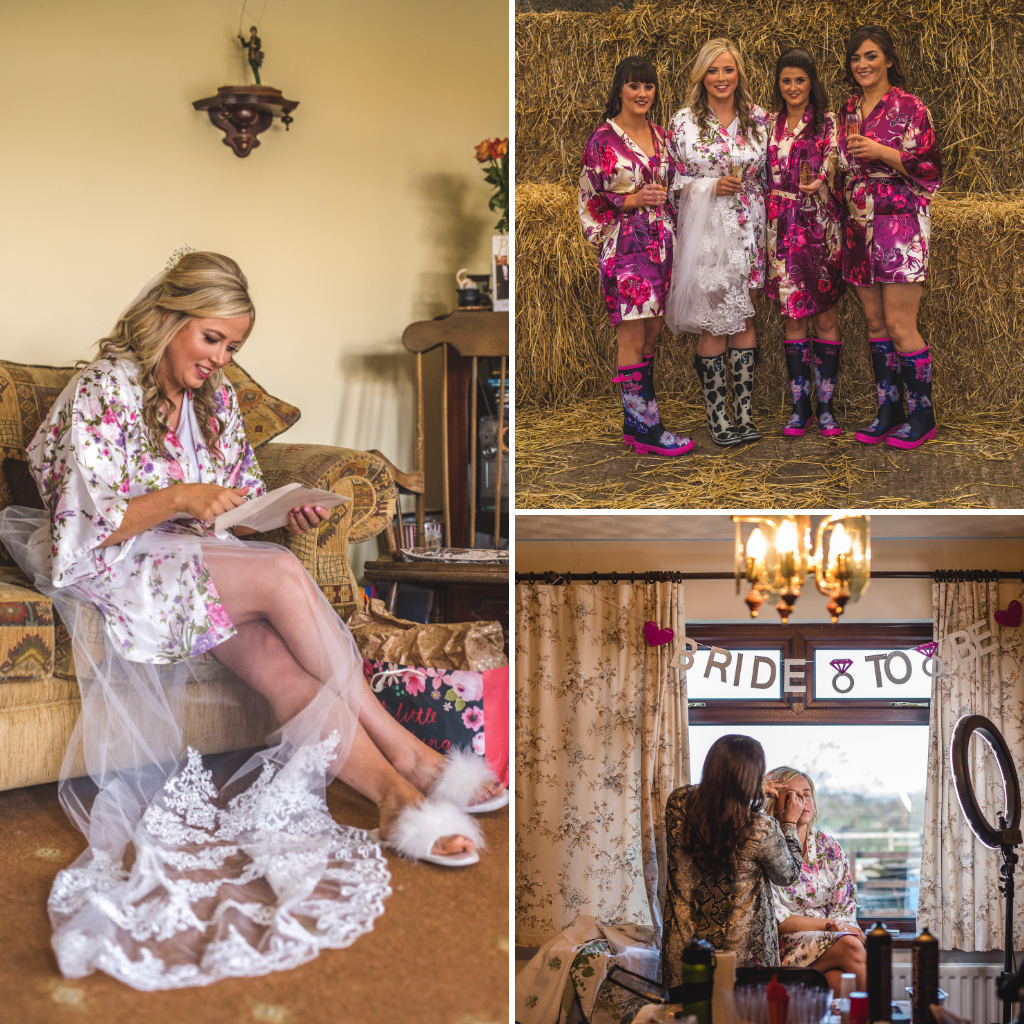 Stephanie was so pleased as it was somewhere she always wanted to go but was even more pleased when Harry got down on knee by the lake! She comments that the best part is that she had no idea it was coming. Once the shock was over, the hotel upgraded the happy couple to another suite, with almost an entire floor to themselves. 'It was amazing and the ring is absolutely perfect,' comments Stephanie, 'Harry did an amazing job.'
The Day
Knowing they wanted a winter wedding, the couple set off in search for a venue. While they paced themselves, they always knew that at the top of the list was The Culloden Estate and Spa. Nowhere else compared to the setting, views and packages offered.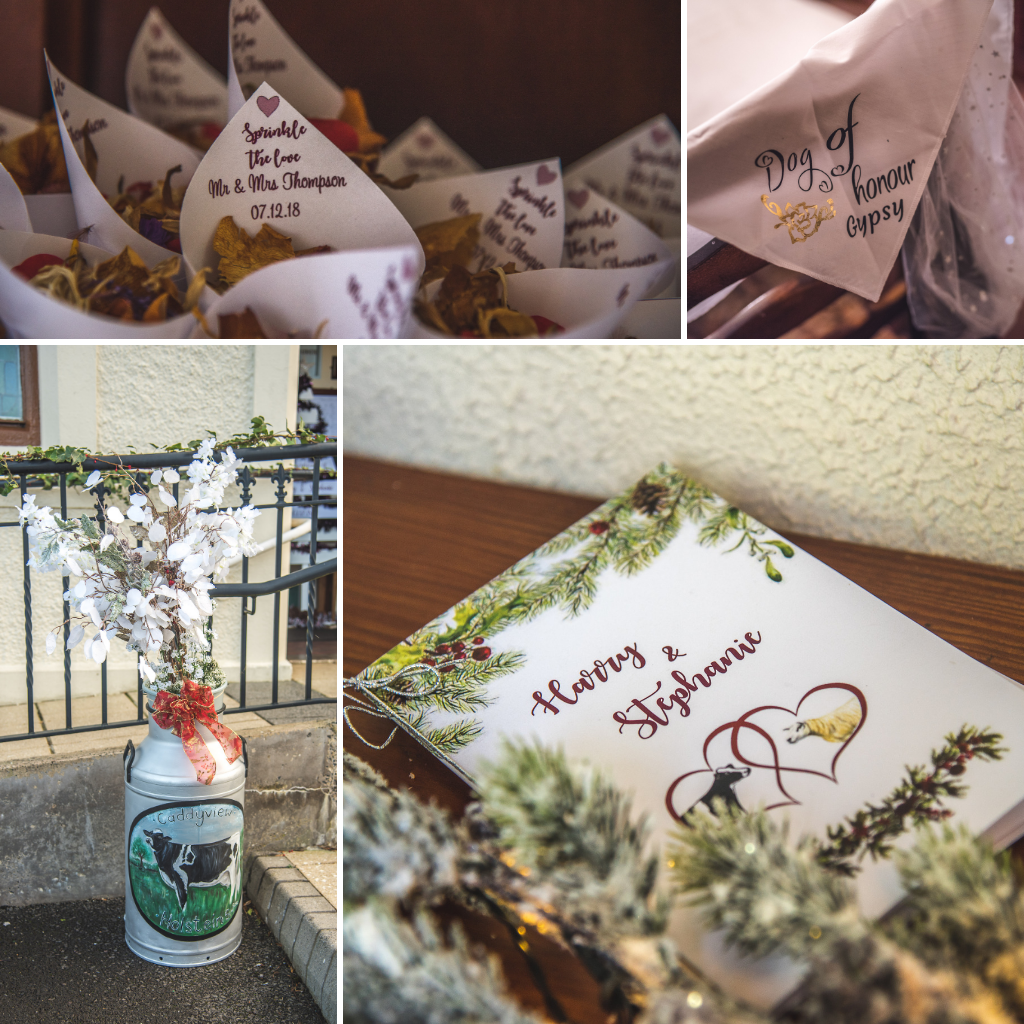 It was extra special for Stephanie as her parents held their wedding reception in the Stuart Suite and she describes it as amazing, with open fires, Lady Jane Tower, Lough windows and the open planning. 'You could literally do anything with this room,' she states. Once they had decided on their venue, they confirmed their date and booked with the church.
Stephanie and Harry comment that they had the most amazing day from start to finish. Everything went to plan, from the morning preparations to the evening party. The guests enjoyed a fabulous dinner handpicked by the bride and groom themselves.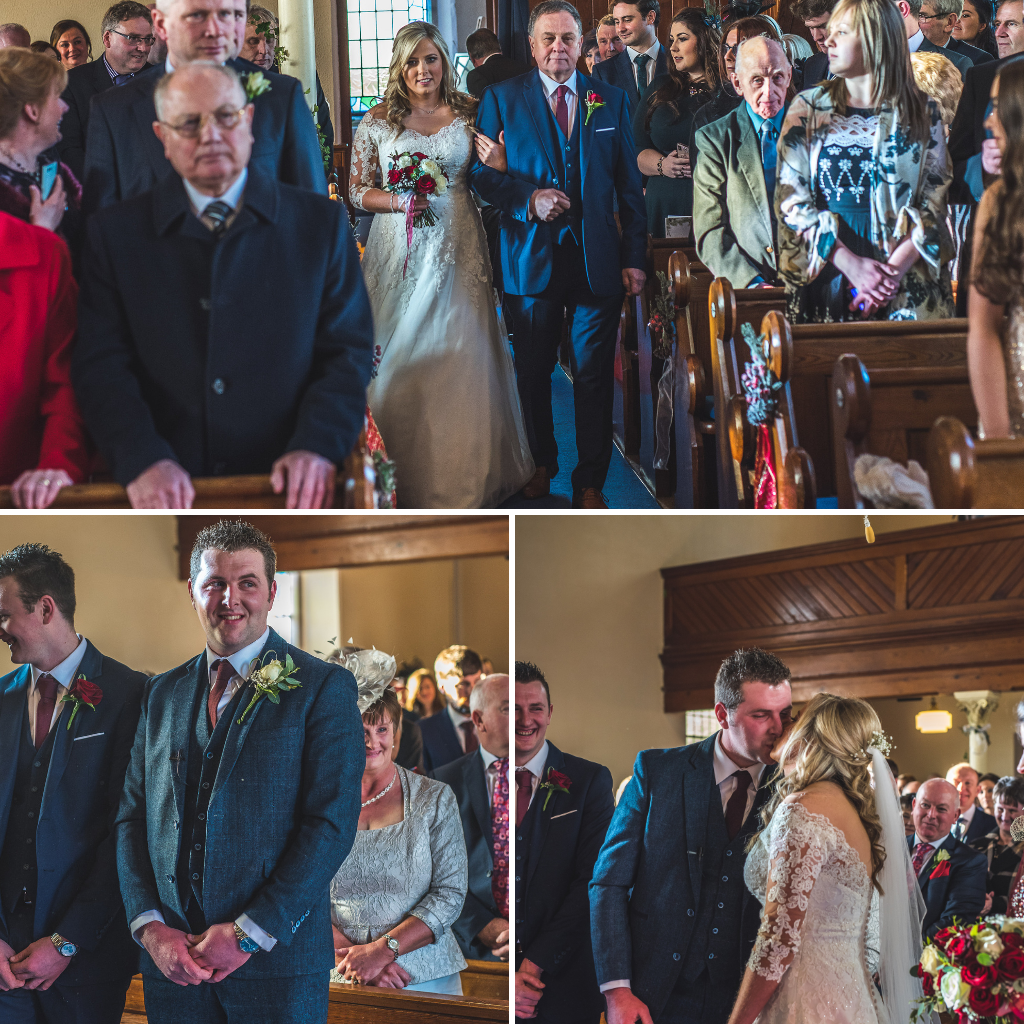 With the wedding taking place in December, the theme had wintery elements added to it. The church had a Christmas tree put up one week before, then the couple got busy decorating the church with holly, ivy, garlands and mistletoe! At the Culloden, Christmas decorations were in full flow and the couple added some lanterns, candles, and garlands, commenting that they really didn't need much for the stunning venue. Fairy lights were also added to the Lough windows.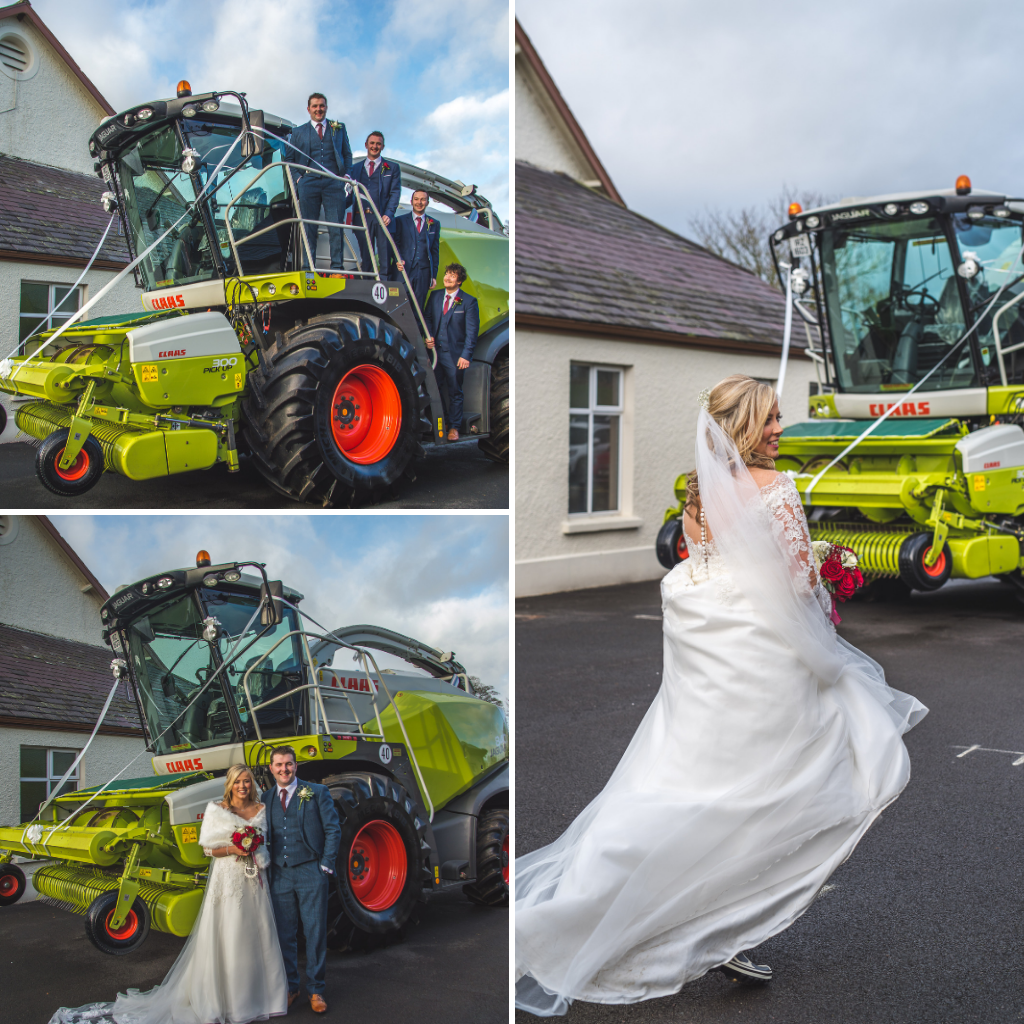 Another theme that was compulsory for the couple was a farming one! This was done in the form of their stationery, décor, transport and photography! The stationery saw sheep and cows featured on them and the names followed to their table plan; there were hand painted creamery cans dotted around; Harry and his men arrived in a Claas Harverster wearing cow print socks; photographs were taken in their home barn and the bridesmaids wore wellies for the photographs! 'These ideas,' comments Stephanie, 'To name but a few, are what made it more personal for us.'
What The Bride Wore
Stephanie knew exactly what she was looking for thanks to websites and social media pages! She found it at Bridal Elegance Boutique, and even cancelled her remaining bookings!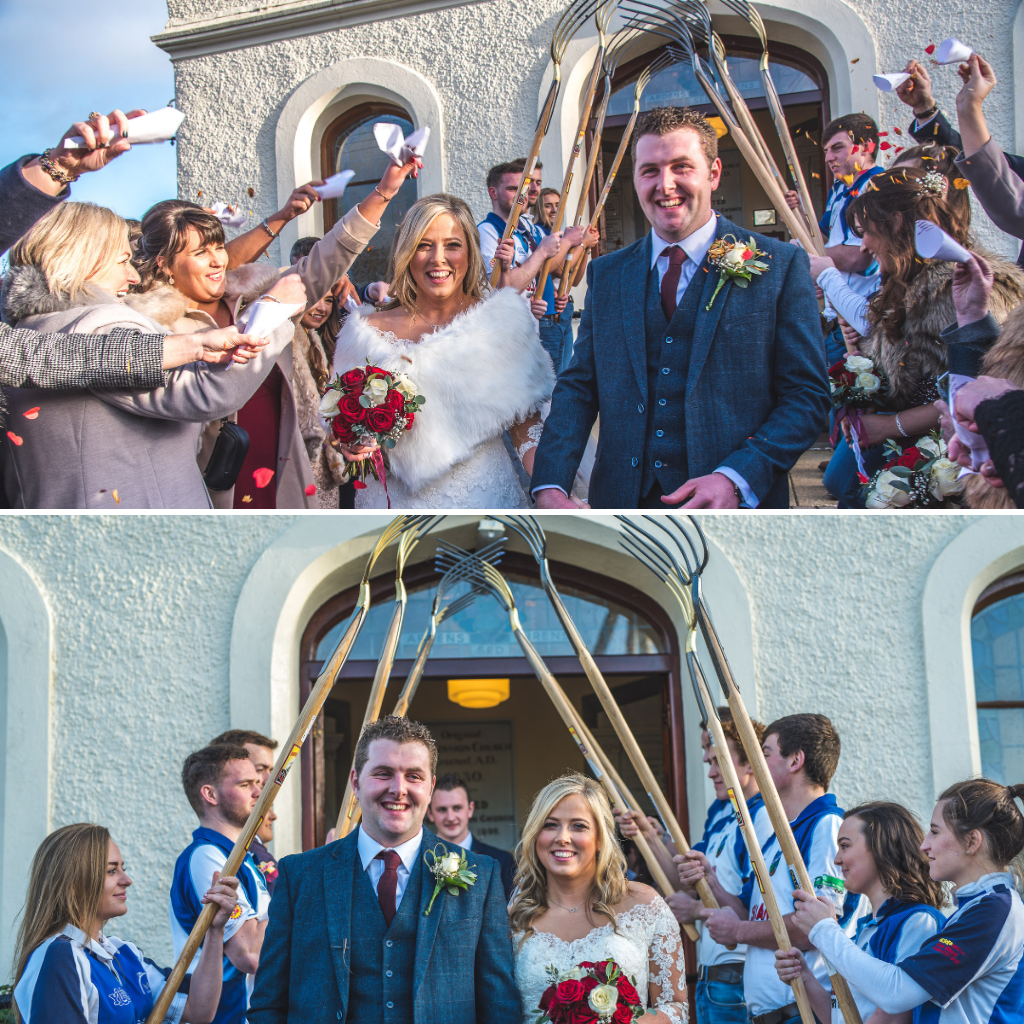 When she tried the dress on she knew immediately that it was the one and affirmed it even more when she brought her dad along to see it, 'When I saw his face I knew it was the one for me.' Stephanie praises the staff for their helpfulness and making her feel so comfortable during her experience.
The bridesmaids were ordered online, simply because Stephanie couldn't find any she liked! Burgundy was the colour of choice, but the bride didn't want anything too plain as it wouldn't match her bridesmaids' personalities. Settling for nothing short of amazing, she kept searching until she came across TFNC London, where she found the perfect bridesmaids dresses for her wedding.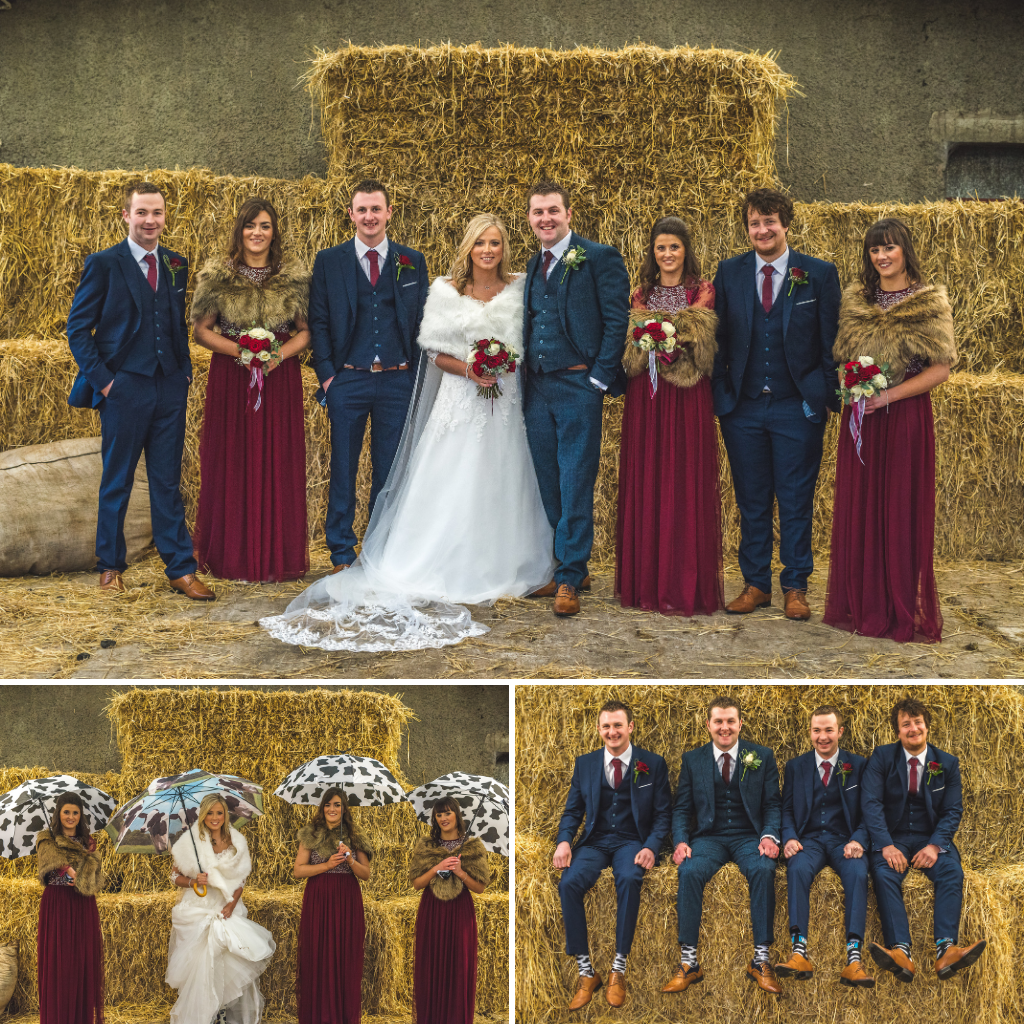 The men were kitted out from Wedding Centre in Randalstown. The groom and his men looked well in navy tweed suits! Stephanie comments that she thought this would be hard because there were eight of them from all different age groups, but they all turned out handsomely!
Photographer
Stephanie and Harry had Rachel Cooke Photography to capture their big day.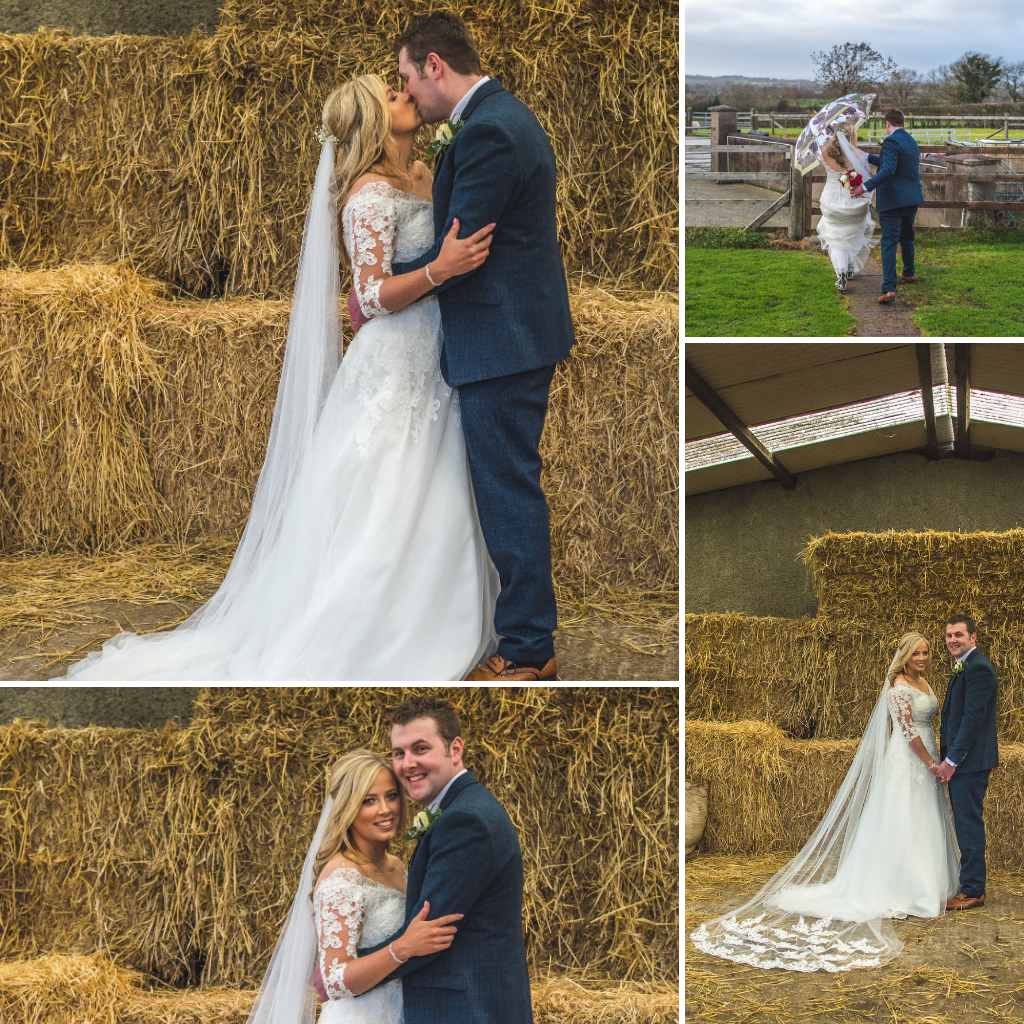 The couple were looking for a photographer that is able to tell a story and Rachel was the perfect fit, as her approach to photography is letting moments unfold naturally and capture them as they are. The couple felt relaxed and had a lot of fun with Rachel.
Favourite moments
Harry, 'Seeing Stephanie walk down the aisle and sitting down to enjoy the meal after the speeches had finished.'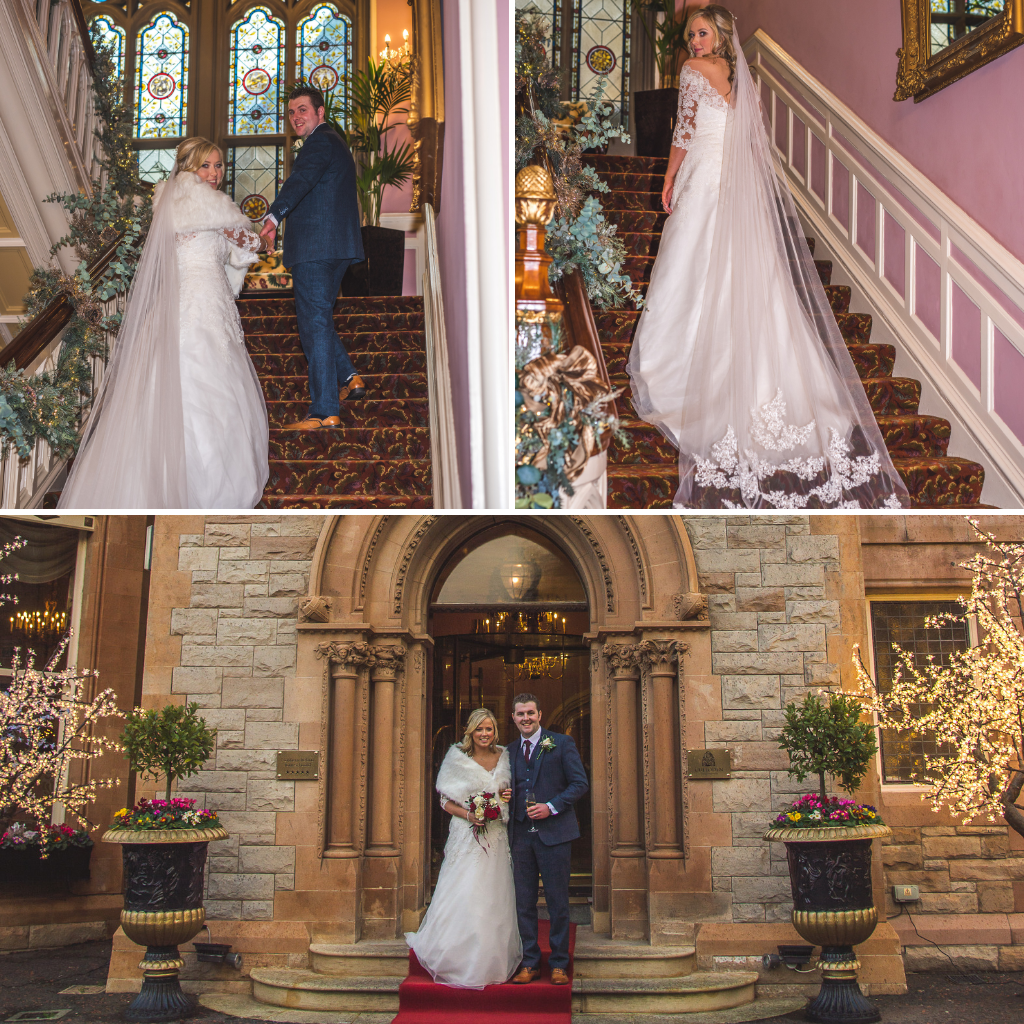 Stephanie, 'Walking down the aisle with my dad towards my best friend and future husband in front of all our family and friends. I couldn't wait to marry Harry and begin our life together, which is what a wedding is all about. Walking out of the church hand in hand as husband and wife was amazing.'
Advice
'Take your time and don't worry about the little things. Enjoy everything from the engagement, to the planning, to the wedding day.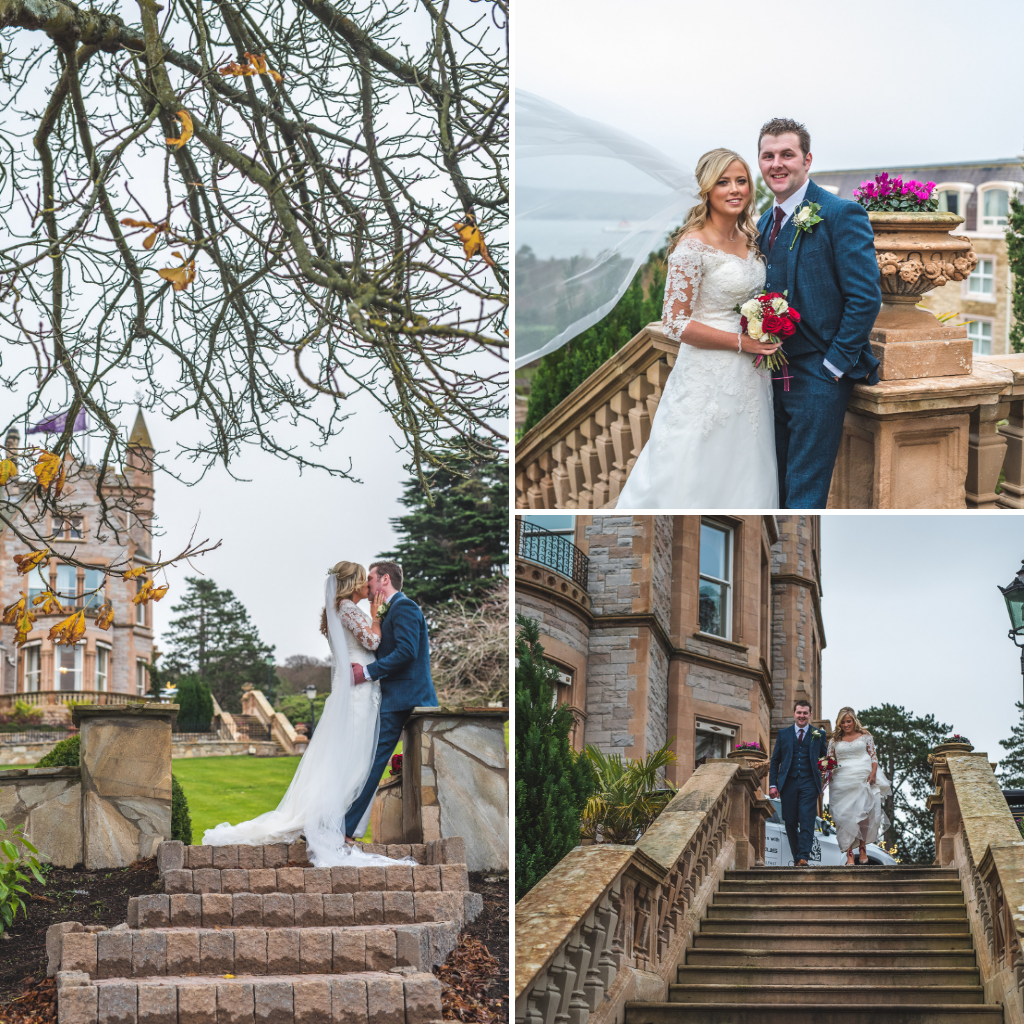 It all goes by so quickly so sit back and take it all in. Involve your family and in-laws as well. Mine were great and helped with anything and everything – a wedding is about family and friends as well so enjoy that part before you move away from home.'
Honeymoon
Due to the time of year, the couple decided to take a mini moon to London for three nights; where they relaxed, shopped and visited some tourist attractions such as the Hyde Park Winter Wonderland. Both say it was lovely to just wander around after the busy months.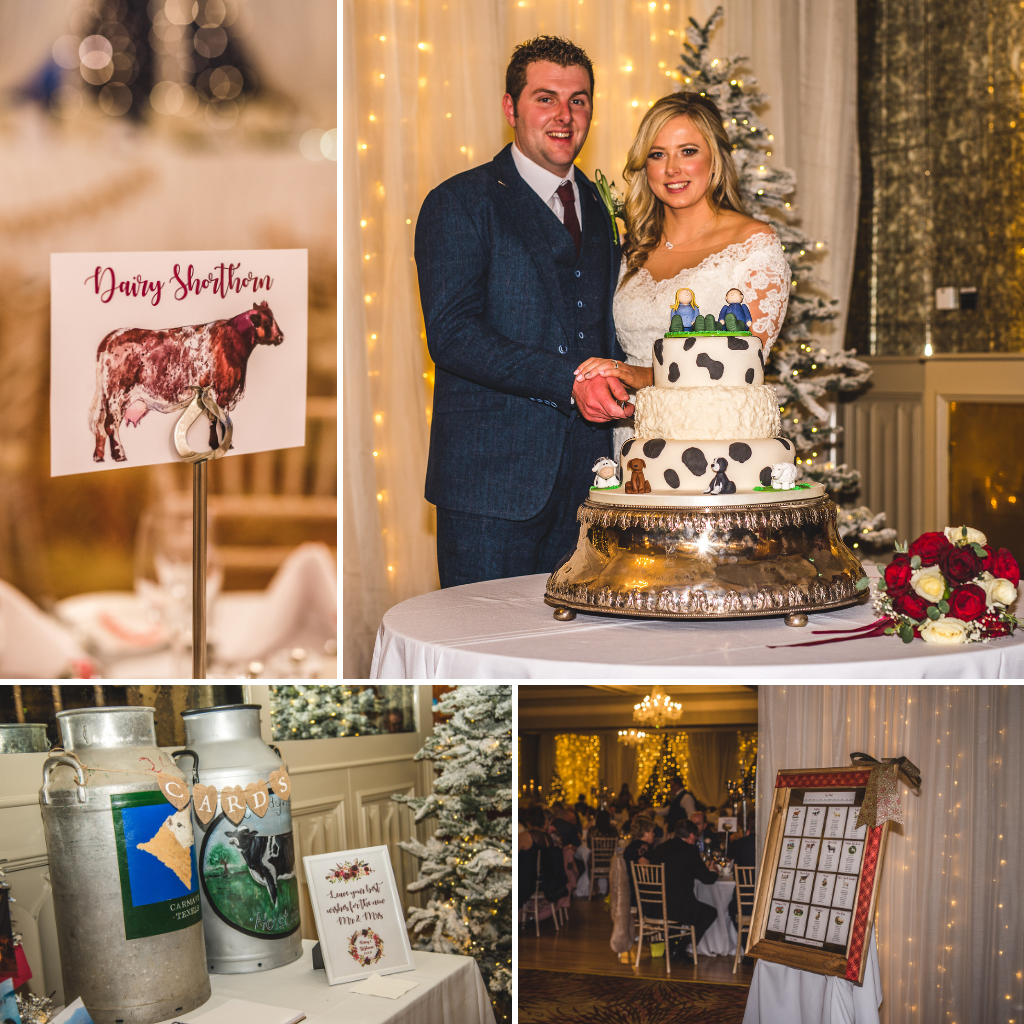 But the honeymoon isn't over yet! The pair have just booked a month long road trip to America and Canada. It's going to be cross country from Las Vegas to Nashville to Orlando to Miami and finishing off in Canada. They are both so excited, Stephanie especially, because she doesn't know when she'll get her farming hubby away for this length of time again!