A Beautiful Summer Wedding at the Everglades Hotel
Read all about Eimear & John's Real Irish Wedding
HOW THEY MET
Eimear is a senior manufacturing engineer with Terex in Omagh and John is an electrical sub contractor working all over the UK and Ireland.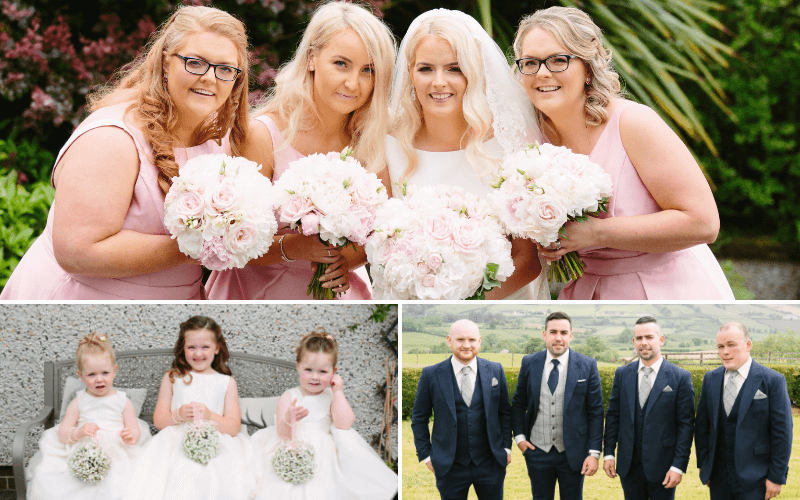 'We met on a night out in Omagh in Sally's…and the rest is history!'
THE PROPOSAL
Eimear recalls the moment John asked one of the biggest questions of their lives. 'We went for a walk along Kinnegar Beach in Rathmullan (my favourite), one Sunday in February 2017. John got down on one knee behind the sand dunes and popped the question! Unfortunately, half of my family were away in Lanzarote at the time so we had to keep it quiet till they came back as I wanted to tell them face to face! It was the longest week ever!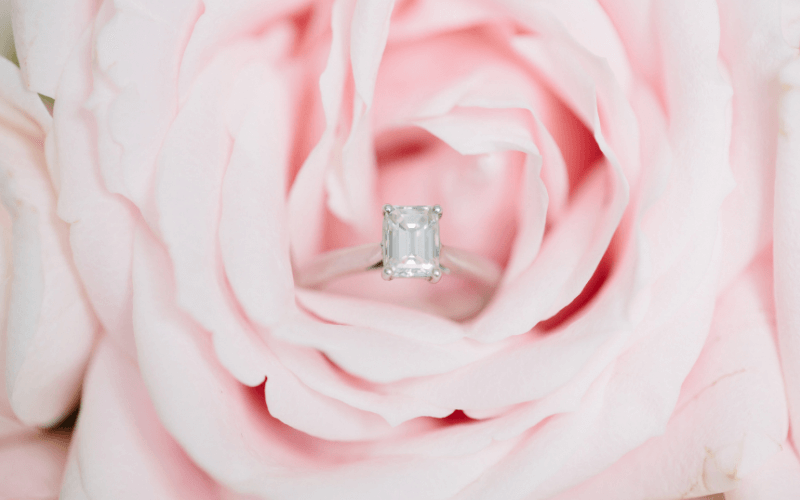 He picked the ring himself from Lunns, a 1 carat emerald cut solitaire, on a platinum band.'
THE RECEPTION
Eimear used to work at the Everglades Hotel whilst studying at university, 'I knew how well all the guests and bride/groom were looked after and how much the hotel focuses on customer service. The hotel just had their ballroom extended and fully renovated while we were having our show around, and it looked amazing.'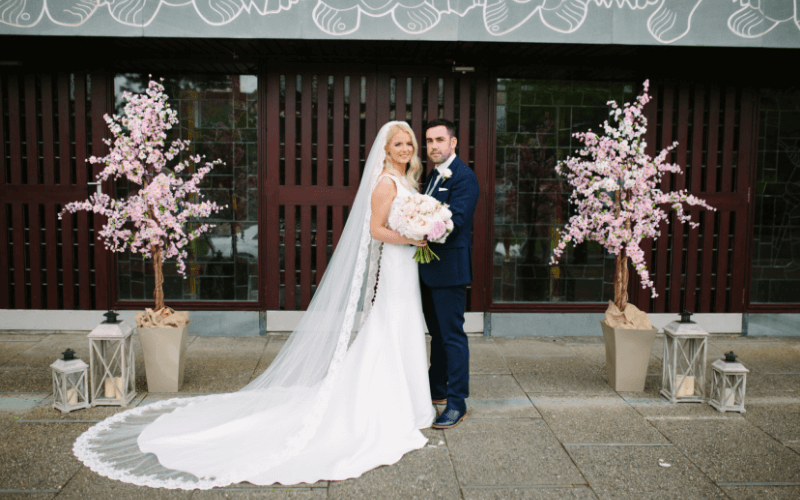 'As I am from Sion Mills and John is from Greencastle, we also wanted somewhere which would be close to the chapel, so our guests could relax and get the most out of the drinks reception after the ceremony.'
'We were impressed most with the service we received both before the wedding and during. Mairead the Events Manager and JP the Food and Beverage Manager were so accommodating and easy to work with, as well as full of advice on wedding planning. Nothing was too much. I knew that the day would run smoothly as JP was there to coordinate everything. We could sit back, relax and enjoy the day.'
THE DECOR
'Our colour scheme was grey and pink, but we didn't really follow any trend as such.'
'It was quite a modern, clean and classic theme.'

WHAT THE BRIDE WORE & THE REST…
Eimear found the dress of her dreams from Pearls and Lace, a beautiful bridal boutique in Donegal Town.
'I didn't have a style or designer in mind when I went to look, but I just knew that I didn't want lace. The girls were great in there.'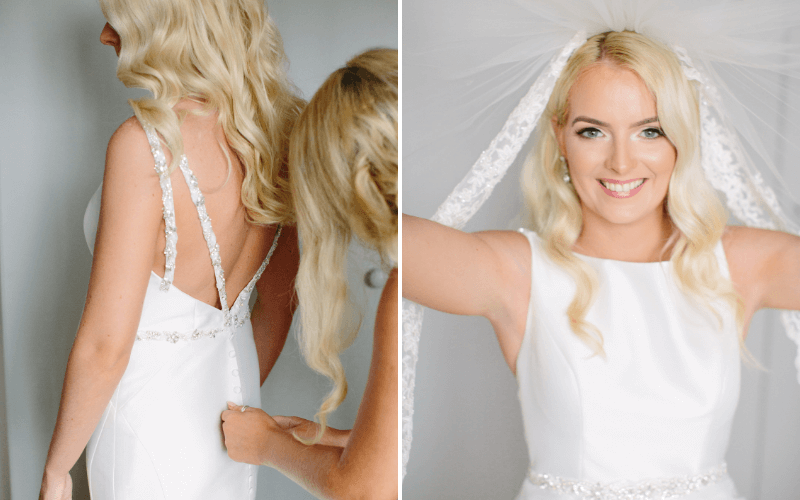 'My dress was very plain, but elegant and classy. I knew as soon as I put it on that it was "the one". It was so comfortable to wear during the day which I think is so important to consider when picking a dress. I also had a cathedral length veil with scalloped edges. I knew that with my dress being so plain, that I could get away with having a dramatic veil.'
EATING & DRINKING
Even after the wedding, Eimear and John's guests were obsessing over the scrumptious food and drinks on offer.
The drinks reception consisted of bottled beers, Whiskey Sour Cocktails, Pimped Prosecco and Raspberry and Elderflower Cordial.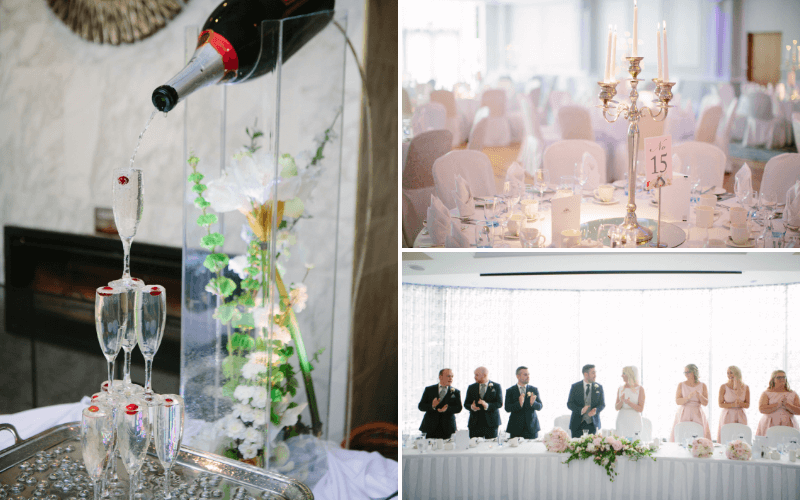 'Our 200 guests were so impressed by the quality and presentation of the food. We went for Chicken Caesar Salad to start, followed by Sweet Potato and Cumin Soup, then the main course was a choice of Baked Filled of Cod and Short Rib of Beef, of which both were delicious. Desserts were an Assiette of Malteaser Meringue with Toffee Sauce, an Espresso Cup of Chocolate Orange Mousse and Raspberry Ripple and White Chocolate Cheesecake.  This was finished off with Tea and Coffee and a few pieces of  Homemade Lemon Meringue Fudge!'
CAPTURING THE MOMENTS
'We went with Donal Doherty for our photographer, and I can safely say it was a pleasure. He made us feel very relaxed on the day, and has a great flare for photography and is very patient.'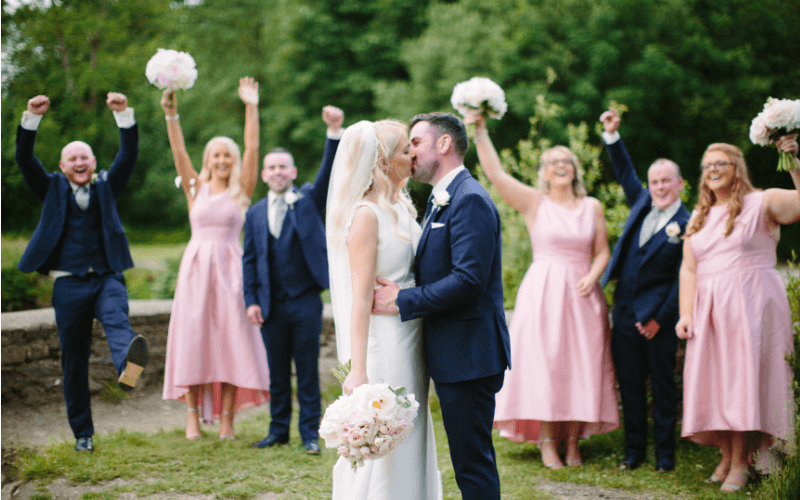 'He runs a professional business and is really well organised. We really struggled to pick images for our album as they were all fantastic! I would highly recommend him.'
HIGHLIGHT OF THE DAY
Eimear recalls the most special moment of the day, 'Nothing really prepares you for that walk down the aisle, having all eyes on you. My Daddy and I walked to meet John at the top of the aisle to one of my favourite songs – On Raglan Road.'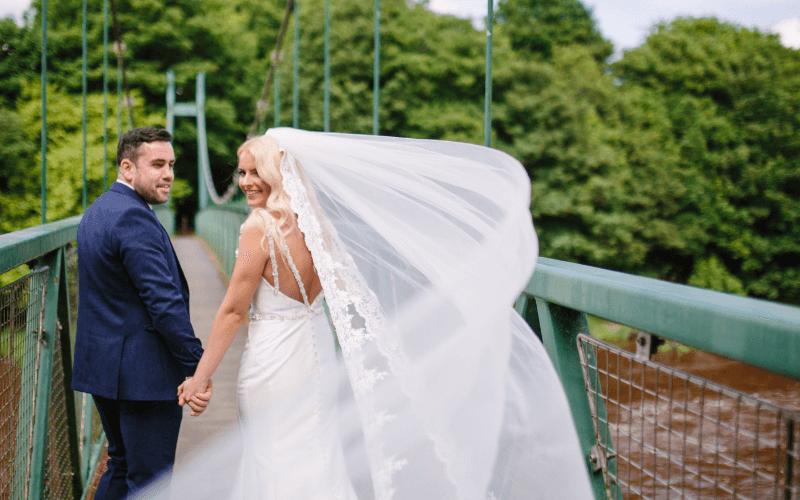 John reveals there were no embarrassing stories, 'well none that we want published, just maybe a few questionable dance moves in the dance off at the end of the night!'
WORDS OF WISDOM
Eimear assures all you brides out there not to sweat the small stuff. 'The day goes in so quickly so just try and enjoy it as it will be over before you know it.'
Eimear & John's Dream Wedding Team
Venue – Everglades Hotel, Derry
Dress – Pearls & Lace Bridal, Donegal Town
Flowers – John Paul Florist, Derry
Cake – Cakes by Miriam
Photography – Donal Doherty Photography
Romantic Wedding at the foot of the Mourne Mountains
Lauren and Alastair's Love Story
HOW THEY MET
Lauren and Alastair both knew each other in high school, but it wasn't until they both took a job in a local bar/restaurant called SquareOne in Dromara, that they really got a chance to meet.
Alastair recalls spotting Lauren for what felt like the first time,"it was a Friday evening and I was in the middle of pouring a pint when I saw this person walking in, I was like 'WOW, who is that?'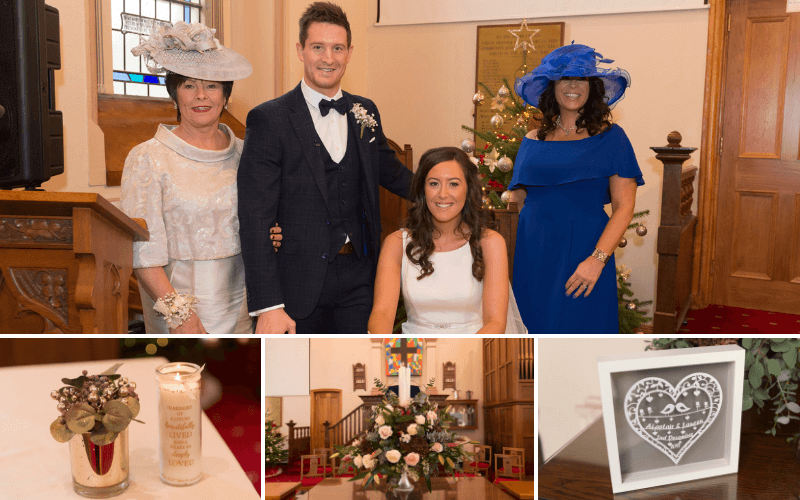 'The pint started to overflow, and the regulars propped at the bar started to keep me going. I knew right then, I had to get that girl's number.'
After countless texts, they managed to arrange a time to meet for dinner. Their story began back in January 2010, and they have been together ever since.
THE PROPOSAL
Lauren's Dad lives in France, so they decided to pop over for a visit and spend some quality time exploring the country too.
'For the first few days we visited Chablis, tasting some delicious wines and just relaxing. Then we spent a few days at Disneyland, followed by a weekend exploring the city of love, Paris itself.'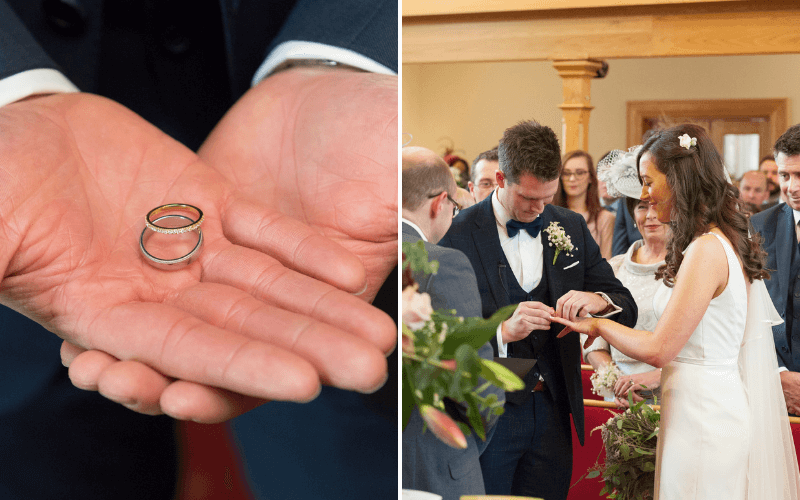 Alastair picked a beautiful solitaire diamond ring and got the gold band engraved with '30.01.16'. He had the stress of carrying Lauren's surprise gift for the full week. On the penultimate night before heading home, Alastair suggested taking a river cruise along the Sienne.
'Alastair got down on one knee at 11pm, just as the Eiffel Tower started to sparkle, it was perfect. It meant so much to me that Alastair had made such an effort, and asked both my dad and step-dad their permission for my hand.'
THE RECEPTION
Lauren like most other brides, has been dreaming of her wedding day since a little girl. 'As soon as I seen the Slieve Donard Resort & Spa for the first time as a child, I knew, if I could, I would love to get married there.'
Lauren loves the Slieve Donard Resort so much, she actually works there.
'I adore the building and the spectacular views. Where else would you see the mountains of Mourne sweep down to the sea?'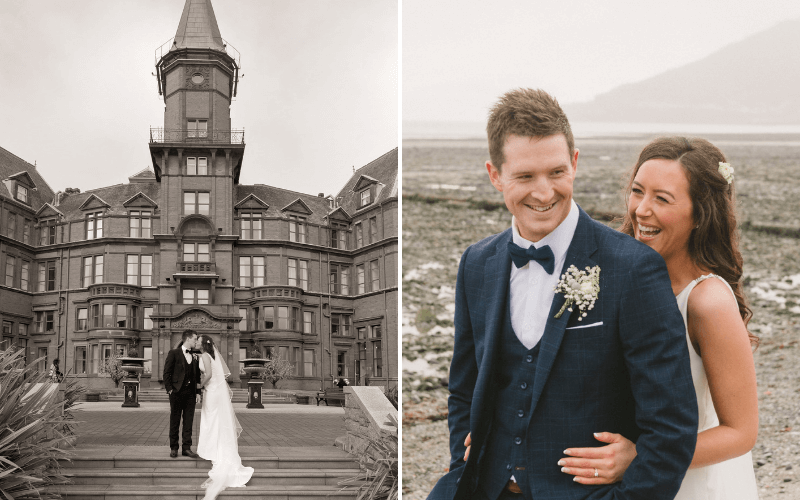 'The team pulled out all the stops! They were absolutely fantastic. Our guests were obsessed with how amazing the food was, from the personalised cocktails to the cake.'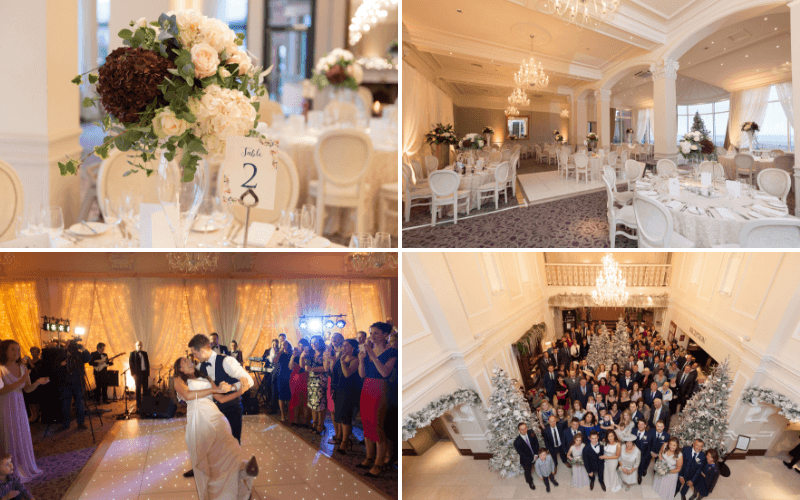 'The venue itself actually became a talking point, it meant a lot to me as I'm so proud of the hotel myself. I wanted everyone to see and feel what I do.'
DECOR
Despite the wedding taking place in December, Lauren decided against a Christmas theme. Instead they decided to keep things more personal, adding their own little touches to the day.
'We worked with a great, local company called Loveliest Little Things, they design quirky personalised illustrations.'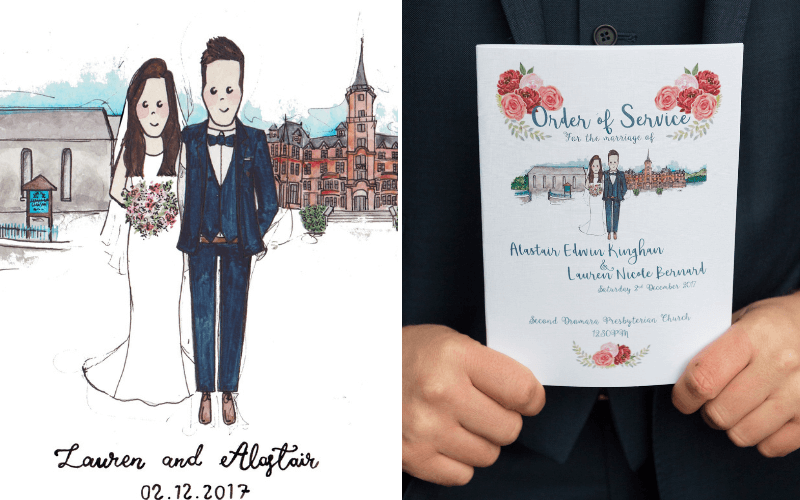 'We used this as a theme for all our stationery bits and pieces and table plan, we loved it. Our guest book included a Polaroid camera, so guests took selfies and left cute little messages next to their Polaroids.'
WHAT THE BRIDE WORE & THE REST…
Lauren visited Petticoat Lane in Hillsborough with the intention of trying on a host of different style and shaped wedding dresses. Ironically, she fell in love with the first dress she seen as she walked into the boutique.
'I continued to search through rails of dresses, as I was adamant that this was too cliche. In the end I had to go back, I just loved my dress, it was simple and I felt so elegant in it.'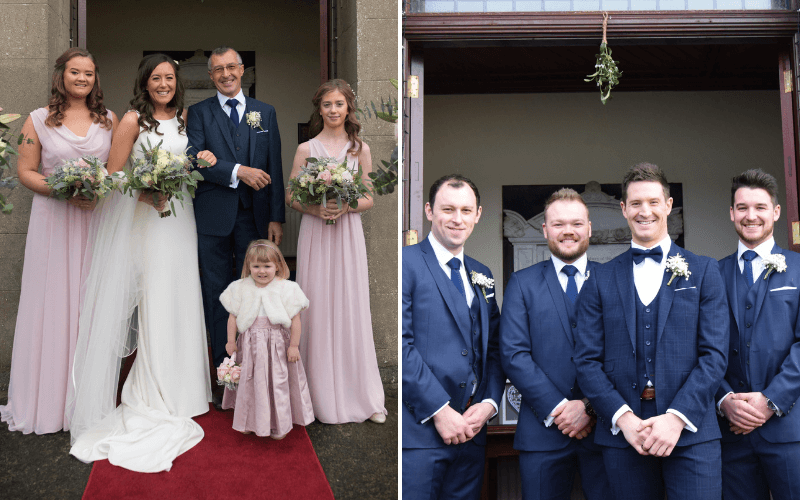 Lauren's favourite colour is blush pink, so this was always going to be the colour she wanted her bridesmaids to wear.
'Petticoat Lane were such a great help, we picked dresses for my bridesmaids there too. We went for a beautiful design by Maids to Measure; my girls looked fabulous.'
It was as easy a process for poor Alastair however. 'Alastair is a salesman's dream; you could sell anything to him. So the first suit he tried, he put a deposit down. I wasn't convinced it would look best on the day, and Alastair agreed. So we continued our search, and after a few more shops we found the most perfect Herbie Frogg suit in Bogarts Menswear, Belfast.'
EATING & DRINKING
The talented Executive Head Chef of the Slieve Donard, Hazel Magill, designed and baked Lauren and Alastair's showstopper wedding cake.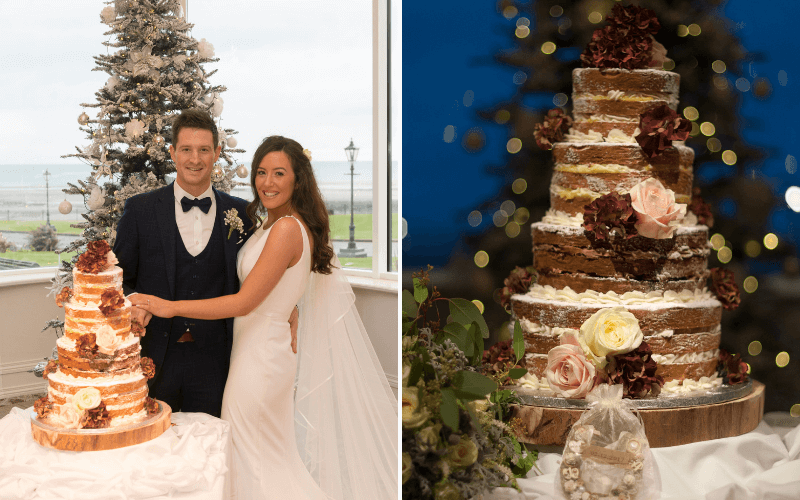 'It was honestly beautiful, the flavours were double chocolate, lemon drizzle and raspberry with white chocolate. We had so many compliments from our guests. We also had a 'cheese' cake in the evening, with our favourite cheeses stacked with great wine – another hit with our guests.'
CAPTURING THE DAY
'Matt and Carrie were the wedding photographers at one of my first ever weddings as manager at the Slieve Donard, they were so lovely. So when it came to my turn, I knew how friendly and at ease they would make us feel having seen it first hand.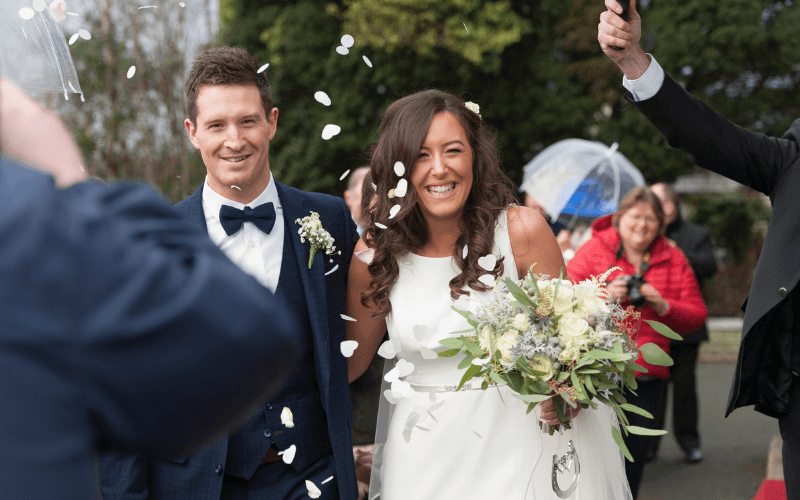 I really wanted a relaxed and comfortable atmosphere, and make sure we had fun along the way!'
FAVOURITE MOMENT
'We both agree that the most amazing part of our day was definitely the ceremony. We both love music so for our ceremony we had the very talented Belfast Community Gospel Choir. They were truly sensational and really set the tone for the day.
It was also really special to have our Mums as our witnesses.'

Lauren and Alastair's Dream Wedding Team
Venue – Slieve Donard Resort & Spa, Newcastle
Wedding Dress – Petticoat Lane Bridal, Hillsborough
Groomswear – Bogarts Menswear, Belfast
Flowers – Wedding Designs by David McConkey
Photography – Matt Symons Photography
Belleek Castle: Romantic Wedding Venue of the Year 2018
Your Dream Wedding Venue in Co.Mayo
All the charming rooms throughout this venue are stunning to view and are furnished with period decor creating a wonderful homely & tranquil atmosphere with open log fires keeping the romantic spirit of the castle alive. Love is in the air at the moment at Belleek Castle, Ballina, County Mayo, Ireland. The management and staff at Belleek Castle are very proud to announce that they have won the award for Romantic Hotel of the Year 2018 at the Irish Hotel Awards.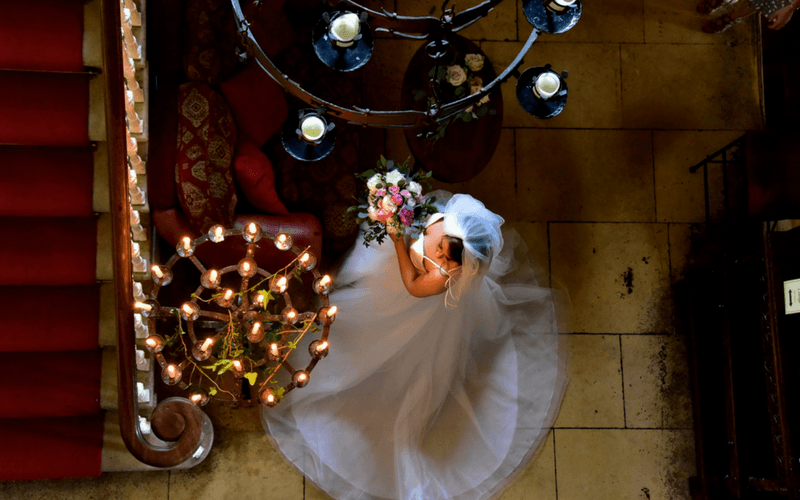 The castle has various wedding venues available, which can cater for small or very large weddings. The Medieval Banquet Hall can cater for parties up to 200 people, and can be enhanced with the addition of a pig roasted on a spit on the 13th Century fireplace. Civil ceremonies can also be catered for in the new ceremony room in the restored stables at Belleek Castle.
The enchanting Belleek Castle is located in 200 acres of woodland. The gardens are a beautiful backdrop for photos on the day, and there are many romantic photographic opportunities inside as well. The grandeur and the splendour of the iconic country house, the exquisite food, as well as their excellent service and attentive hospitality combines to make your wedding day at Belleek a truly memorable occasion.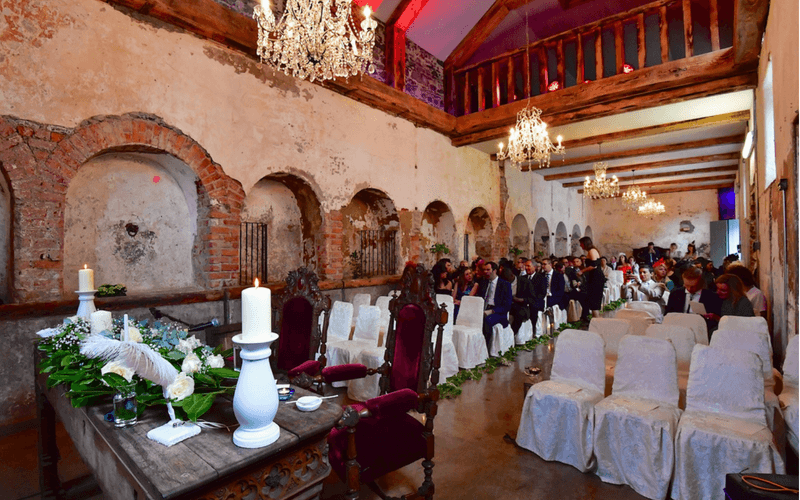 Everyone deserves a tailored and unforgettable "Special Day", that's the philosophy at Belleek Castle. Your every wish and dream will be taken care by the wedding team, who will be on-hand to ensure that everything is just as you imagined in the lead up to and on your big day.
To plan your fairytale wedding or to get more information contact our dedicated wedding team on +353 9622400 or via email weddings@belleekcastle.eu 
Dunadry Hotel is back with a Brand New Exceptional Wedding Venue!
Visit their Amazing Wedding Showcase on Saturday 1st September 2pm-5pm
The wait is finally over….Dunadry Hotel are back with a brand-new wedding venue for you & it is exceptional!
Visit the new and improved Dunadry Hotel on Saturday 1st September 2018 for their amazing Wedding Show, happening from 2pm until 5pm. The fabulous afternoon will start off with you being greeted by a glass of prosecco and delicious sweet treats.
Then prepare yourself to be dazzled by their stunning chandeliers in their brand-new Grand Ballroom and fall in love with the elegance of the Linen Mill Suite, with a stunning view of the six-mile river it sure is the perfect ceremony location.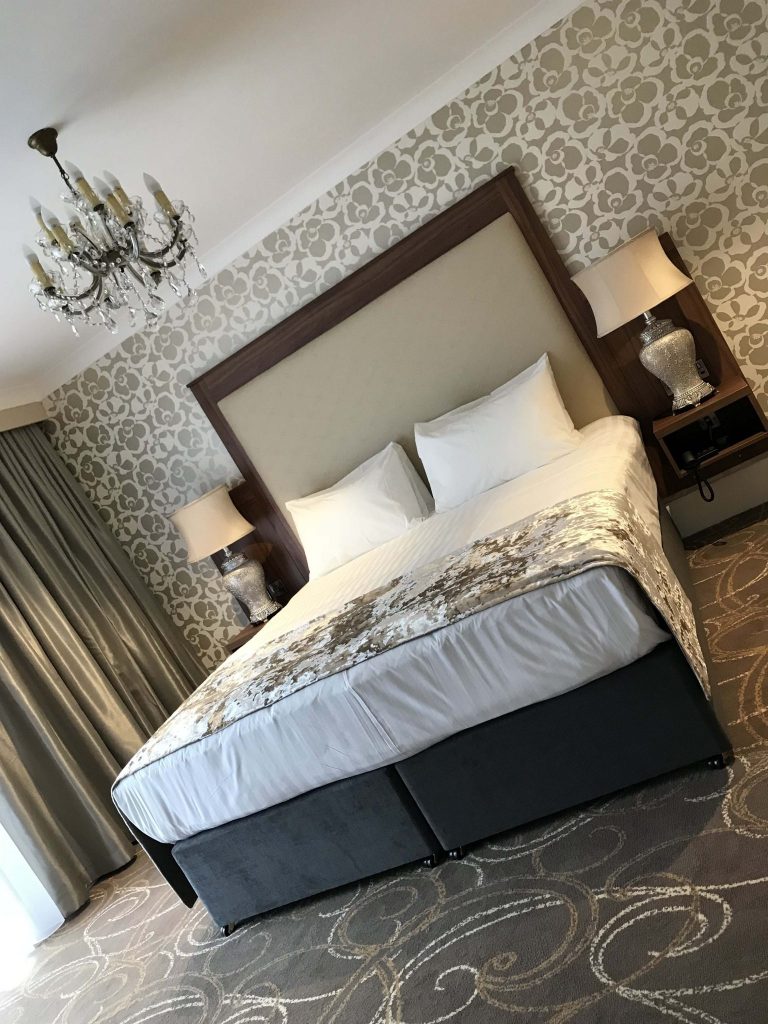 You will also get the chance to be one of the first to see their truly beautiful new Bridal Suite & hear all about their heartfelt traditions, such as the Cork Display.
Then take a walk through the picturesque grounds, including the magnificent Tree of Peace & Unity & tranquil river walk, allowing yourself to truly picture how phenomenal your wedding day could be at the newly refurbished Dunadry Hotel.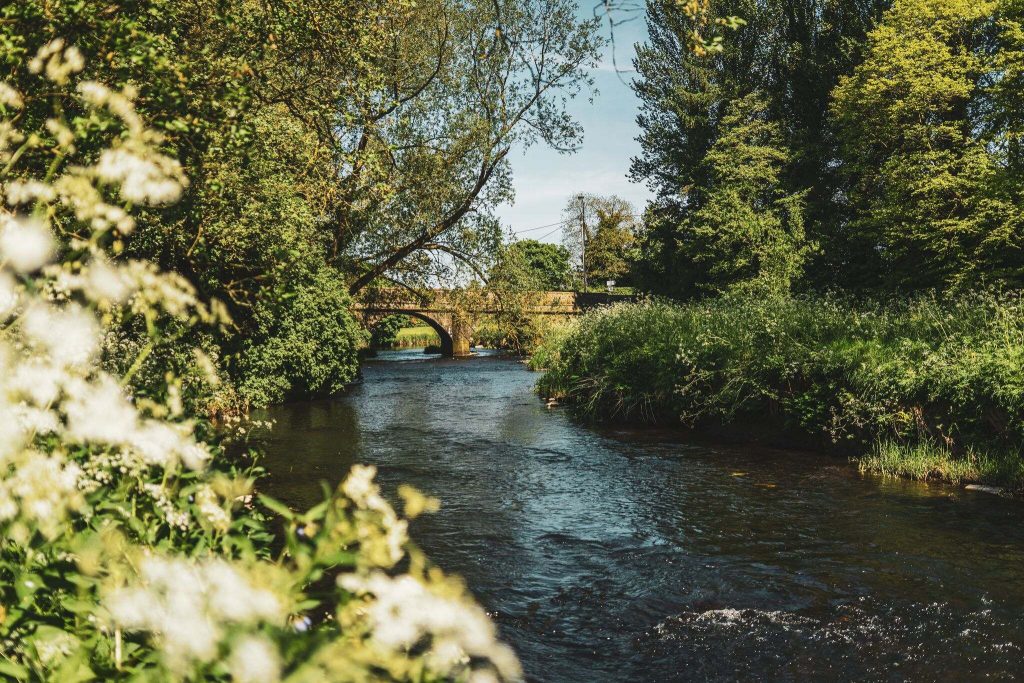 With a superb hand-picked selection of the best exhibitors they could find, you will gain all the wedding inspiration you desire. From stunning wedding cars to bespoke handmade jewellery, you will discover everything you need under Dunadry Hotel's iconic roof on Saturday 1st September.
For more information, visit the website HERE or call T: 0044 (0)28 9443 4343
Fionnuala & Liam Attended Last Year's Wedding Journal Show for Wedding Inspo!
Take a look at how they celebrated their special day
How they met…
'A long time ago, we were at a party when a mutual friend introduced us, we were only 19 when our story began. We have been together for nearly 18 years & have 4 beautiful sons, Eoghan aged 9, Niall aged 8, Conall aged 7 & Ruairi aged 5.'

The Proposal…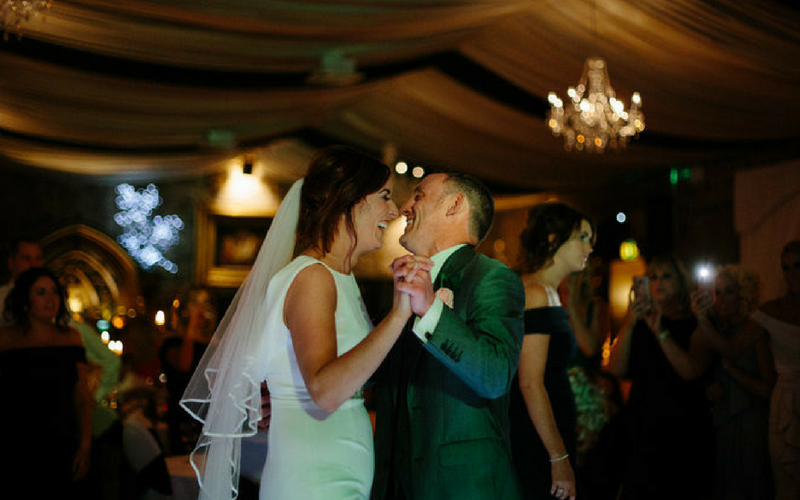 After 17 years and 4 gorgeous boys, the morning of 4th June 2017, Liam got down on one knee, the boys by his side, and gave Fionnuala the most beautiful ring, and asked her to be his wife.
The Venue…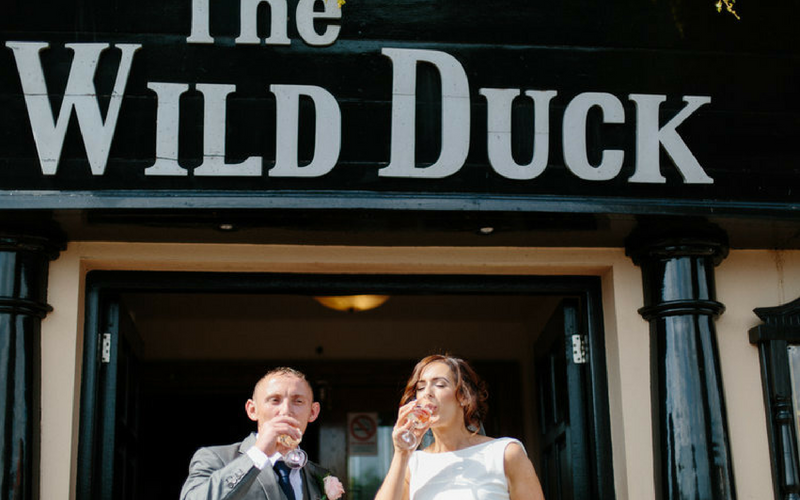 The Wild Duck in Portglenone had been recommended to Fionnuala by a friend. ' I called Eileen and we booked it for July 2017, we met Odhran when we went to see it in the August and were so impressed. Everything was beautiful. Odhran & Eileen made us feel totally at ease and organised everything perfectly. The staff at the Wild Duck Inn could not have done enough on the day for our guests.'
The Reception…
'We had so much fun, we had selfie sticks on the tables for guests to enjoy and a selfie mirror. We had a Ceili after our meal, it was great craic, all our guests were on the dance floor, especially after a few glasses of champagne. The nights entertainment was provided by Instant Replay, Ni Mairead was fantastic!'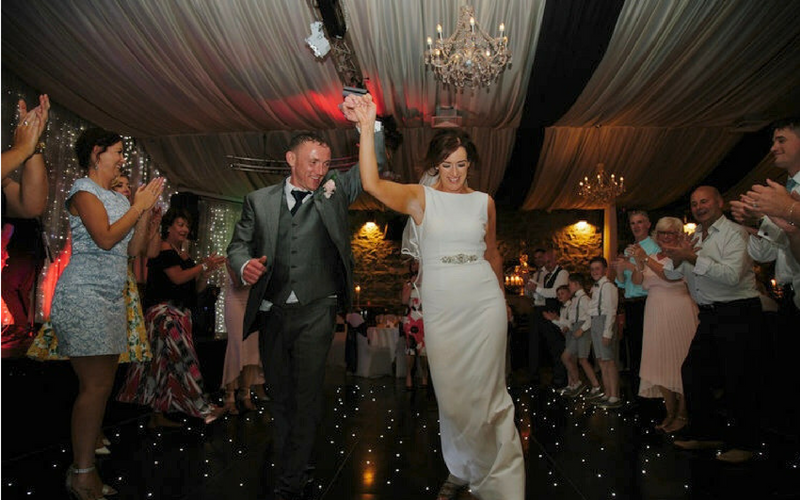 'The wild duck inn is a gorgeous  venue and it was beautifully decorated by Sinead and her amazing team at Swift wedding & event services. Sinead sorted everything & nothing was a problem for her.'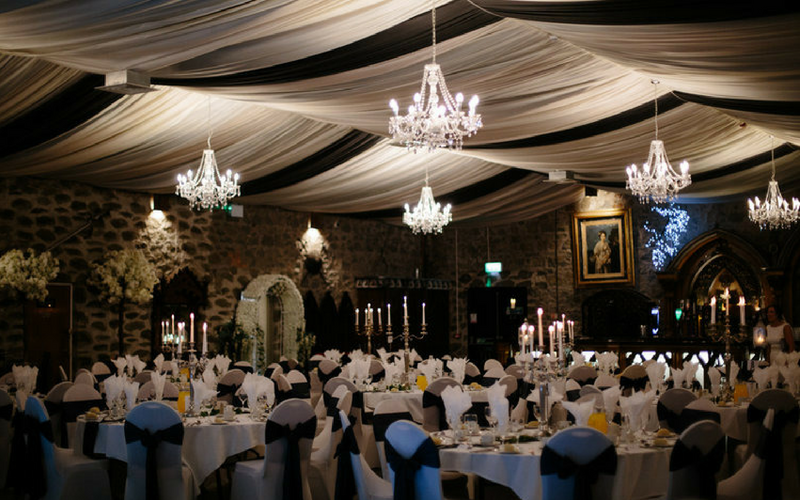 'The flowers were very simple, they were done by my mum's lifelong friend Denise Doherty & my mum's yoga friends.'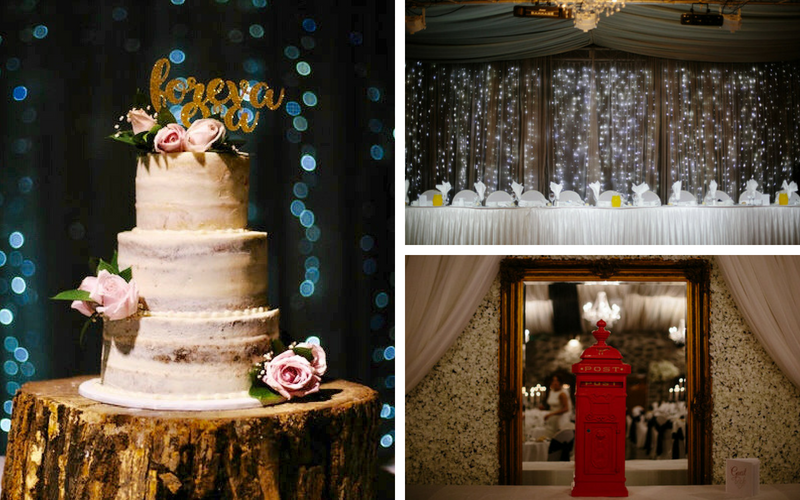 A family friend made Liam and Fionnuala a beautiful  naked cake, it consisted of 3 tiers which was a delicious chocolate cake, carrot cake & Victoria sponge with a cream cheese frosting.
What the Bride wore & the rest…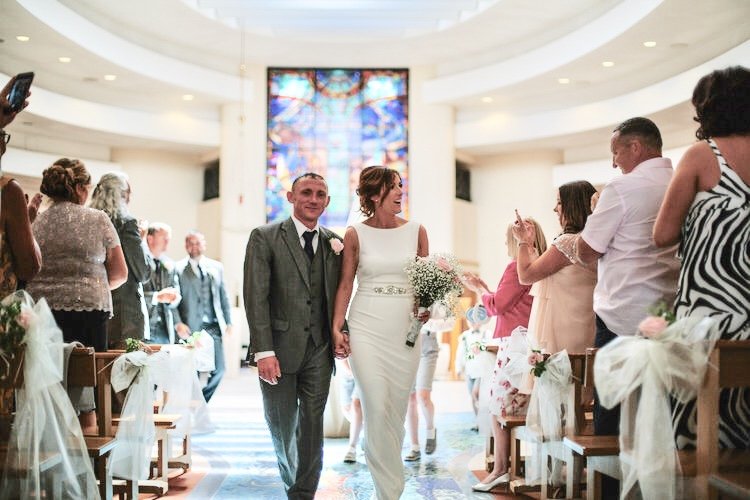 Fionnuala picked a simple and elegant dress, helpfully assisted by her four beautiful bridesmaids and the wonderful staff at Ivory and Pearl Boutique in Comber, Co.Down.
'Again dresses by Kate and her team at Ivory and Pearl, my bridesmaids wore navy and were so stunning.'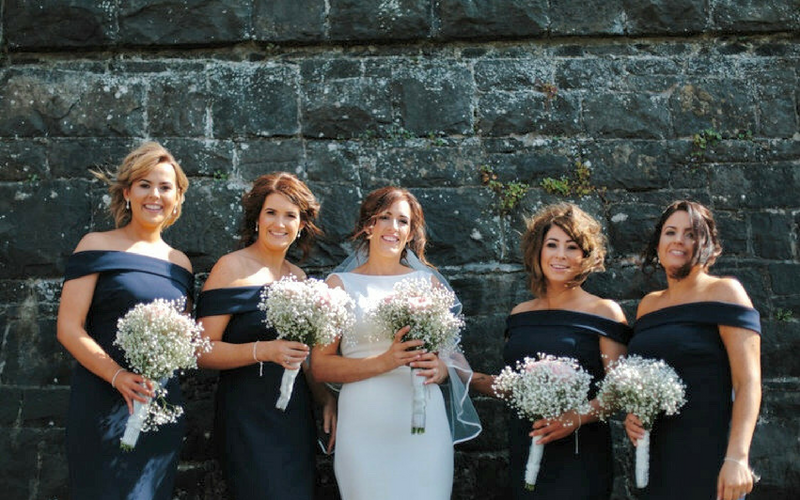 'My bride tribe consisted of my sister Bronagh Moore & 3 cousins Caitriona O'Neil,l Maria McAuley & Eadaoin Fegan. They made my wedding so enjoyable they are the boys godmothers & they walked down the aisle with their god child! They also organised such a party the next day, with gorgeous food from West, a band & great craic with the sun continuing to shine all day.'
'I put the boys outfits together myself & the men were well dressed by North End suit hire in Belfast.'
Capturing the Day…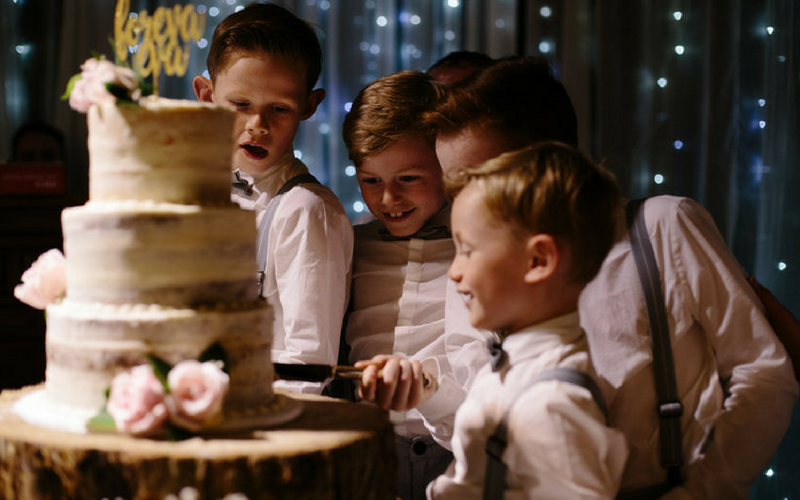 'We choose Laura as we loved her portfolio, she had shot my sisters wedding and her photographs were beautiful. She definitely captures the 'moments', there was no staging or prompting for photographs, everything was natural. Laura was an absolute pleasure to work with, we barely noticed she was there, and in a good way, she fitted in well with our guests and her photos simply speak for themselves. We were so pleased!'
Favourite Moment…
'When we look back there are so many, but one we definitely both agree on would be seeing each other at the church, walking towards Liam with my Dad by my side. Many couples experience their wedding day the traditional way, before having children, but I feel the fact that our 4 boys got to watch us declare our love to one another is priceless!'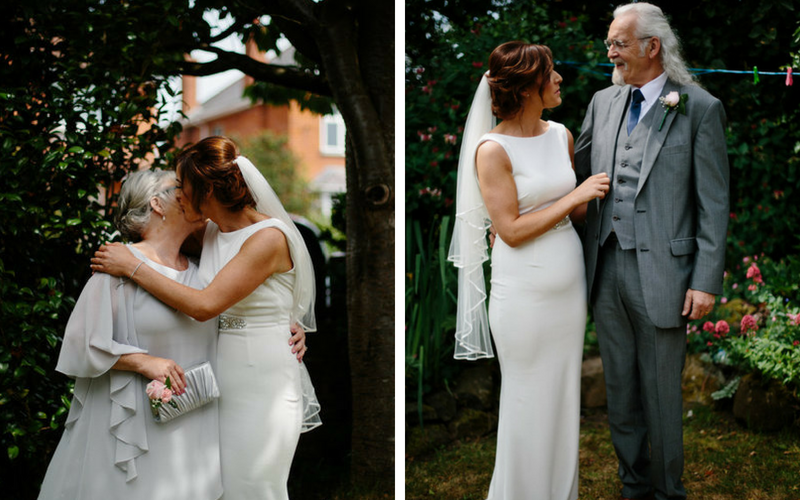 'My mum was an amazing help throughout the wedding, she organised so much, she & her friend Joan made the bridal parties a picnic for after the church which we thoroughly enjoyed in Portgleneone Forest!'
Top Tip…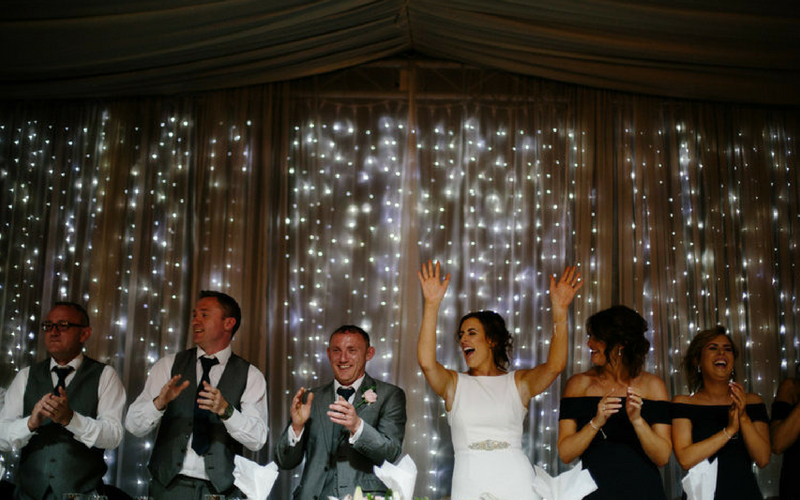 'I would definitely recommend going to a wedding show, you can watch everything come together. I met Sinead from Swift & Kate from Ivory & Pearl & Diane from Booth & Flash Selfie Mirrors all at the Wedding Journal Show. It's so handy!'
Fionnuala & Liam's Dream Wedding Team
Venue – The Wild Duck, Portglenone
Wedding Dress – Ivory & Pearl, Comber
Groomswear – North End Hire, Belfast
Entertainment – Instant Reply NI
Photography – Laura J Curran Photography
An Irish Nigerian Fusion Inspired Wedding
Aine & Joseph's Real Life Wedding
How they met
Joseph and Aine met back in 2010. 'Joseph spotted me at a party but never approached me. A couple of days later I had a friend request on Facebook and I accepted it. We started chatting and here we are 8 years later, thanks Zuckerburg.'

The Proposal
'In March 2016 Joseph surprised me with a trip to Paris for my birthday. After running around the city for the day Joseph had a private booth booked in the Gordan Ramsey restaurant at St Trianon's Palace, Versaille. I had no idea what was to come, I told Joseph he went way over the top for my birthday and there was no need for it. We ordered food, which still to this day we have no idea what we actually ate, and next thing I know Joseph was down on one knee asking me to be his wife. He had planned it so well he even had a photographer to capture the moment.'

The Reception
The ceremony took place in Honan Chapel, UCC, in Cork. 'Our priest was born and raised in Cork and spent over 20 years in Nigeria as a missionary priest before returning to Cork a few years ago. When everyone was seated in the church he spoke a few words in Yoruba which really welcomed Joseph's family and friends, who travelled from all over the world to be there to celebrate our wedding day. They were all shocked that he knew their language but it really started the day off on a high.'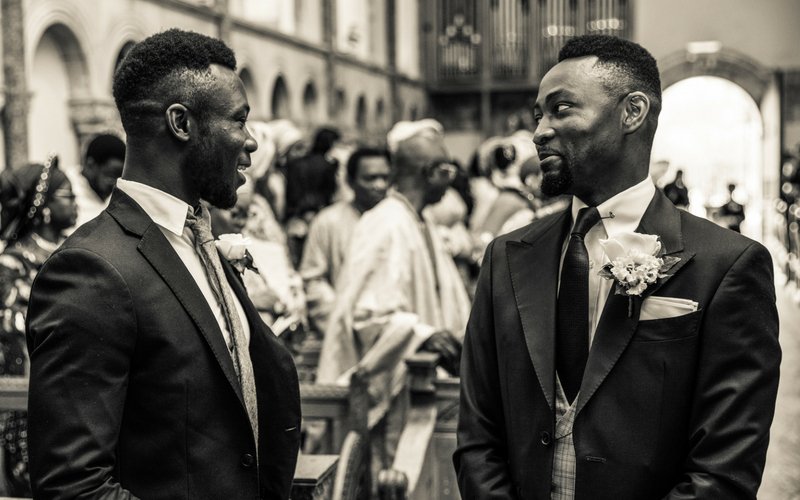 Aine & Joseph fell in love with the character of the Imperial Hotel. 'They really went above and beyond to accommodate us. The entire events team and hotel management were really involved in the day and made everything run seamlessly. The one thing Joseph was conscience of was choosing a venue in the city centre but it was magical.'
The Decor
'We didn't necessarily have a theme as we focused on amalgamating traditions of both an Irish and Nigerian wedding. This was a huge task as a Nigerian wedding is usually spread across two separate days, known as the engagement and the white wedding and we chose to squeeze everything into one day.'
The young couple live in the UK, so battled with the idea of hiring a wedding planner to ease the planning process, however they decided not to. 'Aine's mom was a great help. She was running around paying deposits, looking for guest accommodation and constantly had her eyes peeled; we really appreciated her hard work.'
'Mandy at Elegance Florists in Cork was a superstar. I was so laid back when it came to the flowers. I would have loved peonies but they are not in season at the beginning of April. Mandy recommended the David Austin rose and it's just as beautiful.'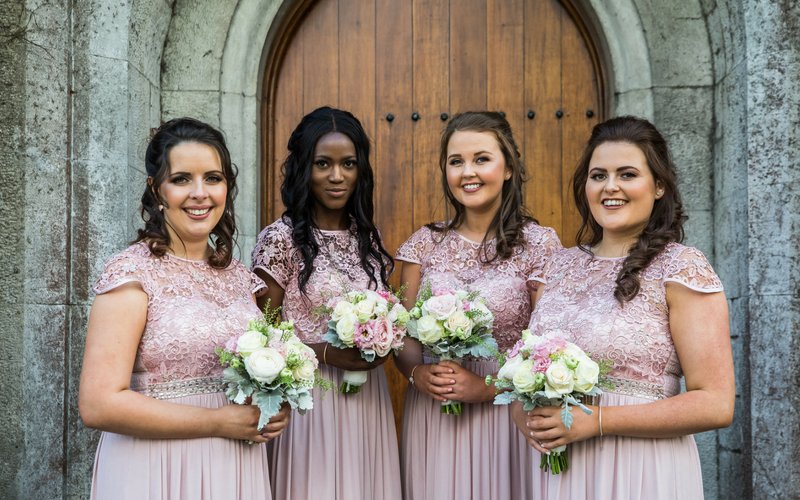 Douglas Print in Cork  were the couple's choice for all things stationary. 'We had three separate parts to our invitation as we wanted to ensure that everyone knew what to expect on the day, with a few hidden surprises.'
What the Bride wore & the rest…
When it came to the all important dress, Aine originally had a completely different style in mind, 'I thought I wanted something very slim and fitting, with a lot of detail but it wasn't flattering on me.' Instead she opted for a Morilee gown, featuring a frosted, embroidered lace bodice accented with crystal beaded straps and waistband and dreamy layers of flounced organza.
The bridesmaid dresses were from Pamela Scott, they were a dusty pink shade, and matched accents in the flowers and the cake.
Joseph opted for a custom fitted suit by Morts & More, London. Joseph took inspiration from the 20's/30's jazz era.

Eating & Drinking
'We had a choice between a typical Irish meal (beef or fish) but also had a Nigerian dish on the menu which was jollof rice and chicken. We spent some time with the venue to ensure the Nigerian dish was correct. It took a few tries but the chef managed to get it spot on.'
The wedding cake was created by Wedding Journal Reader Award Finalists, Baker Boys Cakes. Top tier – vanilla & raspberry, second layer – lime & coconut, third layer – lemon drizzle and bottom layer – white chocolate biscuit cake filled with Malteasers, Rolo and Munchies.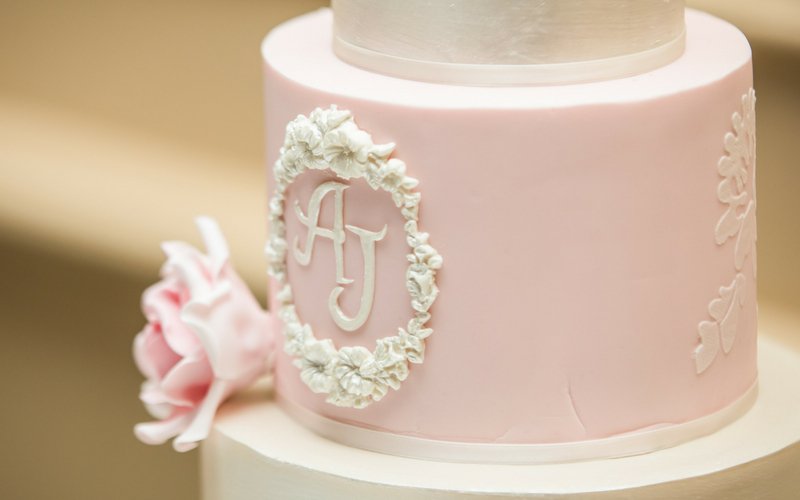 Capturing The Memories
Laura & Benny Photography were their chosen photographers. The husband and wife duo really did capture the atmosphere of the day.
'Aine's mom met Laura at the Southern Bridal Show and knew that she was the kind of person we would gel well with and she wasn't wrong. We wanted really natural pictures, not too much posing and we couldn't be happier with the results.'

Favourite Moments
Joseph describes Aine walking down the aisle. 'It felt like the longest and shortest walk at the same time. I had mixed emotions. It was a life defining moment. I saw a glimpse into the past but also all the possibilities the future holds for us became clear. I tried to pay close attention to the feelings I felt at that moment, I thought I would be overwhelmed etc. but all I felt was immense joy and I knew we were supposed to be together.'
Aine's favourite moment was their entrance into the ballroom as husband and wife. 'I know with Nigerian weddings the newly weds dance into their venue but we didn't plan on doing this. However, on the day while waiting outside to walk in I heard music and looked at my husbands excited face. I was 100% for it but slightly worried for my bridesmaids as 3 of them never experienced it before but they all took it in their stride and had the whole room standing on their chairs trying to get a glimpse of the action. I reckon this is the moment everyone knew they were in for a high energy evening.'

Words of Advise
'Be open to suggestions from vendors, after all they do know best. No matter how much you plan things will always change so keep an open mind for changes.'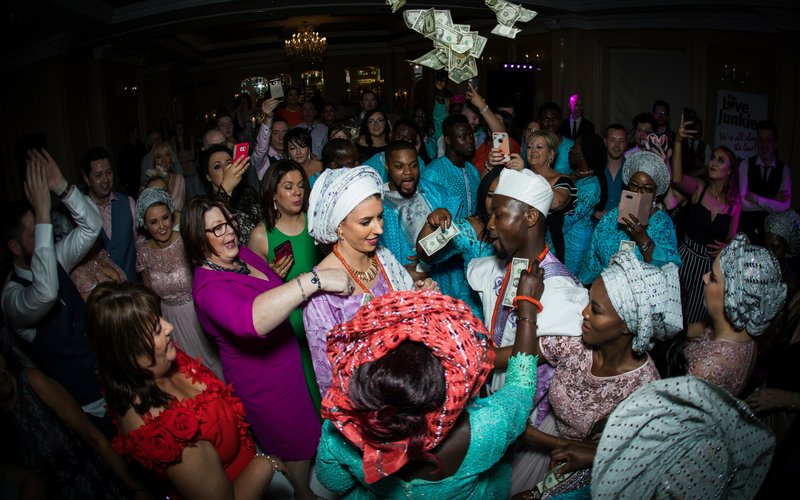 Aine & Joseph's Dream Wedding Team
Venue – Imperial Hotel, Cork
Dress – Morilee, London
Groomswear – Morts & More, London
Cakes – Baker Boys Cakes, Cork
Flowers – Elegance Flowers, Cork
An Intimate & Homely Country Wedding
Claire & Sam's Real Life Wedding
How they met?
Claire and Sam met five years ago on a night out at a local nightclub through a mutual friend.
'When Sam was shown a photograph of me before I arrived my friend instantly said – no Sam she's too nice for you. But we hit it off after we got chatting and the next day we connected on social media.
'Sam finally asked me out and we went to our mutual friend's house for tea.'

The Proposal
Claire reveals that the couple discussed getting married early on in their relationship but decided it was something they wanted to wait for until Claire had graduated and was working.
'That however, didn't go according to plan. It was coming up to Christmas 2015 and I was really busy with uni assignments. Sam kept asking me to take a study break and to walk our two dogs with him.
'I said I would on Christmas Eve if the weather was ok. Sam kept sending me weather updates all week but looking back he was acting strange to the point of me worrying if he actually still wanted to be in a relationship with me.
'He arrived early which is very unlike him and the dogs were already muddy. It turned out he had already been to Lissan House to hide the champagne glasses at the spot where he wanted to propose.
'When we got out and got to the waterfall Sam stopped walking and next thing I knew he was on one knee asking me to marry him. He was so nervous he had the ring box upside down, even though he had been practicing for a week. At the moment I said yes our dogs started running around us and going mad. It was the most perfect moment and one we will cherish forever.'

The Reception
First on the couple's to-do-list was to source a venue and after attending an open day in Darver Castle in Dundalk they were smitten.
'We just loved how relaxed it was and the staff were all so friendly. The whole venue had a real homely feel to it and the staff were so attentive in the run up to the wedding and on the day itself, all our guests commented on the service they received.'

The Decor
After deliberation Claire eventually decided to go with a wedding planner and hired LilacElan, Lurgan.
'Leanne was so helpful and helped me organise all the ideas I had in my head and all the Pinterest boards I had created. I hired various gold candelabras from Leanne and choose navy candles and napkins to tie in the boys suits. I hired a hot nut machine because who doesn't love hot nuts when drinking beer. We also had a Poloraid guest book for our guests, as the night went on the guests were having great fun with the camera.'
The wedding flowers were from Cottage Flowers in Cookstown. 'Sonia Brown did a fantastic job with my ideas,' recalls Claire.
'We placed some flowers in pumpkins throughout the church and at the top table, which looked fab. As Sam has a love of hunting I also put some pheasant feathers placed in my bouquet which tied in with the autumnal scenes in our photos.
'I designed our table plan myself as I wanted to put personal touches such as painting pine cones gold and co-ordinating our table numbers with photographs of us at that age.
'Stationary was by Hand Inspired Stationary, Belfast. We wanted something elegant and neutral.'

What the bride wore & the rest….
When it came to the all important dress, Claire fell in love with the fourth one she tried on.
'It was a Morie Lee dress from Perfect Day in Lurgan and I loved it as soon as I tried it on. However, as the months passed when I looked at it online I thought it looked terrible. After stressing about it for six months it finally arrived in store and I tried it on and fell back in love with it right away.
'The night I met Sam I was wearing a blue dress, so I got part of it stitched into the inside of my dress as my 'something blue'.
Not to be outdone the men chose their suits from Red Groomswear in Cookstown and the bridesmaids were from Perfect Day in Lurgan.
Claire's mum got her beautiful MOB outfit from the Snooty Fox in Dungannon, while Sam's mum got her chic ensemble from Gasp in Armagh.

Eating & Drinking
The wedding cake was designed by Yummy Mummy Cakes in Moira.
'The bottom layer was fruit made by my aunt using my late nana's recipe. We actually saved some and had some at Christmas as our first Christmas as husband and wife. The other layers were carrot cake, lemon drizzle and raspberry and white chocolate.'

Capturing the memories
For their photography they choose Adam & Grace Photography having met them at the wedding of a close friend and booking them on the day.
'They were two of the most gracious, kind people we met throughout our wedding planning. They were so subtle throughout the day that at times we forgot they were there,' explains Claire.
'They helped gather up our disorganised family members, helping us ensure we got pictures we will treasure forever. Every single photograph was so graceful and they really captured the day.
'Adam & Grace also did a pre-wedding shoot and even though Grace is terrified of dogs they got some amazing snaps of us with our two dogs. Every wedding needs an Adam &Grace!'

Favourite Moment
Claire shares that the first look and their vows were a real highlight when they look back on their special day. 'While there was lots of fun and laughter it was that moment that it was real. It was the only time during the whole day when it we felt completely alone and together with each other, despite everyone being there.'
Words of Wisdom
Sam suggests taking your time and 'enjoy every second of it.'
Claire reminds nervous brides out there that 'your fiancé loves you just the way you are. You don't need to starve yourself, spend endless hours at the gym and look at yourself in the mirror from a different angle. Just be YOU!'

Claire & Sam's Dream Wedding Team
Venue – Darver Castle, Dundalk
Wedding Dress – Perfect Day, Lurgan
Groomswear – Red Groomswear, Cookstown
Cakes – Yummy Mummy Cakes, Moira
Flowers – Cottage Flowers, Cookstown
A Wedding Full of Love at Lusty Beg Island
Emma and Leanna's Real Life Irish Wedding
Newtownards brides Emma McGimpsey and Leanna Young, now McGimpsey-Young enjoyed a beautiful Spring wedding on  March 31, 2018 on Lusty Beg Island, Fermanagh.
Photography by: Ciaran O'Neill Photography
The Couple
The couple first met back in their school days at Regent House School in Newtownards when they played hockey and tennis together. Leanna noticed Emma as she wore a hat to school and stood out from the crowd. 'We became great friends over the next six years when we both realised our feelings were more than this. However, we both felt scared to tell anyone and each other initially,' explains Emma.

The proposal
Their romantic proposal took place on April 1st 2016, on a sunset boat trip in Lake Carolyn, Irving a small town outside Dallas, Texas. 'We had just spent a week with family in Aubrey, Texas and were staying the weekend in Dallas. Leanna booked this sunset boat trip knowing I love being near the water. It was a beautiful evening, we had just turned the boat at a lovely waterfall and the gondolier, Woody, asked 'Well Emma are you having a nice time?' I said I was and he then asked if I wanted a surprise and to pick the bottle out of the water to my left. So I reached over and lifted the bottle from the water and it had a message in it which read, 'Emma, I want you to be my forever and always, Will you marry me?'
'And when I looked up there was Leanna holding the ring!! I was crying and of course said yes! Woody then shouted 'she said YES!" And people who were out walking clapped and cheered. It was the most romantic proposal ever and I never could have beaten that, Emma recalls

The Venue
Emma reveals the reason behind the choice of Lusty Beg….'Leanna spent many summer's at her Nan & Grandas Roscor home which is only 20mins from the island. Over the past eight years we have enjoyed spending holidays in this beautiful county so we knew it would be where we wanted our big day. 'Lusty Beg is a beautiful place with such a relaxed feel and Leanna was actually her Godparents flower girl at the 2nd wedding ever on the island. So we thought it was only right to have it here.'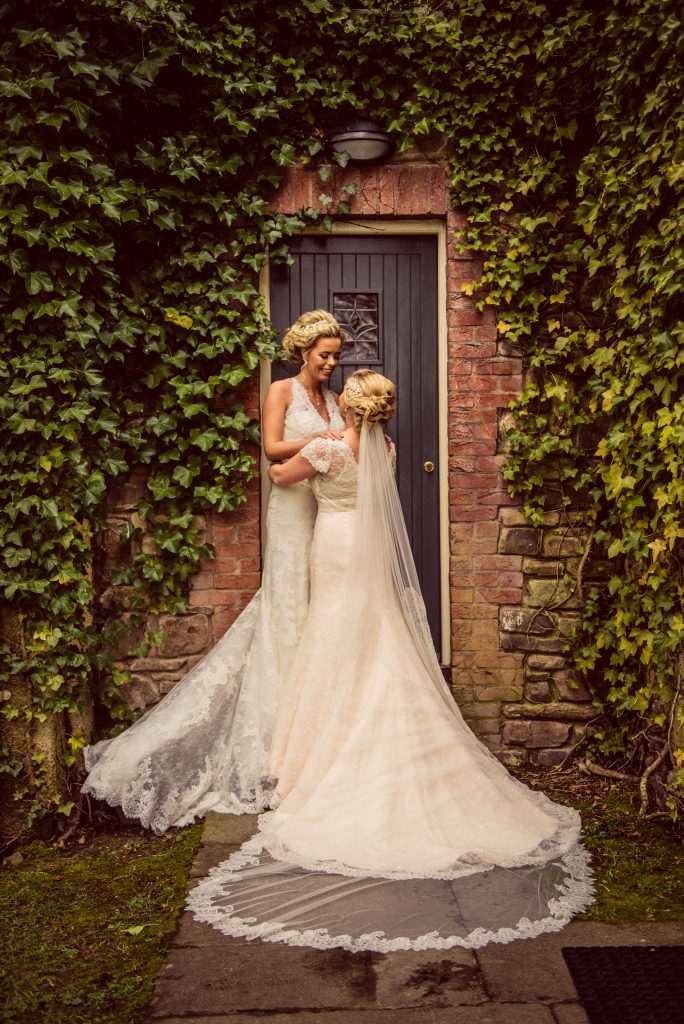 Theme
The couple opted for a rustic theme which brought out the natural beauty in the island. 'We had fairy lights by McGarry Flowers and Venue Stylists and kept all our decor wooden and floral.'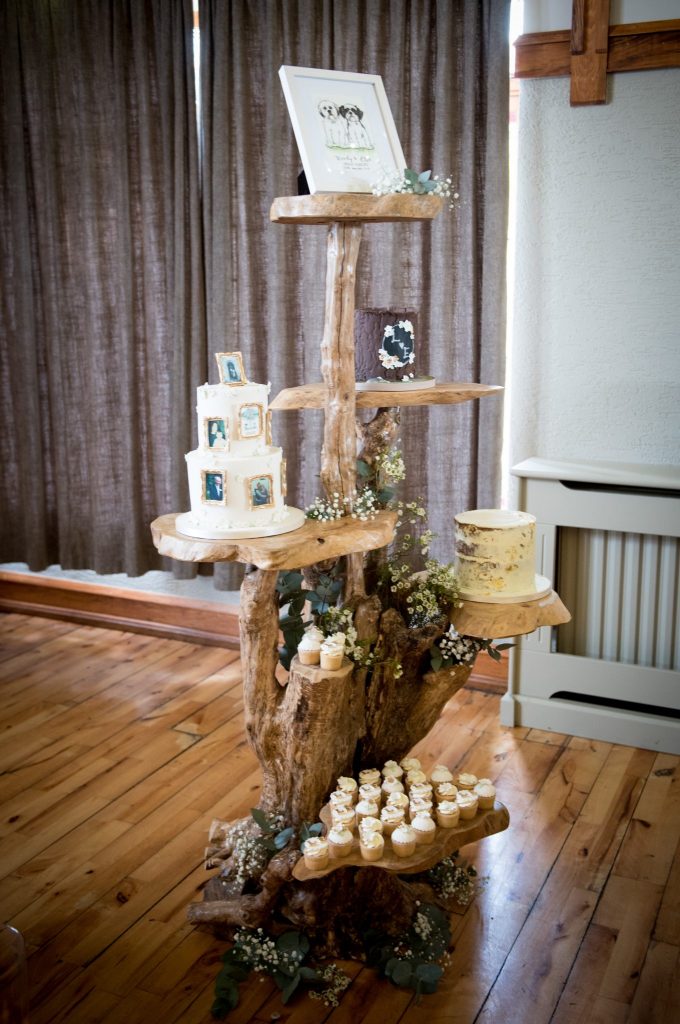 Photography
After a long search through different photographers and styles the couple selected Ciaran O'Neill as he best suited what they were after. 'The timeless photos that captured the perfect moments. The photos are perfect and exactly what we were after, we knew they would be after receiving our pre-wedding shoot photos. Can't recommend Ciaran enough, he is a great guy.'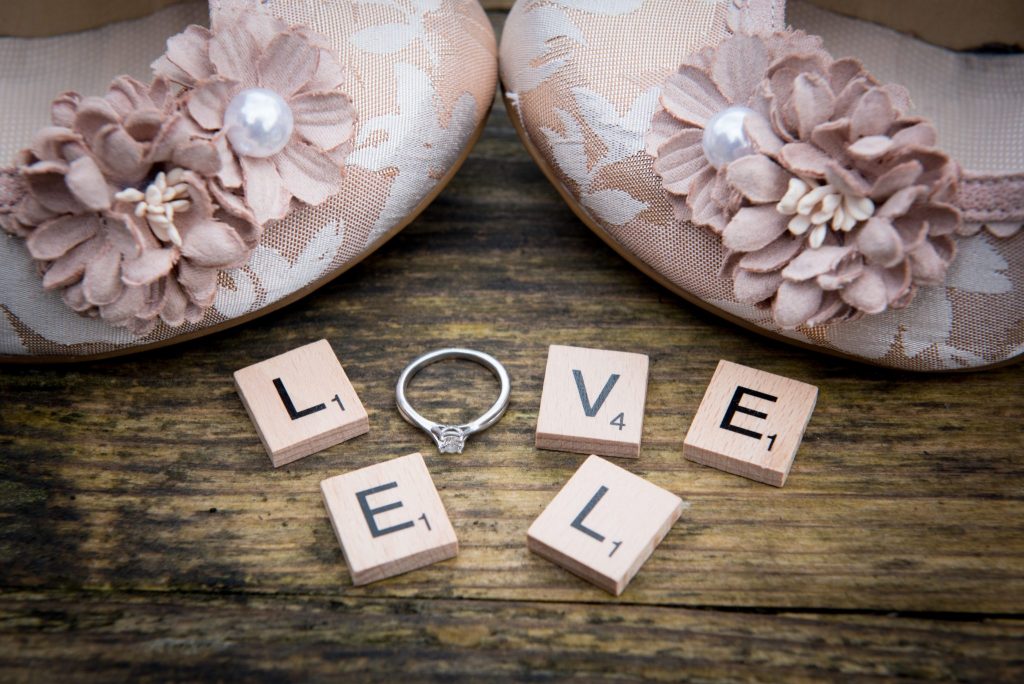 Wedding planner / Venue stylist
The couple decided not to go with a wedding planner or official venue stylist but gave their florist the stylist title as they gave her full control on how best to dress the room.
Wedding dresses
Emma opted for an Augusta Jones Nichola in Bespoke Blush from Seraphim Couture Bridal, Greyabbey – 'I would highly recommend Catherine and her ability to pick the perfect for my shape. I Cried and knew it was the one.'
Leanna chose an off-white Pronovias from McElhinneys, Ballybofey. Leanna and her sisters all picked a dress for her to try but when she tried on her choice they all knew it was the one. 'Although we did not know what each other's dress was like, they both complimented one another.'
The bridesmaids
All wore Little Mistress Sage Maxi dress.
Wedding flowers
For the flowers the couple chose Rebecca Gourley of The Floralicious Designs.
'We wanted to keep the flower colour nice and simple for us so they were mainly cream roses throughout Leanna's bouquet whereas my dress was blush so there were some pale pink roses in my bouquet. Rebecca added plenty of foliage in both bouquets and made lots of huge arrangements with lots of greenery and adding hints of colour throughout.' 'Rebecca also included a flower bar for us. This is a lovely concept where there are little jars of similar flowers for guests to take home as a keepsake from the day.'
Table Plan
'We hired our unique wooden log table plan from Wooden Treats and Rustic Wedding Decor, Omagh. Both Patrick and Donna were so helpful and we also used a few of their wooden items to help with room decor – the use of wooden logs and candles with 'Our Wedding Day' sign. They also made us a bespoke log with our new surname etched in "McGimpsey-Young Est. 31st March 2018'
Stationery
'Our save the dates were wooden slice fridge magnets created by Rathbollen Unique Wood Crafts.
The illustration of us and our dogs for our invites was drawn by Danielle of Loveliest Little Things. Patrick of The Invitation created the bespoke gatefold invitations and also our place names for the day.'

Wedding cake
When it came to a choice of cake the couple opted for three different cakes by Kathryn of Candytuft Cakes, Newtownards.
Semi naked carrot cake with gold leaf
Chocolate log with detailed bark and chalkboard with E&L written on it.
2 tier vanilla cake iced with white fondant and gold sugar frames with sugar printed pictures of those who are no longer with us.
These 3 cakes and some miniature cupcakes were displayed on Candytuft Cakes Wooden tree display made in Bali.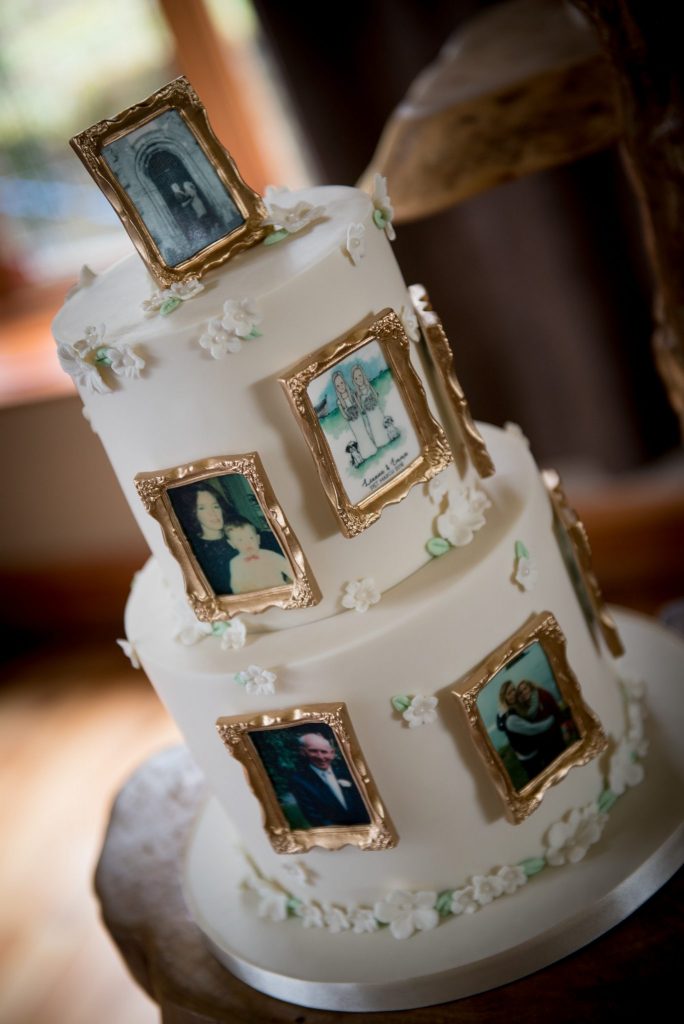 Favourite moment
Bride Emma: 'Walking through the curtain to a room full of people there to celebrate our big day and seeing my beautiful wife-to-be. A moment & feeling I will never forget.'
Bride Leanna: 'Emma and her Dad surprised me after our first dance with a rehearsed drum duet along to The Star of the County Down. When she said she had a surprise, I asked was it chocolate!! Being only slightly disappointed there was no chocolate, I felt so proud to call Emma my wife. Her and her dad play in a band and this is their thing and it made me so happy they did this, surprising me and all of our guests.'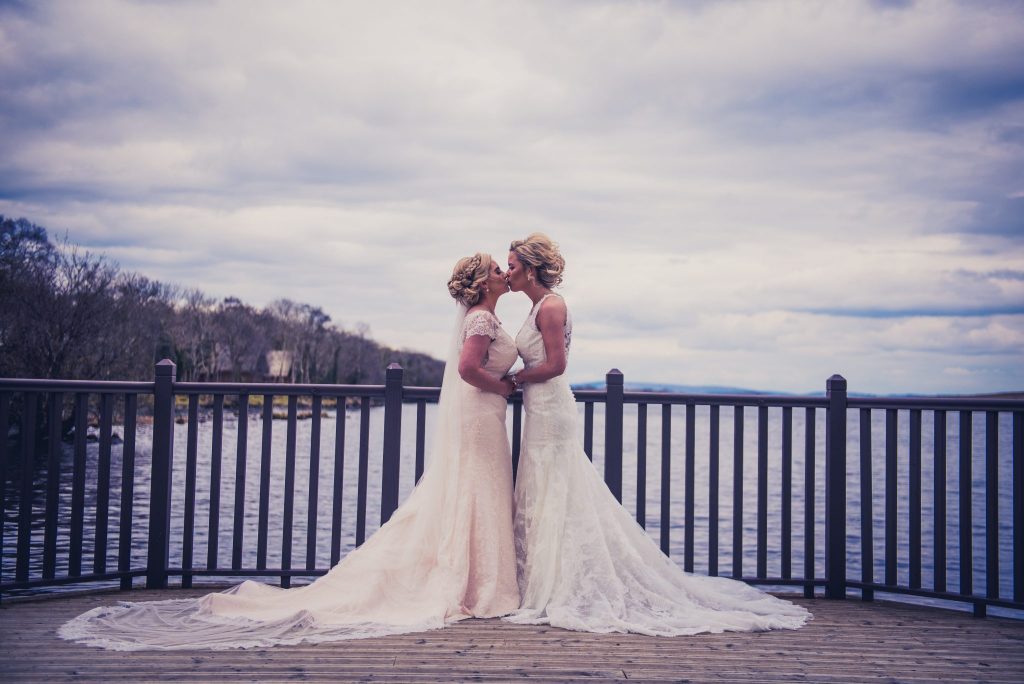 Top Tip
Bride Emma: 'Don't sweat the small stuff. Enjoy every second as it goes too quickly, so don't forget to sit down and take it all in.'
Bride Leanna: 'Use a spreadsheet!'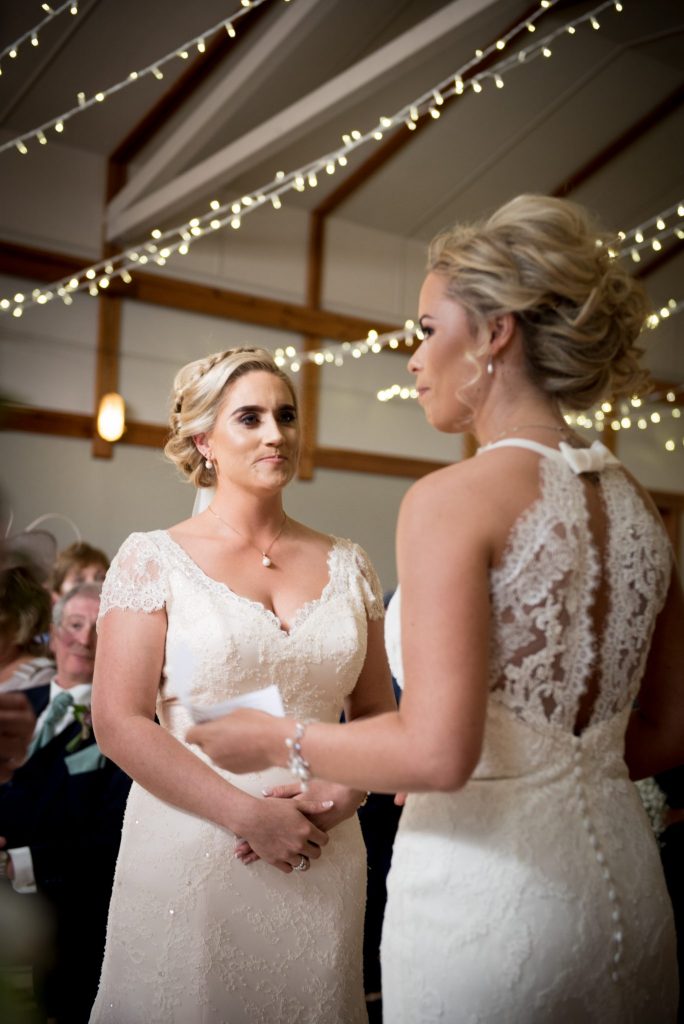 Finding the right venue is one of the biggest decisions you'll make for your wedding. But don't worry! The brand-new Wedding Journal Directory of full of the very best Wedding Venues in Fermanagh
Love Blossoms For County Leitrim Couple
Carmel and Alan Clarke's Real Irish Wedding
Carmel and Alan Clarke met when Alan, who had been living in America, came home and started doing some building work on Carmel's family florists La Belle Fleur in Drumshanbo County Leitrim.
Photography by: David Knight Photography
'We knew each other as we grew up in the same parish but it wasn't until Alan came back from America that we started dating,' recalls Carmel.
She goes on to recall details of their romantic and intimate proposal which happened during a mini break to Kerry.
'We were walking along Inch beach when I saw a big C in the sand. I joked that there should be an A beside it and Alan got down and added an A+ to the C. He then swung around and all of a sudden he was on one knee with a ring in his hand, asking me to marry him. I was in total shock as there was no lead up to this. It was a complete surprise.
'Neither of us knew how the C got there as he hadn't told anyone. He thought this was a sign from above from my dad Sean and his brother Neil in heaven.'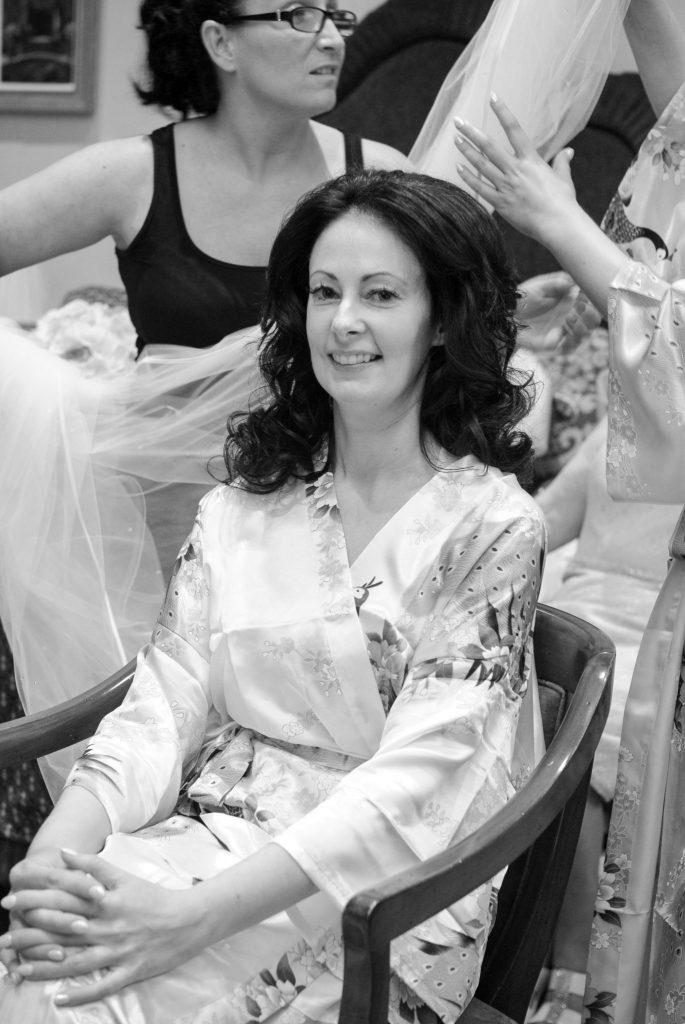 When it came to planning the wedding Carmel knew there was only one choice.
'Growing up Lough Rynn Castle was a special place for me and I had many special childhood memories spent there so it was a natural choice for our venue.
'Staff and management pulled out all the stops to ensure we had five star service and attention to detail every step of the way.'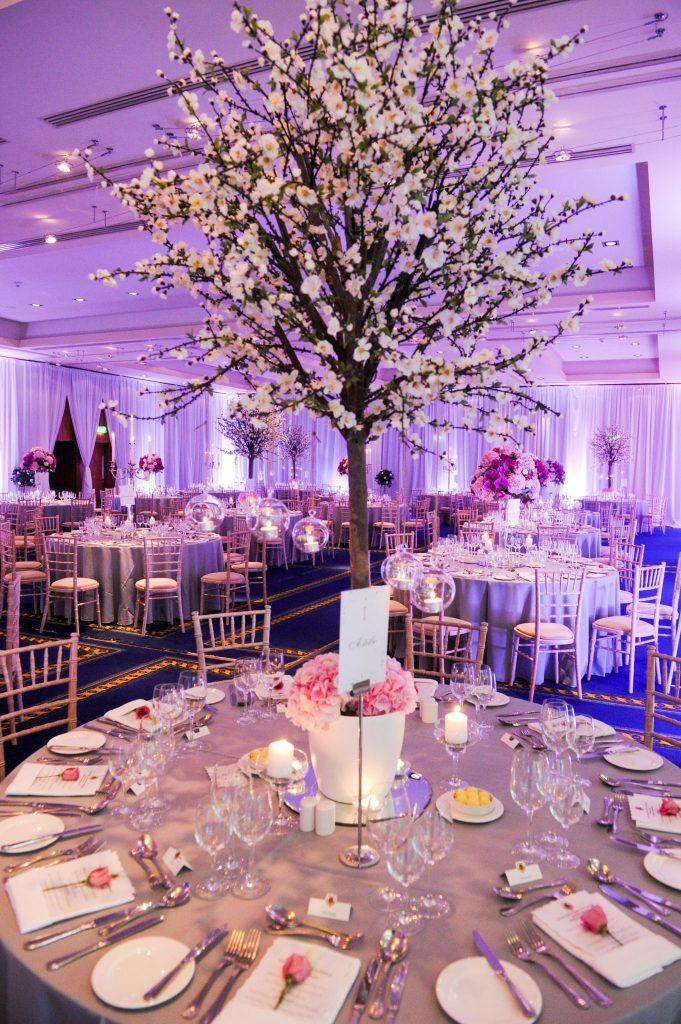 When it came to a theme the couple opted for luxurious/glamour with the men in black tie and the bride wearing a princess style gown.
The couple choose David Knight Photography, with David and his son Ben at the helm throughout the day.
'David is so professional and knows Lough Rynn Castle so well. He went above and beyond to get the most amazing photos. We adore our photos and his service was exceptional,' says Carmel.
She reveals why the couple didn't opt for a wedding planner, 'We enjoyed doing all the planning ourselves. My sister Helena was also amazing at the planning and the staff at Lough Rynn Castle were outstanding at bringing our dream wedding to life on the day'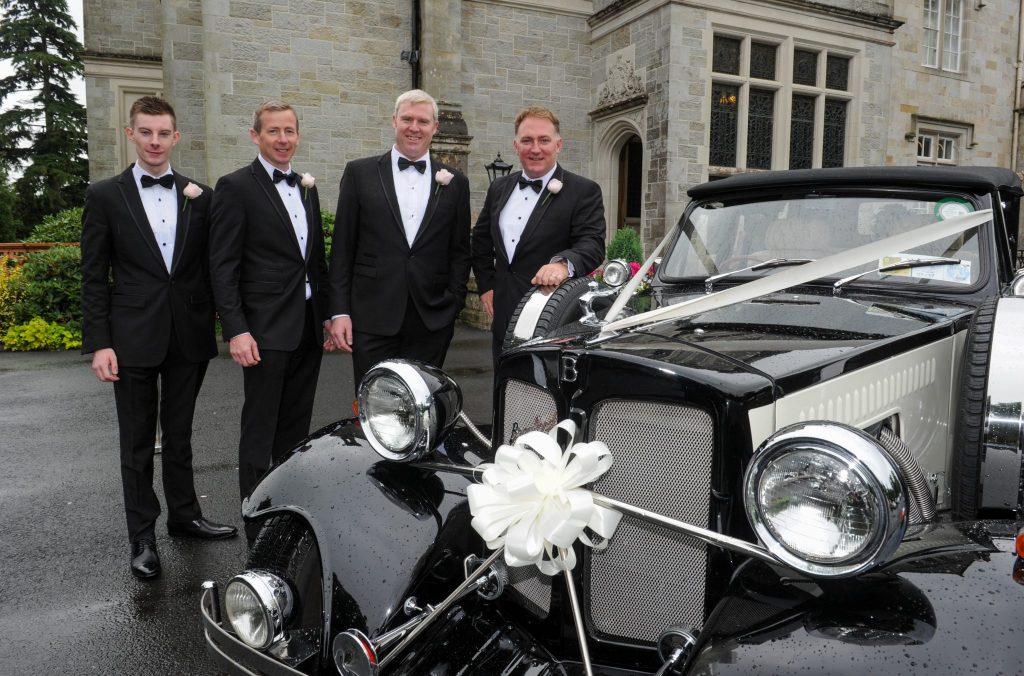 For her dress the bride opted for a Ronald Joyce dress from McElhinneys in Ballybofey, Co Donegal.
'It was a princess style dress with very detailed luxury beading on the bodice and encrusted with crystals, a bateau neckline and tulle skirt. As soon as I put it on I felt happy and comfortable in the dress, I was totally relaxed and loved it. The staff were so helpful and made finding the perfect dress easy.
Not to be out done the men wore black tie suits from EJ's Menswear in Sligo.
'The girls wore full length dove grey dresses with very detailed beaded bodices, encrusted with crystals also to compliment my dress. It was all about glamour on the day, the girls were delighted with their dresses,' reveals Carmel.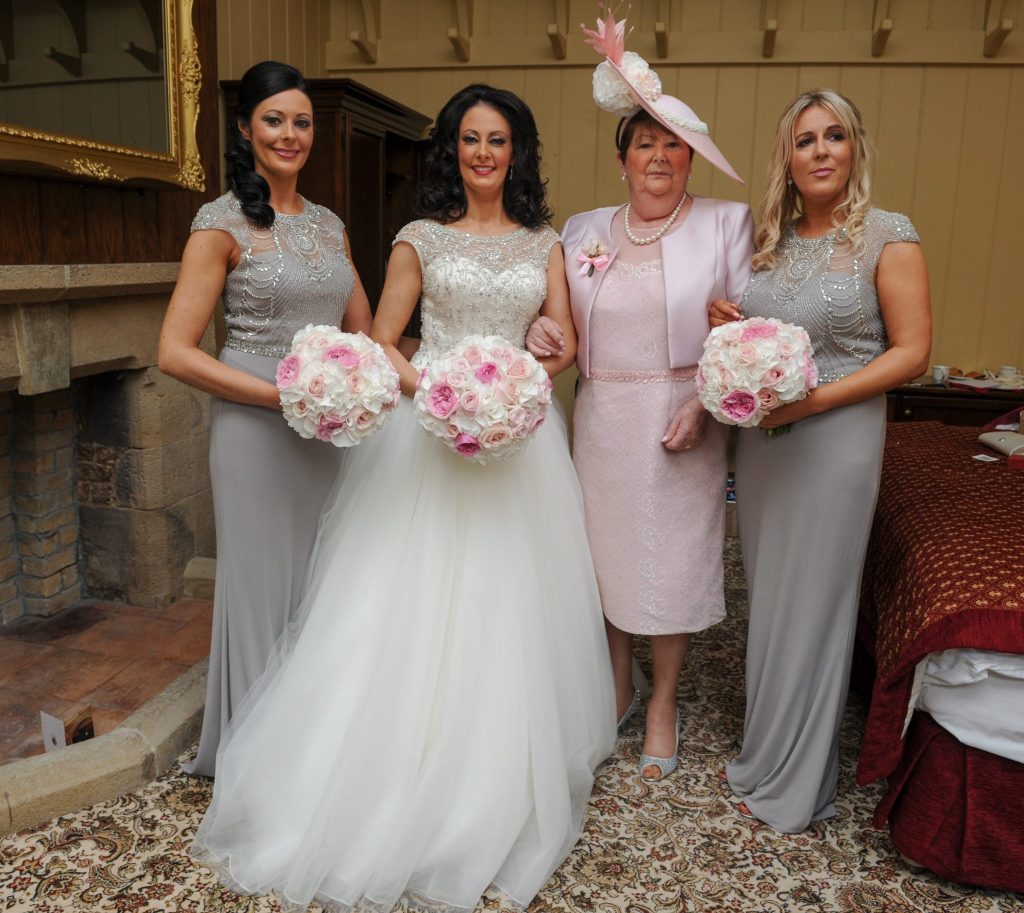 Of course flowers featured dramatically throughout the day with Helena and Carmel who have run La belle Fleur for the last 17 years in their element.
'We won the very prestigious Wedding Florist of the Year Award with Wedding Journal in 2016.
'For the wedding we chose all high end flowers such as David Austin Roses, lush hydrangeas, various roses and Phalaenopsis orchids, draping from the large floral displays. As we love flowers so much it was difficult to decide, so we just went with our favourites.
'We also had large seven ft cherry blossom trees in our church, lush soft pink hydrangeas on the pew ends it was like a fairy-tale come true for me. We also had lisanthus flowers on each of the napkins at the hotel and a large luxurious floral arrangement on a tall glass vase. These had huge impact and wowed the guests. I love the flowers and wouldn't change a thing.'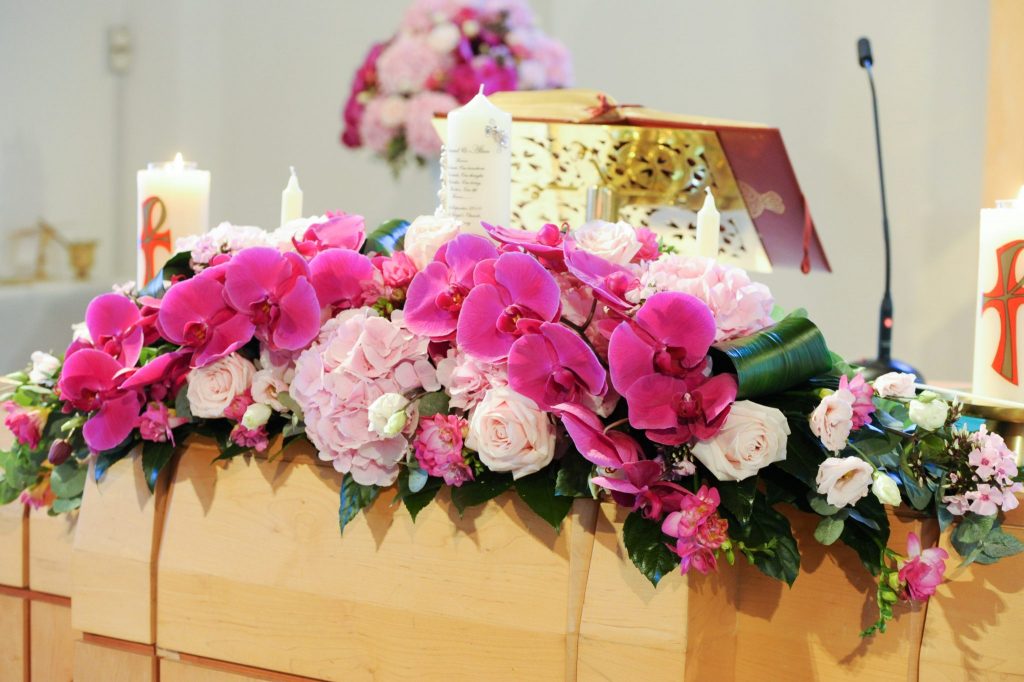 For their stationery the couple went to Happy Ever After in Dublin. Here they chose a luxurious invitation, pearlised embossed paper finished with satin sash and luxury brooch. They were fab.'
Carmel's mum wore a stunning dress and jacket to match in baby pink, from McElhinney's Ballybofey and a hat designed by Jennifer Wrynne.
The cake was designed by Cannaboe Confectionery Ballinamore, Co. Leitrim. One tier was created to match in with the wedding invitation.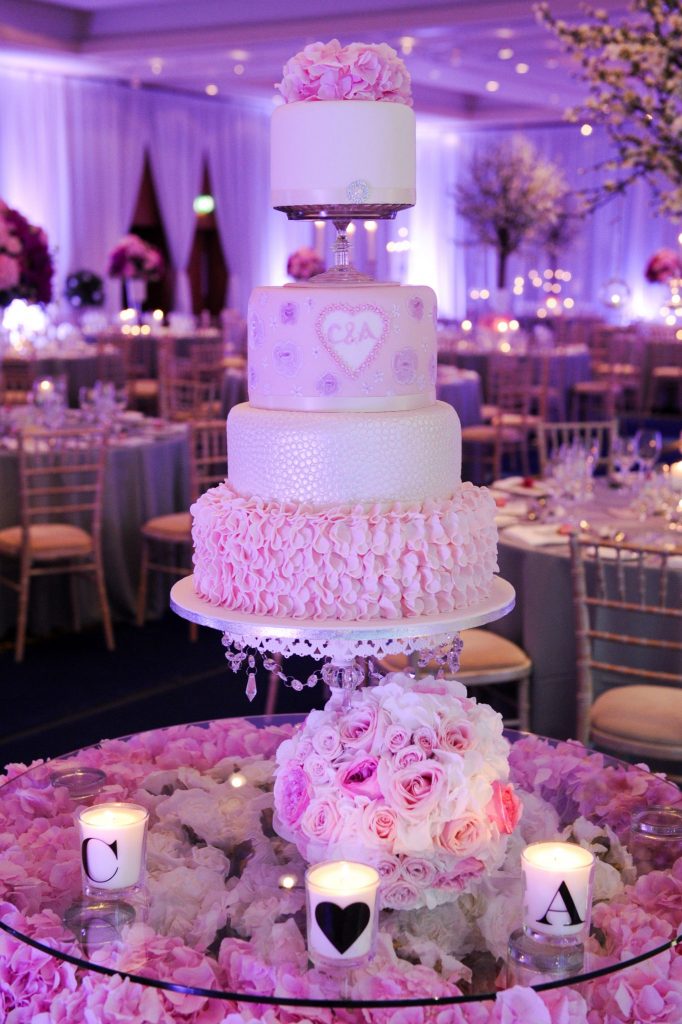 On their favourite moment,
He says; 'The moment I saw Carmel walking towards me in the church.
She says, 'My son Sean walking me up the aisle in place of my dad. Also when Alan got up to sing a few songs with the band Late Nite Radio, who are lifetime friends of Alan's.
Top tips;
The Groom; 'Get involved in all the planning too and enjoy the experience together.
The bride;' Enjoy the whole experience, trust your supplies, don't sweat the small stuff, it really is the most exciting, enjoyable day of your life. I loved every minute of it and I wouldn't change a thing.'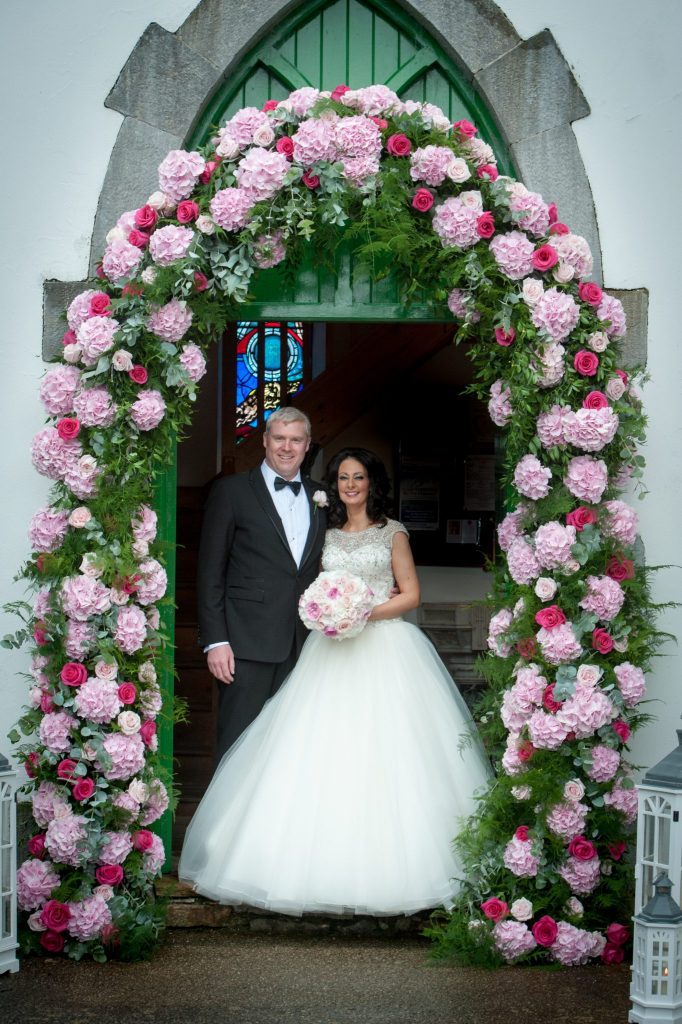 Finding the right venue is one of the biggest decisions you'll make for your wedding. But don't worry! The brand-new Wedding Journal Directory is full of the very best Wedding Venues in Co. Leitrim 
A Belfast Wedding Full Of Love & Good Food
Bronagh & Antony's Wedding in Deanes at Queens
Bronagh and Antony married last summer they enjoyed a Belfast city centre wedding reception with friends and family in Deanes at Queens.
Bronagh Johnston and Anthony Byrne met at a mutual friend's party back in 2013 and instantly clicked and became friends.
While they talked every day, work commitments meant they didn't date for a year until Anthony finally invited Bronagh out for a coffee.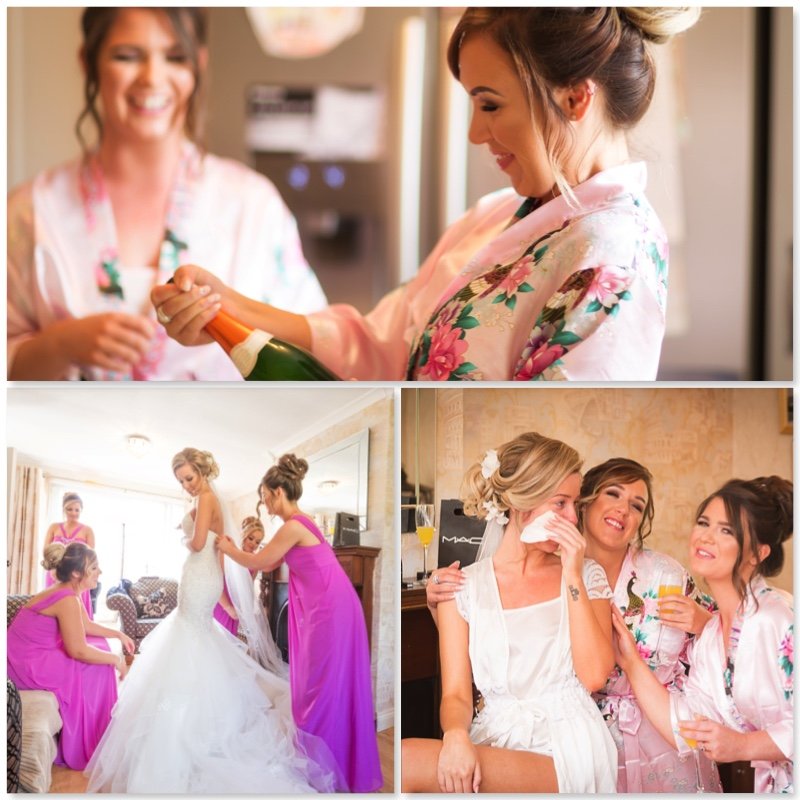 'We went for an ice cream and a walk around Antrim Lough on a sunny day,' recalls Bronagh.
'He finally plucked up the courage to kiss me,' she adds, 'and the rest is history we have been together ever since.
Two years later the couple were holidaying in Thailand when Anthony had planned the surprise of Bronagh's life.
"We were in Koh Lanta staying in a fabulous really romantic hotel which Anthony had booked.
"Anthony told me we were going to have dinner early as he was hungry (which was nothing new). We came back to our villa and he disappeared for an hour and half saying he was going to the bank link. When he came back he suggested we go to the beach bar first for cocktails.
"When we got there, there was this fabulous display of white drapes and orchids and candles everywhere. It was on the tip of my tongue to say 'you'd never do anything like this for me', when Anthony said this is where we are eating tonight.
'I went over to sit on his knee to give him a kiss and thank him and he said – when you are here I want to ask you a question, will you marry me. I was speechless and burst into tears. He then produced this amazing ring and I finally spluttered out a yes. I couldn't eat my dinner, I just kept looking at my ring sparkling in the sunset."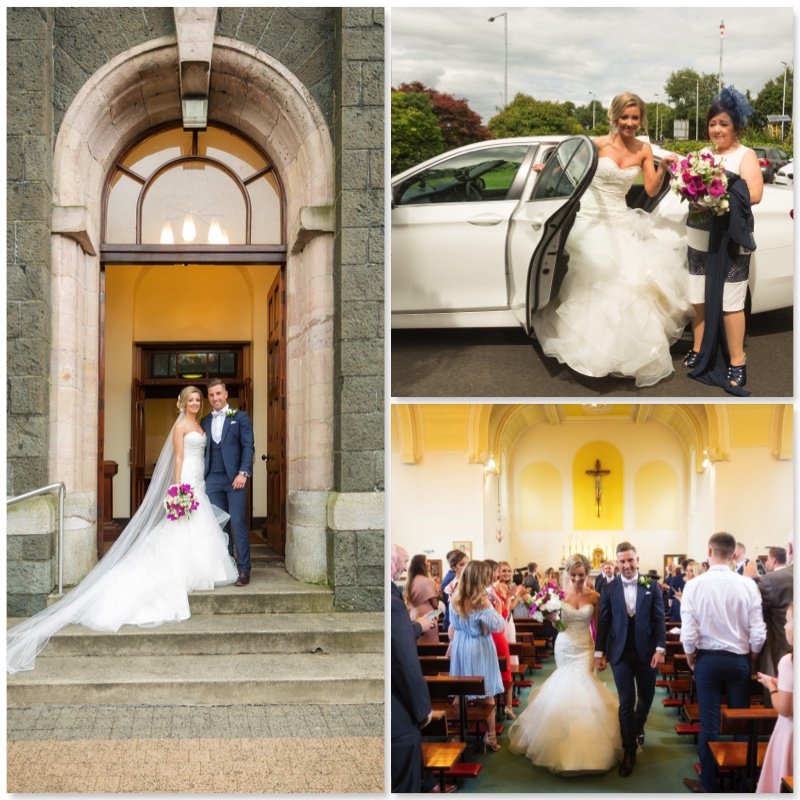 When it came to the planning the couple decided that they didn't want a ballroom type venue.
'In the end we chose Deanes at Queens as we wanted somewhere different with character and the food was an important factor as well.
'As soon as we went to see it I fell in love with it. I loved the natural light coming into the room and the open plan was classy and elegant. Anthony was sold on the fact that guests could have fillet steak cooked to order from the menu,'
The couple were determined the day would run at its own pace one of the key elements was on entertainment which was wide and varied. As Bronagh explains, 'We had a range of entertainment throughout the day. To start with we had Irish dancers from the Peacock Academy of Irish Dancing along with Davey Music who played live instruments .throughout the meal we had Ricky Lormier on his acoustic guitar. During the day we had DJ Jon Boi as MC and DJ Hixx from Cool FM later in the evening. We also had Sapphire entertainment for fire breathers when it got dark. To top things off we had a couple of number one break-dancers taking part in a dance off.
'The sun was shining down and it was beautiful and everyone got to use the outdoor patio area during the cocktail reception."
They chose Rob Gardiner from G4 Photography, a family friend.
'His photos are very natural and he captured the day exactly how we wanted it and he got all the action shots we wanted. I couldn't have asked for better.'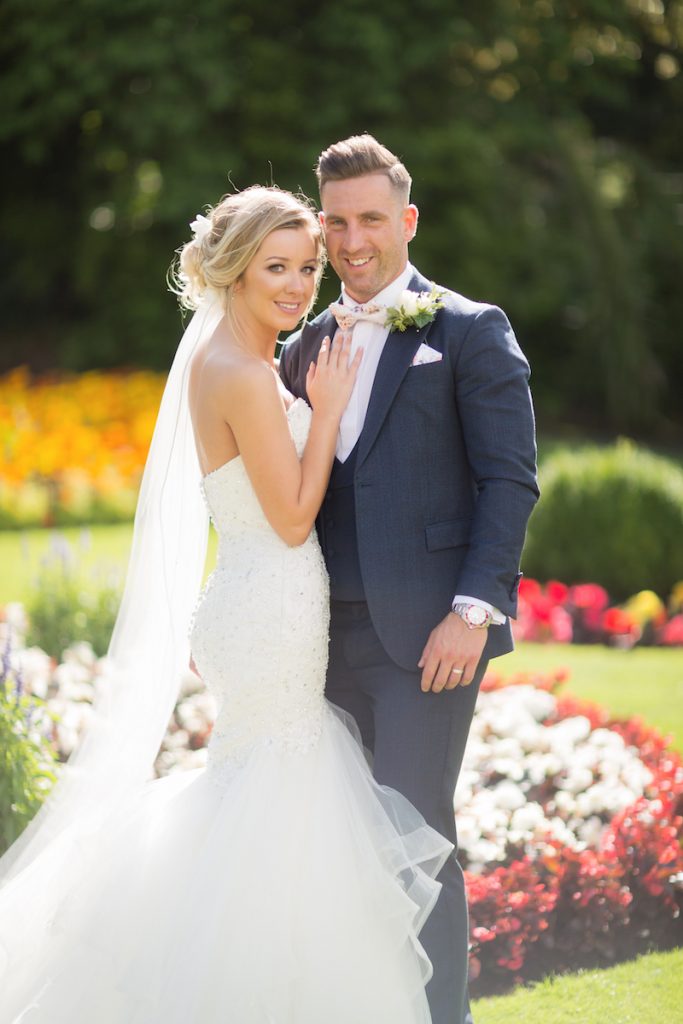 When it came to styling the venue the couple enlisted the help of their florist Helen from Ivy Lane Floral who put flowers in vases on the tables and large floral hoops behind the top table. They also hired a floral wall from Andies Crafts which proved a great pit stop for photographs during the reception.
'My wedding dress was from designer Danielle Couture, it was called Eve from the Phoenix range. I loved it as it was a trumpet style and fitted me like a glove. I felt really beautiful in it. I changed the back as I didn't want a corset style and opted for buttons instead. If it was acceptable to wear it every day I would and I'm toying with the idea of having it framed.
'Anthony and his groomsmen rented their suits from Red in Belfast. They picked floral bow ties which matched perfectly with the bridesmaids.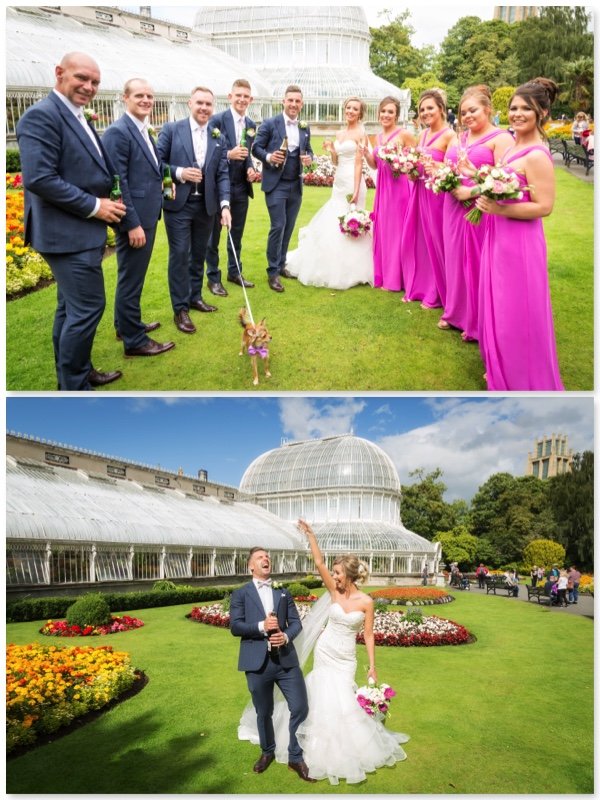 'They wore floor length Grecian style dresses from Naomi Bridal in Ballyclare. The designer was Hilary Morgan and the colour was Dragon Fruit.'
Again the couple enlisted a friend of the family when it came to the stationery.
'A friend did our invites and table plans. It was all quite plain on an ivory shine rose embossed card with a slight rim of silver. They were very elegant.'
Bronagh's sister runs Caolifinnes Cakes and did a fantastic three tiered job – one vanilla, one chocolate chip and another mint chocolate chip and iced in butter cream. It also had a floral arrangement on the top.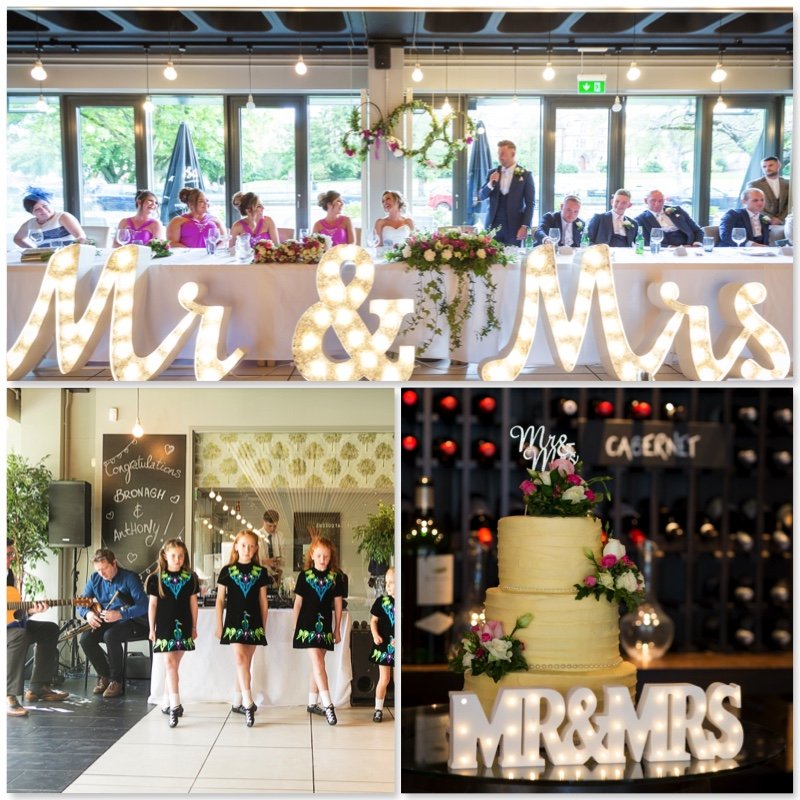 When it comes to selecting their favourite moment from the big day, Bronagh says, 'My favourite moment was taking our seats before dinner, Anthony had arranged a selection of my favourite Beyoncé songs to be played and seeing all our friends and family together was a moment to cherish forever.'
Anthony adds, 'Coming back from having our photos taken hand in hand with my wife as our friends and family sat outside in the sunshine at Deane's and cheered us on as the sun beat down.'

The Couple's Top Tips
Bronagh says, 'Don't stress the week before the wedding – everything will fall into place and be perfect. If only I knew on the run up to the wedding what I knew after I would have been much more relaxed. Enjoy every moment
Anthony says, 'Take a moment to really take in when you are planning for the big day When the day arrives just enjoy what you have achieved. It really is the best day of your life.
For more real-life weddings click here
An Intimate & Alternative Christmas Wedding
Laura & William's Special Day At The Empire, Belfast
Laura and William tied the knot on 21st December 2016 at Belfast City Hall, followed by drinks at Belfast Christmas Market and a reception at The Empire, Belfast.
Photography by Francis Meaney
The Couple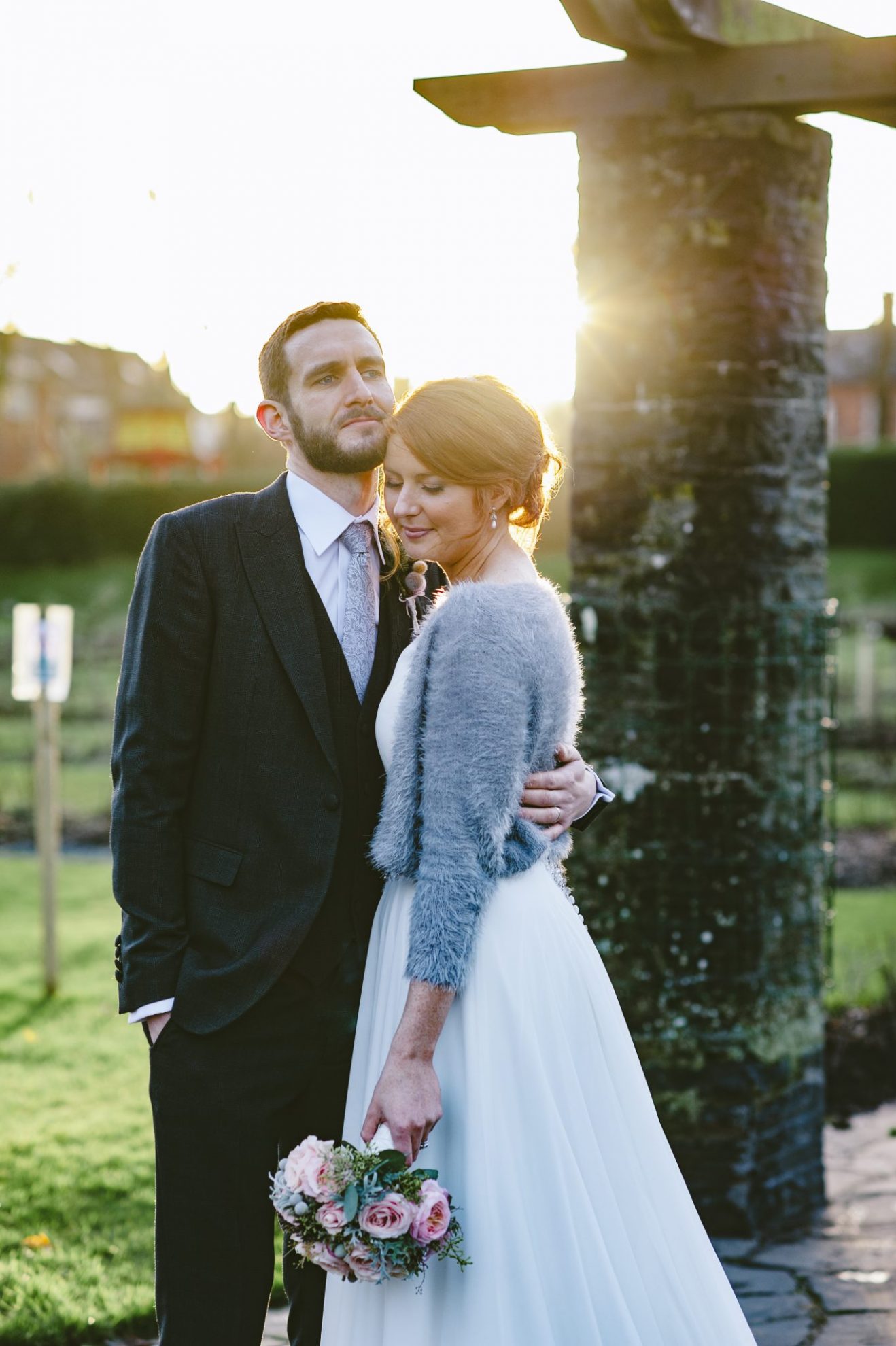 While on a visit home from University in 2010, Laura bumped into William in a bar in Portadown. There was an instant connection and the couple were so smitten, that they decided to embark on a long distance relationship when Laura had to return to Birmingham to study, just after they first met.
The Proposal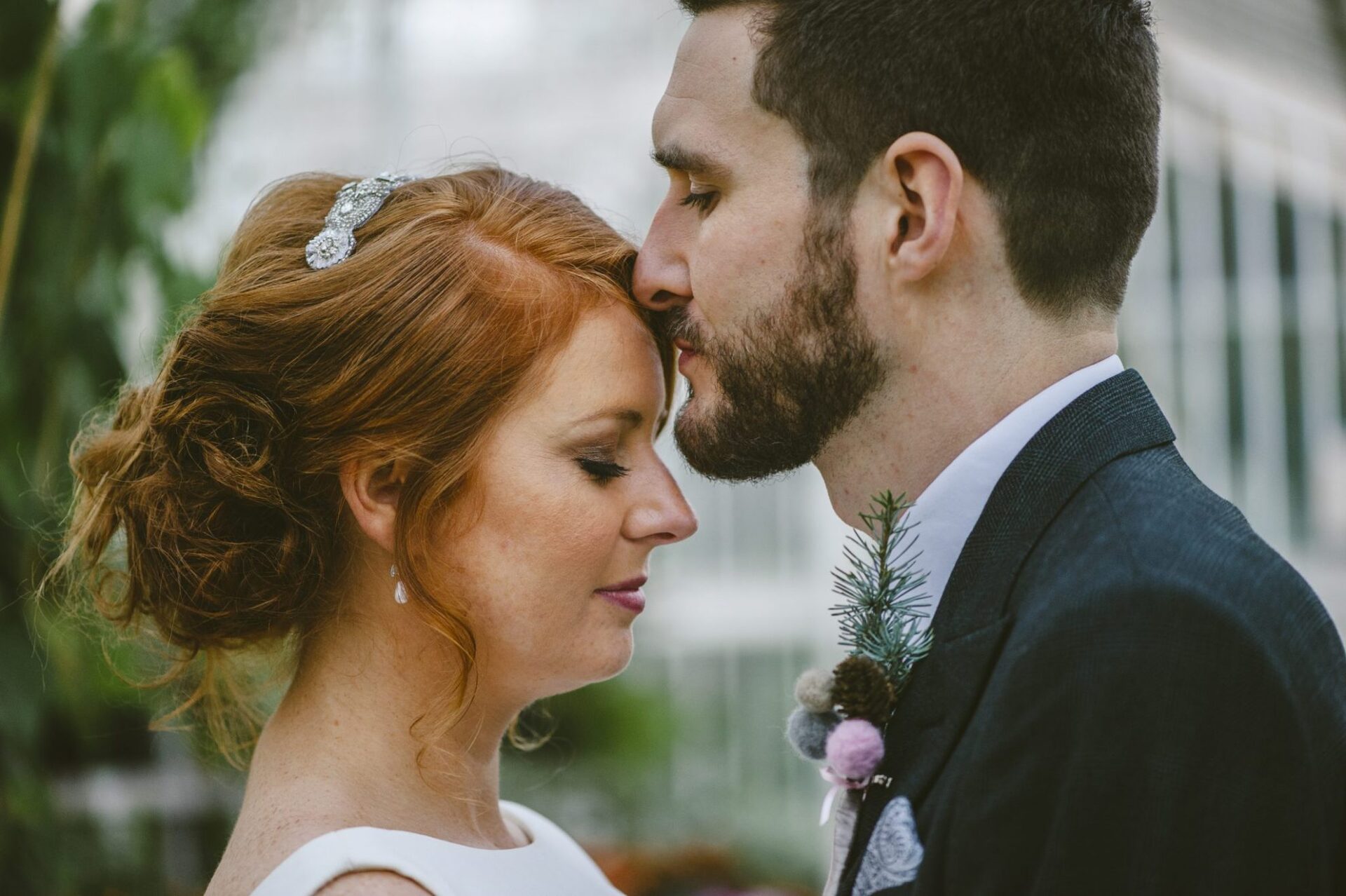 Fast forward to June 2016 and William popped the question while watching Muse on their third night at Glastonbury. Laura describes the moment as, "unexpected, but very, very special."
Venue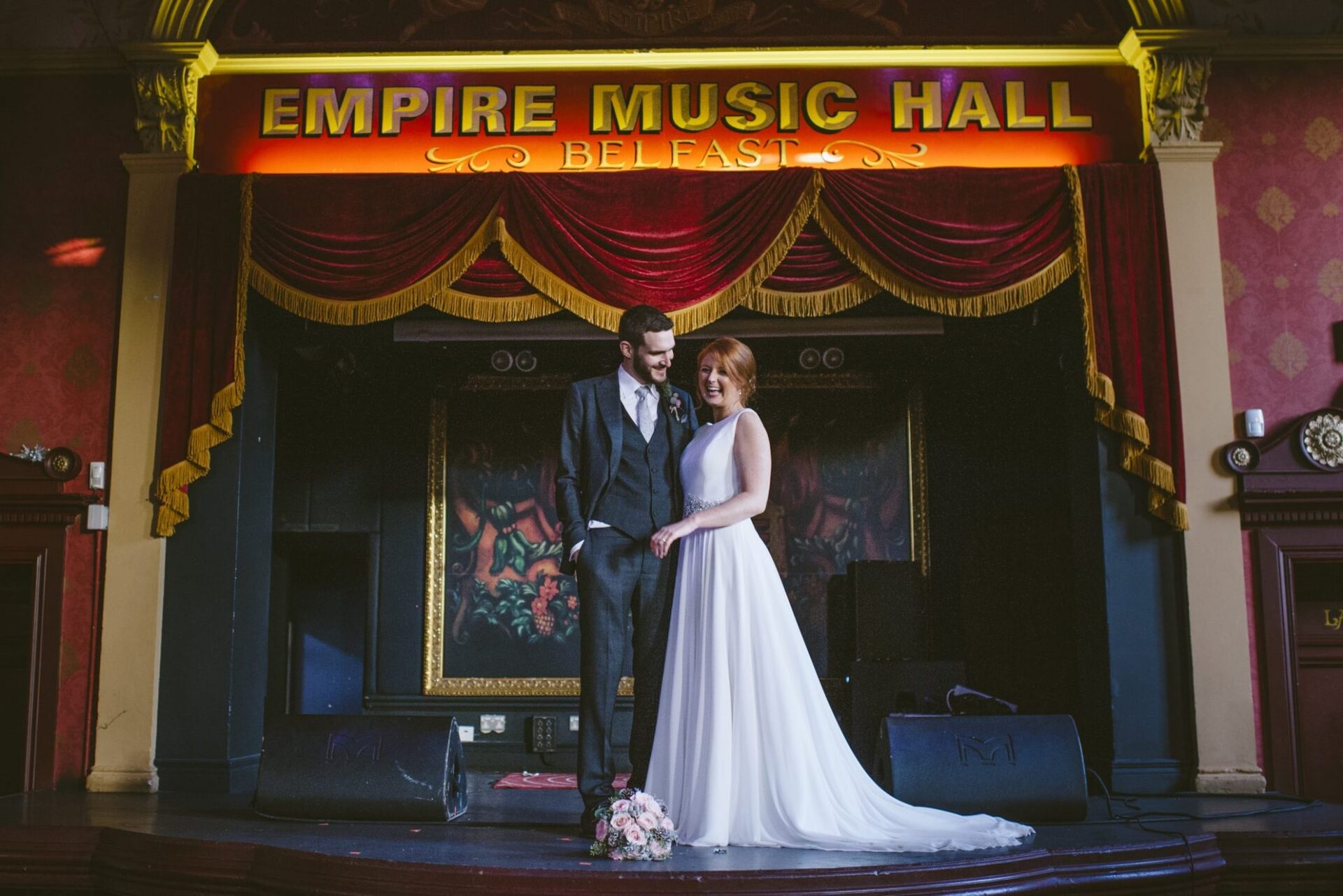 Laura and William's main objective from their wedding was to have a relaxed, informal day – and that is exactly what they did! Due to the time of year, and location of the ceremony in Belfast City Hall, the couple reserved tables in the beer tent at Belfast Christmas Market for drinks immediately following the ceremony. "Everyone received a token for a free drink and it gave all of our guests a chance to mingle," says Laura. "After the Christmas Market, we moved onto the Empire, Belfast. The venue was ideal for our wedding and had lots of character without us having to decorate it."
Theme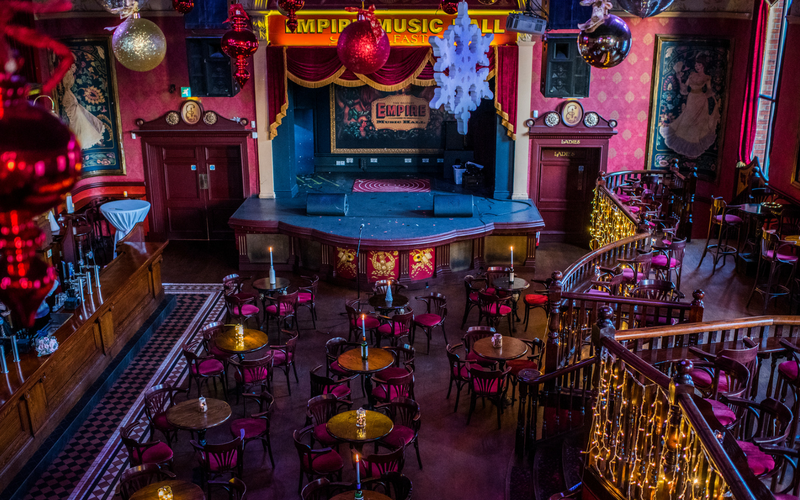 The couple opted for a simple, intimate, and wintery theme. Laura says, "It was perfect as we had a strict budget and it was Christmas, so all of our venues were already decorated for us! I love winter, but didn't want to be predictable, so we chose colours in pink, grey and white tones.  I wanted the day to reflect our personalities, as well as our love for music, food, family and friends, brought together with lots of personal touches." Event Planners NI decorated the tables in the Empire with pink, grey and white candles, while Laura made the centrepieces by filling large candle holders with foliage and fairy lights. The favours were homemade blackberry jam and apple chutney prepared by Laura herself!
Photography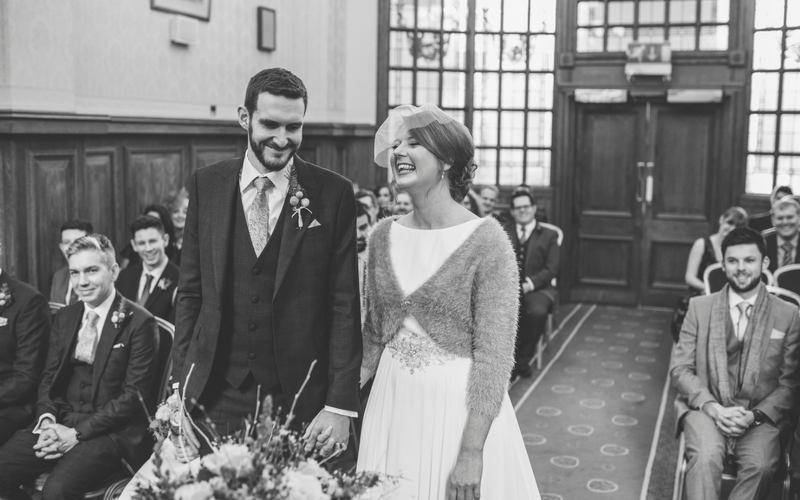 Francis Meaney was the couple's photographer for the day. "They really listened to what style we wanted and were able to capture the real atmosphere of the day.  I'm so glad we chose them, I absolutely love our photographs and would recommend Francis to anyone."
Wedding Dress
Laura wore an elegant wedding gown from designer Justin Alexander, purchased in Portadown bridal boutique, Orchid Studio. "I wanted a dress that I was comfortable in, that would also be timeless in our wedding photographs," explains Laura. "I loved the Sabrina neckline, attached beaded belt and alternative buttons on the train – it felt very 'me'.  I completed the look with a soft grey cardigan to keep me warm and a hairpiece form Gibson Bespoke."
Groomswear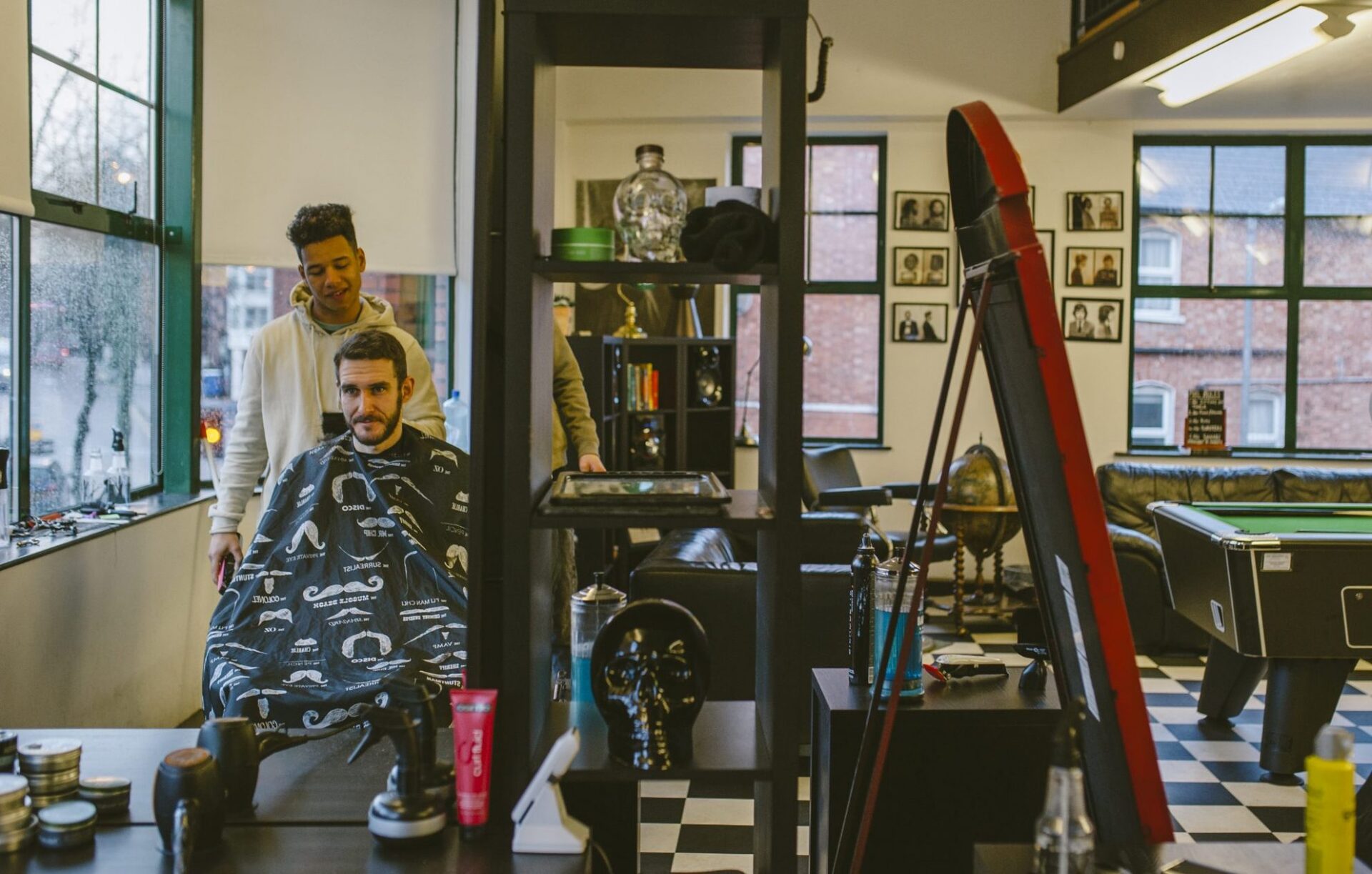 William and the groomsmen hired dark grey, three piece suits from Red Groomswear in Belfast and couldn't fault the staff for their helpfulness.
Bridesmaids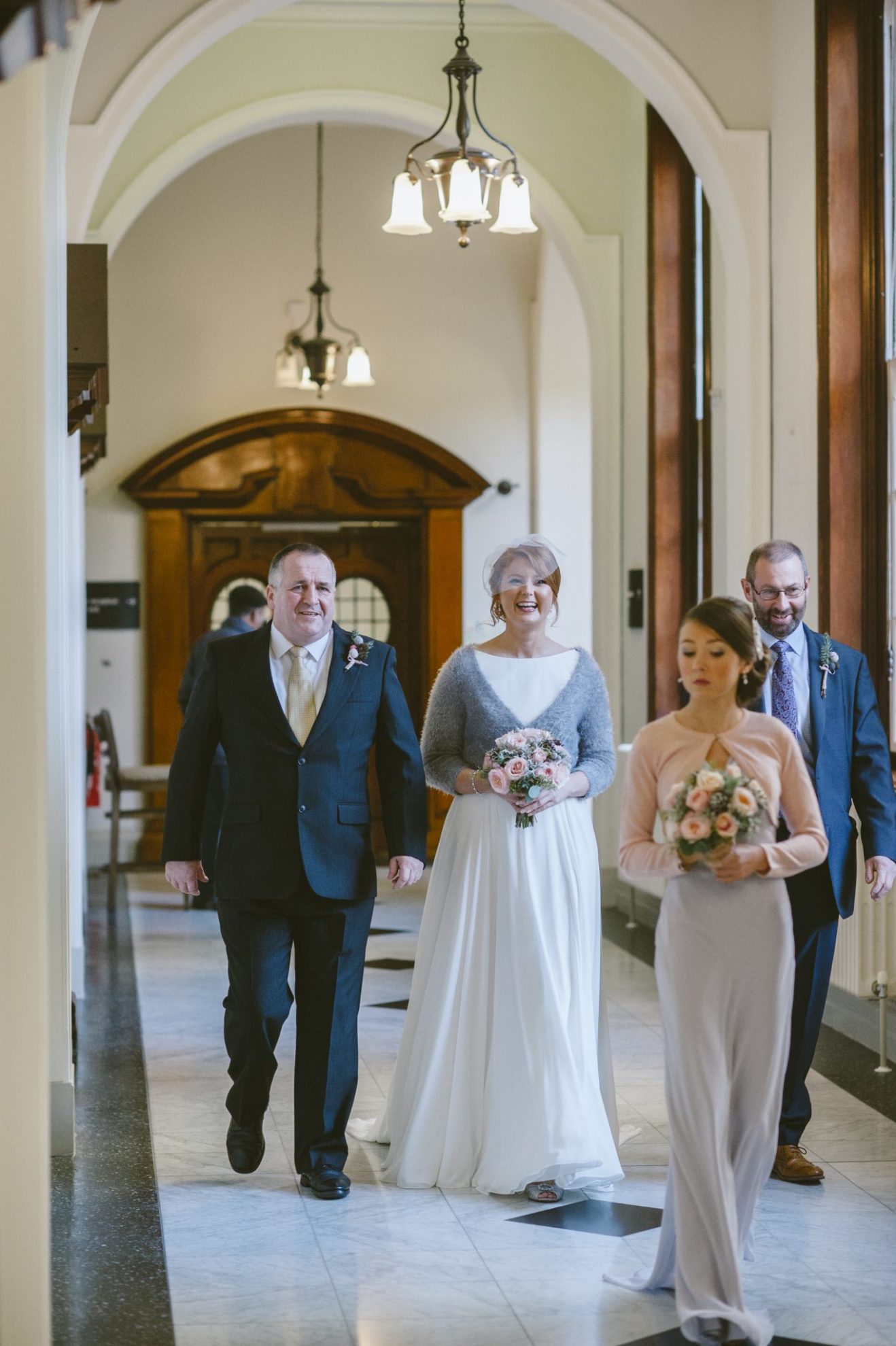 Laura's sister Sarah was a bridesmaid and she wore a pale grey bridesmaids' dress also from Orchid Studio with a pink cardigan to keep out the cold!
Flowers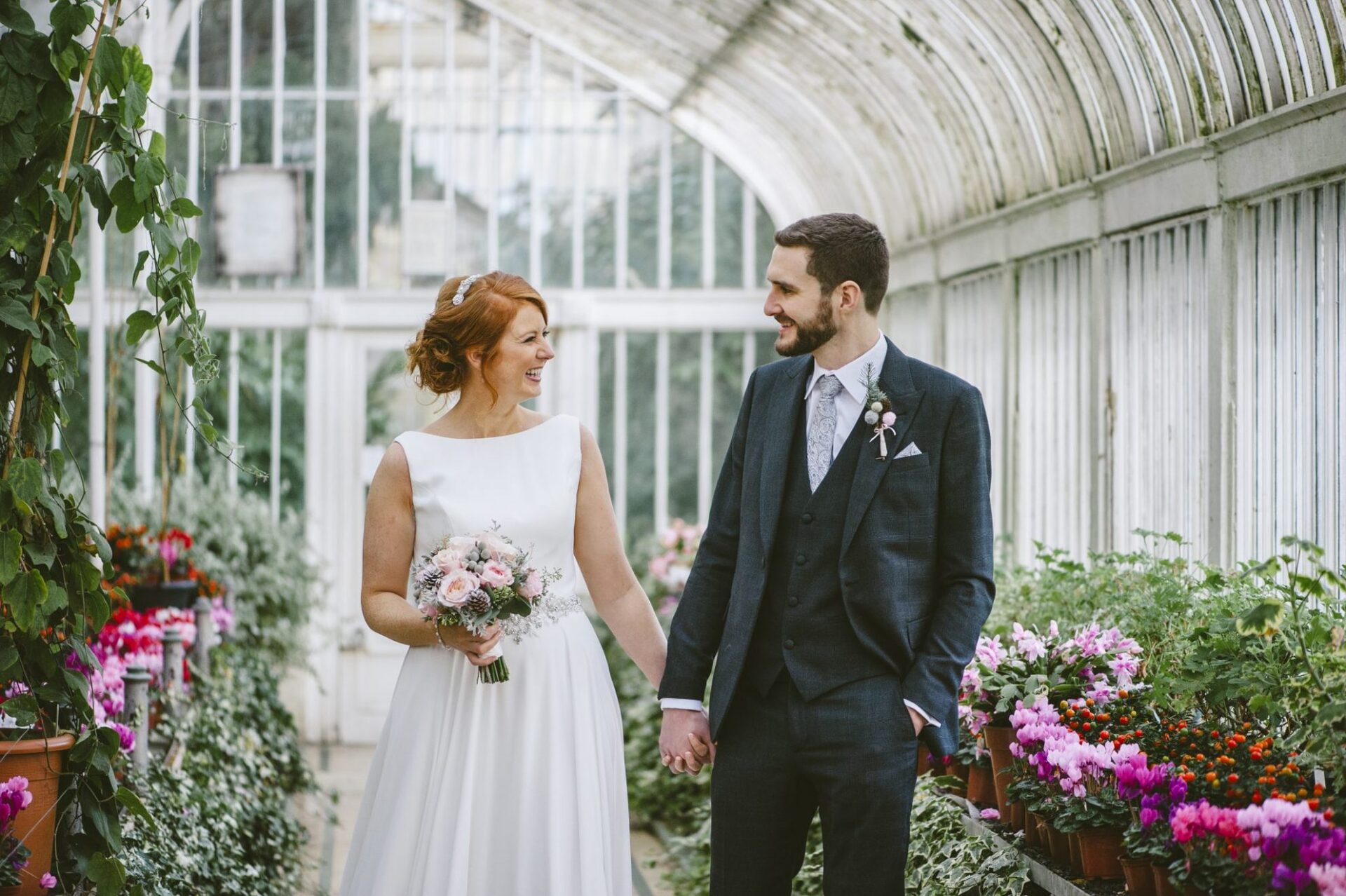 House of Elliot in Lisburn provided the flowers for the day, and the couple chose pink avalanche roses, pine cones and lamb's ear for the bouquets. Laura's talents didn't stop at making her own wedding favours and she was able to hand make the button holes for the bridal party with needle felting and foliage from the garden!
Stationery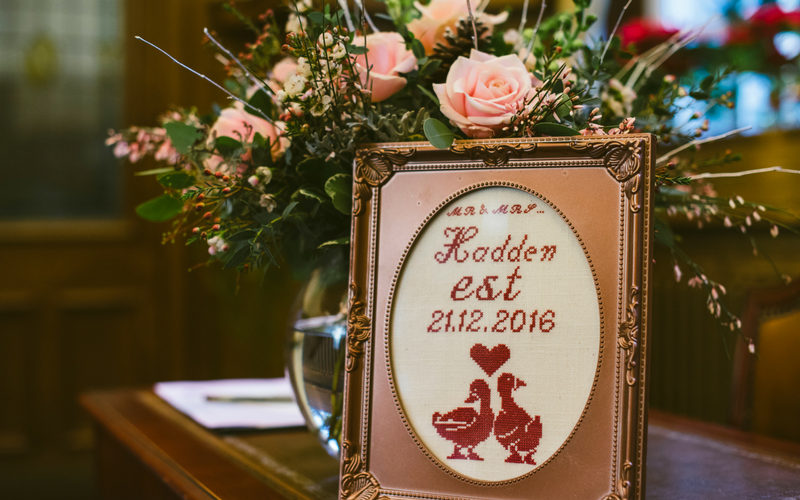 As a nod to their proposal, Laura and William's wedding invitations were carnival tickets designed on Kraft paper by 'Made by Rae' on Ebay. They carried this theme throughout the day from their drinks tokens to their guest book, which Laura placed an instant print camera beside inviting guests to stick a photograph inside.
Wedding Cake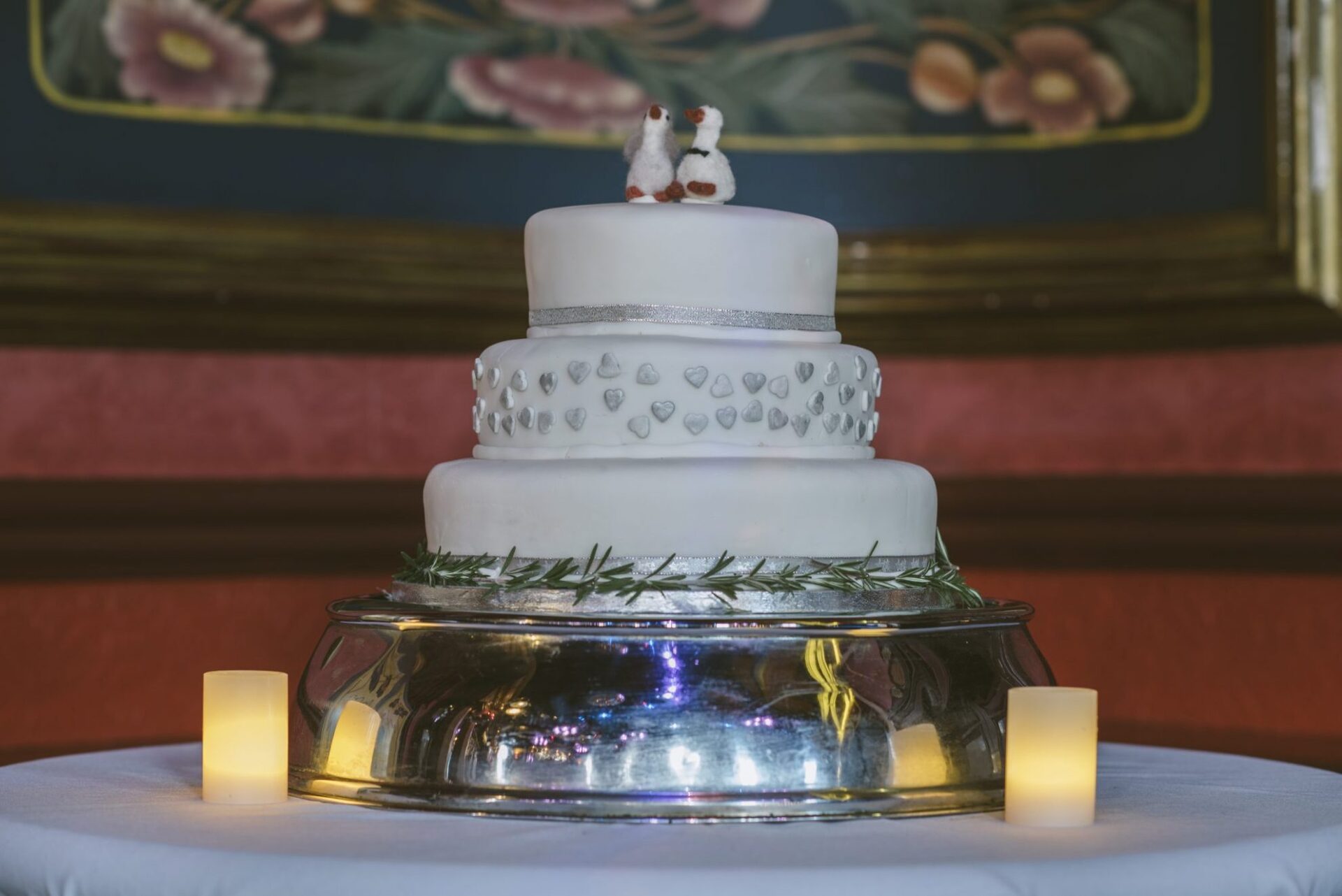 The relaxed atmosphere continued throughout the day as Laura and William chose not to have a table plan and opted for a delicious menu to please any foodie, including a hog roast, desserts served in shot glasses from Windsor Bakery and cheese, crackers, chutney and traybakes to round off the festivities at the evening reception. The wedding cake was a family effort as Laura's mum made three tiers of lemon, vanilla, and chocolate, Laura's granny made a fruit cake and Laura needle felted the decorations for the top of the cake!
Favourite Moment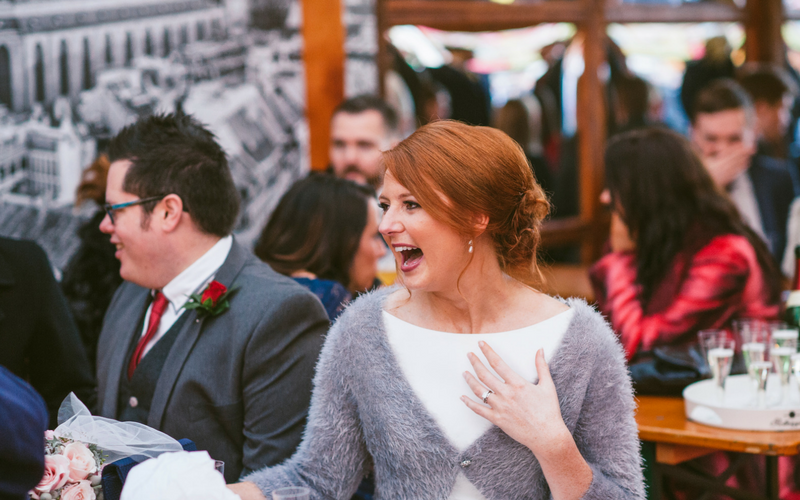 William's favourite moment was their band, Juram Gavero Trio, playing two Led Zeppelin tunes back to back and Laura's most cherished memory is, "walking into the beer tent at the Christmas Market, hand in hand with William as everyone cheered. It was very surreal to have all of our friends and family in one place and I wouldn't change a thing."
Top Tip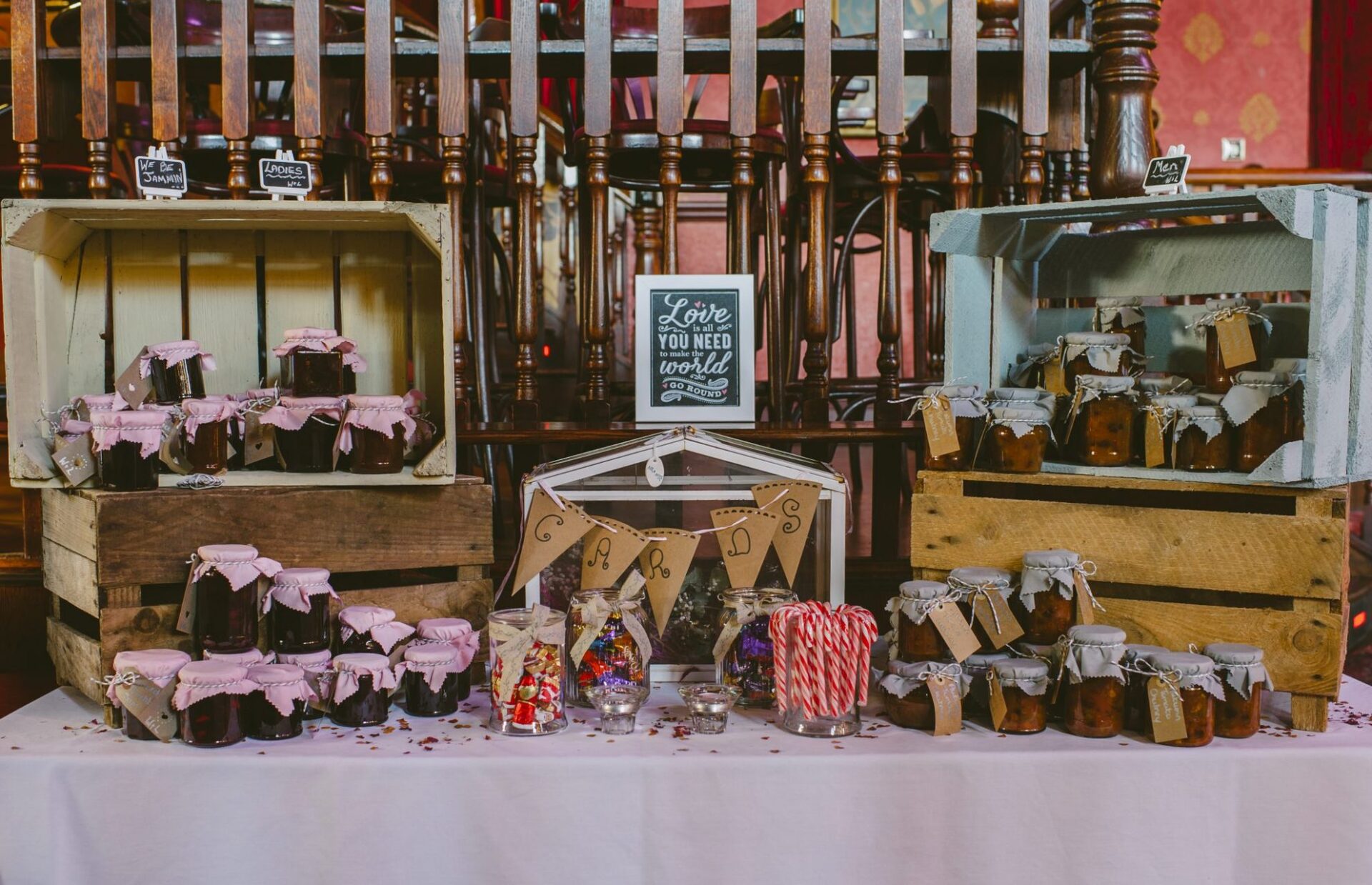 And their advice to other couples planning their wedding? "Keep it simple!"
Finding the right venue is one of the biggest decisions you'll make for your wedding. But don't worry! The brand-new Wedding Journal Directory of full of the very best Wedding Venues in Belfast.
A Fairy Tale Wedding at Markree Castle
This couple were the lucky winners of a €35,000 wedding at the Wedding Journal Show
Lisa and Will tied the knot 15th April 2017 with a ceremony and reception at Markree Castle after winning their €35,000 wedding at the Wedding Journal Show
Photography by Paul Keeling Photography
The Couple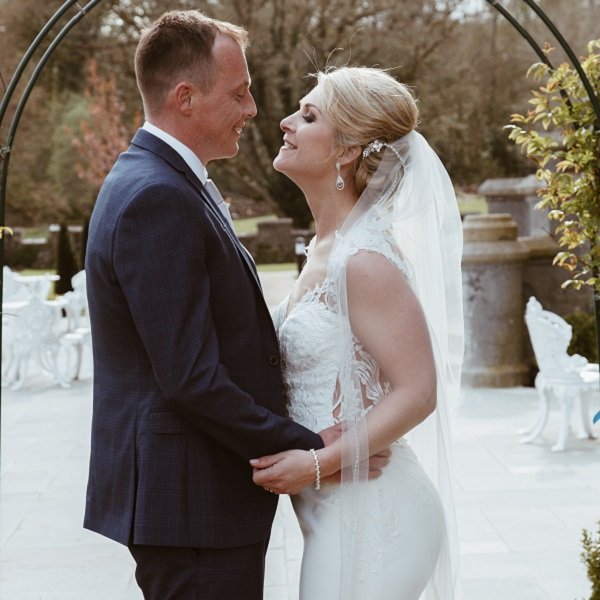 Childhood sweethearts, Will and Lisa were delighted to win a €35,000 wedding at the Wedding Journal Show, Dublin in January 2017. The couple, who have been together 14 years, met as teenagers and have four children together.
The Proposal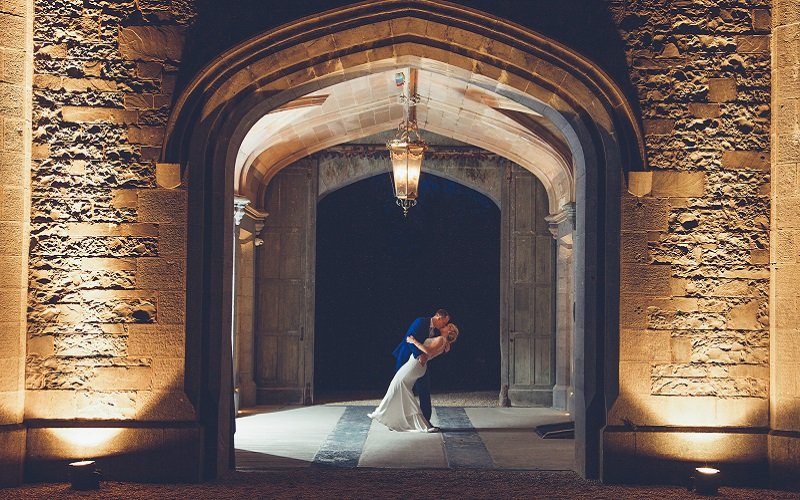 Will popped the question in October 2015, after speaking to the children and asking their permission. "My daughter Amy brought the ring to me," recalls Lisa fondly. "It was such a happy time for us as a family to have a wedding to plan."
Winning their Wedding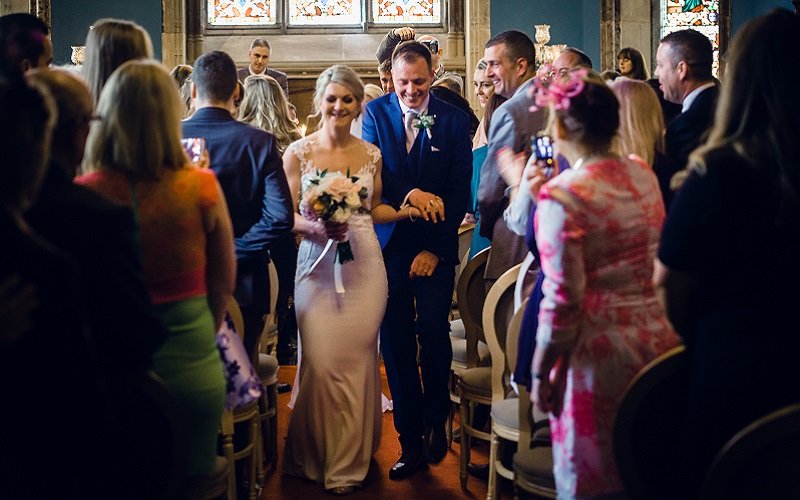 Before Christmas, a Tarot card reader had told Lisa she would win something big, but Lisa didn't pay much attention to the prediction and was gobsmacked to make it through to the live on-stage final at The Wedding Journal Show Dublin. Battling it out with nine other finalists, Lisa and Will found themselves in the last stage of the competition answering three mystery questions.
"I didn't know the answer to one of the questions and it was at the very last moment I just took a guess and wrote it down," remembers Will. "It was the right answer! I couldn't believe it, I was in shock."
Venue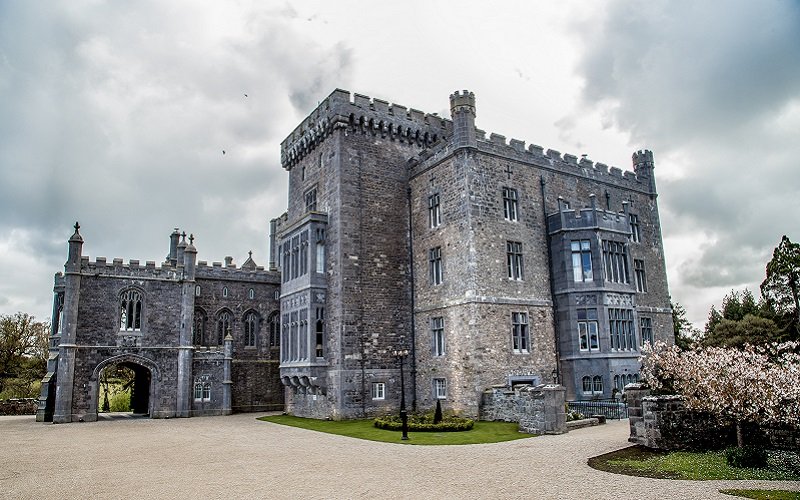 Included in the amazing prize was a wedding reception at the romantic Markree Castle. Located along the Wild Atlantic Way, Lisa and Will couldn't have hoped for a more picturesque setting to get married in. "Markree castle is amazing, Lisa gushes. "It was so private, with beautiful surroundings. It truly is a fairytale venue."
Photography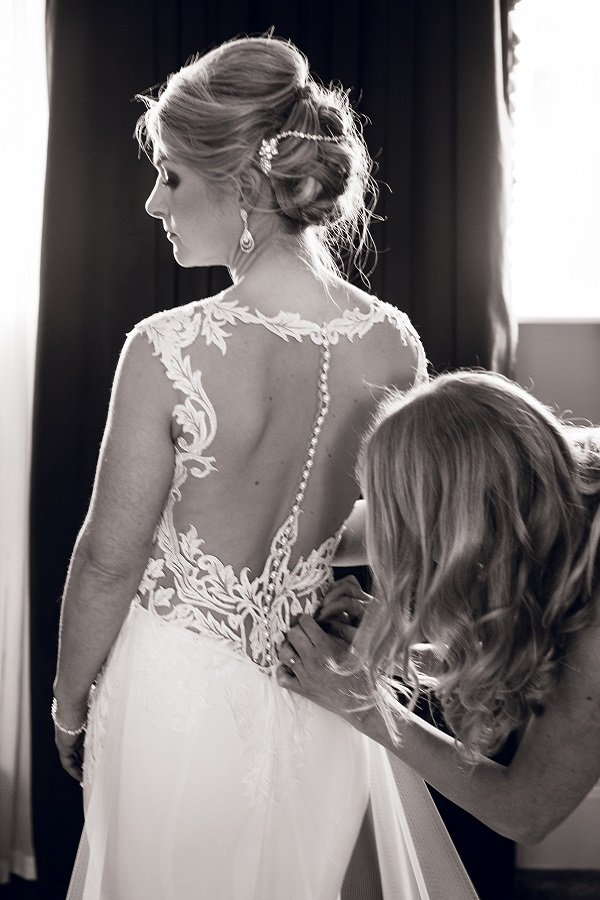 The couple also won a fantastic photography package with Paul Keeling photography. "After looking through some of his work we knew Paul would be the perfect photographer for us. Our wedding photographs are amazing," Lisa says.
Wedding Dress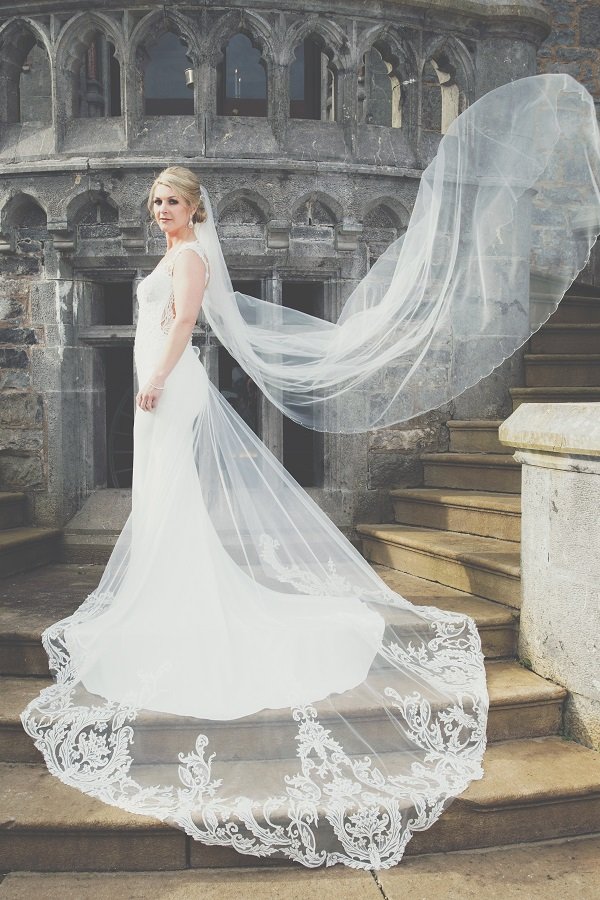 Lisa looked radiant in a white, fit and flare gown with illusion neckline and stunning back detail from Wedding & Bridal by Nikki Kavanagh. "The designer of my dress was Dando," says Lisa. "It was light and easy to wear, with beautiful lace detail, and a detachable train. I just loved everything about the dress and I couldn't wait to wear it." Lisa completed her wedding day look with an elegant cathedral length veil.
Bridesmaids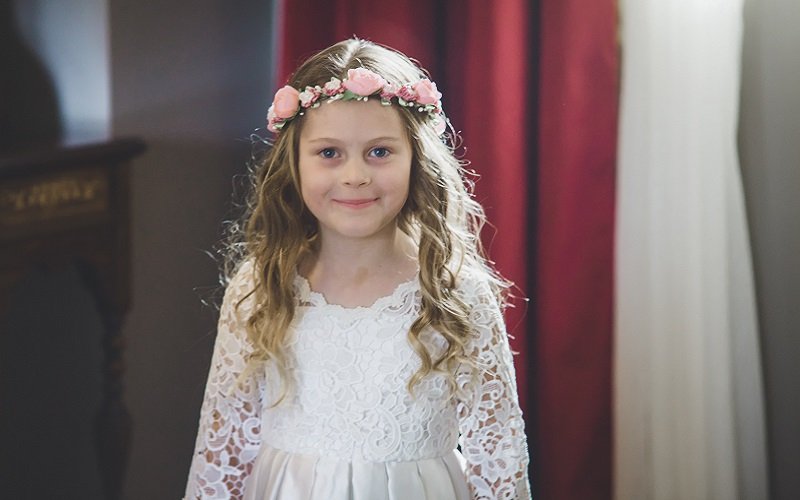 The bridesmaid's dusty pink multi-way dress was from Debenhams and Lisa and Will's daughters looked adorable in ivory and lace dresses accessorised with pink flower crowns.
Groomswear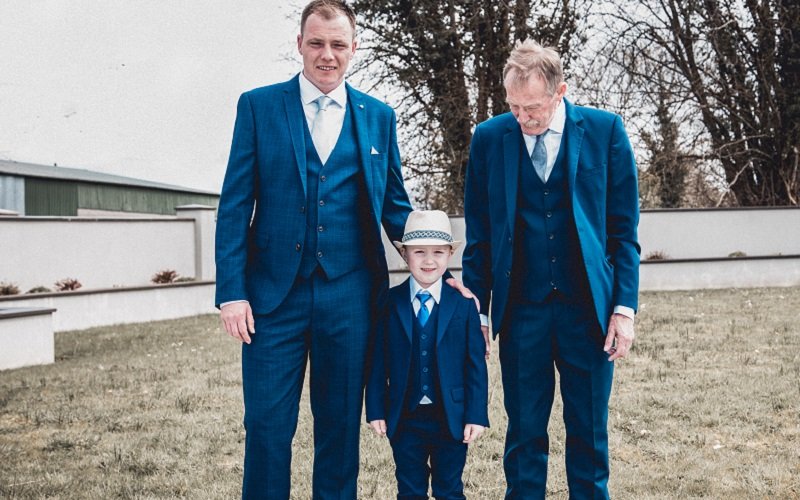 The groomsmen wore navy blue suits from Protocol for Men and Will opted for a slight checked pattern to differentiate from the rest of bridal party.
Flowers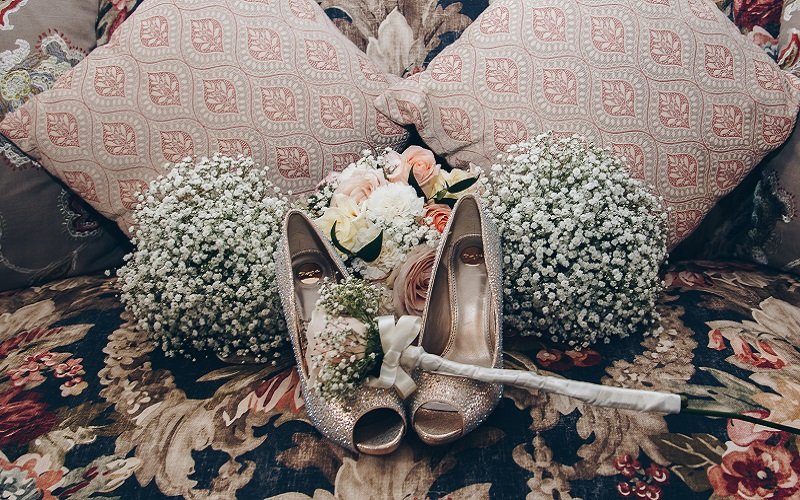 The flowers were provided by Teacups and Sweetpeas. Lisa chose pink and white blooms to compliment the bridesmaid and flower girl dresses.
Wedding Cake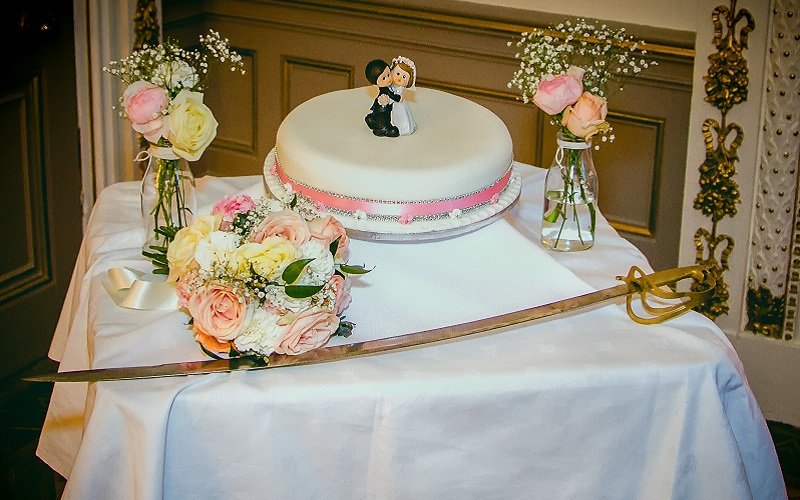 Choosing a more traditional wedding cake, Lisa and Will had a simple, one tier cake made by family friends Christine and Joan.
Favourite Moment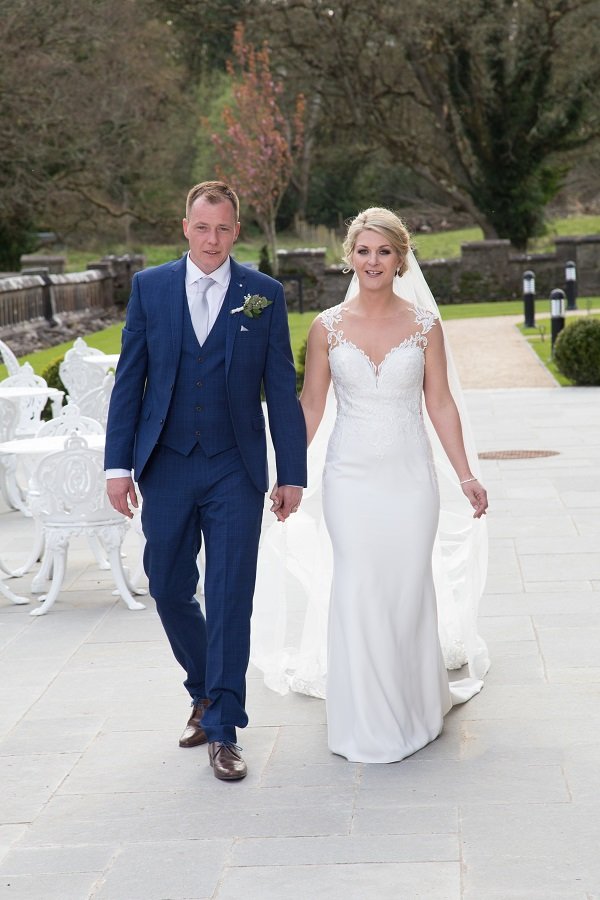 Will's favourite memory from the day was, "seeing Lisa walk up the aisle." Lisa's favourite moment was also the ceremony. "The chapel at Markree Castle is so intimate, making it that little bit more special. The vocalist, Eileen Mcdevit was fabulous, and having all of our friends, family and children there to hear us say 'I do' was magical. Everything was just perfect."
Honeymoon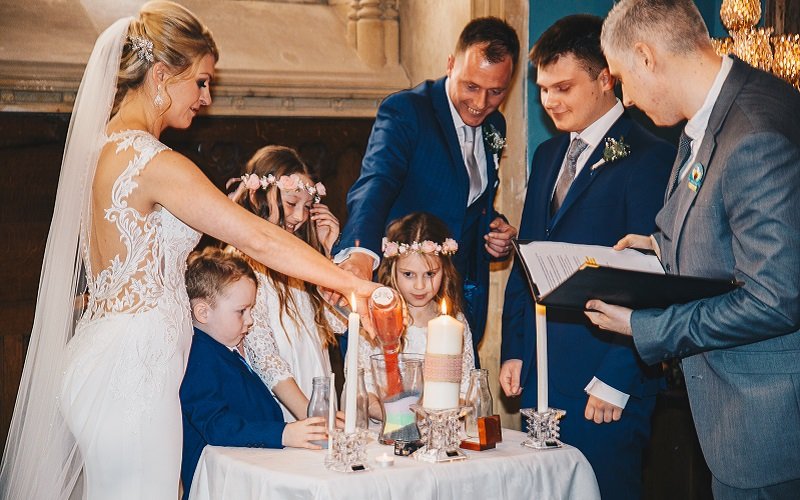 After the wedding Lisa and Will jetted off on business class flights to Dubai provided by Emirates. They enjoyed a week long honeymoon in United Arab Emirates staying in the luxurious Mӧvenpick Hotel Jumeriah Beach. Winning the prize was especially meaningful to the couple as they were able to visit Lisa's sister Amanda who lives in Dubai for the first time.
Top Tip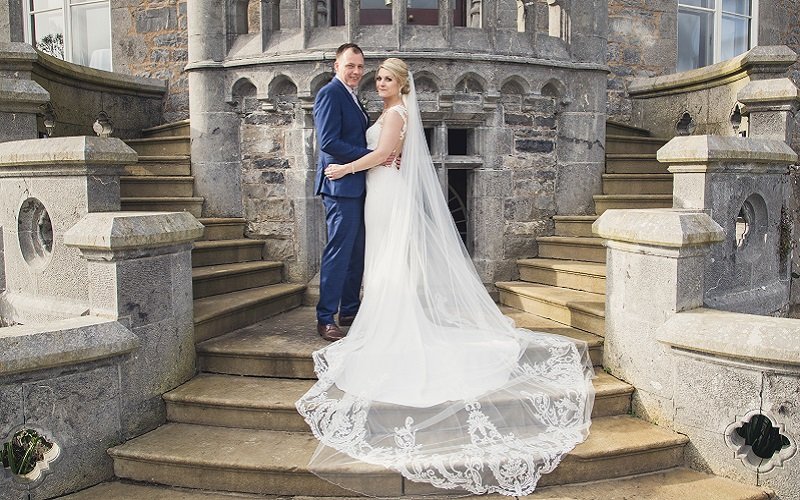 The couple's top tip to other couples planning a wedding is to, "relax and try not to worry in the run up to the wedding day. Everything will fall into place, so just concentrate on enjoying the day as it is over far too quickly!"
Elegant Irish Wedding In The Bride's Home!
Cordelia & Ian's wedding at Ballyscullion Park
Cordelia & Ian tied the knot 1

st

July 2017 at Ballyscullion Parish Church followed by a reception at Ballyscullion Park, Bellaghty
Photography by Steven Hanna Photography
The Couple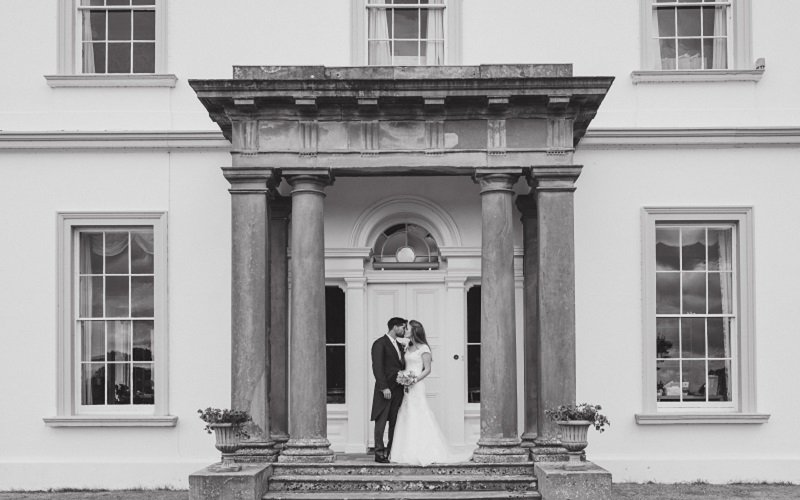 Ian and Cordelia first met aged 17 at St. Columba's College in Dublin where they were both boarding pupils. After falling in love, the pair moved to Italy and have lived in various locations across the country but are currently settled in Treviso where Cordelia is an English language teacher and Ian is a professional rugby player with Benetton Treviso.
The Proposal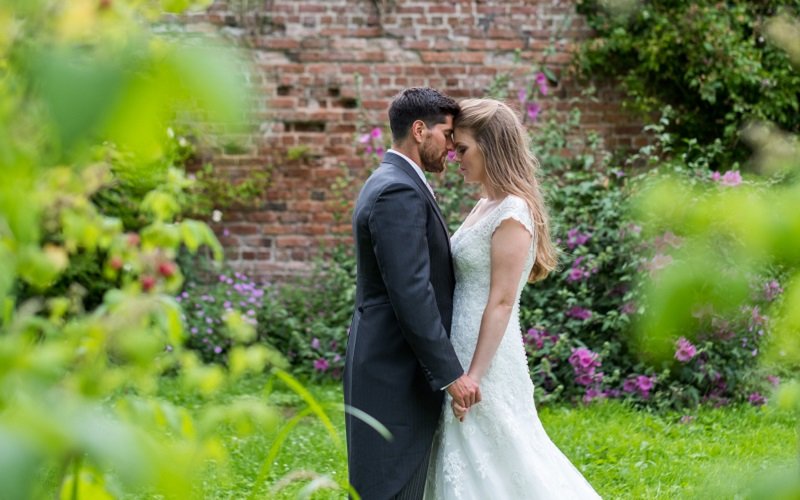 Ian proposed to Cordelia during a barbecue at Cordelia's family home while all of their friends and family waited downstairs. He asked to speak to Cordelia in private and the rest is history!
Venue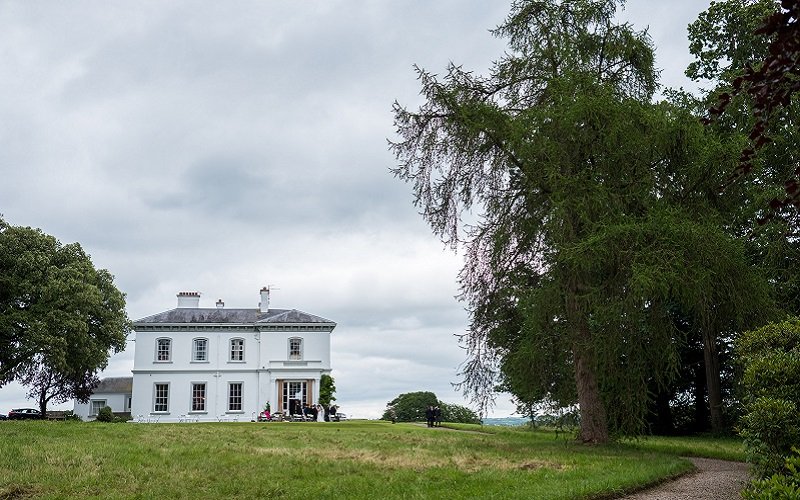 Cordelia was lucky enough to grow up in popular wedding Irish wedding venue Ballyscullion Park! 'It was the natural choice as it is my family home and holds lots of happy memories. The house is also in a stunningly beautiful location and was able to hold all of our guests comfortably.'
Theme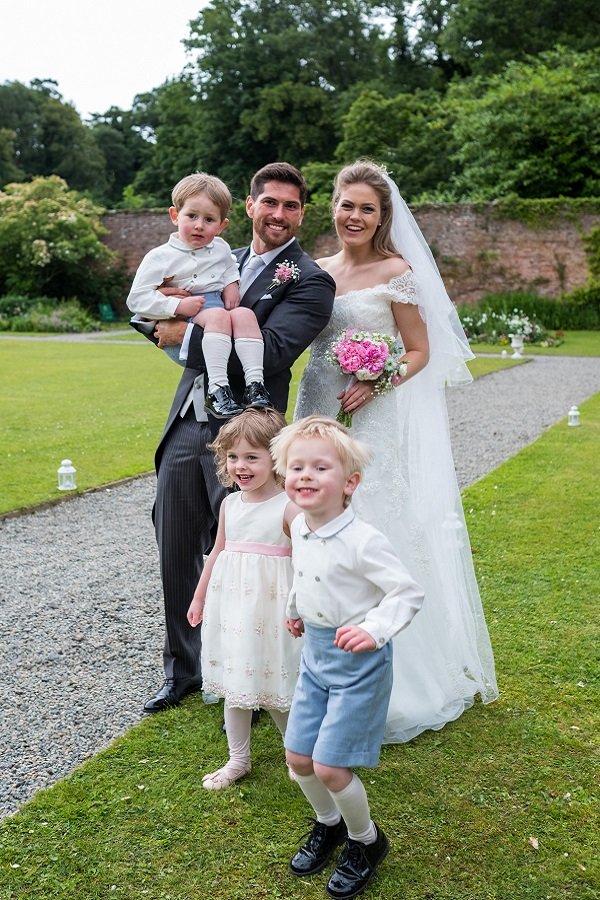 Both Ian and Cordelia come from large tight-knit families so they chose to make their wedding as family focused as possible. 'Ian's brother and brother-in-law both sang during the signing of the register and we chose other family members to make readings and say prayers.' The couple also tried to incorporate many handmade touches into the big day as well. 'The summer before the wedding we collected huge quantities of raspberries from the garden that we then pureed and froze. On the day the puree was added to prosecco with homemade elderflower that I had made a few weeks before the wedding.'
Photography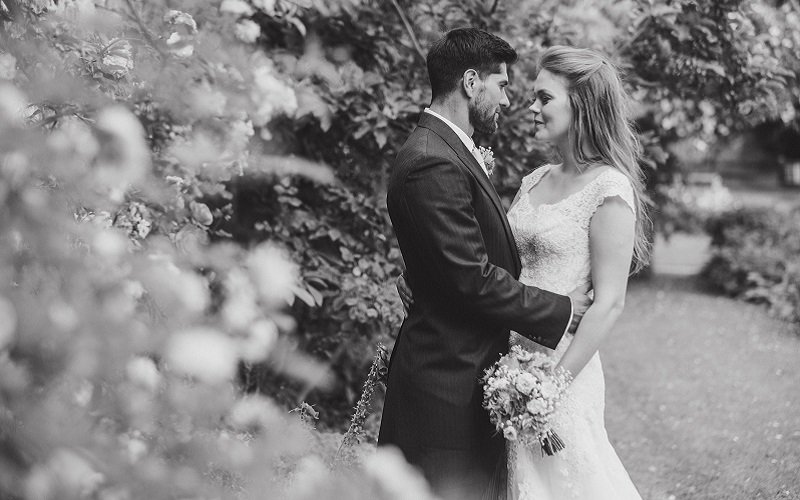 'We chose award-winning  photographer Steven Hanna to capture our wedding as he'd previously photographed Ballyscullion Park and I'd loved his relaxed, non-invasive style! Steven is very talented and has a lovely personality.'
Wedding Planner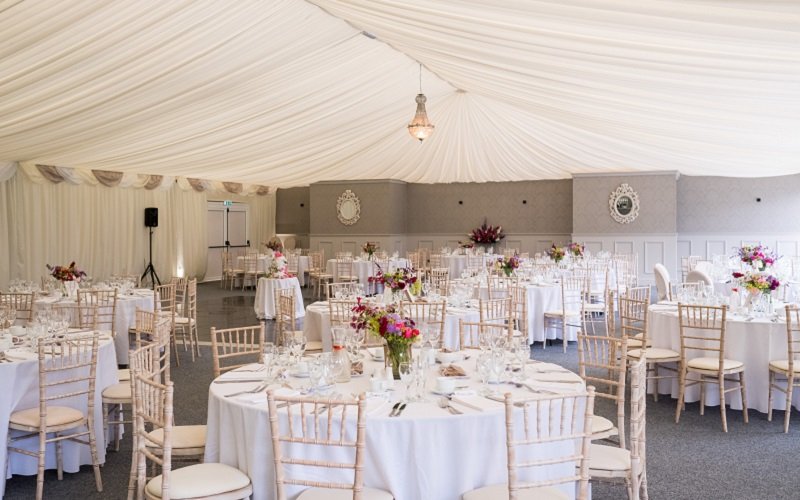 Cordelia was fortunate to have her lovely mum as her wedding planner. 'Mum helps plan all the weddings at Ballyscullion and she is exceptional at what she does! She was a big help in the lead up to the day with all the organisation and logistics of the event.'
Wedding Dress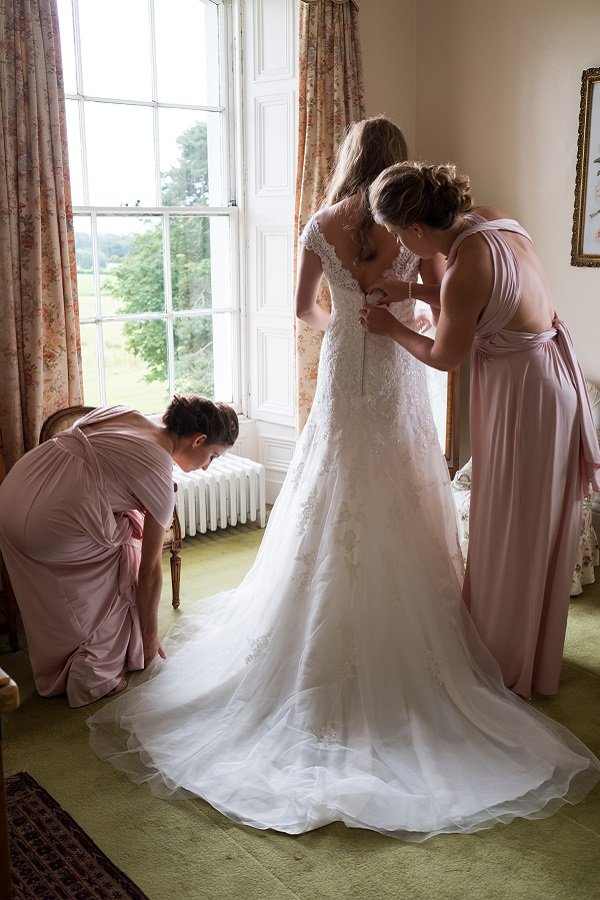 The bride looked sensational in a gown from Madeline Gardner. Cordelia says, 'I wasn't intending to buy anything the day I found my dress, I just happened to be walking by a bridal shop in Belfast with my mum and we popped in for a look. It was exactly what I had in mind – quite simple with a low cut back, fitted waist and finished with a train.' Cordelia completed her look with her mother's veil and a headpiece made by her sister continuing the family theme.
Groomswear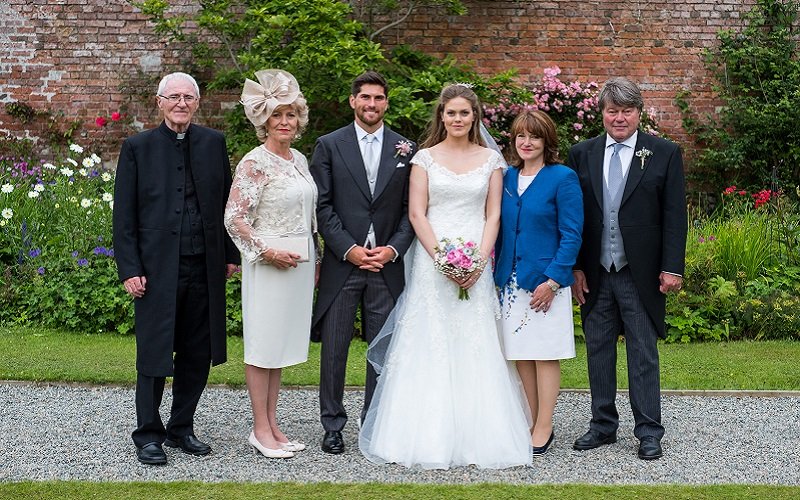 Ian wore handmade tails from Treviso in Italy where the couple currently live.
Bridesmaids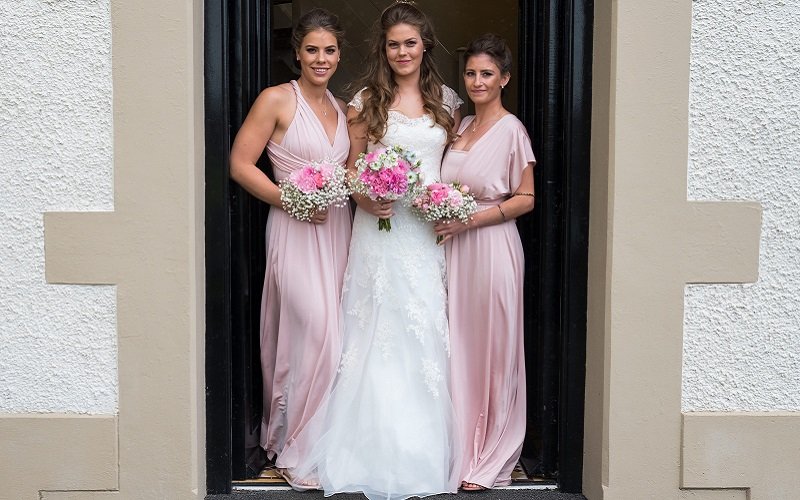 The bridesmaids wore mauve wrap dresses from Debenhams. 'They both have very different figures,' says Cordelia. 'The muli-way design allowed them to style the dress in a way that would make them feel the most comfortable on the day.'
Flowers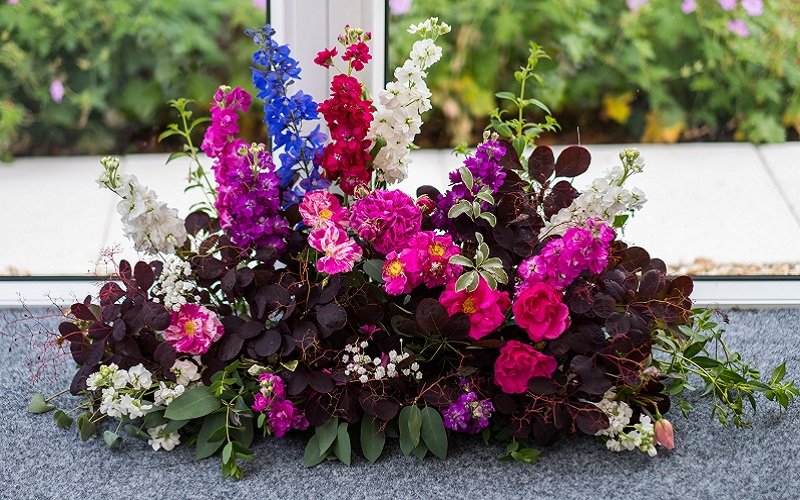 'The church flowers and large displays were created by a family friend, owner of Florestina,' says Cordelia. 'I wanted quite colourful and eye-catching flowers to brighten up the church and marquee, so we used a mixture of cut flowers such as stocks, delphiniums and roses.  Then my Godmother, her husband and my Uncle created the centrepieces from an assortment of flowers and foliage from our garden and other family members' gardens.'
Stationery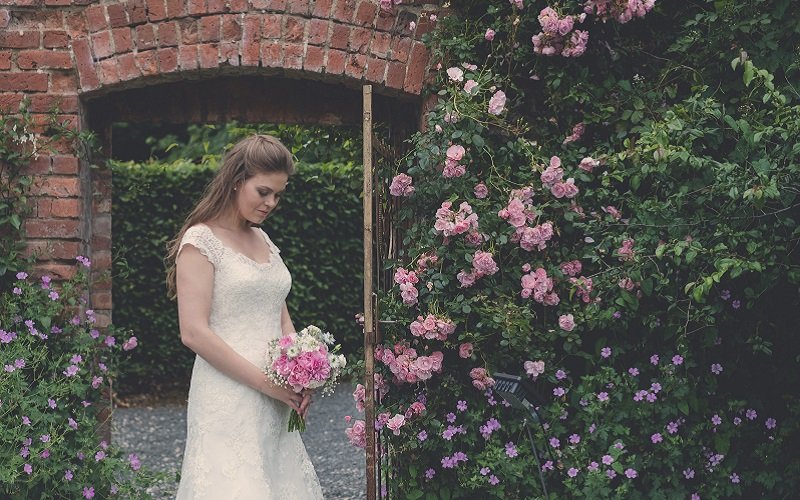 The stationery was by Gee Brothers, London which the couple chose for their simple yet elegant design.
Wedding Cake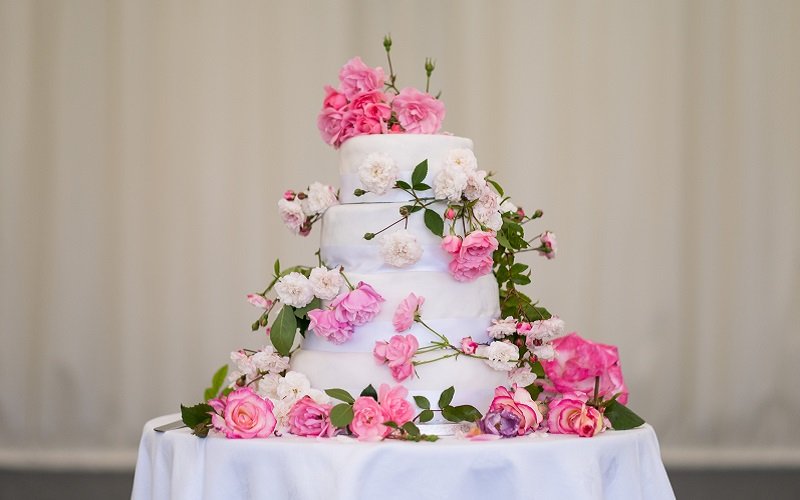 Ian and Cordelia's fabulous four-tiered cake was made up of carrot, lemon drizzle, chocolate and fruit cake. 'My mother and aunt are fantastic bakers and they each made two tiers! The cake was decorated with roses from the garden.'
Favourite Moment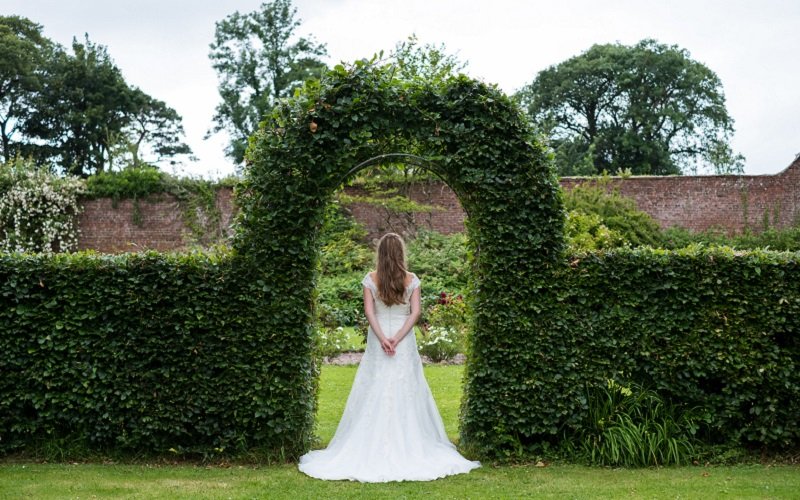 Groom: 'When she walked into the church it was very emotional as I realised that I was exactly where I wanted to be.'
Bride: 'Walking into the church and seeing the way he was looking at me.  I will never forget that moment.'
Top Tip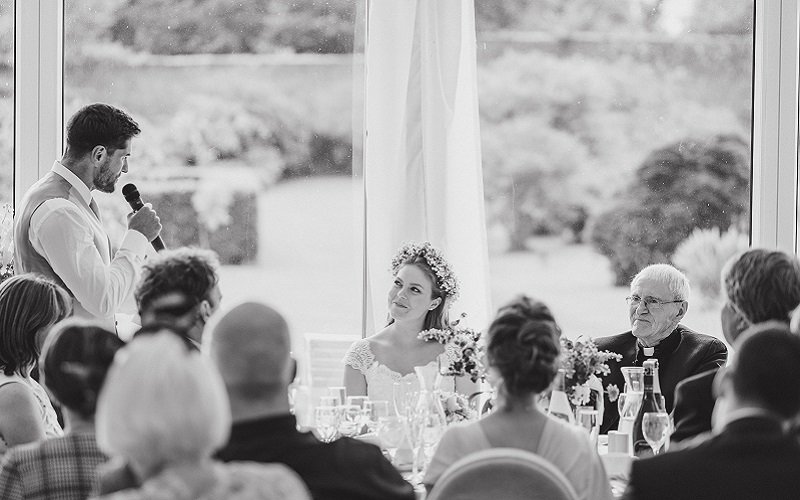 Groom:  'The morning of the big day, get together with your groomsmen and best man and have a shot of whiskey together to toast the moment.'
Bride:  'During the day, make sure to take 10 minutes alone with your husband to reflect on everything and to share the excitement of the day.'
Finding the right venue is one of the biggest decisions you'll make for your wedding. But don't worry! The brand-new Wedding Journal Directory of full of the very best Wedding Venues in Co. Dublin.
A Relaxed And Elegant City Wedding
Sabrina & Jim's Wedding in Deanes at Queens
Sabrina Jamet & Jim Harper married on 25/03/2017 at St John Baptist, Helens Bay, followed by a reception at Deanes at Queens, Belfast
Photography by Mark Lee Photography
The Couple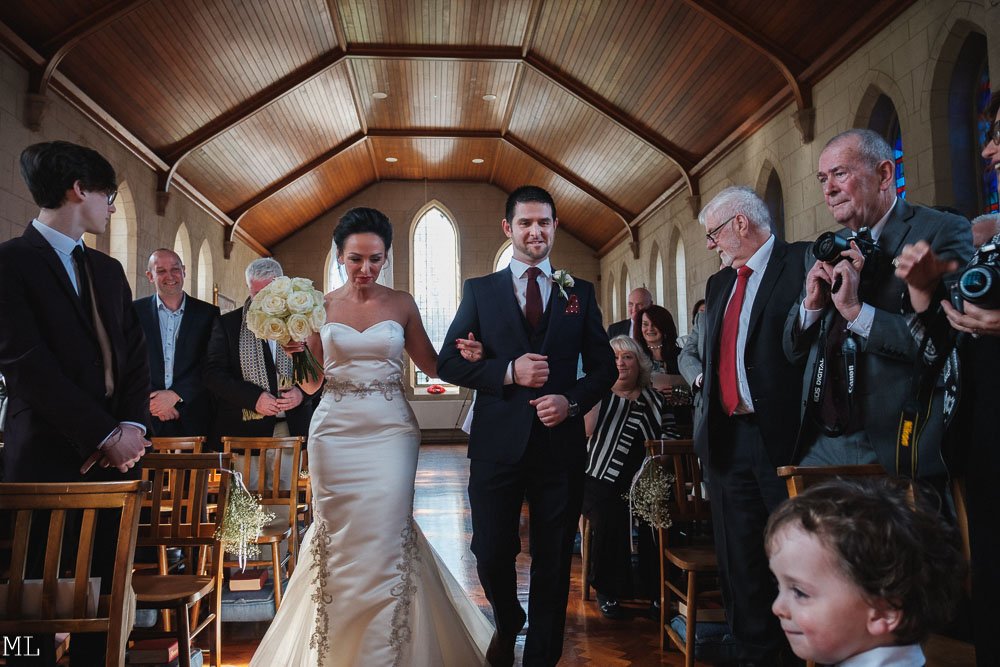 For years Sabrina and Jim had mixed in the same circles but had never actually met. Finally the couple were introduced by mutual friends on Jim's birthday and bumped into each other by chance a week later. They exchanged details, went on their first date and the rest is history.
The Proposal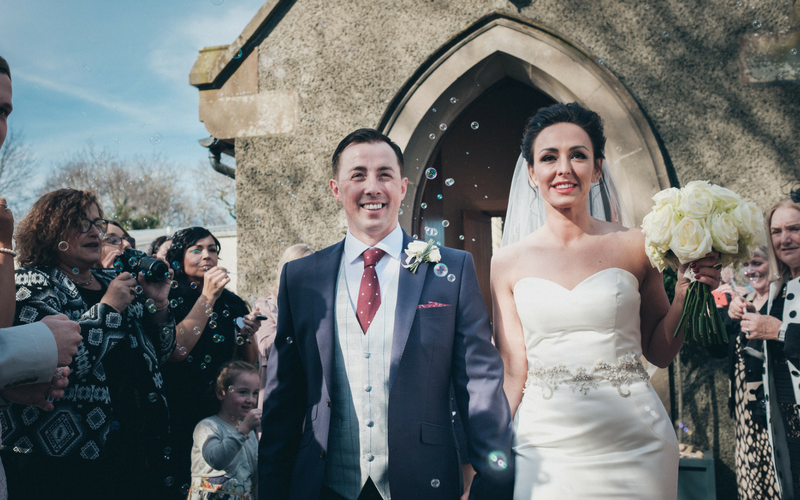 Jim popped the question while on holiday in Sotogrande. He planned a romantic dinner and afterwards took Sabrina for a drink along the marina and proposed. Sabrina, who wasn't expecting a proposal, was speechless but eventually found the words to say yes!
The Venue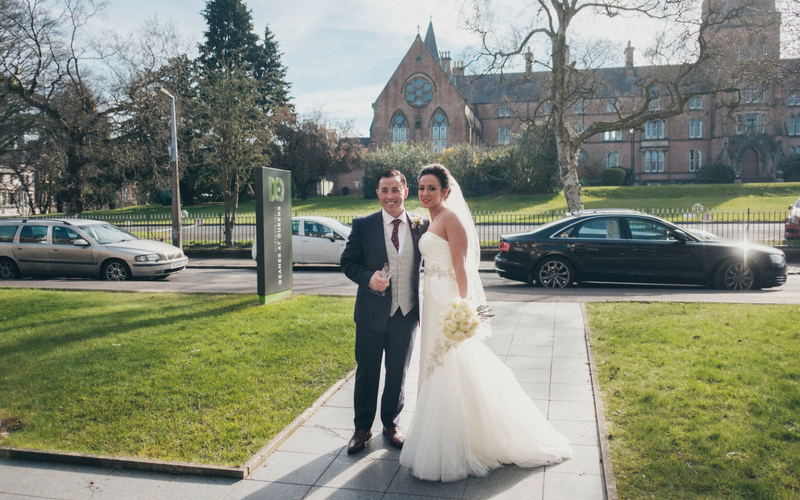 From the beginning the couple knew they wanted their wedding reception venue to be Deanes at Queens. 'The food at our wedding was very important to us, which is why we wanted to bring everyone to one of our favourite restaurants' remarks Sabrina. 'It is a beautiful, bright event space and has a relaxed lounge feel which is exactly what we wanted.'
The Photographer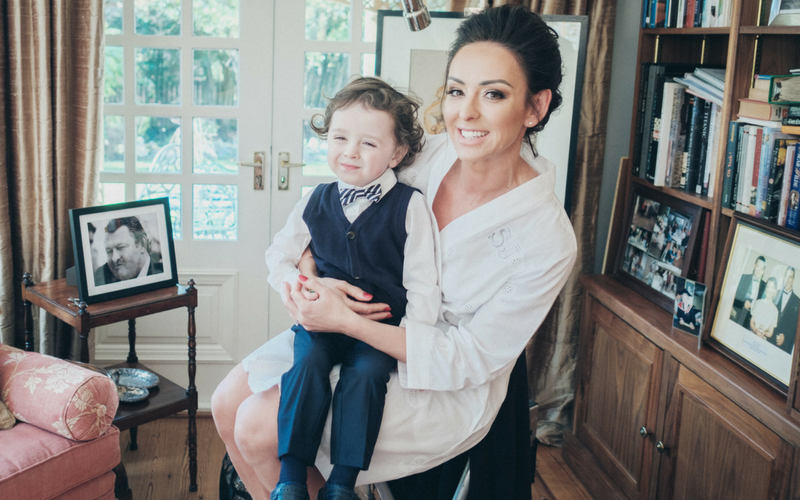 Choosing a wedding photographer was also an easy task for the couple as Jim's brother in law Mark is a very talented photographer. 'His work is very different to the traditional wedding photographer and he has a unique gift of being able to capture moments that tell beautiful stories.'
The Theme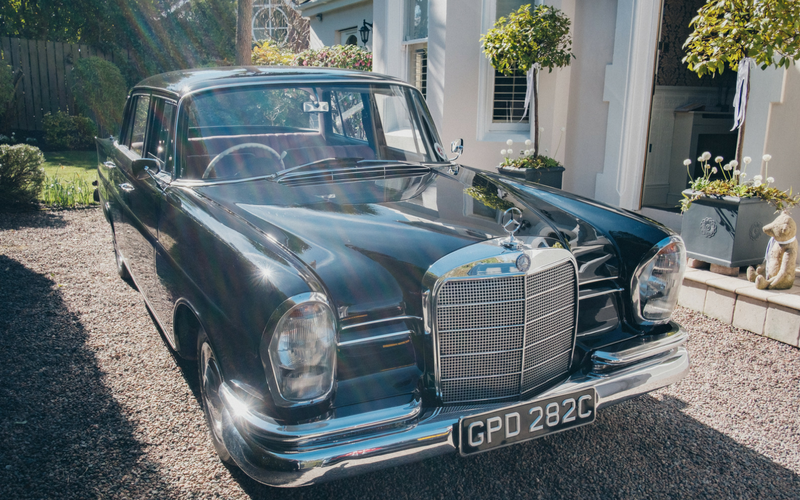 Sabrina and Jim didn't choose a theme and instead opted to keep their wedding day decor classic and understated creating a relaxed vibe for their guests to enjoy.
The Wedding Dress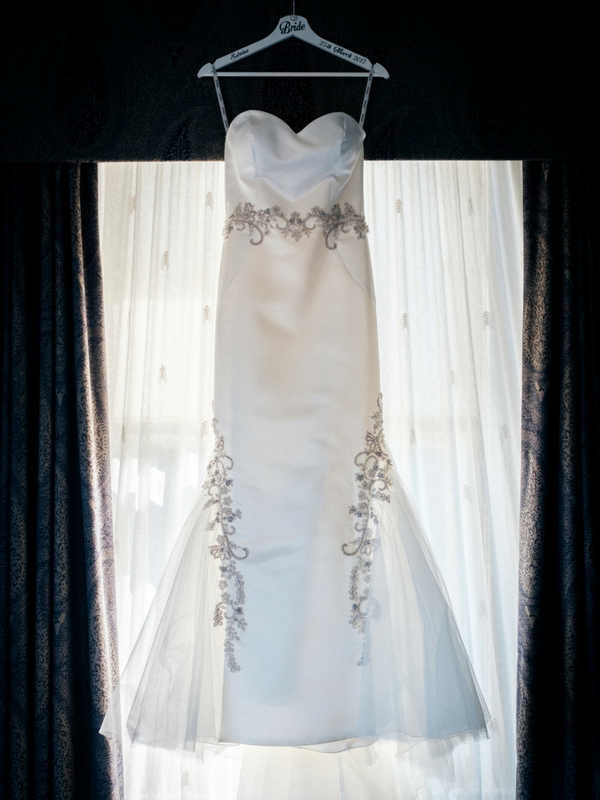 Sabrina looked sensational in a full-length satin mermaid gown from Enzoani. The wedding dress was embellished with intricate lace and silver beading detail and had a dramatic tulle skirt that cascaded into a train. The bride had originally pictured herself wearing a vintage or bohemian wedding dress, but after making an appointment at Eden Bridal Sabrina fell in love with a completely different vision. 'I have known Kim from Eden Bridal for almost 20 years and when calling to make an appointment she told me a dress had come in that she just knew was the one for me,' remembers Sabrina. 'When I saw the dress I wasn't convinced, but after trying it on there were no doubt in my mind that Kim had found me the one!'
Groomswear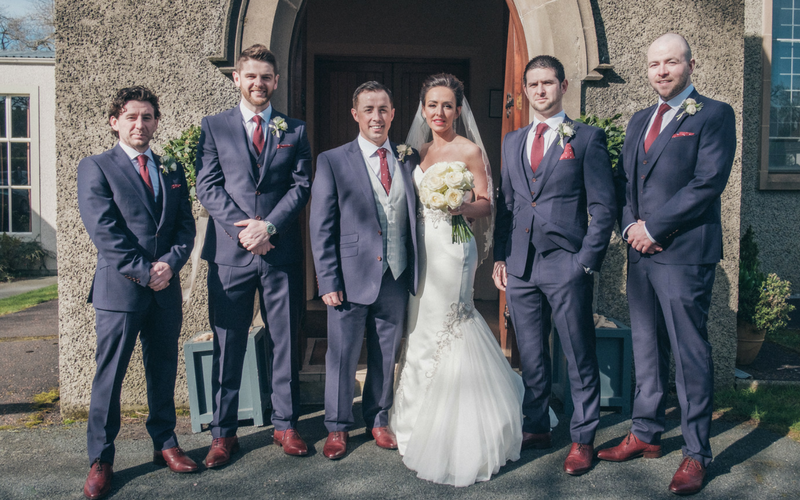 Jim wore a deep French navy Herbie Frogg suit, along with a waistcoat and accessories from Suitors, Belfast.
Bridesmaids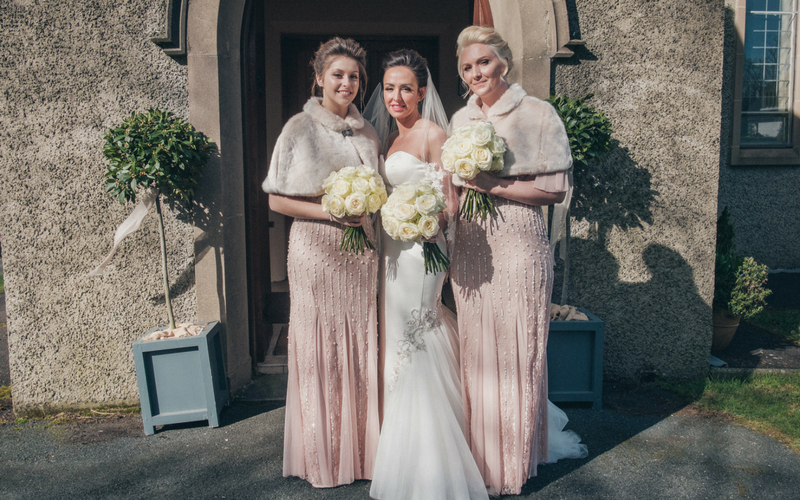 Sabrina's bridesmaids were visions of beauty in beaded gowns from Adrianna Papell. They accessorised their art deco bridesmaids' dresses with a cape secured by a delicate brooch to keep warm.
The Flowers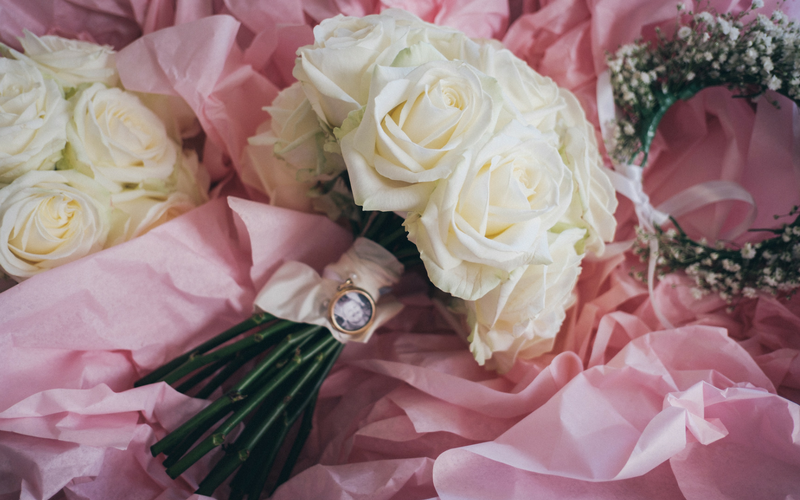 The couple chose white avalanche roses for their bouquets and buttonholes from The Flower Room Holywood. 'Again, when it came to picking a florist it was always going to be Kathryn,' says Sabrina. 'She creates exquisite arrangements and along with Gary styles everything beautifully. Kathryn and Gary went above and beyond; dressing the church, my mum's house where I left from, and the restaurant. Everything was so elegant, and we couldn't have wished for more.'
The Stationery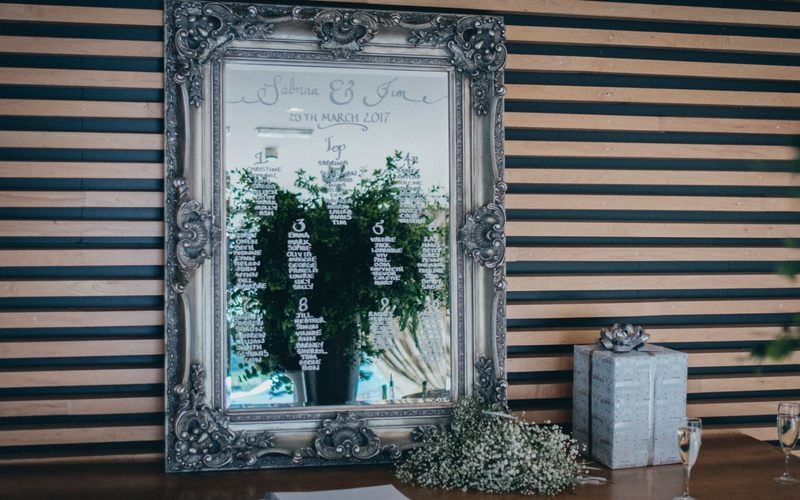 'Our stationery was from Inspired Hand. Elissa provided us with everything we needed from the invites to the order of service and even our table plan which was hand written on an enormous silver guilt mirror. We carried the same theme through our stationery and everything was designed in ivory with tiny pearl pebbles and a satin bow.'
The Cake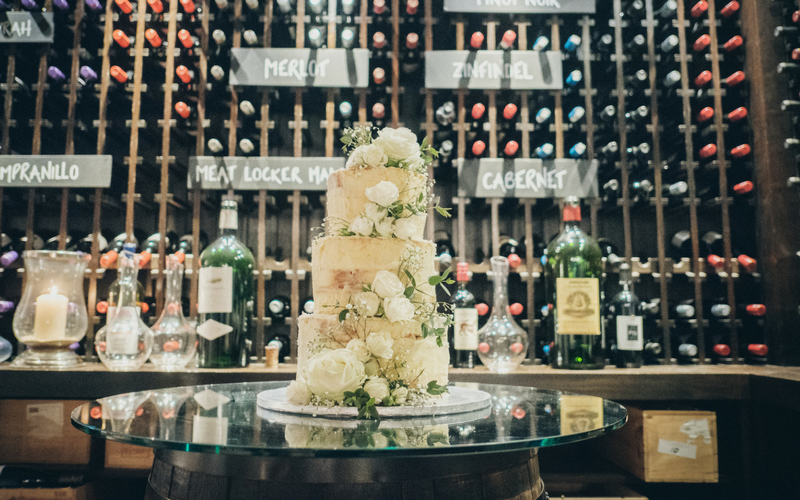 The cake was a three tier, vanilla sponge from Debbie's Delights, Belfast. It was lightly frosted to create a semi-naked effect and decorated with fresh flowers.
Favourite Moment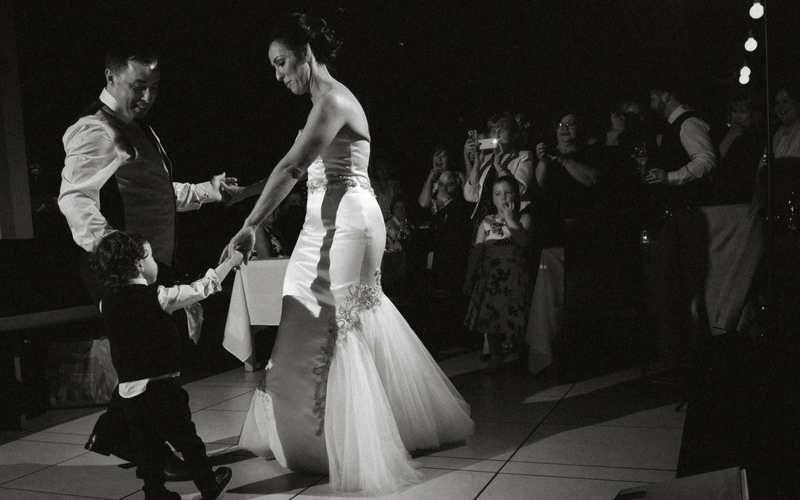 Jim's favourite moment from the big day was, 'the moment Sabrina became my wife. I will always remember putting the ring on her finger.' Similarly, among the highlights for Sabrina is, 'walking out of the church as husband and wife, and sharing the first dance with our son Sebastian.'
Top Tip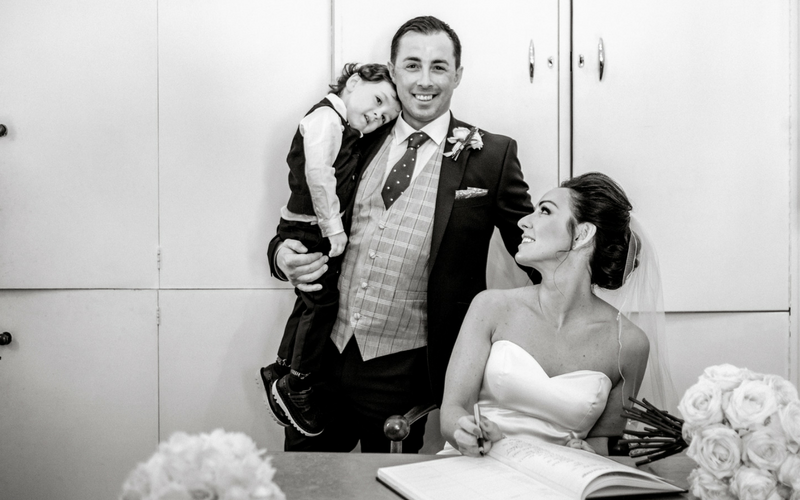 Jim's top tip to other couple's planning their wedding is to, 'Relax and savour every moment as the day is over in the blink of an eye.' Sabrina advises, 'Enjoy the day and don't panic. Everything will work out.'
A Personal Celebration With A Show-Stopping Dress
Roisin & Darren's wedding at Carrickdale Hotel & Spa
Darren & Roisin tied the knot 29th April 2017 at St Catherine's Dominican Chapel Newry followed by a reception at Carrickdale Hotel & Spa, Co.Louth
Photography by Lifting the Veil
The Couple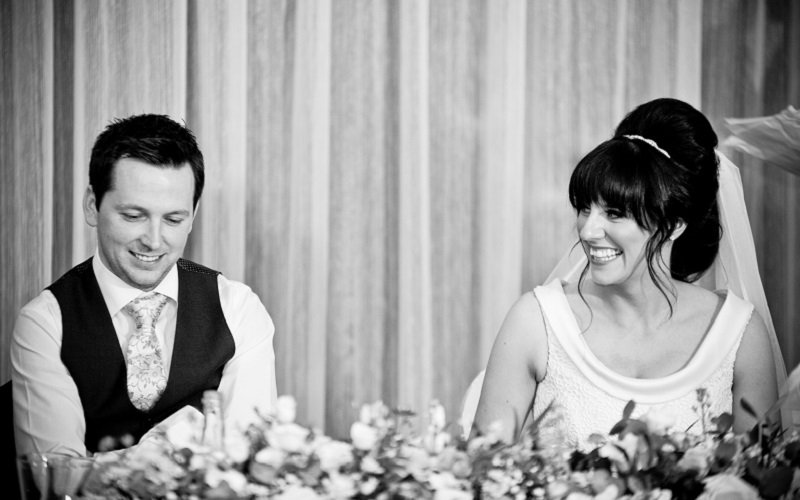 Darren and Roisin met when they were just 17 and 18. Roisin says, 'We met in a nightclub in Newry through a friend of mine who worked with Darren (one of my bridesmaids, Niamh). We got talking, he took my number and that was the start of it!'
The Proposal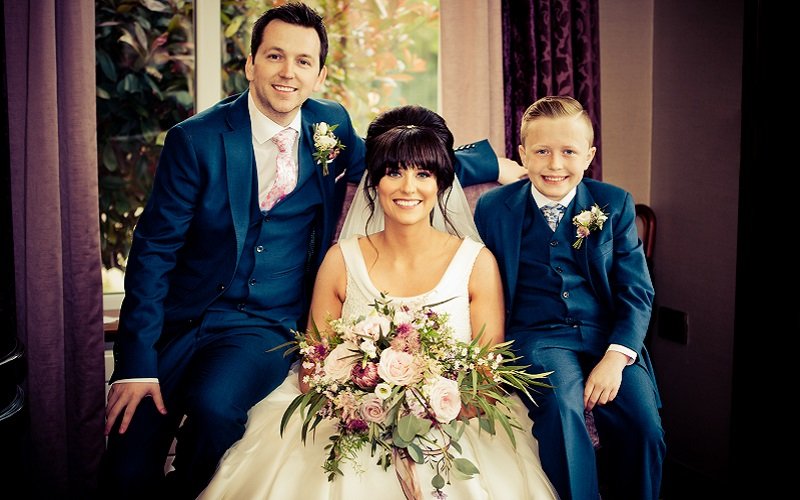 The proposal took place in September 2015 in Kilbroney Forest Park with Darren's son, Benjamin and their dog Buddy. 'This is something we do quite regularly so I thought nothing of it, Darren had brought had one of Benjamin's school bags with him which wasn't usual, but didn't ring any alarm bells as they said it had a football in it. I was wearing tracksuit bottoms and a hoodie – not the most glam of outfits to get engaged in! We stopped halfway up the mountain to take a break and while Benjamin was climbing a tree and the dog was running about, Darren went into the school bag and produced a ring. He got down on one knee and said some lovely things. I asked if he was serious and we just kept laughing and smiling until I finally found the words to say yes! I found out after the proposal, that all of our families had been in on the surprise and my sister Claire had even helped pick the ring!'
Venue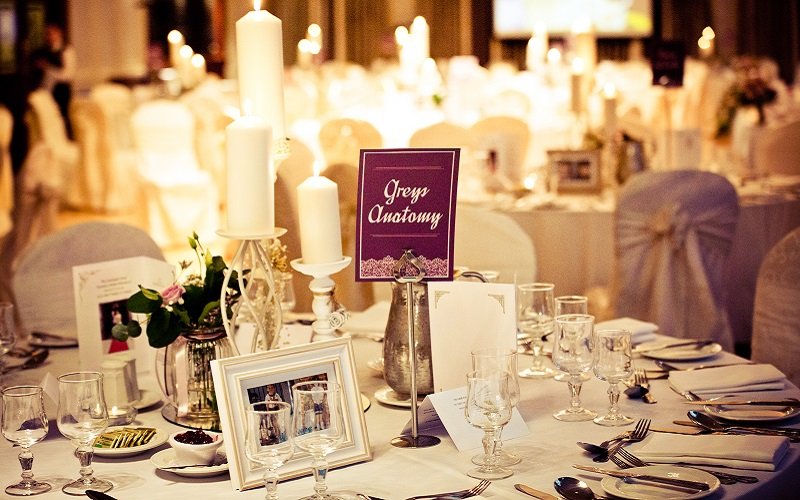 'We wanted a local venue as both of our families are from Newry and we didn't want them to have to travel very far. The food at the Carrickdale Hotel is amazing and the beautiful grounds were perfect for wedding photographs. We loved that the Bernish Suite, where we had our reception, was in a separate part of the hotel, so was extremely private, and due to a recent renovation it felt like a brand new hotel!'
 Theme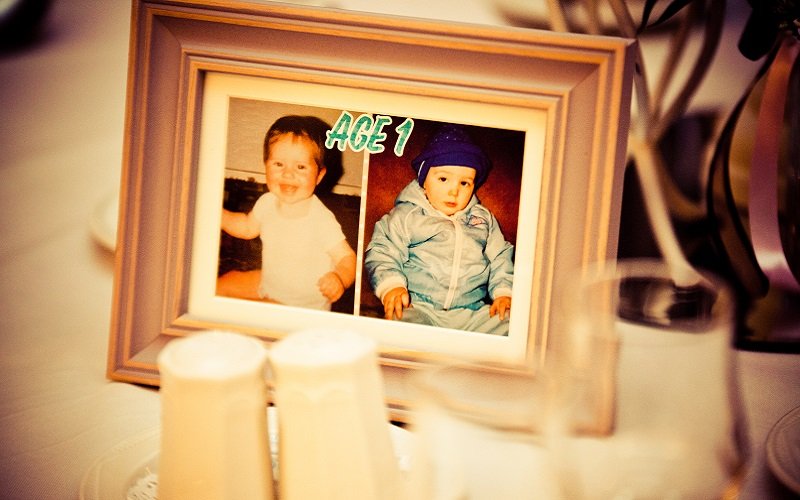 'We didn't really have a theme,' says Roisin. ' We just wanted the day to be as relaxed and fun as possible, filled with personal touches. I love sweet things so we had mini tray bakes (made by the very talented Alison Adams) for everyone on arrival.  All of our tables were named after our favourite TV shows, and on each table we had a photo of Darren and myself through the years.  Our family and friends are very important to us, so just to embarrass them all, during our dinner we had a big screen pulled down showing old photos of our guests from years ago, it definitely went down well with everyone! There was a kids entertainer during the speeches to let the parents relax after dinner and then during the band's interval we had a group of drummers called the Hit Machine performing a routine for everyone.'
Photography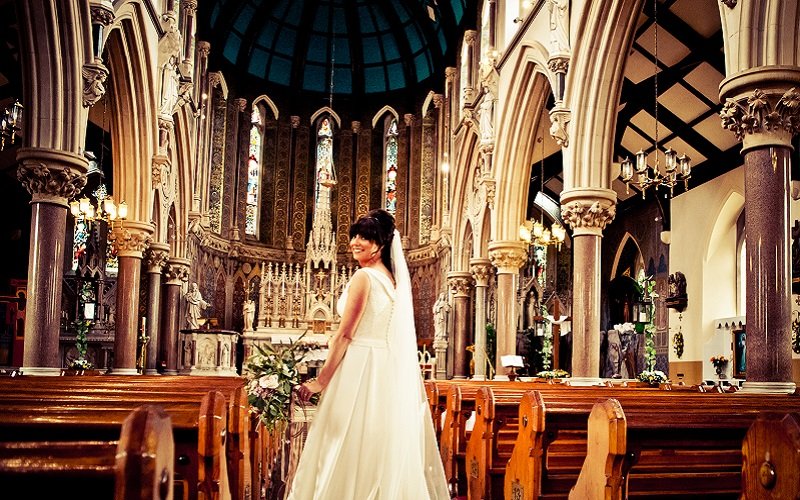 The couple chose Lifting the Veil to capture their big day. 'We had seen Lifting the Veil at a friend's wedding and we even recommended them to another friend after our wedding,' says Roisin. 'I loved the candid snaps they took of all the guests throughout the day and as Darren and I are not very posy people, this style of photography suited us down to the ground.  We are delighted with our photographs, Lifting the Veil were perfect for us.'
Wedding Planner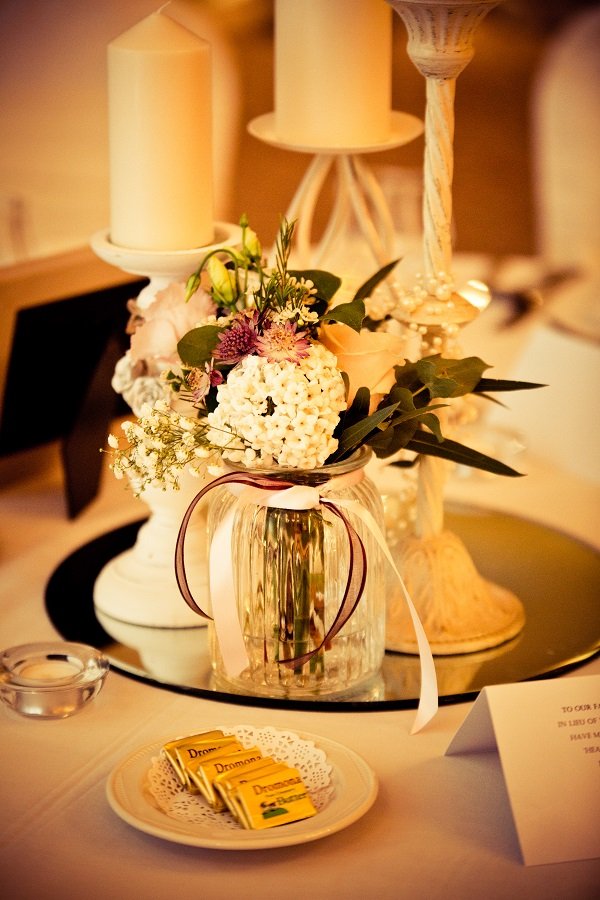 'The Bernish Suite is so beautiful it didn't need much decoration, but I contacted Martina Crilly who was recommended by the Carrickdale Hotel and she provided white linens, candles and large glass votives for the flowers.'
Wedding Dress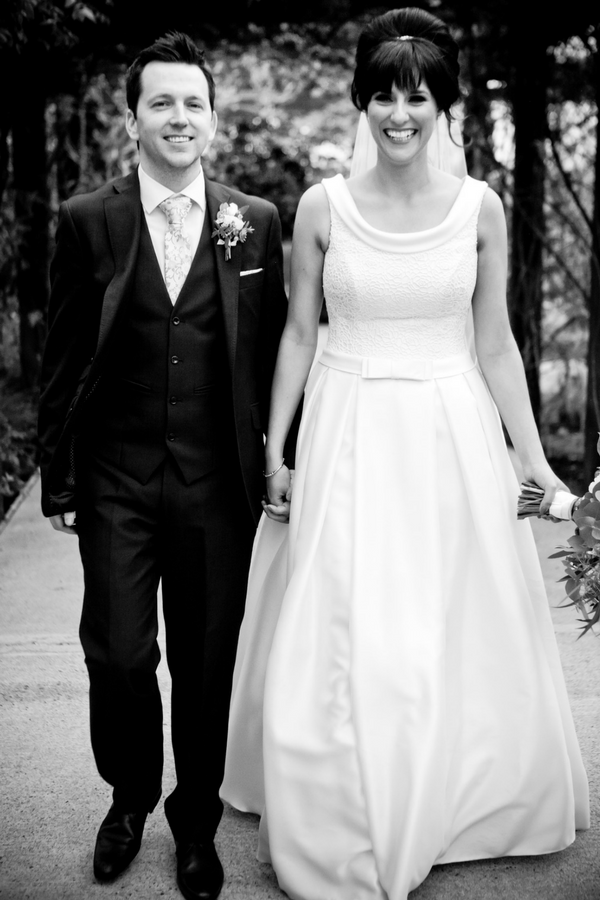 Roisin looked every bit the beautiful bride in a wedding dress from Ophelia Bride in Drogheda. 'I saw the dress on a mannequin as soon as I walked in and I knew straight away it was the one. I fell in love with the subtle broderie anglaise pattern, round neckline, and simple pleated skirt. The best part was that it had pockets! I know it's clichéd but I felt like a princess in it.'
Groomswear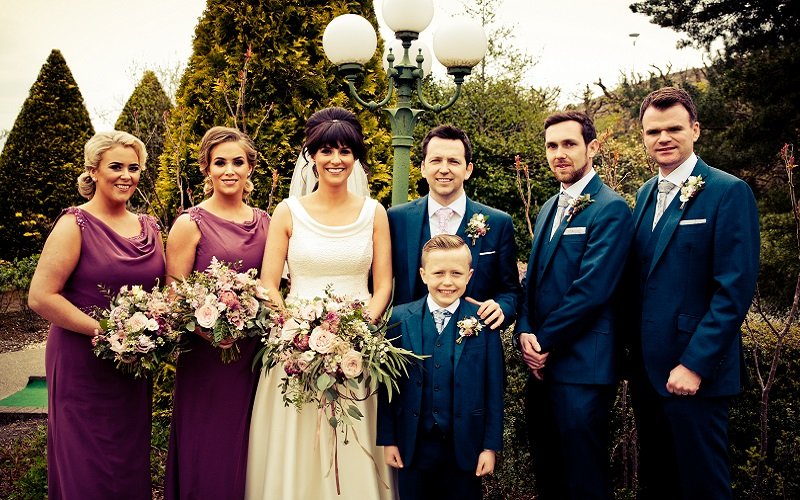 Darren hired his three-piece, navy suit from McCartan Bros in Newry. 'Again it was quite simple but he broke up the navy with a pink, paisley tie and I thought he looked very handsome all kitted out!'
Bridesmaids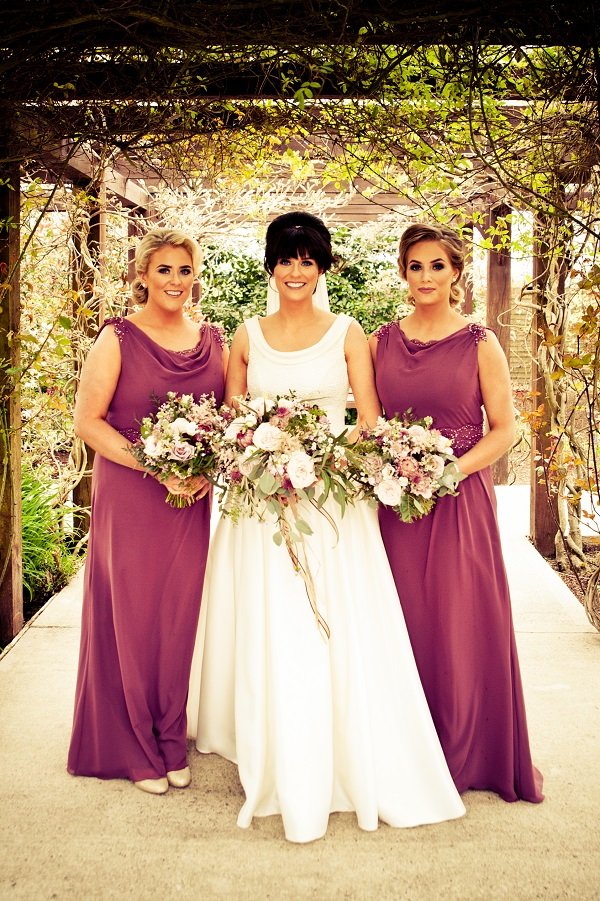 Roisin spotted the bridesmaids' gowns in Creative Ideas in Armagh. 'The dresses were full length in a shade of mauve. It wasn't a typical spring colour, but it suited them both perfectly. The girls looked gorgeous and I loved the subtle beading and v-shaped back.'
Wedding Flowers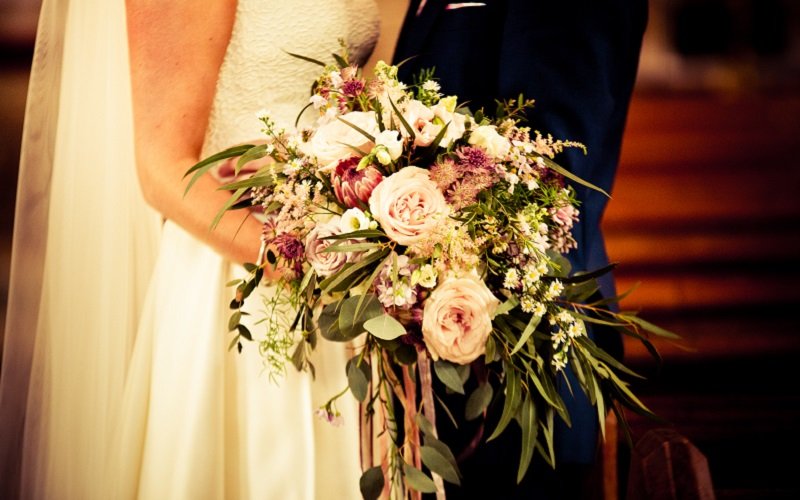 'Awh the flowers, the were just stunning!' says Roisin. 'The flowers were created by the insanely talented Kathryn Stafford from The Posy Barn.  My friend used Kathryn for her wedding and as soon as I saw them I knew I would be chasing her down too. I had my heart set on wild flowers with lots of greenery and ribbons on the bouquet. Kathryn completely understood what I wanted and they turned out even better than I had expected.'
Stationery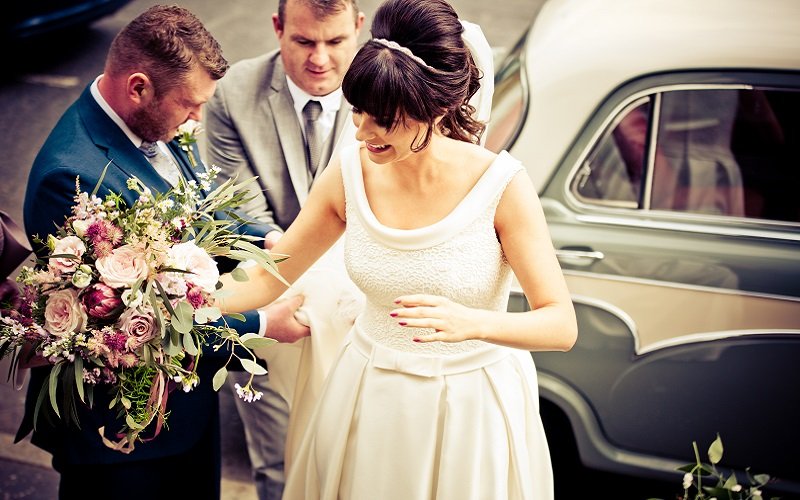 'One of my bridesmaids Niamh and her sister Louise very kindly offered to make our invitations for us as a wedding present.  The girls are very creative so I was very happy to leave most of it to them. They created purple invitations with an ivory topper that opened  up in the middle to two pockets inside. One pocket held the main invitation providing all the info  and the other pocket contained the RSVP.  They were something a little different and very elegant looking.'
Wedding Cake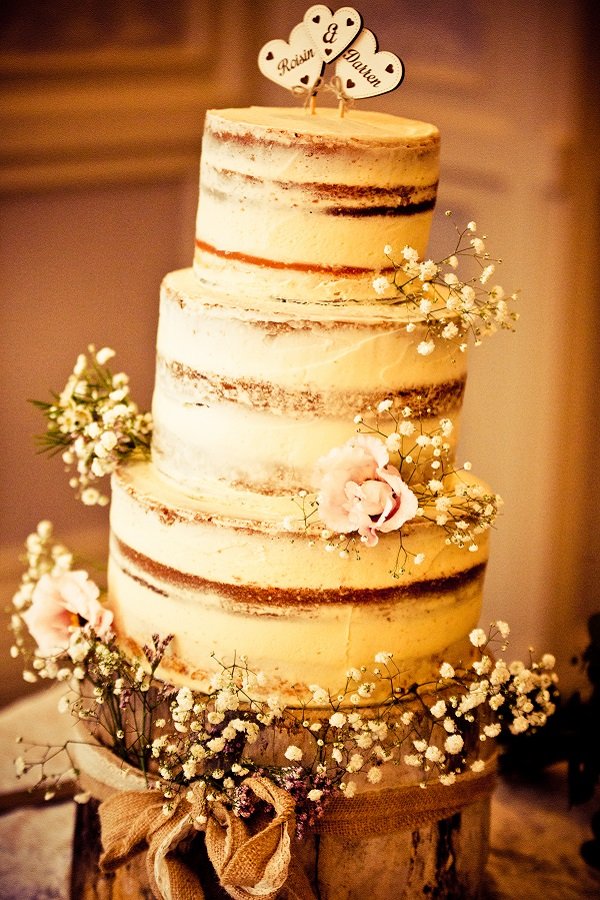 'Our wedding cake was made by a friend I work with, Alison Adams. She is so talented, I don't know why she's not baking cakes full time!  We chose a semi-naked cake with two layers of lemon drizzle with a white chocolate filling and then one layer of carrot cake.  We also had a chocolate and Guinness cake that wasn't a part of the cake display.  I wanted the chocolate cake for me but it was all eaten so quickly I didn't get a chance to have a piece of it -I think that says it all about how good the cake was.'
Favourite moment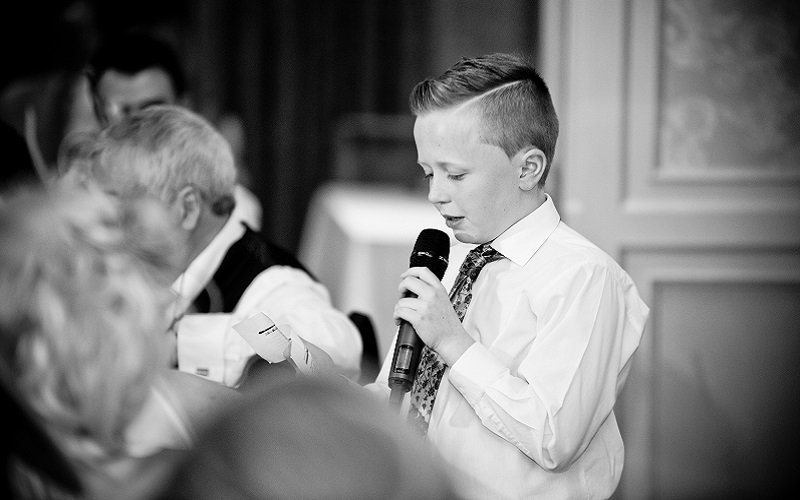 Groom: 'Roisin walking down the aisle to me.'
Bride: 'Walking out of the chapel after we had signed our papers.  It was official at that stage and everyone was clapping and cheering for us. Also, Benjamin made a small speech after our dinner which I had no idea about, it was a very special moment of the day!'
Top Tip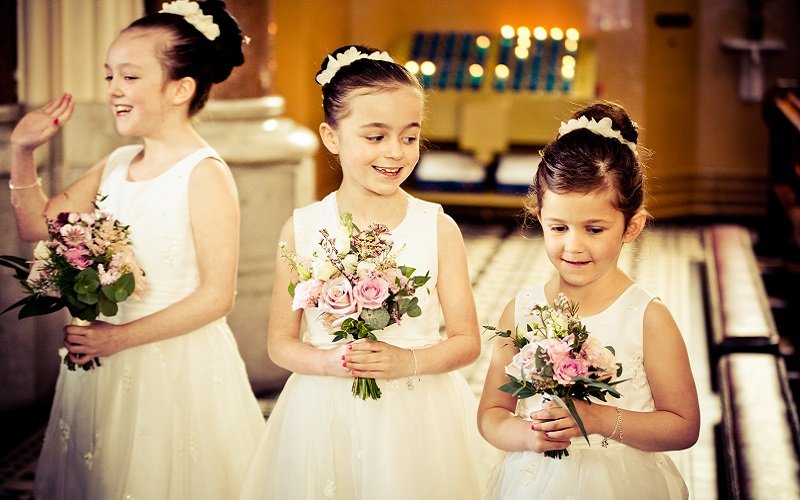 Groom: 'Try to relax and enjoy every aspect of the planning and the day itself.'
Bride: 'Don't over think or stress about the small things because no one will really notice them, as long as there is good food and drink everyone will be happy.'
If you're getting married and are looking for a gorgeous dress design, take a look at our brand-new directory. We only recommend the highest quality Wedding dress & Bridal Shops in Co. Carlow .
An Intimate Summer Soirée At The Culloden Estate & Spa
Blair & Laura's Wedding at Culloden Estate & Spa
Blair & Laura tied the knot 24th June 2017 at Shankill Parish Church, Lurgan followed by a reception at the Culloden Estate & Spa
Photography by Donal Doherty Photography
The Couple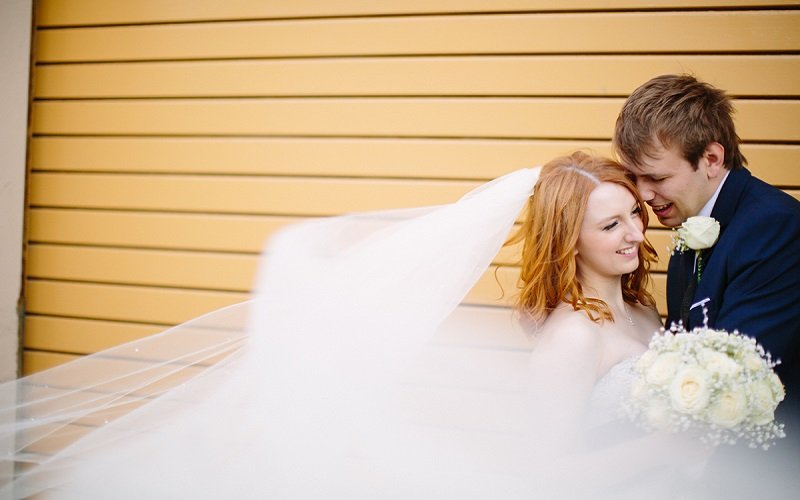 The couple met at Queens University Belfast. 'We were both staying at Stranmillis Halls at the time and kept bumping into each other. We were definitely friends first – just friends who liked holding hands. Neither of us wanted to throw around "I love you" unless we really meant it so  when we first said it, we had been together for five months.'
The Proposal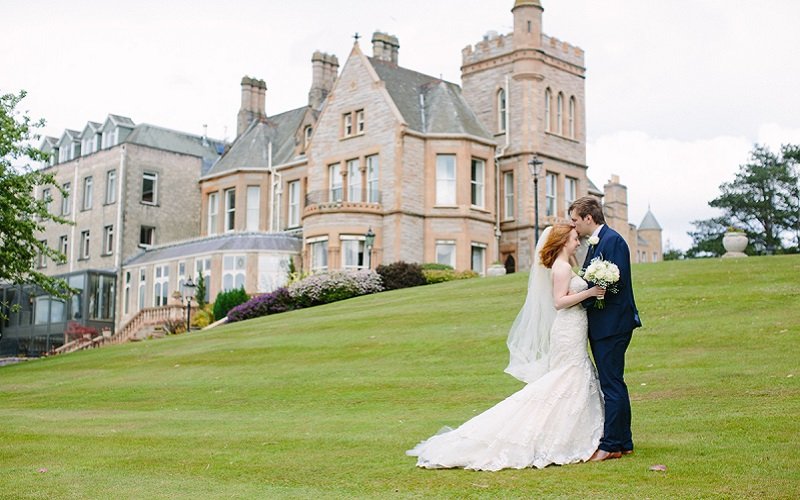 Blair planned a romantic treasure hunt for Laura. 'We went to where  we met, had our first kiss, our favourite date spots, and ended up at Castlerock overlooking the sea,' says Laura. 'It was a wet evening but it stayed dry long enough for him to pop the question. I don't really wear jewellery so Blair had the mammoth task of finding a ring that I would want to wear every day, and he did pretty well! It was a white gold diamond cluster, like I'd hinted at!'
Planning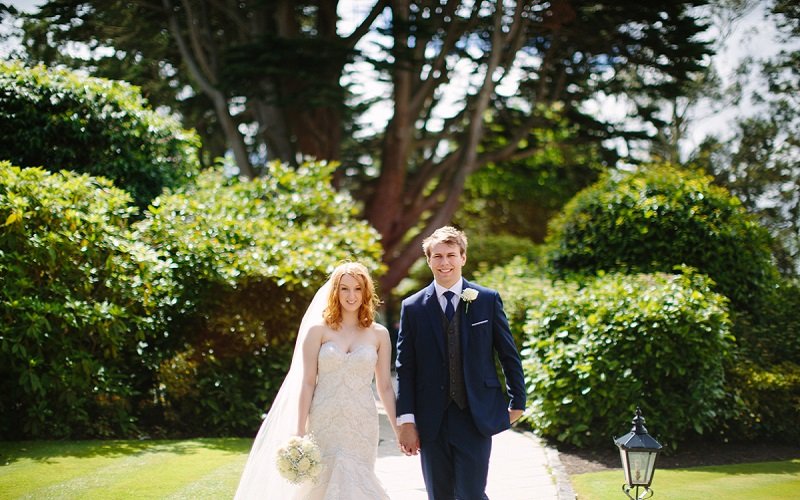 Laura's mum helped a lot with the planning. Laura says 'She had researched everything from flowers to cakes before I had even thought about it. We decided on the venue together and she kept me right the whole time.'
Theme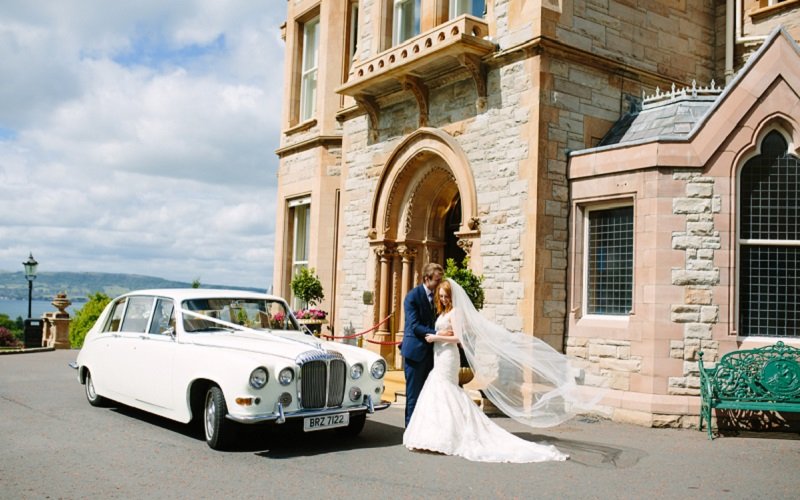 'When people asked about our theme, I joked that it was "marriage" but I think that's what we ended up with. It was never really about the theme or decorations or anything, because we always knew it was about our families, and if they were happy, so were we.'
Wedding Dress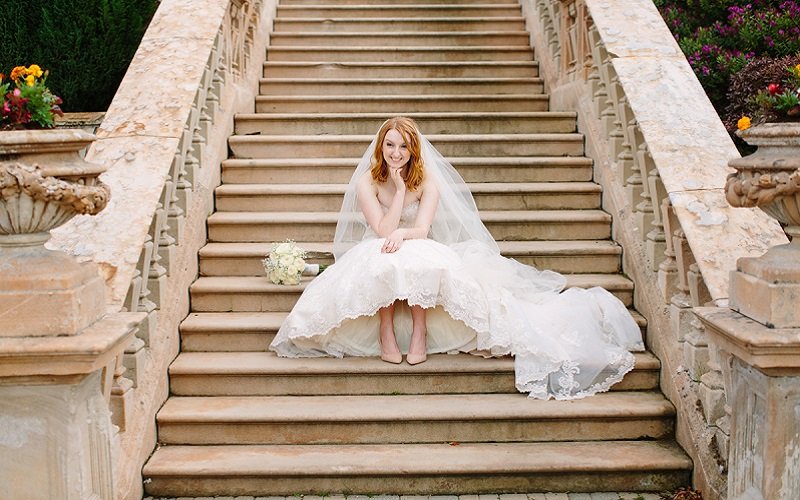 Laura struggled finding her dream dress and ended up a long way from home in Balybofey, Donegal. 'It was the fifth shop we had been to and I had lost count of the number of dresses I had tried on. It was the first one I really loved and my mum and aunt thought it was beautiful too. They are very critical so we knew it was the right one!'
Groomswear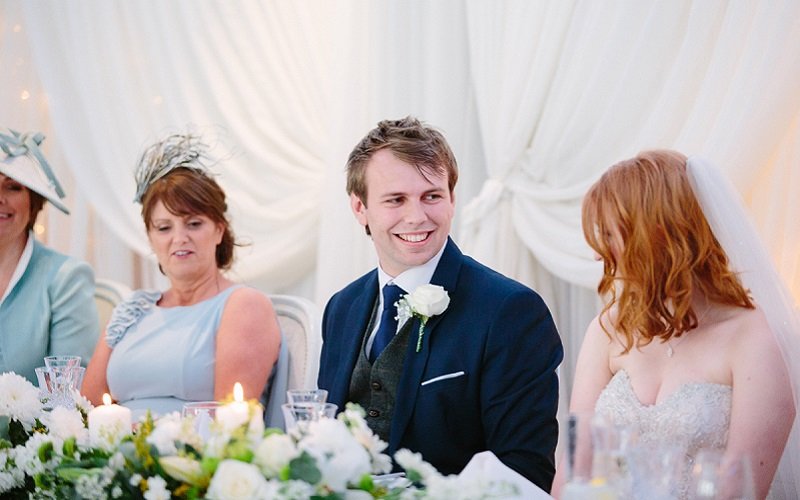 The couple think choosing the groomswear was the easiest part of the whole wedding planning process! Laura says, 'Blair went into McQuillins in Portadown one afternoon and asked for a navy suit. He tried on a couple of ties, a couple of waistcoats and that was it – he had his outfit!
Bridesmaids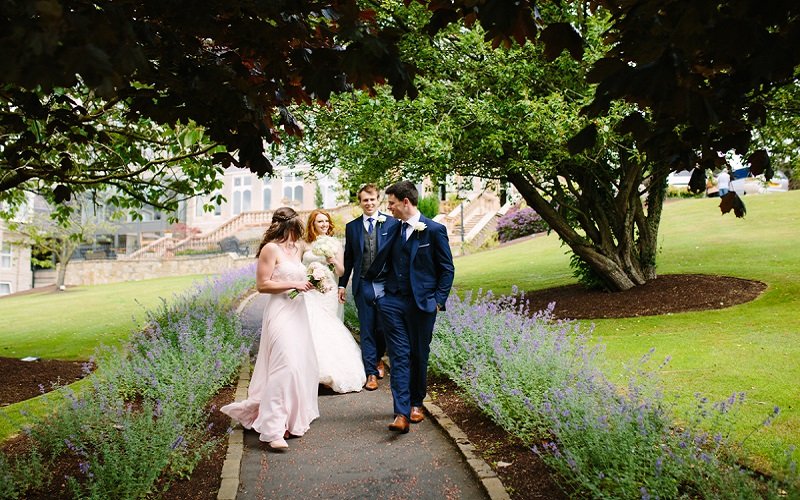 'I only had one bridesmaid which made it a lot easier,' says Laura. 'She wore a simple strapless blush dress from Divinity Bridal, Lisburn.'
Favourite Moment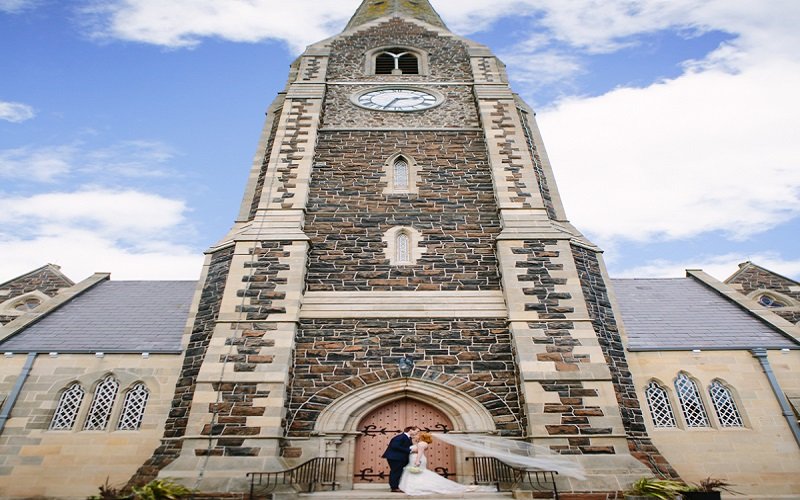 Bride: 'Either walking up the aisle, or when all of our duties were done in the evening! It was the first time I got to kick my shoes off, have a drink and just chat to people.'
Groom: 'Definitely when Laura first walked up the aisle.'
Top Tip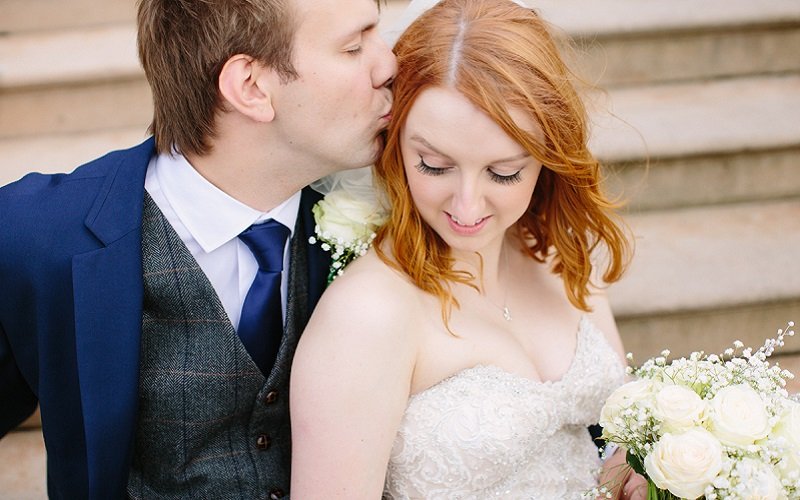 'Think of your guests first. Yes, it's your day and you want it a certain way, but like my mum said, there's no point in taking 150 guests somewhere that only has two bathrooms and hardly anywhere to sit. So, sacrifice aesthetic if you must because happy guests make a happy wedding.'
Honeymoon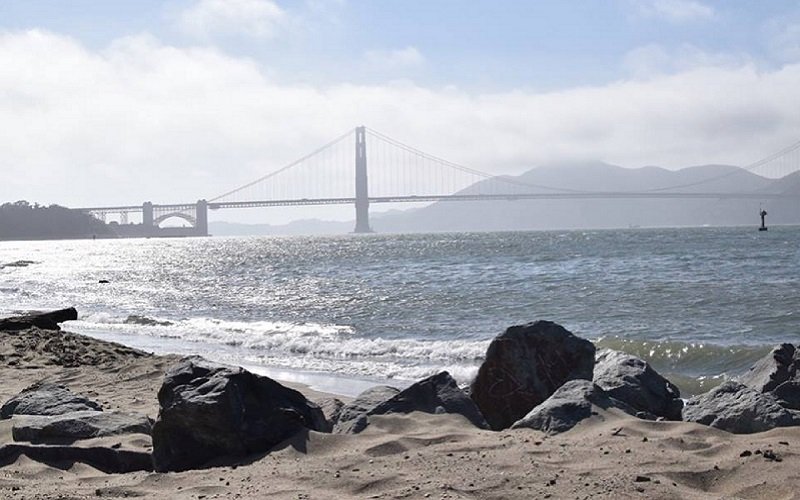 'We went to California and took a car from San Francisco down to the Grand Canyon. We had an absolute blast.'
Laura & Blair's Dream Team
A Castle Celebration With A Show Stopping Dress
Orla & Jay's Wedding at Clontarf Castle
Orla & Jay tied the knot 28th April 2017 at St Peters Church, Philsborough, Dublin followed by a reception at Clontarf Castle
Photography by Mark Donovan Photography
The Couple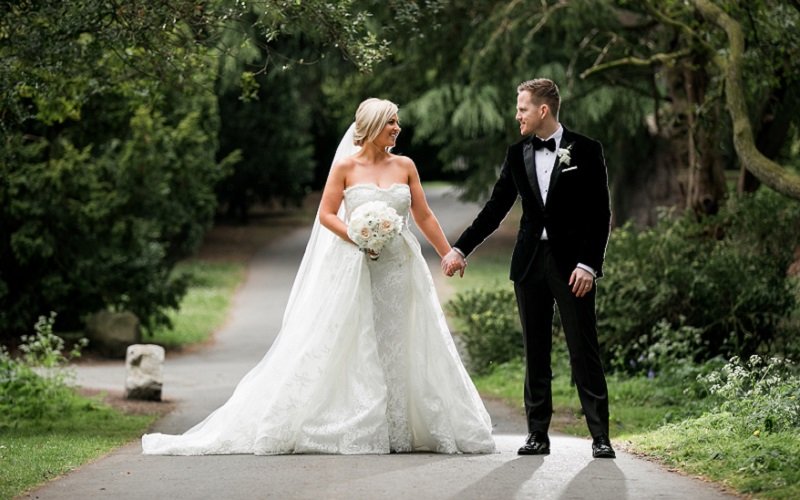 Orla and Jay met through mutual friends on a night out in Barcode, a club that used to be close to their chosen wedding venue!
The Proposal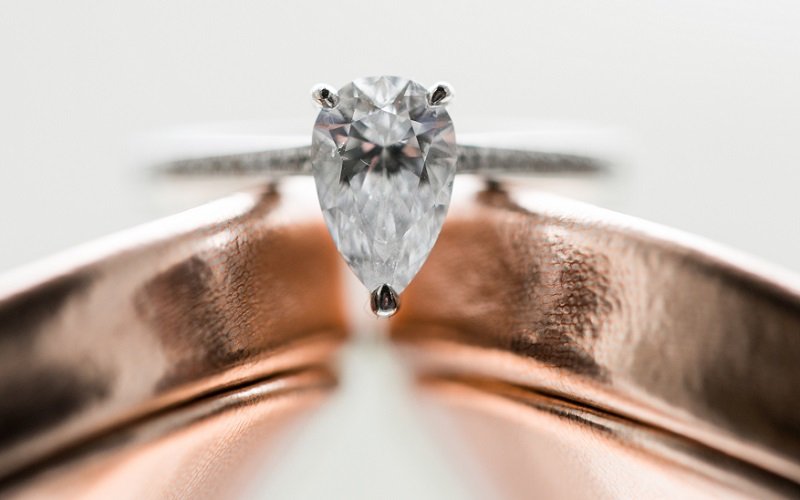 Orla & Jay planned a once in a lifetime trip to New York followed by a Caribbean Cruise. The couple were staying with Orla's cousin and unbeknownst to Orla, Jay had been in touch with him before their holiday to arrange the proposal. "We had been in New York for a few days and had planned to rent bikes and cycle around Central Park," remembers Orla, "Jay  cycled ahead to a hill overlooking the lake and when I caught up with him he was down on one knee! The ring was beautiful and I was in shock. He had some more surprises up his sleeve, and we rounded off the perfect day with a romantic meal in Quality Meats and a trip to the top of the Empire State Building that evening."
Venue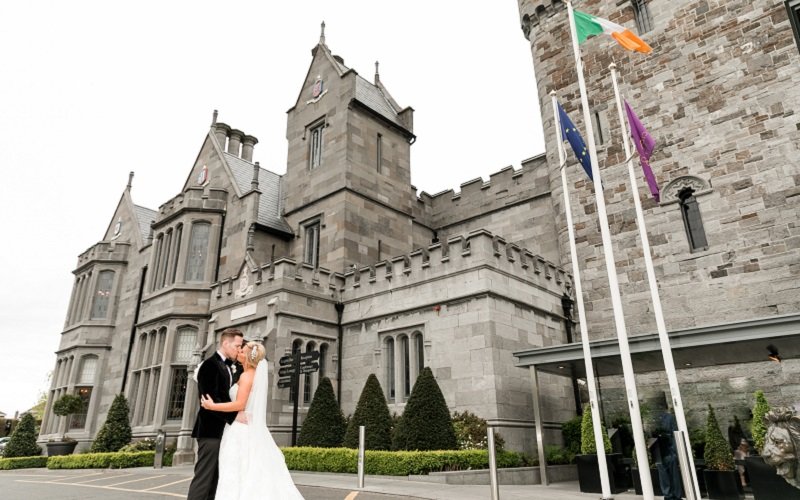 "We love Dublin and really wanted to stay in the city," says Orla, "We looked at a few venues but when we walked into Clontarf Castle it had everything we were looking for including character and a nice Great Hall that could comfortably house all of our guests.  We were also extremely happy with the service we received."
Theme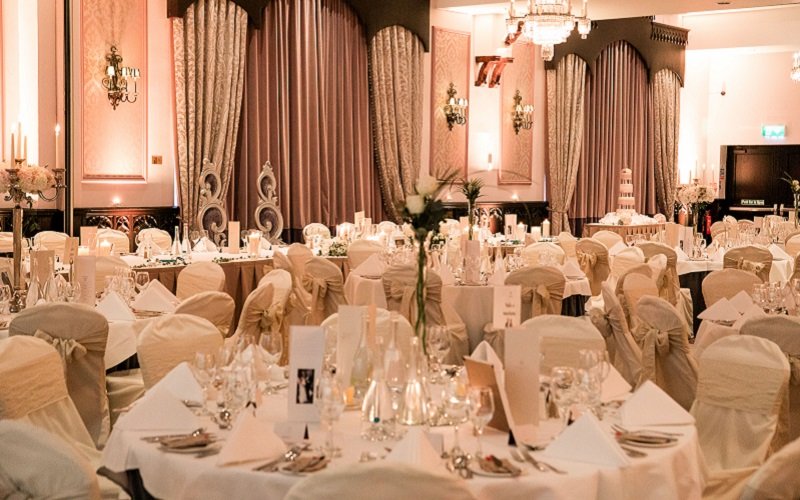 Overall the couple chose a relaxed and playful theme and incorporated neutral colours into their decor. "Our seating plan was a map of the world and we named our tables after different places we had traveled. We incorporated photographs of our travels and tried to seat people at tables were they may have had a connection with the destination."
Photography & Videography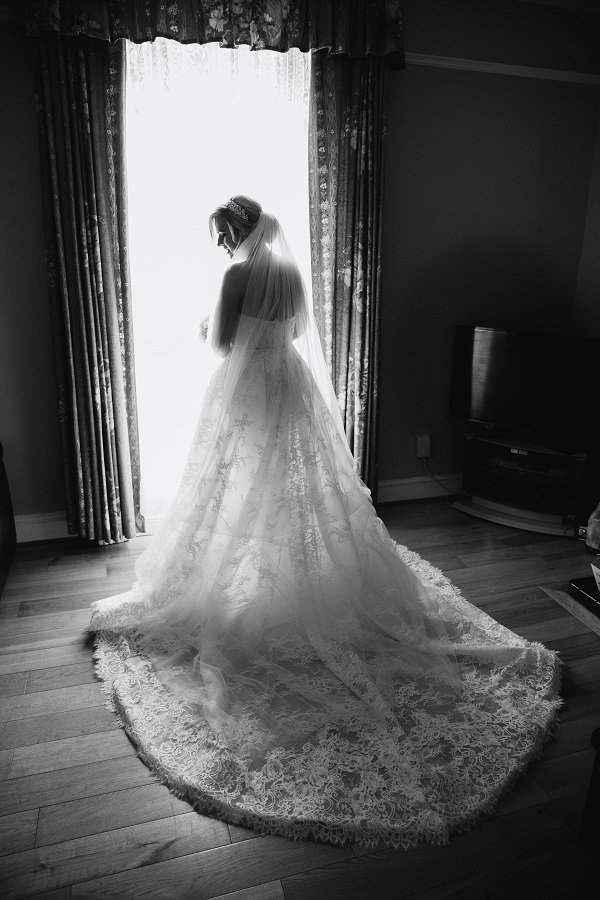 Orla & Jay chose Mark Donovan Photography to capture their big day. "We were so pleased with the natural feel of our photographs and love how Mark was able to capture us in the moment," says Orla, "We also had a videographer called Kevin Bennett from Mi Wedding Film. Again, he was barely visible and I love having a video to watch back with all the little moments and looks exchanged."
Wedding Planner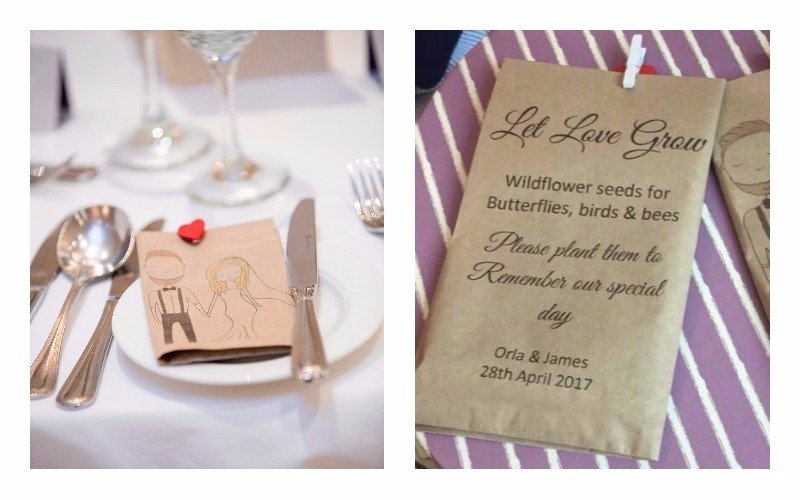 Orla and Jay planned the whole day by themselves using inspiration from online.
Wedding Dress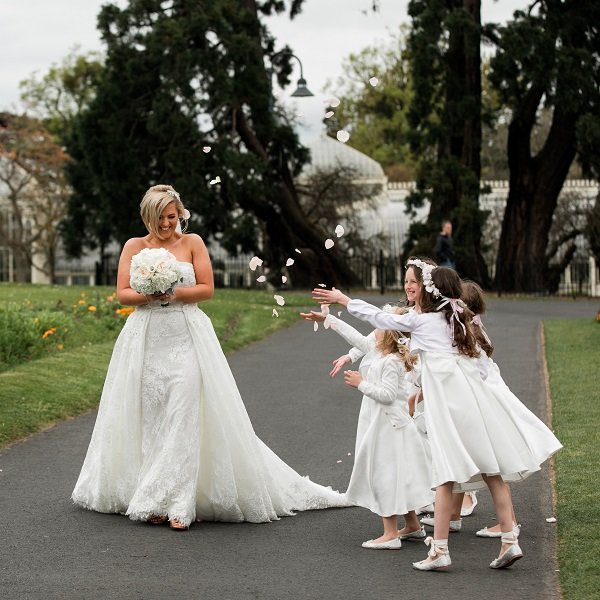 "I was inspired by Sophia Vegara's wedding dress and fell in love with the idea of having a fitted dress with a detachable skirt over the top. I couldn't find exactly what I was looking for, so I was delighted when I saw in Ireland's Wedding Journal that Pronovias Atelier 2017 had launched a new collection with similar designs. I called every supplier in Ireland, but nobody stocked the new collection so I booked a flight for my sister and I to visit The Wedding Club in Birmingham.
I tried on the Edith gown and instantly knew it was the one. I loved the soft lace detail and the fact the overskirt had a cathedral length train. The dress was light, easy to wear and I felt amazing! In the evening I removed the overskirt for dancing."
Groomswear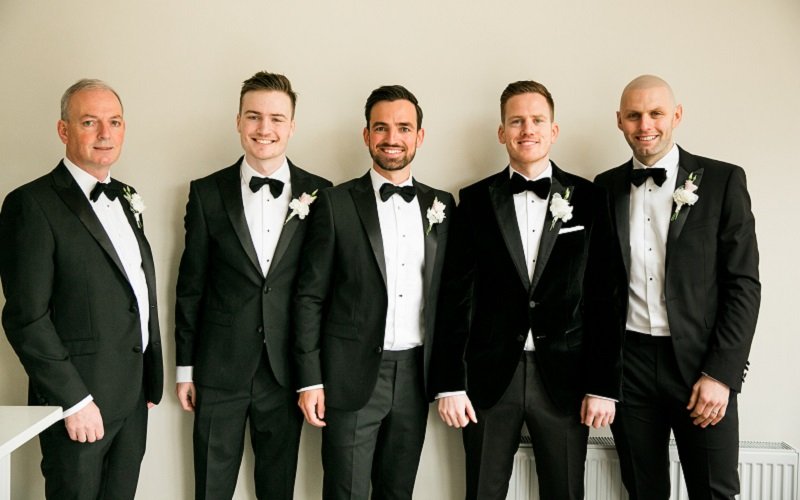 The groom looked dapper in a black tuxedo from Hugo Boss with a velvet jacket. "He really looked the part – his bow tie was from Savoy Taylors and his shoes from Dune," Orla says.
Bridesmaids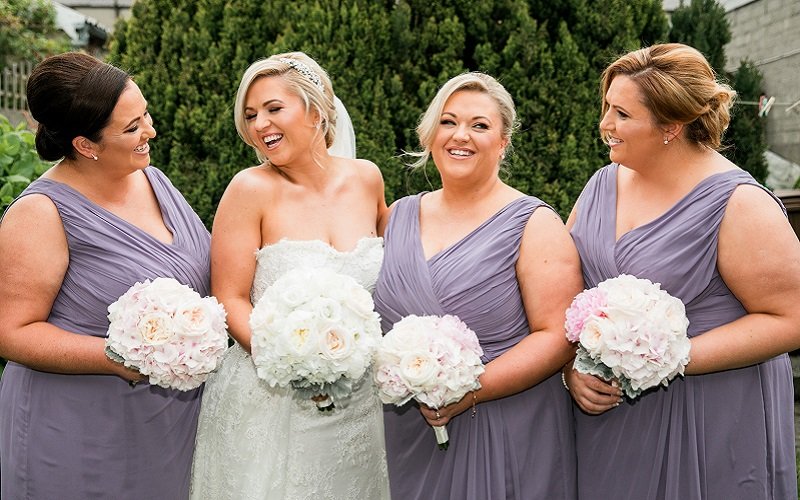 The bridesmaids' looked stunning in lavender Dessy gowns purchased from Trim in Abelle Bridal Shop. Orla says, "Josephine looked after us and even kept the shop open so we could have a fashion show including dressing me up as a 50's bride!"
Wedding Flowers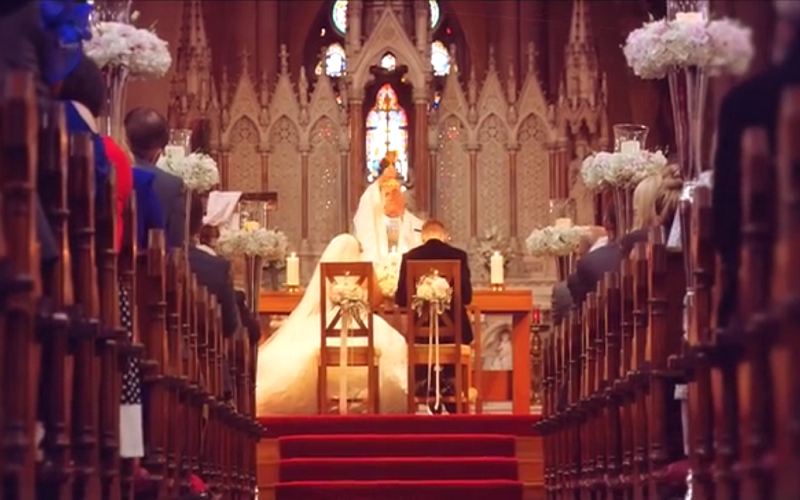 The flowers were from VP Flowers who were located locally to Orla's church. "Vita was amazing," says Orla, "I asked for candelabras and she sourced them especially! My flowers were beautiful and perfectly complimented the bridesmaids'. Vita made stunning flower crowns for the girls and added lots of personal touches to the decoration of the venue including the chairs and tall candelabra for the church."
Table Plan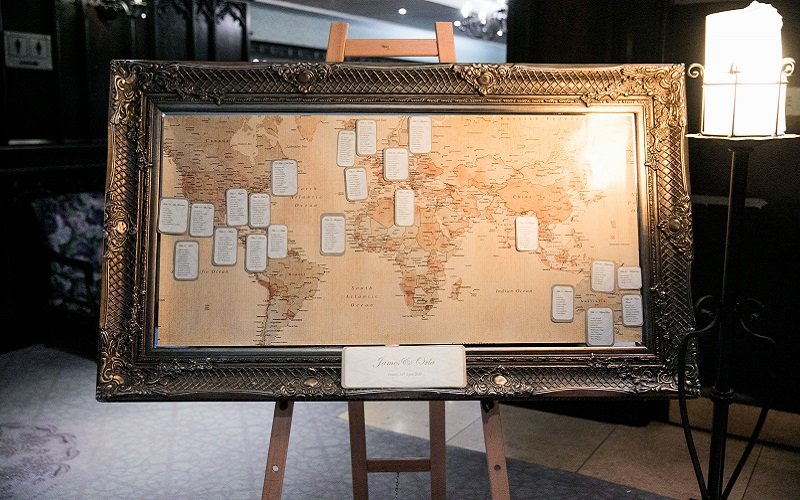 "We bought a world map and sized it to a Clontarf Castle mirror. The girls in Clontarf were amazing and Ciara, who was our wedding co-ordinator went above and beyond perfecting our table plan and the small details we included in our day," says Orla.
Stationery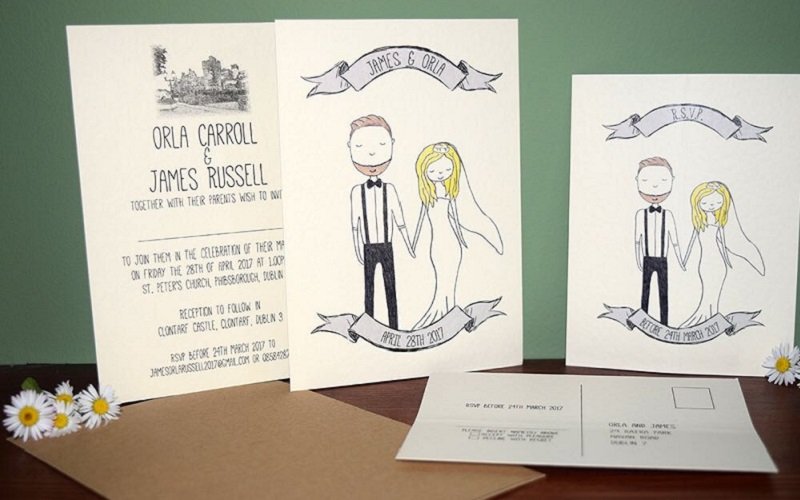 The couple chose Wedding Stationery by Amanda as they liked the cute and playful nature of her designs. "We sent her a few pictures of ourselves and she designed the invite around us. I would highly recommend Amanda as she worked so closely with us right up until print and delivery," says Orla.
Honouring Lost Loved Ones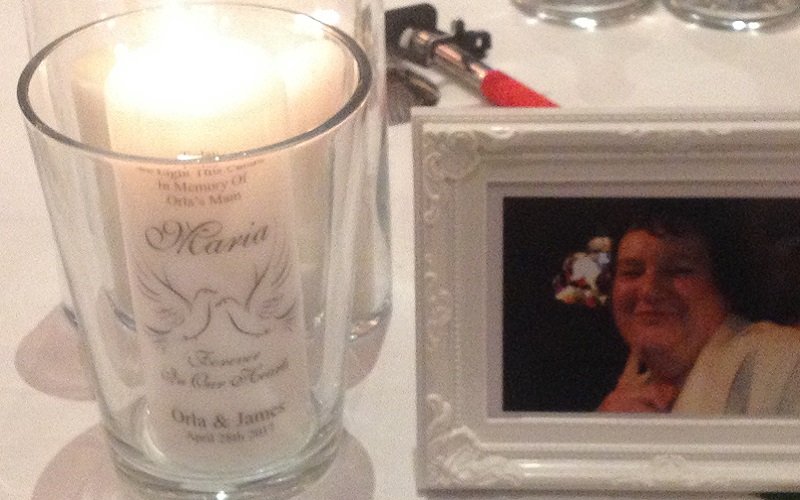 Orla's Mam passed away so the couple included her by lighting a candle at the start of the ceremony and kept a picture of her on the top table for the entire day.
Mother of the Groom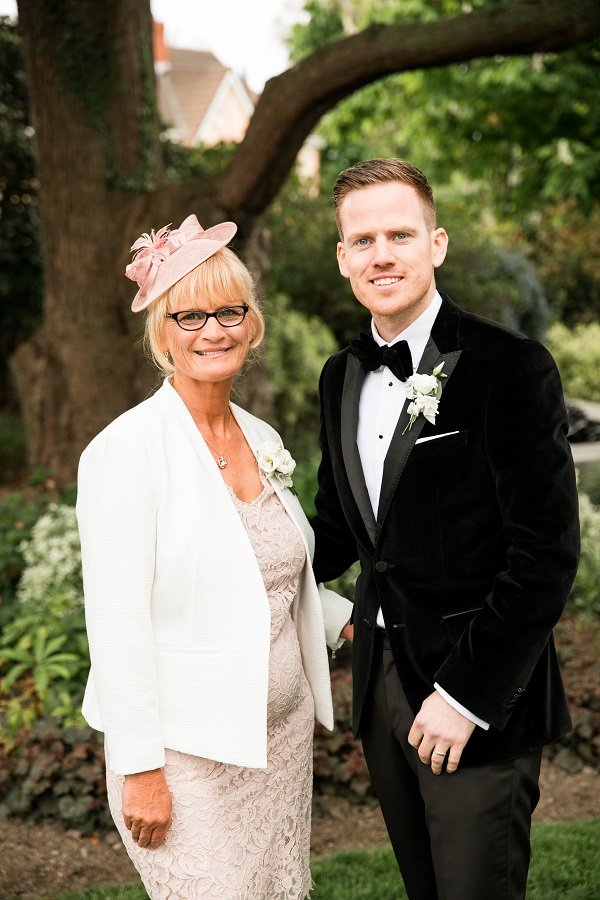 Jay's Mam wore a dusty pink dress from Debenhams which she paired with an elegant head piece.
Wedding Cake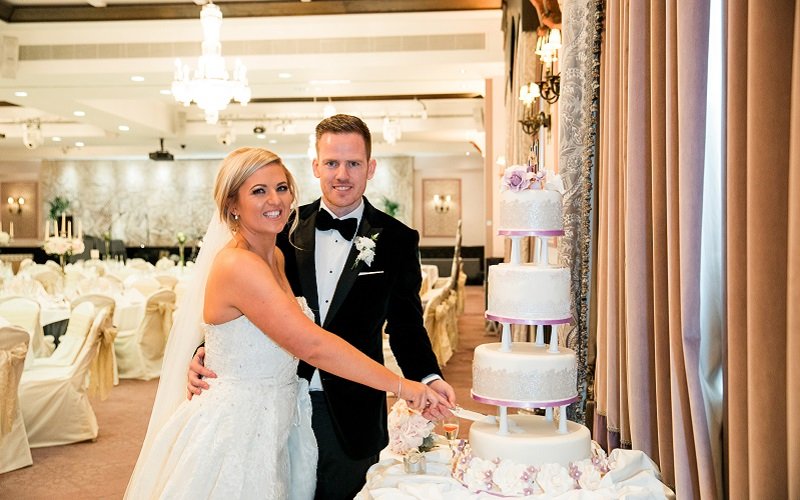 "Our cake was by Bella Sweet Creations. We opted for a traditional four tiered cake with fruit cake, chocolate biscuit, lemon sponge and oreo flavours," says Orla.
Favourite Moment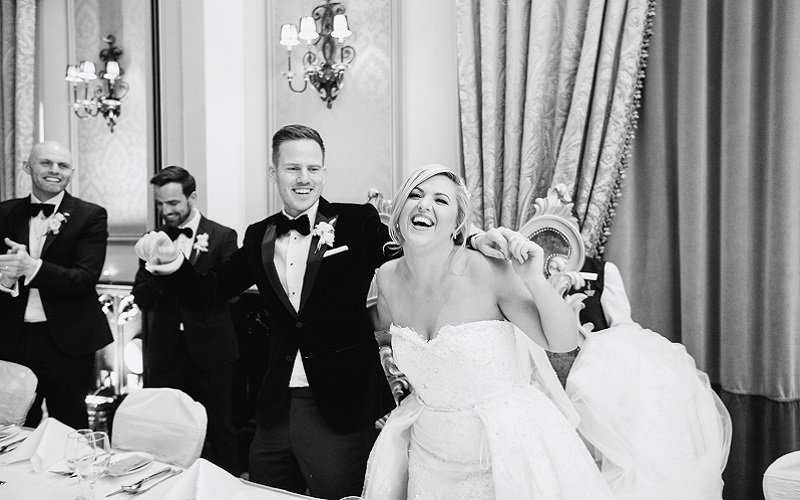 Groom: "Walking into our reception – we had booked Tropical Storm to play during our drinks reception and they really had our friends and family in high spirits. We walked into an upbeat song and everyone was dancing and cheering for us both."
Bride: "My favourite moment was meeting Jay at the altar and sitting down taking it all in.  It was quite surreal that our day was finally here. That coupled with it being the the church I grew up in felt very special."
Top Tip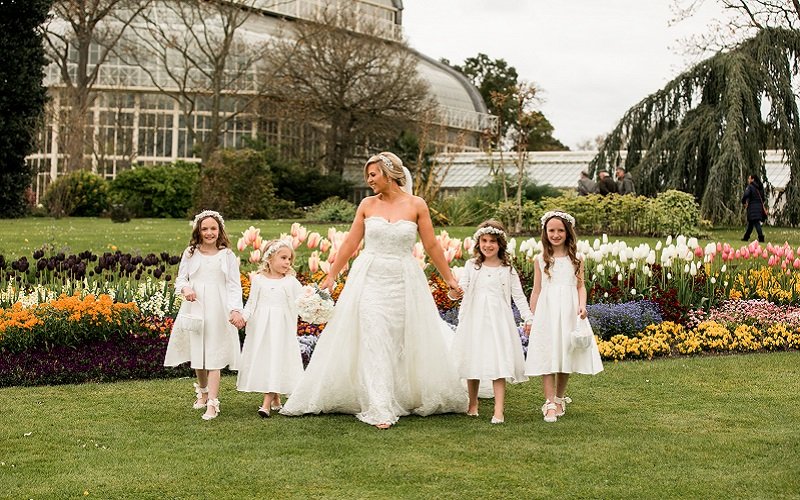 Groom: "Talk to each other and agree on what you both want from your day. What becomes important to your partner becomes as important to you and the way you will feel on your wedding day makes it very special."
Bride: "I would say the same thing. Write down what you both want on your day and talk through it.  The build-up is great fun so really enjoy all the planning with your friends and family."
If you're getting married and are looking for a unique and gorgeous dress design, take a look at our brand-new directory. We only recommend the highest quality Wedding dress & Bridal Shops in Limerick.
Celebrating 11 Years Of Love With A Lakeside Ceremony
Michelle & Kai's Wedding at Lusty Beg
Michelle & Kai tied the knot 16th June 2017 with a ceremony and reception at Lusty Beg island in Fermanagh.
Photography by Mark Barnes Photography 
The Couple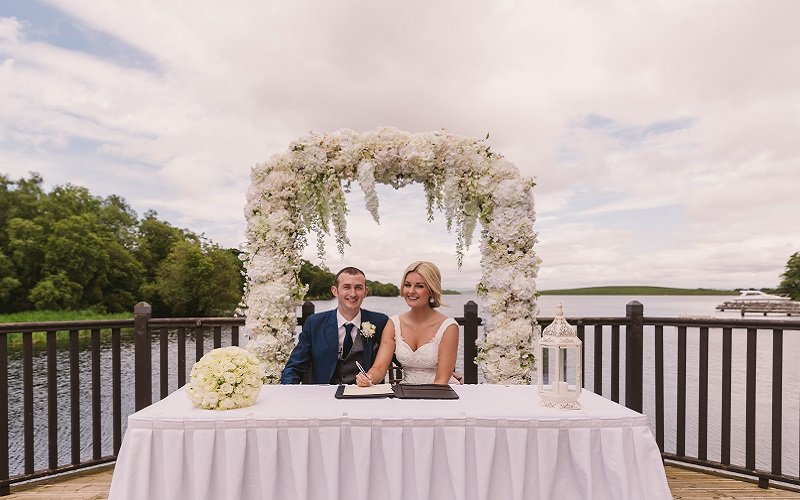 Michelle and Kai met at high school and were in the same group of friends growing up. The got together on Easter Sunday 2005 and have been inseparable ever since!
The Proposal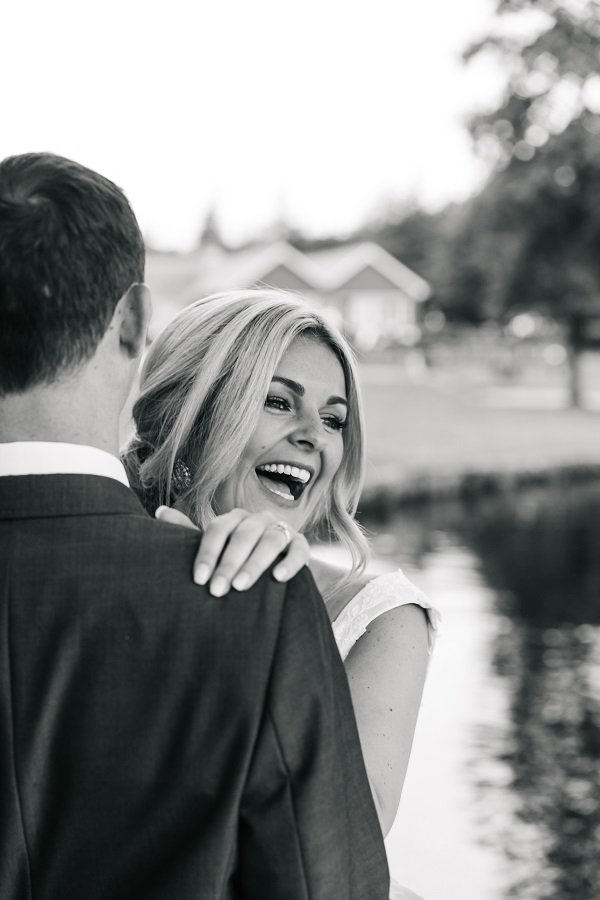 Kai proposed on Christmas Day 2017 which was the couple's first Christmas in their home together. "Kai had hidden the ring in my stocking," remember Michelle fondly. "Despite being together for ten years I really wasn't expecting it!"
Venue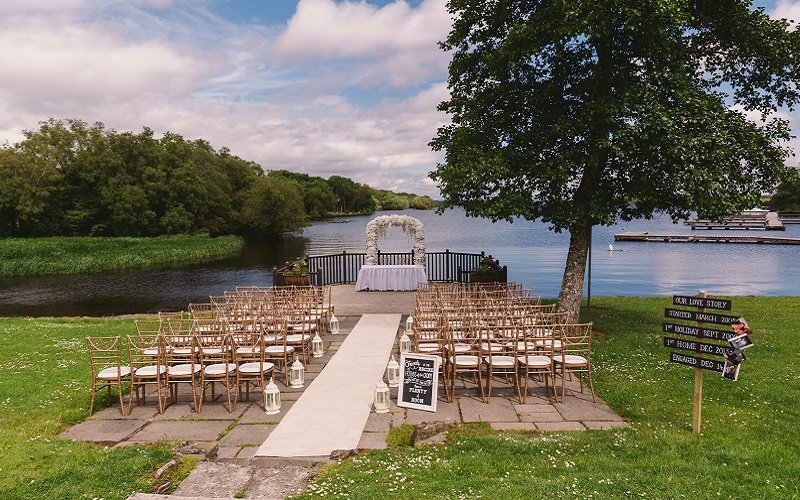 The couple chose Lusty Beg as their wedding venue. "We couldn't stop looking at Lusty Beg online," says Michelle. "We provisionally booked it at the Wedding Journal Show and went down the following weekend to view it in person. We both totally fell in love with the island."
Photography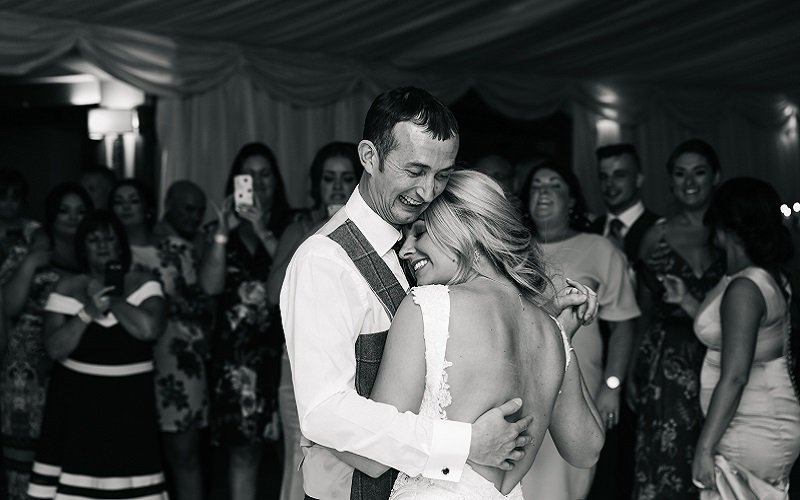 Michelle and Kai opted for Mark Barnes Photography to capture their big day. "I have known Mark since Primary School and have always loved his work," says Michelle. "I knew whenever Kai and I decided to get married we would use Mark! We are over the moon with our pictures and his packages are fantastic – I would recommend him to anyone."
Wedding Planner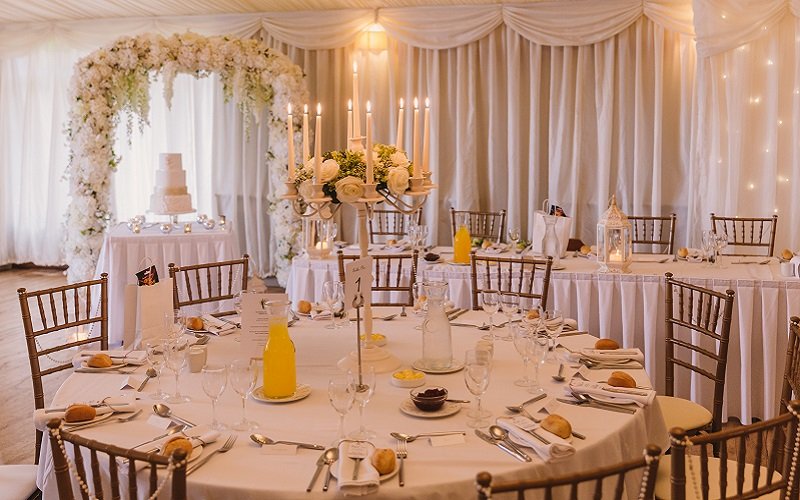 "I took care of everything myself, I am a bit of a control freak and love to plan parties! I really enjoyed the whole planning and styling aspect. For decoration I used McGarry Flowers, Swift Event Services and Lusty Beg provided the drapes and chiavari chairs as part of our package. We also made some outdoor signs ourselves.
Wedding Dress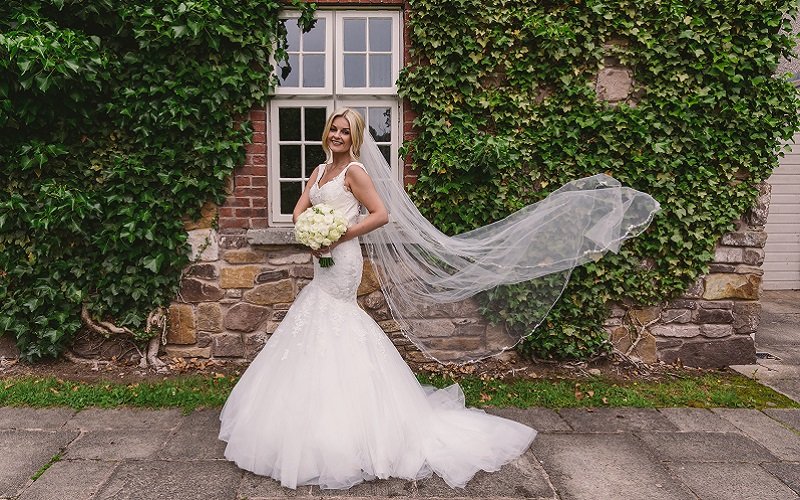 Michelle looked stunning on her wedding day in a white mermaid gown with lace detail and delicate straps. "My dress was Anrietta by Oskana Mukha, from Forever Bridal, Lisburn Road, Belfast.  The dress I tried on in the shop had a mesh covered illusion back and neckline but I had this removed as my dream dress was backless. I had drawn my dream dress before I had gone shopping and whenever I look back now it is just like my drawing; backless, mermaid style with lots of embroidery, diamantes, and beading – it was beautiful! " The bride paired her gorgeous wedding dress with Romy shoes from Jimmy Choo which were personalised with the couple's wedding date.
Groomswear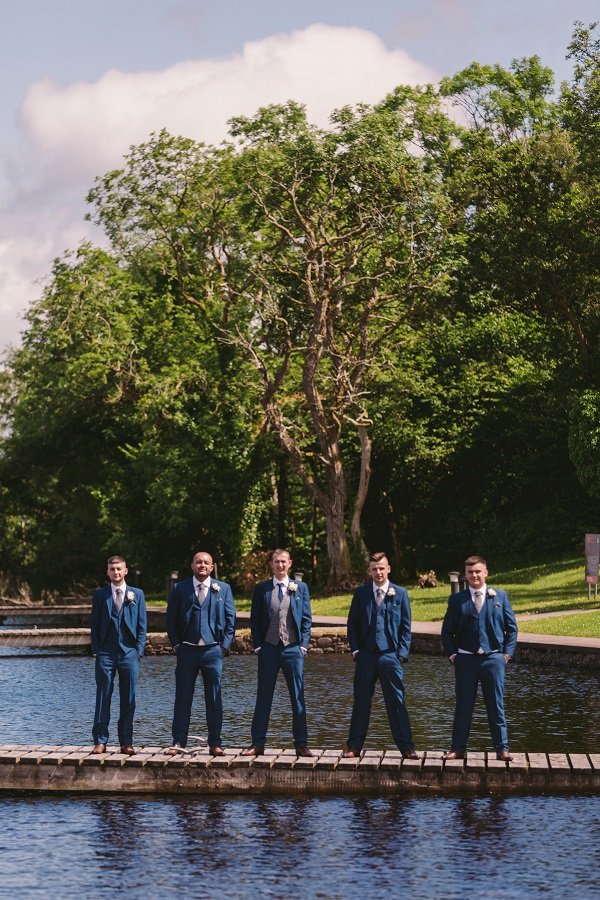 The groom and groomsmen wore suits from Focus Menswear in Bangor, County Down. "We had visited a few shops but the quality of the suits in Focus were the best by far," says Michelle. "All the groomsmen wore the same style of suit, but Kai and our pageboy had a grey tweed waistcoat with navy tie, whereas the groomsmen had a navy waistcoat and a tweed tie.  All of the mens' shoes were Ted Baker from Office."
The Bridesmaids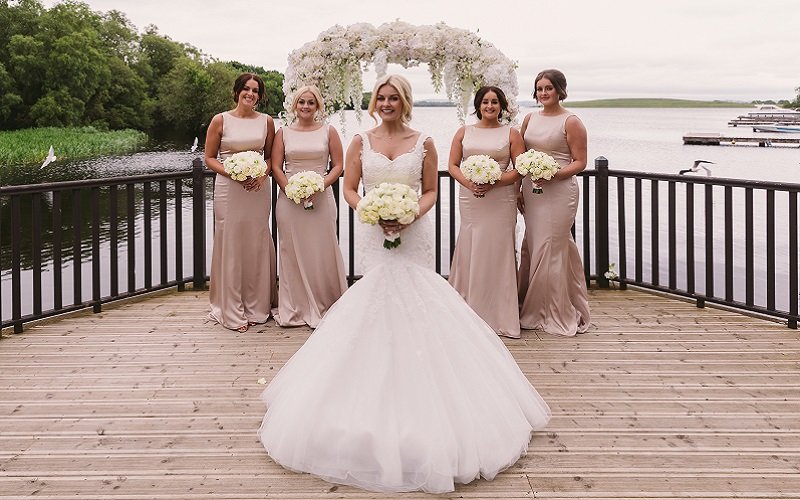 Michelle opted to have her bridesmaids' dresses made by Lynne Gregg as she couldn't find exactly what she was looking for anywhere. "I bought the fabric from Craftswoman Fabrics in Carrickfergus, and designed the dress in my head which Lynne was able to bring to life.  Lynne is amazing at her job and I could not have been any happier with the dresses, they looked amazing on the day and everyone has been asking where I bought them.  Lynne was also able to do the alterations on my dress, Mother of the Bride outfit and Flower Girl dress too."
Wedding Flowers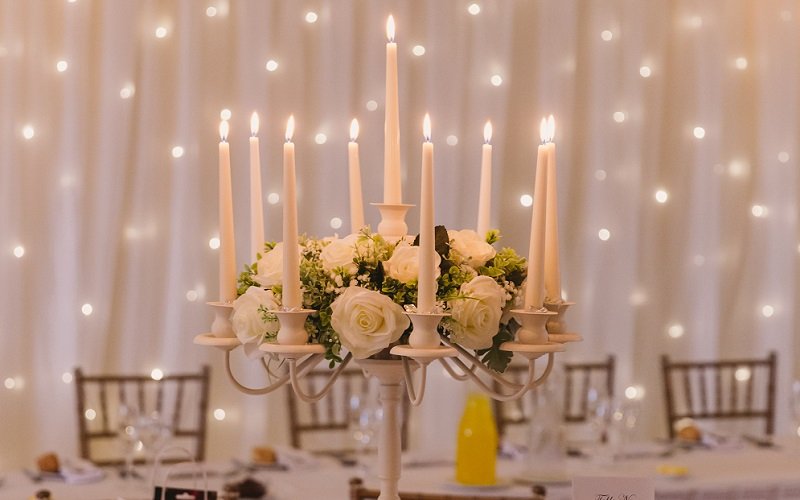 All the flowers including the breath-taking floral arch were by McGarry Flowers in Fermanagh. "I had originally booked them for just bouquets, says Michelle. "But after seeing what else they could do, I just had to have it!"
Table Plan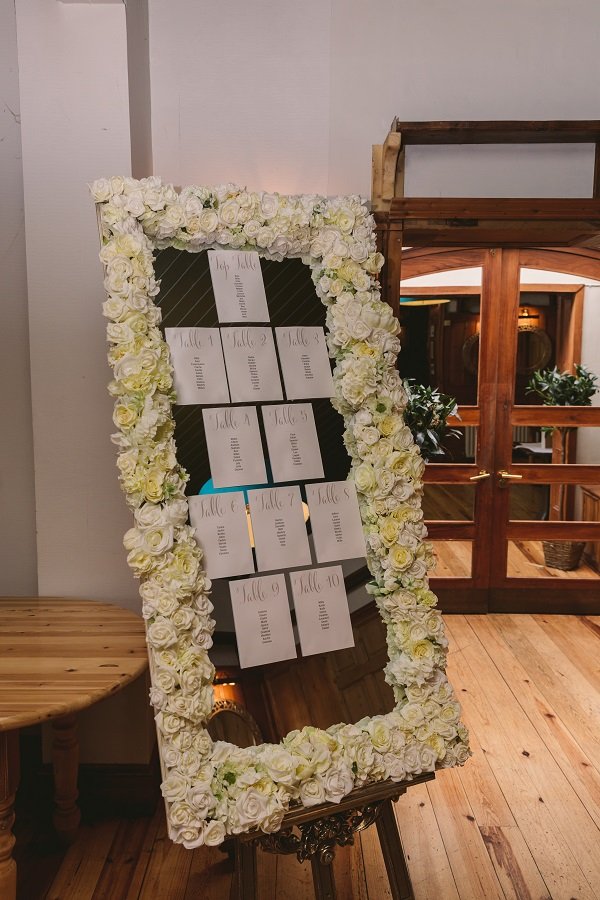 The rose arch, mirrored table plan was also by McGarry Flowers.
Stationery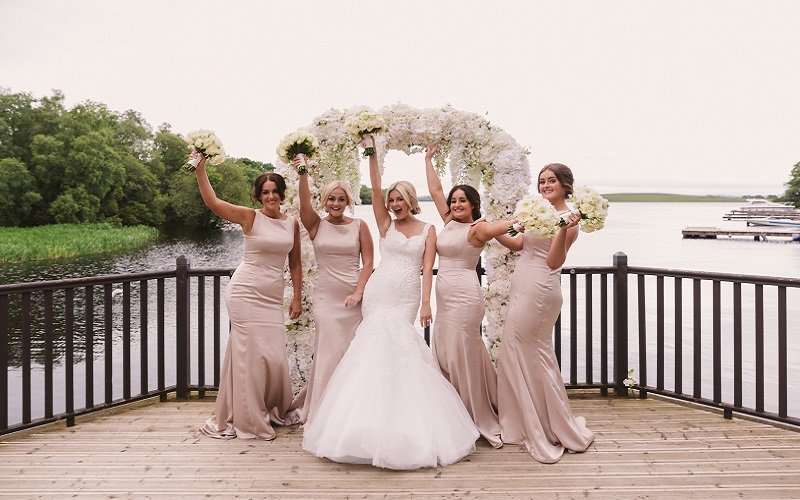 "Our invites, RSVPs, table name cards and table plan cards were all printed by Kaizen Print, Lisburn Road, Belfast.  Again, I had an image of how I wanted my invites to look, and Kaizen Print made this happen.  I had priced a few stationary suppliers and thought I would cut out the middle man and go straight to the printer which saved me a few hundred pounds!"
Mother of the Bride/Groom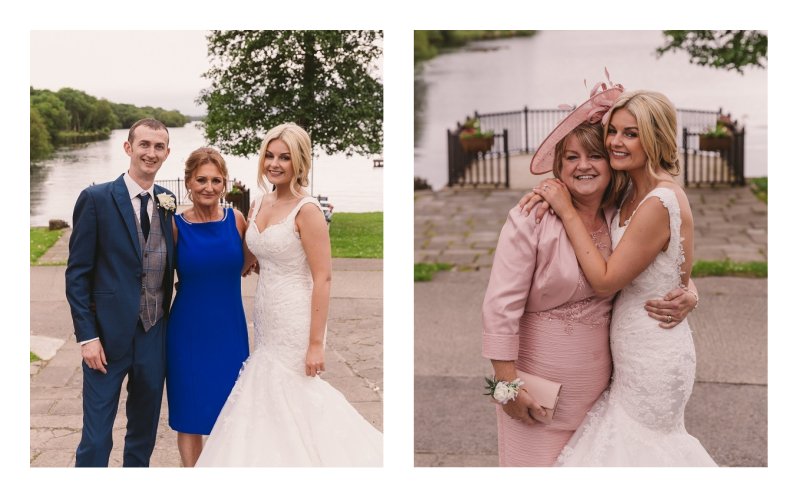 Both the mother of the bride and mother of the groom purchased their outfits from Jourdan, Lisburn Road, Belfast.
Wedding Cake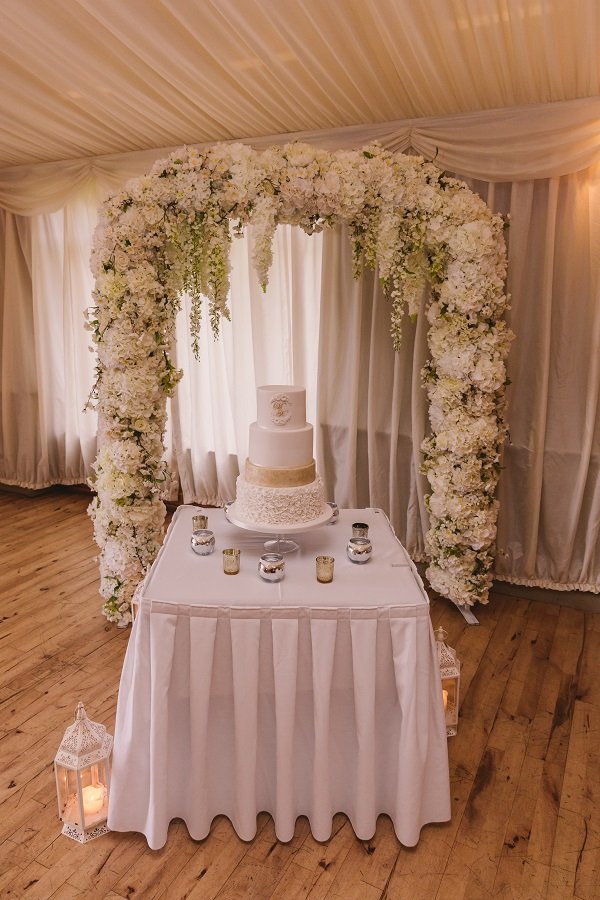 Michelle and Kai opted for an elegant design from Truly Scrumptious, Omagh. "We had three flavours – lemon, vanilla and strawberry & cream. The cake looked amazing and tasted even better.  We also ordered personalised cake boxes from eBay so our guests were able to bring the cake home with them."
Favourite Moment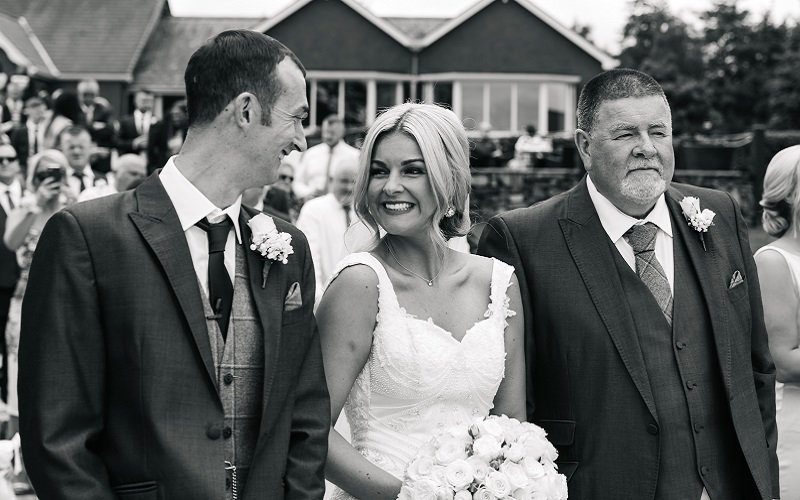 Groom: "Our first dance. We had our DJ (Ed Heaney) take 45 seconds of 'Ed Sheeran – Perfect' and 'JX – There's Nothing I Won't Do' and mix them. Our bridesmaids and groomsmen knew to join us on the dance floor as soon as they heard Nothing I Won't Do, and most of the guests ended up joining in as well – it was amazing!  And also seeing Michelle coming down the aisle."
Bride: "Standing with my Dad, watching my nephews walk my mum down the aisle and also watching my bridesmaids go down the aisle – all of our guests cheered and whistled as each of us walked down, the atmosphere was amazing and so exciting!  Oh, and seeing Kai at top of the aisle."
Top Tip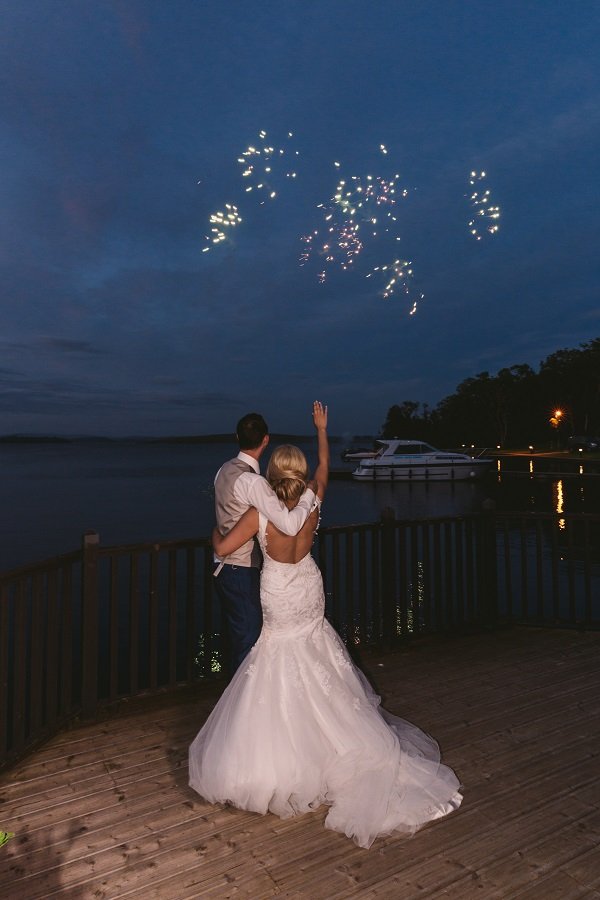 Groom: "Plan the wedding to how you want it, not to suit others."
Bride: "Don't think twice about a wedding videographer – we were both unsure as to whether we wanted one, and it was the best decision ever! Half of the day is a blur to us and it passes by so quickly so to have a video to watch over and over again is class."
Finding the right venue is one of the biggest decisions you'll make for your wedding. But don't worry! The brand-new Wedding Journal Directory of full of the very best Wedding Venues in Co. Mayo.
A Private Wedding On The Shores Of Strangford Lough
Gemma & Matthew's Wedding at Daft Eddy's
Gemma & Matthew tied the knot at St Mary's Star of the Sea, Killyleagh followed by a reception at Daft Eddy's, Killinchy
Photography by Paul Breen Photography
The Couple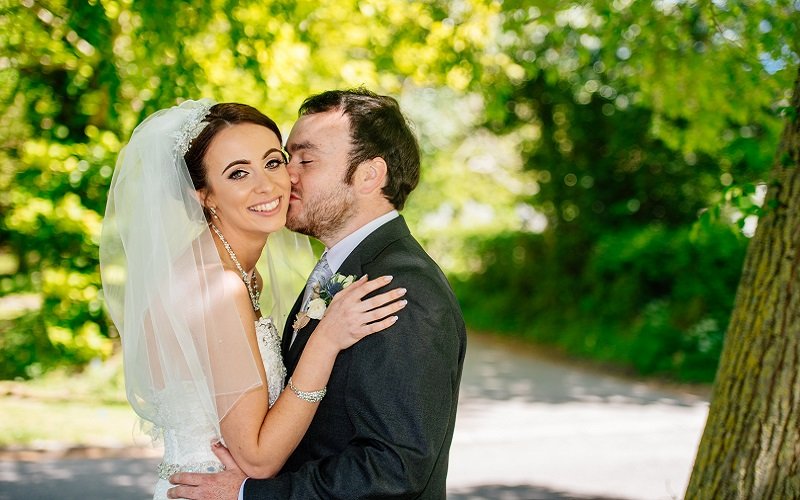 The couple first met in November 2007 when working in their local garage together and went for some drinks with school friends shortly after. Gemma says, "It is a running joke between us that Matthew never actually 'asked me out', but from that evening we have been inseparable and haven't spent a spare moment apart."
The Proposal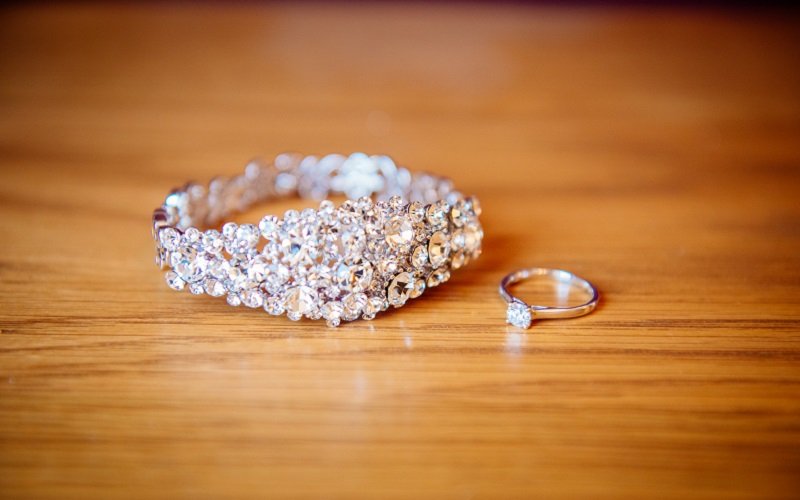 "Being an unconventional couple, it was fitting that our proposal didn't follow a traditional route, says Gemma. "One evening in October 2016, Matthew basically just said, 'So when are we getting married then?' That one small sentence led us to booking our wedding, honeymoon, and purchasing my dress all within three days. We kept it as a special secret and several weeks later Matthew got down on one knee in our home and asked me to be his wife with a beautiful single solitaire ring. We were absolutely thrilled to make it official and later that evening we rang our families, who after all these years had almost given up on us ever getting engaged. The shock of telling them we were engaged was nothing compared to telling them that everything was already booked!"
Venue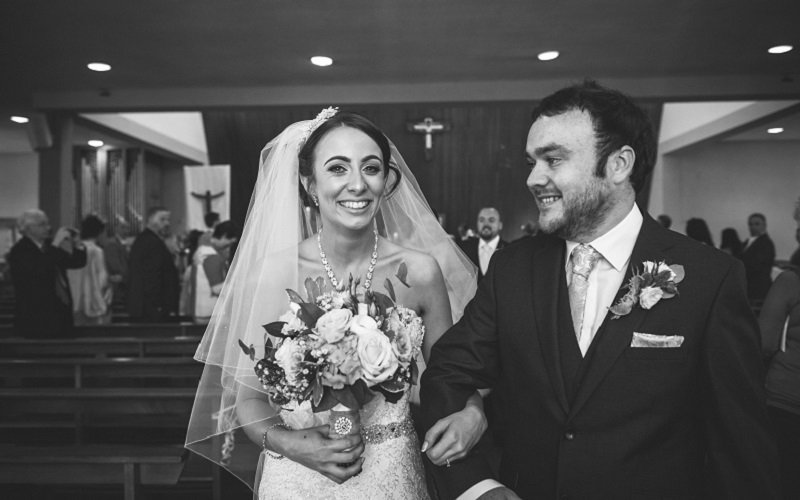 "From the start we were adamant we didn't want a reception. We are not a couple for fuss and attention so we just wanted something low key for immediate family. We chose Daft Eddy's due to its location on the shores of Strangford Lough and because it was close to our home. After the service we had a fabulous meal enjoying the fantastic views at Sketrick Island."
Keeping it a Secret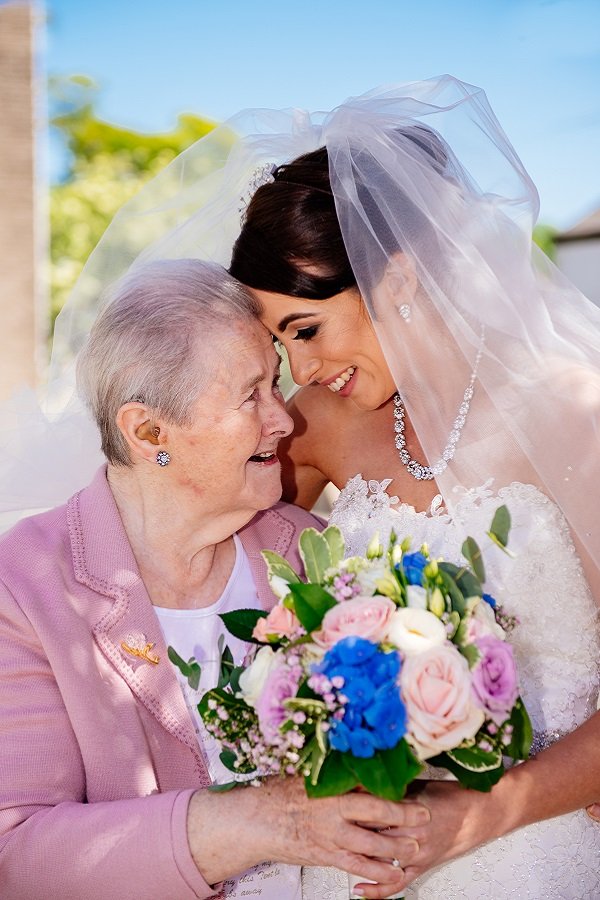 "We decided not to tell anyone about our wedding, and this is one decision we are so glad we made. After being together for so many years we just wanted to get married and the service was the important part for us rather than a having a big day with the usual reception. Only our immediate family who attended the service knew about the wedding. Our friends got the shock of their life when we made the announcement later that evening that we were married."
Theme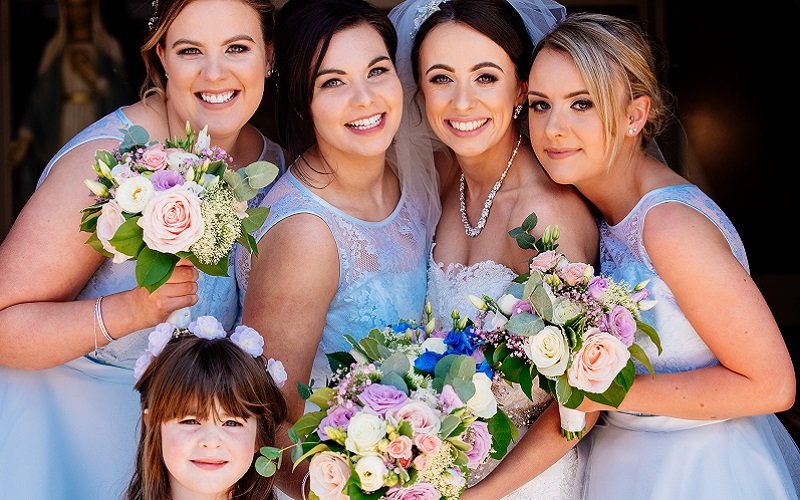 Due to the intimate nature of Gemma and Matthew's wedding, they chose a simple, no fuss day without a theme. After the bridesmaids' dresses were picked, everything fell into place.
Photography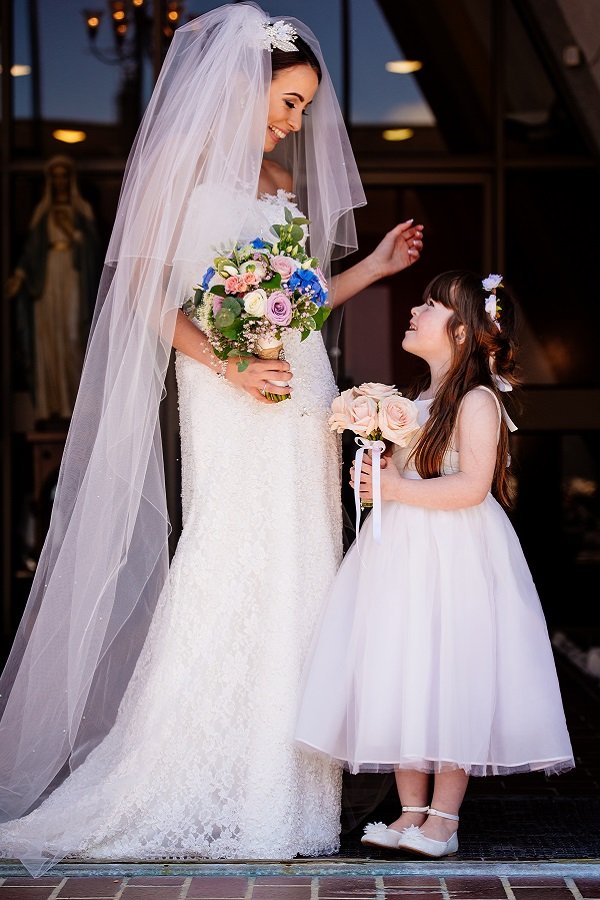 Having no experience with photography, Gemma and Matthew didn't know where to start, but after coming across Paul on the internet and seeing his portfolio, they just knew he was the one for them. "His pictures seemed to capture each moment perfectly, says Gemma. "Everyone looked to be having fun in all his photographs and that was important to us as we were both dreading the thought of having wedding pictures taken. His photographs were bright and full of vibrant colours which really drew us to him. The service he provided was flawless and we have now got hundreds of memories from our day to treasure for a lifetime. I would highly recommend Paul to everyone – he really was fantastic!"
Wedding Dress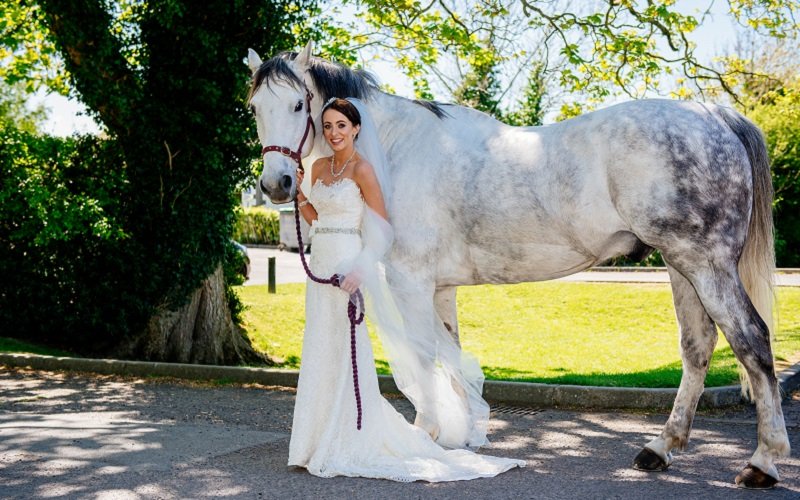 The bride looked beautiful in an ivory fitted Anna Romysh, Haute Couture Faragé gown with crystal and silver appliqué from Pianta Bride in Ballynahinch. Gemma completed her look with a thin jewelled waistband and a two tiered Cathedral length veil with crystal embellishment. "I was returning home from the airport two days after we decided to get married and saw this dress in the window sparkling away, remembers Gemma. "I phoned up first thing the next morning and by 11am I had tried it on and that was that. The dress was bought about 6 dress sizes too big but that didn't matter to me. I knew this was this dress I wanted to walk down the aisle in."
Groomswear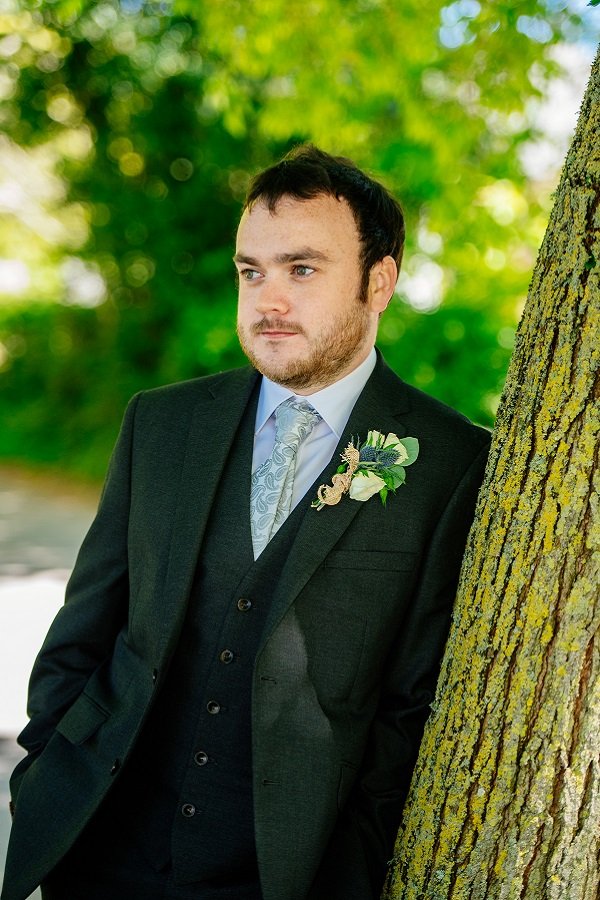 The groom wore a three piece suit from Marks & Spencer and paired it with a tie from Kelvin Graham in Ballynahinch.
The Bridesmaids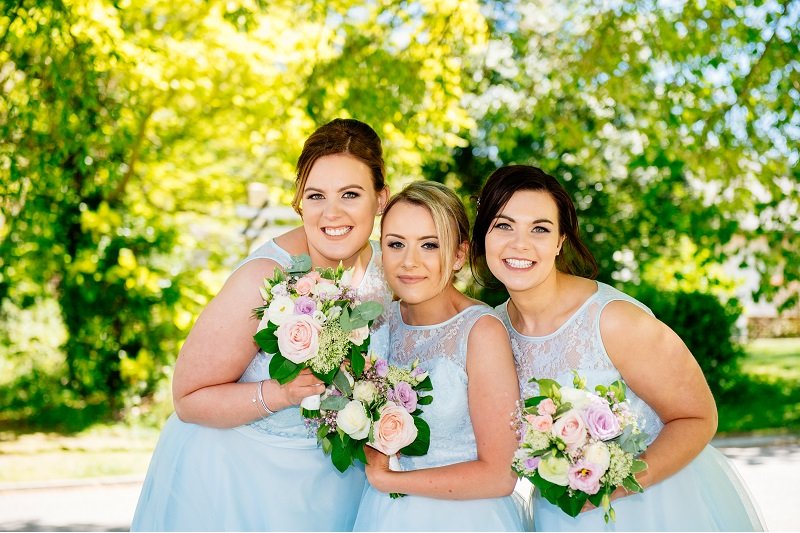 The bridesmaids wore powder blue, tea length dresses from Naomi Bridal in Ballynahinch. "It was the style that initially drew us to the dresses; I had wanted something a bit different and felt these were just that. They had lots of compliments about their dresses on the day!"
Wedding Flowers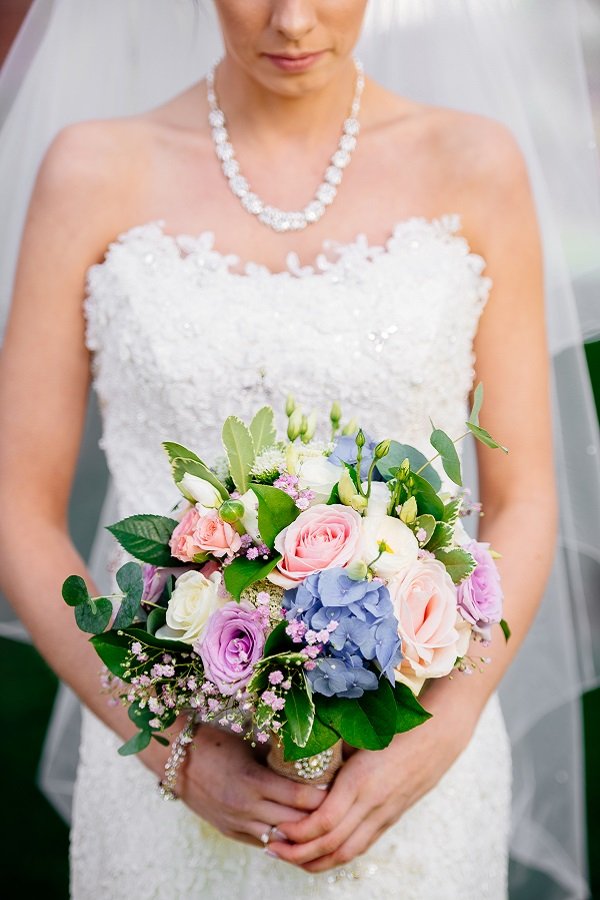 "Little Gem Greengrocers, Killyleagh. Sharon did herself proud with our gorgeous flowers! I gave her free reign on all the bouquets with regards to style and flowers – I just asked her to match them to the bridesmaid dresses. The outcome was stunning, and we were truly thrilled with the results, from the buttonholes to the bride's bouquet, they were all outstanding and finished to perfection!"
Mother of the Bride/Groom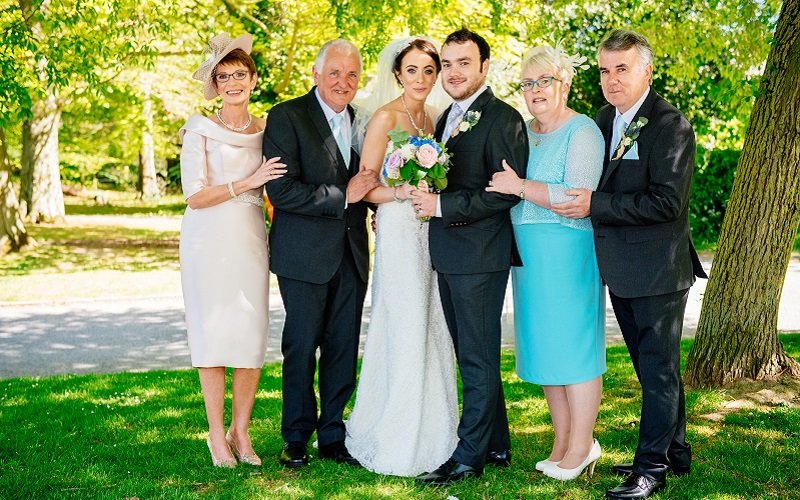 The Mother of the Bride's outfit was from Gasp Boutique in Armagh and the Mother of the Groom's outfit was from Magowan Fashion in Ballynahinch.
Favourite Moment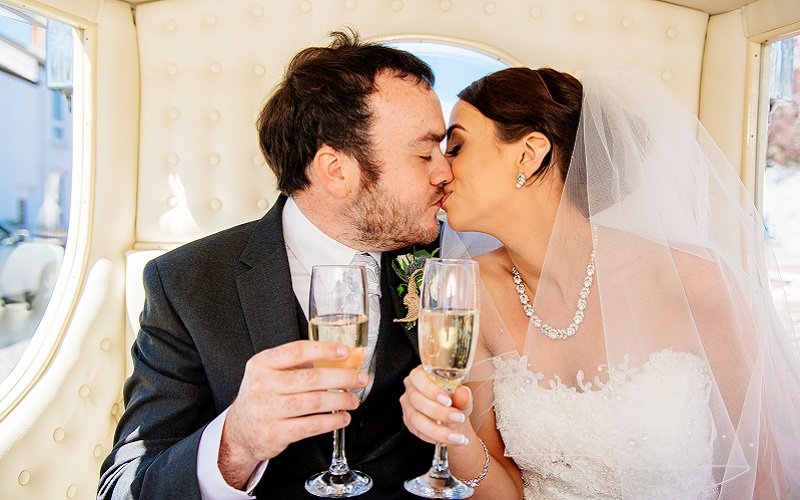 "Toasting the start of married life with a glass of champagne while travelling along the coast in a horse and carriage."
Top Tip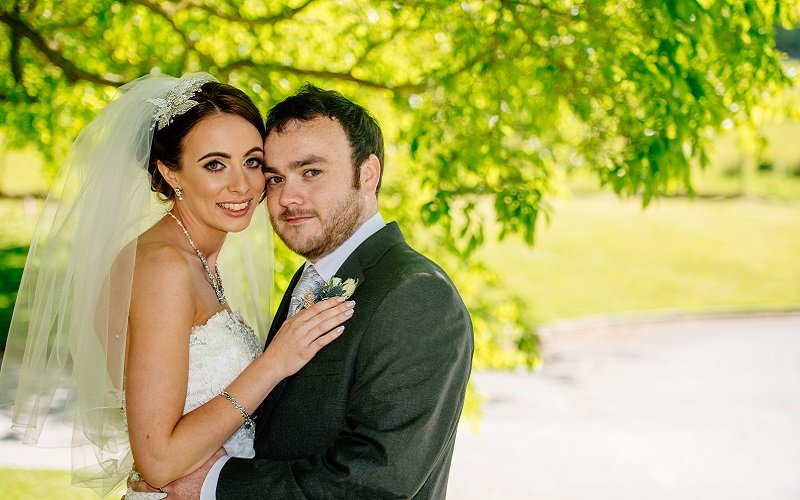 Groom: "Just do your own thing, and support local businesses"
Bride: "Don't be afraid to say no! Have your day the way you want to and have no regrets."
Choosing the perfect venue is one of the most important decisions you'll make for your wedding. But don't worry! The brand-new Wedding Journal Directory of full of the very best Wedding Venues in Co. Tipperary.