25th October 2014. Ceremony at St. Columba's Church, Londonderry and reception at Ballyliffin Lodge Hotel & Spa, Donegal.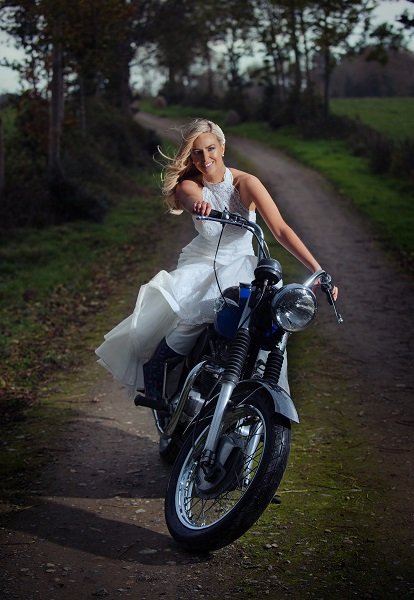 Photography by Jay Doherty Photography
It's not every day you see a bride cruising around on a motorbike with her gorgeous wedding gown blowing in the wind…
The couple
"It wasn't the usual love at first sight," Amy begins, "it all started when one of Dan's friends was dating my best friend. We were friends for a few months and got to know each other really well, and decided to give it a go after that. We moved in with each after a few months and have lived together ever since."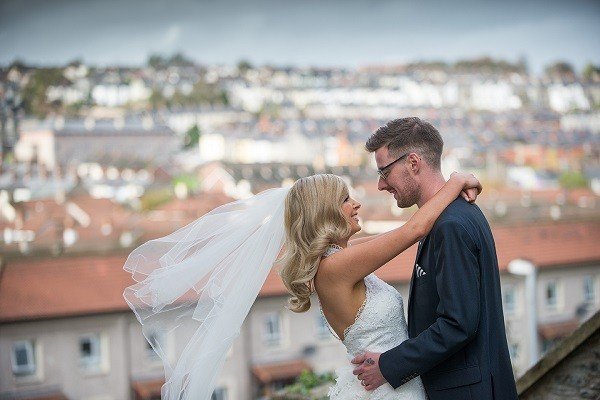 Proposal
Dan had always said that he would pop the question while abroad, so he took Amy completely by surprise when he proposed in Northern Ireland.
"It was my birthday weekend and we decided to take a wee weekend away in Belfast," Amy recalls. "That night I was busy getting ready and the next thing I see is Dan getting down one knee and pulling a tiny engagement ring box from his pocket. I was so overwhelmed with happy tears and thought I was dreaming. It was totally unexpected; Dan always said he would propose whilst overseas so he totally tricked me."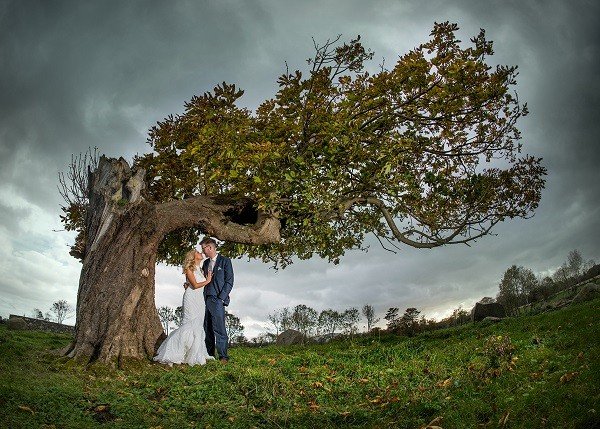 Venue
The couple were instantly smitten with the intimate, cosy atmosphere of Ballyliffin Lodge Hotel and Spa. "Dan and myself pulled up at the hotel one winter evening and as soon we put our feet in the door we both knew this hotel was the one," Amy smiles. "The welcoming presence and chic décor within the hotel had us instantly. It had blazing logs and turf on the open fire and a wee cuppa tea at the ready. We really couldn't have chosen a more amazing venue with regards to the service, attention to detail and great craic in the lead up and during our big day. "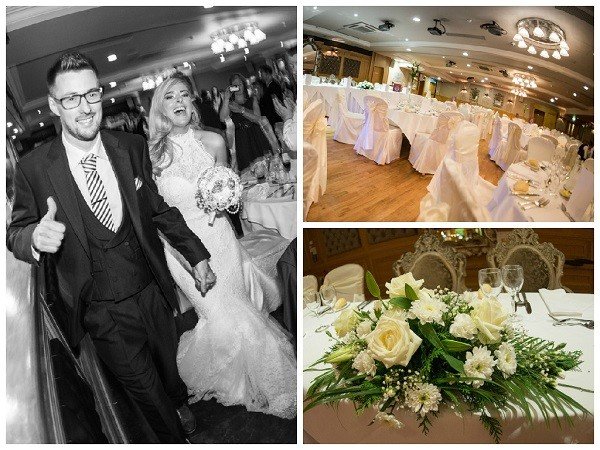 Theme
The couple chose a vintage theme and had a candy cart filled with sweets from childhood and 1940's suitcases for the table plan display. "We used Daddy's vintage 1973 Triumph motorbike which he has had since before I was born," Amy explains. "My parents got married 37 years ago and my Daddy rode his bike to the chapel with all his buddies, wearing jeans and his motorcycle club patch. So we were keen to feature the bike in our big day, and we took lots of photographs of Daddy and I together which was such a special time for us to treasure."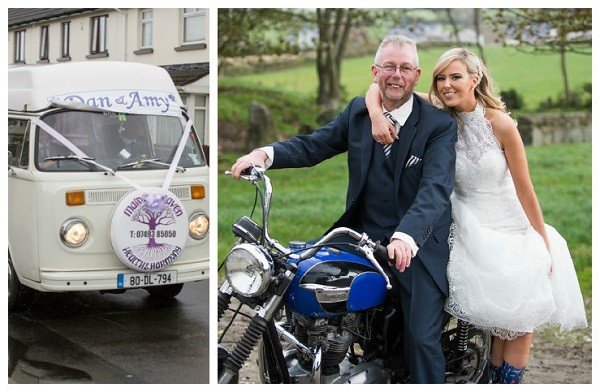 Wedding dress
Amy listened to the advice the shop owner from Logans of Cloughmills and bought a stunning wedding dress that she would never have picked out herself. "I tried on four dresses and they were all like the one I had in mind but just didn't suit me," Amy recalls. "Dorothy asked me could she bring in a dress and advised me to keep an open mind and trust her. I slipped it on and thought 'this feels nice'. Dorothy drew the curtain open and my Mammy started crying. I just loved the dress, the material, shape and style, and it wasn't even the right size! It was nothing like what I had imagined wearing but it was just perfect. My dress and veil were both by Victoria Jane from the Ronald Joyce collection, and beading detail was handmade by Dorothy's dressmaker and attached to the dress."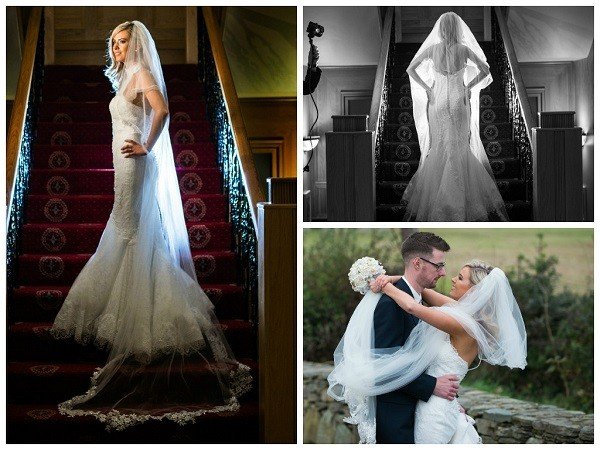 Grooms wear
The groom and best men's suits were from The Blacktie Showroom, Derry.
Bridesmaids
The bridesmaids wore Debut dresses from Debenhams, Belfast. "My little sister tried on one of the dresses first and it was just perfect," Amy recalls, "the colour was exactly what I was looking for and I was delighted my other bridesmaids were just as happy with our choice."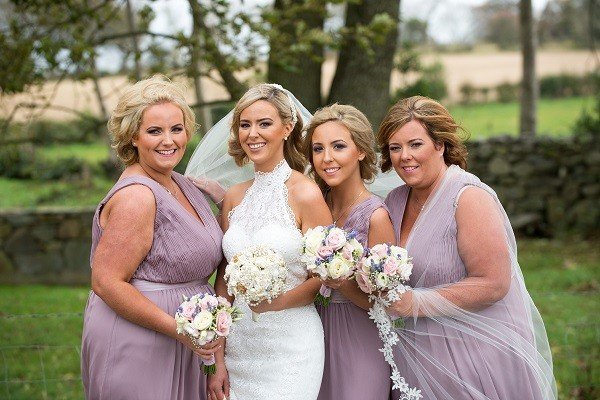 Flowers
The wedding flowers were supplied by Heaven Scents Florist, Donegal. "For the bridesmaids' bouquets we chose vintage pastel shades which consisted of pinks and creams with a few violet flowers," Amy explains. "I wanted a bouquet I could to pass onto our kids and grandkids, so I collected brooches, ear rings, necklaces and bracelets from all my family and they were made into a bouquet. It was a pretty yet meaningful accessory that I will always cherish."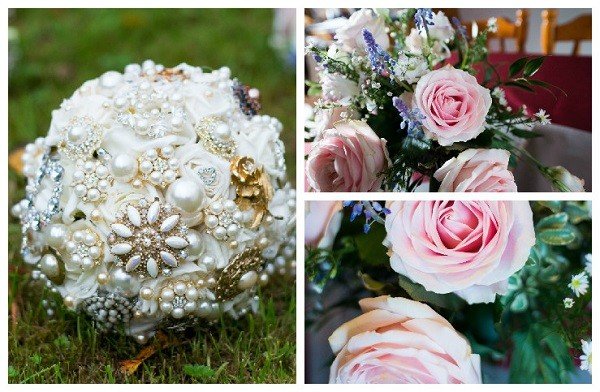 The stationery
Some of the guests carried cute signs and the couple used their engagement shoot photos for their invitations. "We went to Burt Castle in Donegal, it was a beautiful spring day and we had to hike up fields to get to the castle," Amy recalls. "The wedding photos turned out to be beautiful and natural – they were used in the invites alongside vintage luggage tags and a wax seal. We spent an evening making these DIY invitations and really enjoyed it; it added another special touch to our wedding."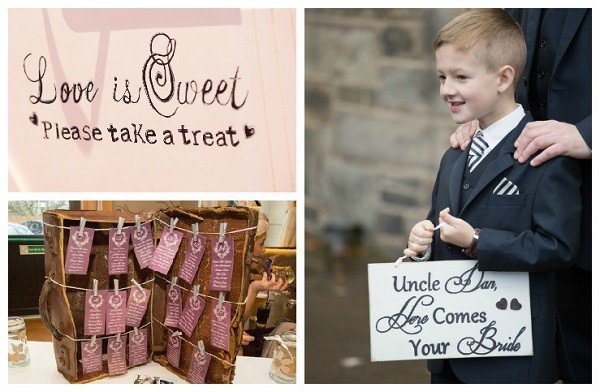 Wedding cake
The cake was designed and made by a friend and the couple had great fun doing taste tests before the wedding. Amy says: "We decided to go for the good old fruit scone, chocolate cookie and strawberry and cream sponge cake. We had four circular tiers, handmade lace icing, two ivory bows and brooches to decorate it."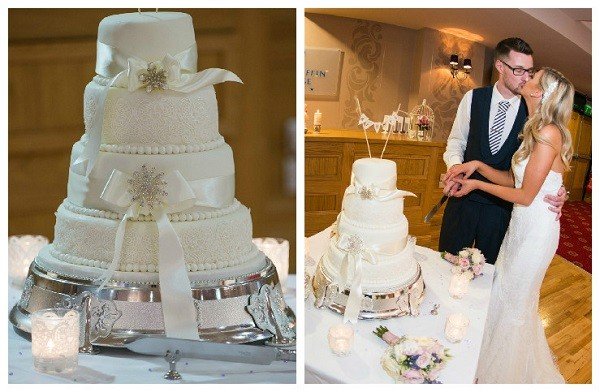 Favourite moment
Daniel: "Seeing Amy for the first time as she walked up the aisle."
Amy: "When those huge wooden doors opened and my wonderful Daddy led me up that aisle."