11th April 2015. Ceremony at Séipéal Leitir Mói, Galway and reception at G Hotel, Galway
Photography by IG Studio Photography
The
couple
The couple first met at a work Christmas party when Mary Ann bit the bullet and introduced herself to John, a few weeks later John asked her out on a first date.
Proposal
"It was the wettest day during the summer of 2014," Mary Ann begins. "It was the August bank holiday Saturday and we were on the top of the Howth cliff walk in the pouring rain when John proposed. It reminded me of that Four Weddings and a Funeral moment:
Is it still raining? I hadn't noticed…"
Venue
Mary Ann's family hail from Connemara, John is from Dublin, and the couple had wedding guests travelling from the States and the UK, so they were keen to book a Galway City wedding venue that would be easily accessible by all. "The G Hotel was the first hotel we went to see and it was just so spectacular and funky," Mary Ann recalls. "We loved the colours, the big bright reception area, and the size of the ballroom which was perfect for our number of guests."
Wedding planner
"The wedding planner in the G Hotel, Rachel Shanaghy, and her team were incredible," Mary Ann enthuses. "They guided us through the process and were excellent every step of the way including on the big day and night."
Wedding dress
"I wore my Mom's dress; a vintage Priscilla of Boston wedding dress that was purchased in Boston, Massachusetts in 1981," Mary Ann explains. "I have always loved my Mom's dress so when I got engaged she dragged it down from the attic so that I could try to squeeze into it. It was the perfect dress for me and I didn't even go wedding dress shopping once! I loved the lace on the bodice and the long sleeves, the bottom had this beautiful embroidered satin that just felt wonderful to move and walk in."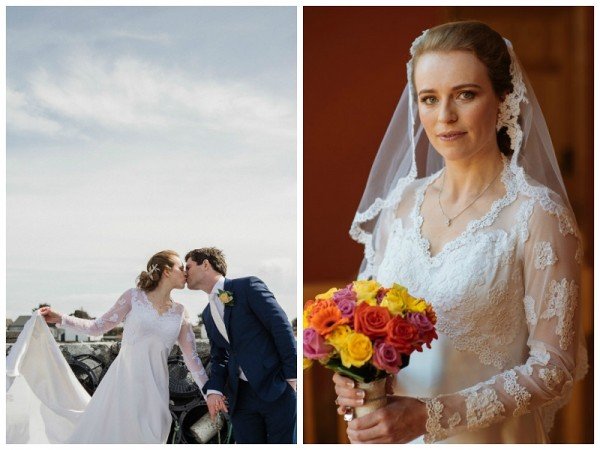 Grooms wear
The groom wore a blue suit from Feraud Menswear in Dublin.
Bridesmaids
"Two of my bridesmaids were coming from the United States so when my sister and I were over there for Christmas we picked out beautiful forest green Vera Wang bridesmaid dresses from David's Bridal," Mary Ann explains.
Flowers
The flowers were by provided by Mitchells Flowers in Carraroe, Galway. "They were so beautiful!" Mary Ann recalls. "I love gerbers so all the bouquets had gerbers in them. The bridal bouquet was made up of bright colours; orange, pink and yellow, and the bridesmaids had bouquets of white and yellow flowers."
The stationery
The stationary was provided by Daintree on Camden Street, Dublin.
Favourite moment
John: "When the bride said 'thanks' after I put the ring on her finger."
Mary Ann: "When John introduced me as his wife during his speech – it really hit me then and it was a wonderful feeling."
Top tip
John: "Choose the first thing of everything you see and practice your speech."
May Ann: "To enjoy your drinks reception, you should try to keep the official photos to a minimum. Our photographer Greg was fantastic in this respect and got all the photos we needed in an amazing super-efficient manner. Get the DJ to play Maniac 2000; it really kick-started some crazy dancing."