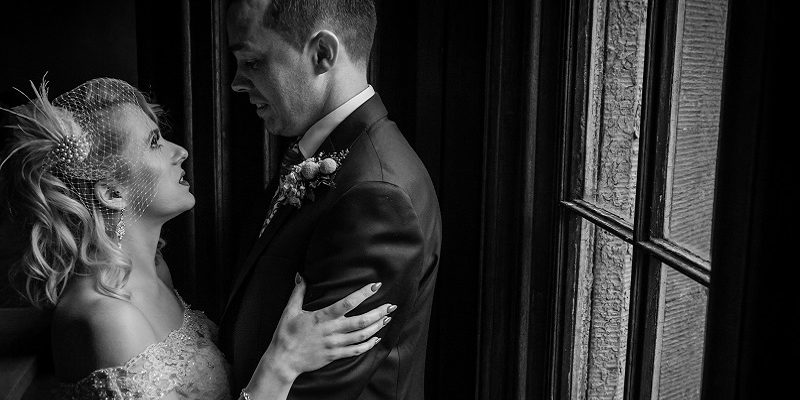 Real Irish Wedding – Lisa Kilmartin & Leon Dunne
~ Real Life Wedding
2nd April 2016. Ceremony at St. Mary's Church, Ferbane and reception at Charleville Castle, Co. Offaly
Photos by Liam Kidney Photography
A vintage-themed wedding at Charleville Castle
The couple
Offaly couple Lisa and Leon met on a night on the town over 13 years ago. "Leon bumped into me on his way to the bathroom, I called him by the wrong name and he let me talk for about 10 minutes before correcting me," Lisa begins. "I knew his brother and they look alike;  I was very embarrassed when I realised I had mistaken him for his brother Kane. Two days later on Easter Sunday, I spotted him out again and this time I knew his actual name. As they say, the rest is history!"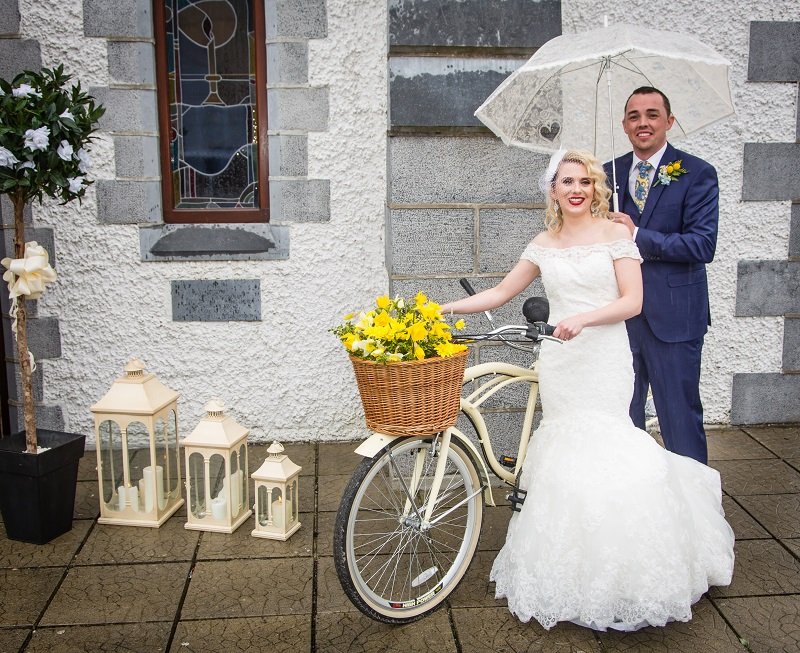 The proposal
The couple were in their apartment in Toronto when Leon asked his other half if she wanted to hear something he was working on. "Leon has a talent that not many people know about – he writes poetry," Lisa explains. "He began reading a beautiful poem.  Next thing I realise he is down on one knee with a ring in his hand. The last line of the poem was, 'Lisa will you marry me?'  I think I managed to nod between tears. I was very shocked. There was champagne in the fridge to celebrate and then Skype calls to be made! Leon had asked my father's permission to marry me when we were on our visit home.  He is quite old fashioned about certain things and I loved that he spoke with my father. Dad was very pleased too."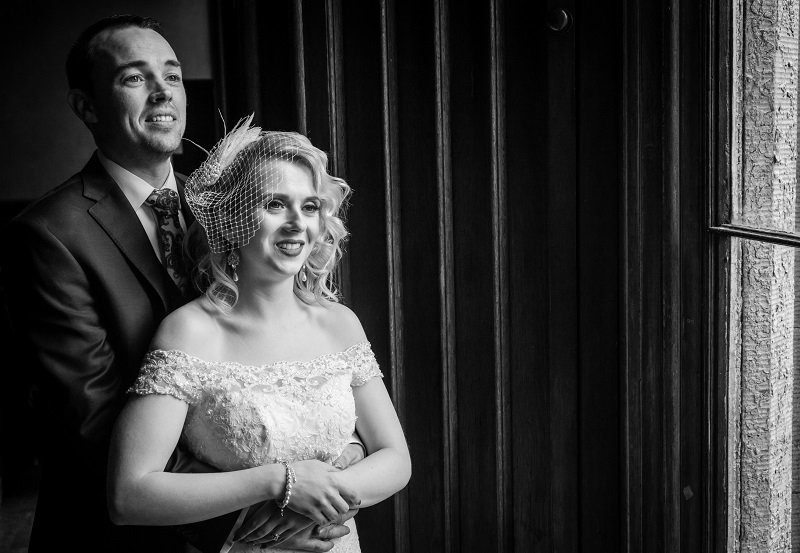 Venue
Leon and Lisa had been to a wedding at The Tullamore Court Hotel previously and 'absolutely loved it'. "The interior is beautiful and we love the large windows in the room that flood natural light," Lisa said, "I also love the fact that you can leave the curtains open and see the fairy lights in the trees outside, as darkness falls. The service is also impeccable and the food to die for; our guests are still commenting on how wonderful the food was."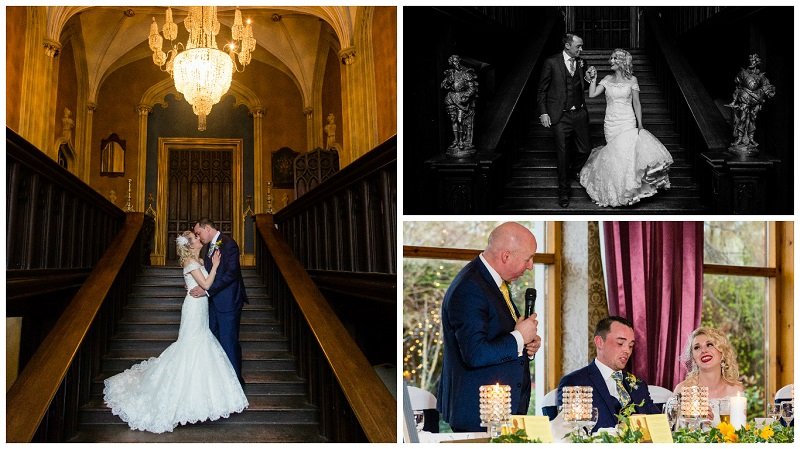 Theme
The bride opted for a vintage look with ruby red lips, shoes and nails.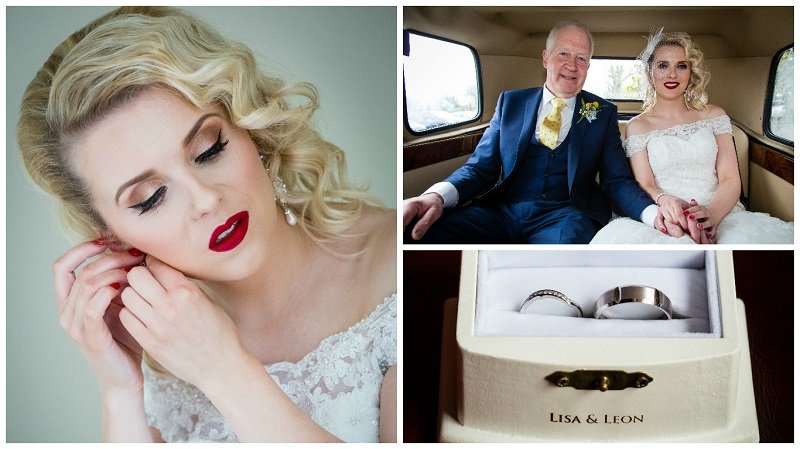 Wedding dress
Lisa wore a Mori Lee wedding dress from Bella's Brides, Toronto. "I fell in love with my dress online and called about 20 stores before I found a store that had it," Lisa recalls. "I made appointment with Bella's Brides and it was love at first sight – I just knew it was the one. I didn't want to take it off. I also bought my daughter's flower girl dress there."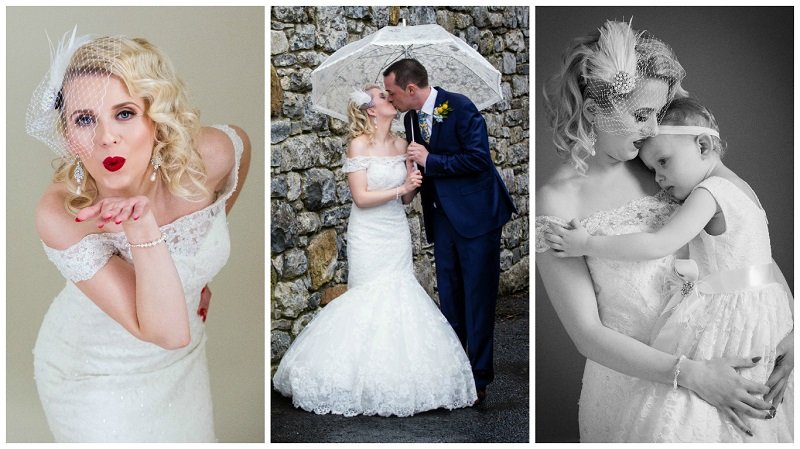 Groomswear
Leon got his navy blue suit custom made at Tom's in Toronto. He accessorised with a paisley print yellow and blue tie. The groomsmen and fathers' suits were from Galvins, Offaly. "Paul from Galvins is just amazing, he made it so easy planning from Toronto. He was speaking with Leon regularly and updated him as the men came in for fittings etc. and I would recommend Galvin's to everyone."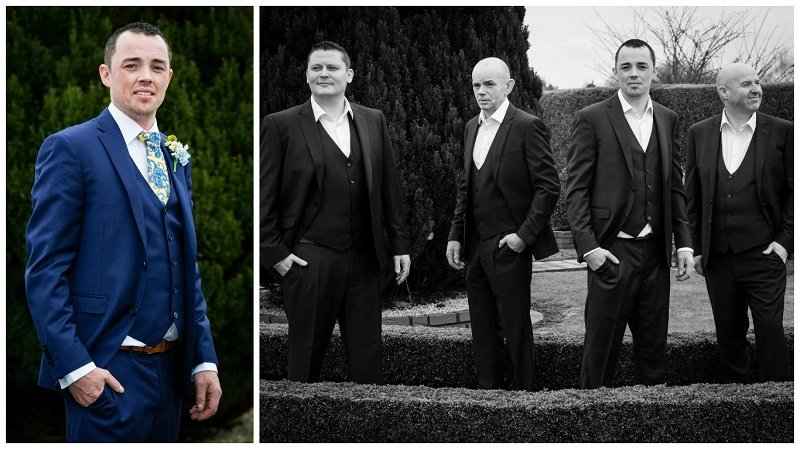 The bridesmaids
The bridesmaids wore cornflower blue dresses from Dessy.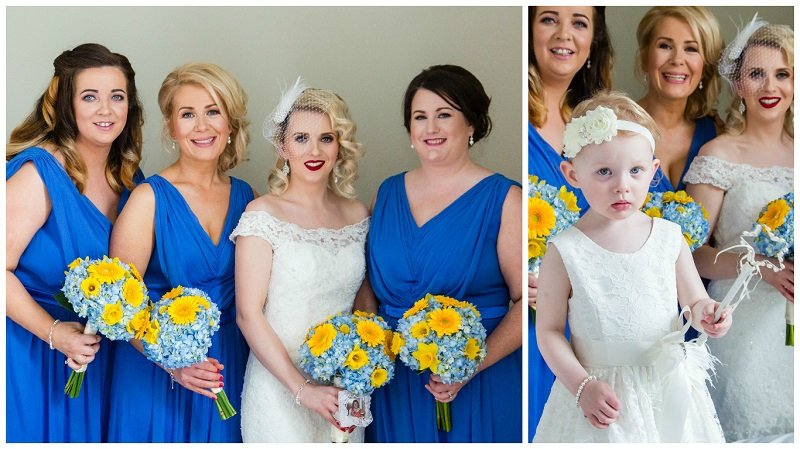 Wedding flowers
Noeleen from Green Fields Florist, Offaly created the wedding flowers. "Noeleen was incredible; she came up with some wonderful ideas and I could not have imagined anything more beautiful," Lisa enthuses. "They were better than I ever could have imagined and I was in awe when I walked into the church. The bridesmaids loved the bouquets. We used some daffodils from my father's garden and added them to the flowers on the day. My mother passed away a few years ago and daffodils were one of her favorites, so it was nice to bring her in through little touches on the day."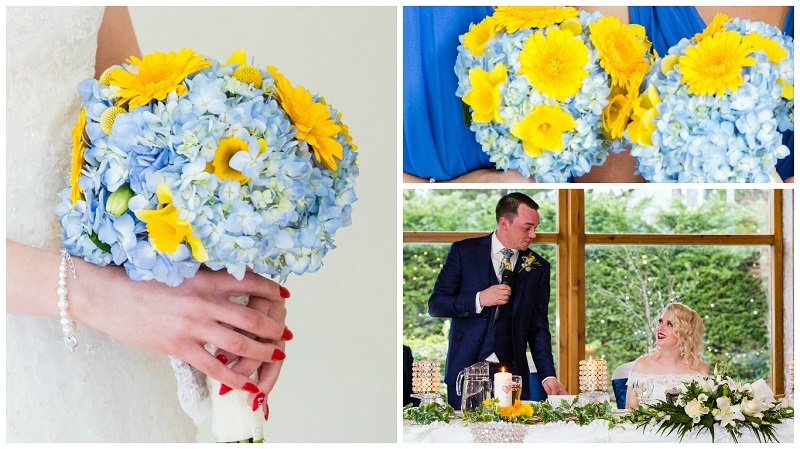 Wedding cake
Lynne Gorman who is based in Tullamore created the wedding cake and cupcakes, which were decorated with Canadian flags and a bird topper from Etsy.com.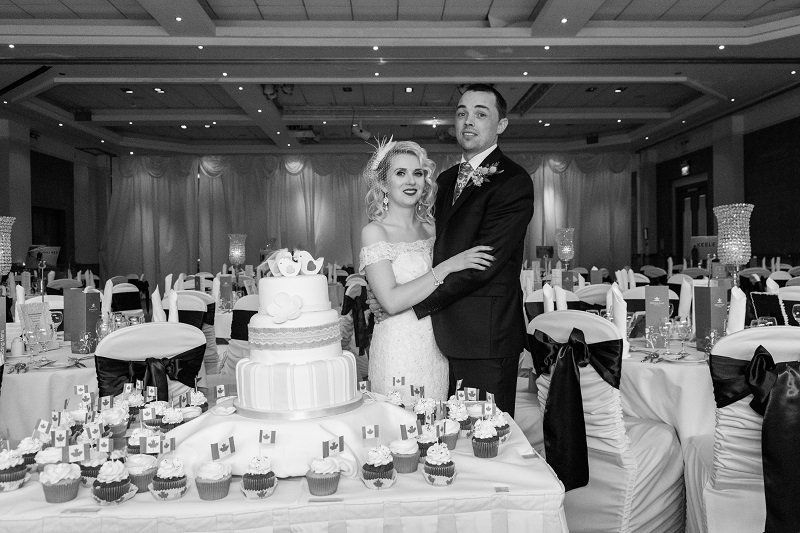 Favourite moment
Liam: "My favourite moment on the day would have to be seeing Lisa at the top of the aisle and giving her a hug. We had waited a long time for this moment and it was incredible to just take a moment to soak it on in."
Lisa: "The ceremony was so beautiful. Fr. Tom really did a wonderful job, it was very personal, I grew up in that town so that church has always been part of life. I also really enjoyed sitting down to dinner and just looking out at all our guests. Living abroad means it can be very hard to see family and friends. It was just amazing to have all the people we love under one roof."