American football player DeAngelo Williams and wife stage out of this world Walking Dead wedding shoot.
Pittsburgh Steelers running back, DeAngelo Williams had always wanted to do a Walking Dead style engagement shoot with himself and wife to be Risalyn being chased by zombies. Regrettably, DeAngelo was unable to fulfil his dream wedding shoot due to the timing of tying the knot during the NFL season.
However, the Walking Dead obsessed star didn't forget the idea and worked with ESPN to put together a photo-shoot and video of the wedding party re-enacting zombie scenes from the Walking Dead.
A huge fan of the television programme, DeAngelo playfully expresses his hopes on Twitter that perhaps he'll be asked to do a cameo on the show now. He also goes on to say, that even if you don't care for the TV series, you'll love his Walking Dead wedding.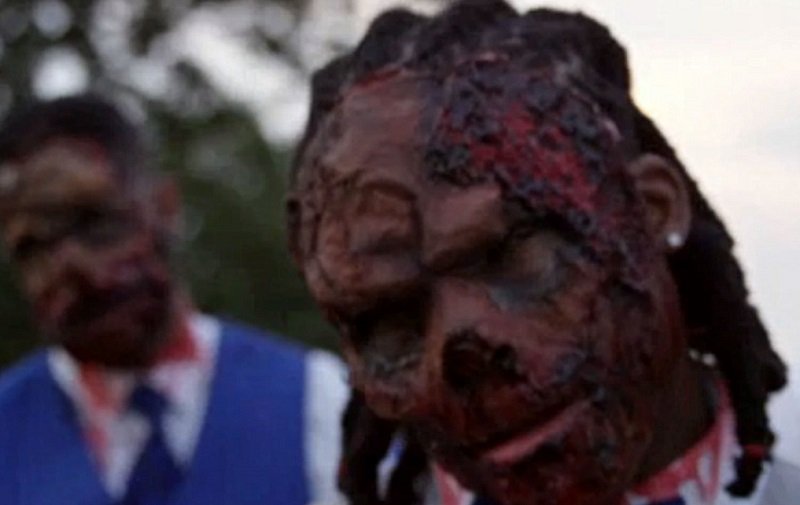 Dressed in all of their finery, the wedding party use heathy prosthetics and professional make-up artists to transform themselves into a wedding fit for the hit TV show the Walking Dead.
The video shows the entire wedding party, including a zombie vicar being trapped in a staircase and then being chased with the bride and groom fleeing in the lead.
DeAngelo describes the festivities as,
The whole entire wedding party are walking dead zombies and we get an opportunity to flex our Walking Dead muscle.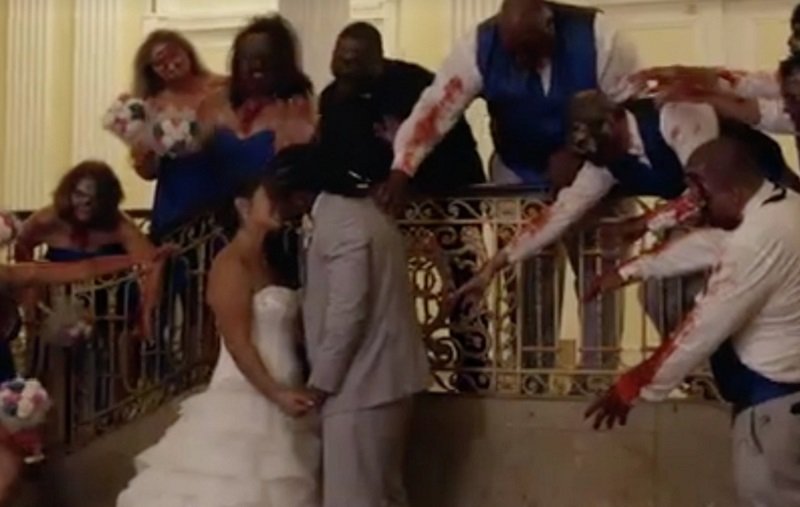 Speaking to the camera whilst wearing her wedding dress and Walking Dead inspired mask, wife Risalyn Williams explains that convincing her was not a problem, it was the bridesmaids that DeAngelo had to work hard to persuade.
In the end DeAngelo proclaimed they had to do it,
because they're bridesmaids.
In the video DeAngelo talks about the photoshoot being a 'dream come true' and memorably says,
What makes it even more magical is not only did I become a walker, I became a husband and inherited a beautiful wife.