Chantilly lace was the dream behind the Louise Kennedy 2015 Bridal collection….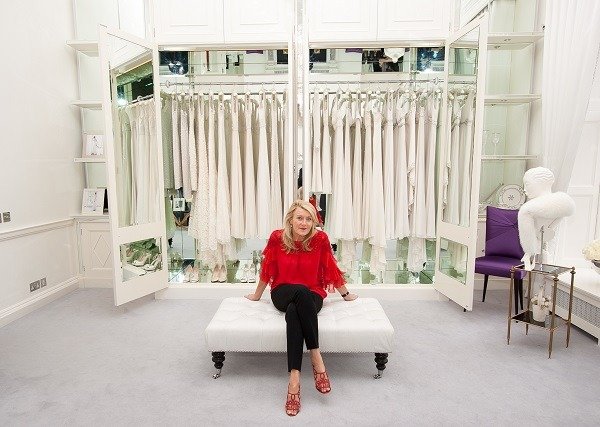 Louise Kennedy's 2015 Bridal Collection sees the introduction of 10 new bridal gowns with a distinctive offering for the discerning bride.
The wedding dress designer delivers a robust yet refined assortment of options that appeal to brides with an appreciation of modern elegance embodied within a classic design. The 'Poppy' fine lace bridal gown (€5995) with scalloped neckline represents this inspiration in one single style.
"The collection was inspired by the timeless elegance of the 30s" says Kennedy of her most recent bridal collection.
Drawing inspiration from this memorable era, the latest collection features fine lace hand appliquéd with floral embroidered details delicately encrusted with Swarovski crystal embellishment. No other gown exemplifies this more than the classic yet refreshingly contemporary 'Zarah' ivory silk lace bridal gown (€5995) with Swarovski encrusted v-neckline. The gown is constructed in two parts, featuring a delicately embellished fine lace upper bodice and lower pleated skirt, composed of pure silk georgette, each panel is intricately adorned with finely encrusted bugle beadwork, it is the perfect atonement to modern elegance embodied within a quintessentially classic style.
Another is the 'Karlie' silk bridal gown with Swarovski encrusted upper basque (€3995) striking the perfect balance between old and new, another feature point of this bridal collection.
Echoing the truly bespoke nature of the service, Louise Kennedy takes on a completely individual approach to each gown, joining the bride on a journey to create something truly special. "Irish brides are very discerning and when they attend their first appointment they have done their research and know what is available" says Kennedy.
In response, the Bridal Room at 56 Merrion Square offers a uniquely bespoke service tailored to suit the needs of every bride with an appreciation for timeless silhouettes that have been exquisitely crafted. Louise and her team understand their market which ensures this collection remains classic yet non-traditional. The "Sissi" silk georgette bridal gown with pearl starburst encrusted bodice (€3995) is the perfect example of Kennedy's approach to the needs of the modern bride who appreciates such exquisite craftsmanship and effortless style.
The Louise Kennedy Bridal experience can extend to other areas of the bridal trousseau.
Louise and her team are  also on hand to create and select looks for the bridesmaids, brides family and grooms family where the same dedication and attention to detail extends to ensure a personalised approach is provided to  all parties where required for this special day.
For Louise Kennedy, the focus has been classic yet contemporary, the approach remains personal and the service is bespoke to meet the demands of the discerning bride in search of sophisticated, elegant, timeless shapes that adhere to the highest standards of luxury craftsmanship.
Stockists: Louise Kennedy, 56 Merrion Square, Dublin 2 Ph: 01 662 0056 www.louisekennedy.com