Keith and Lisa Duffy celebrate 17 years of marriage with throwback 90's pics.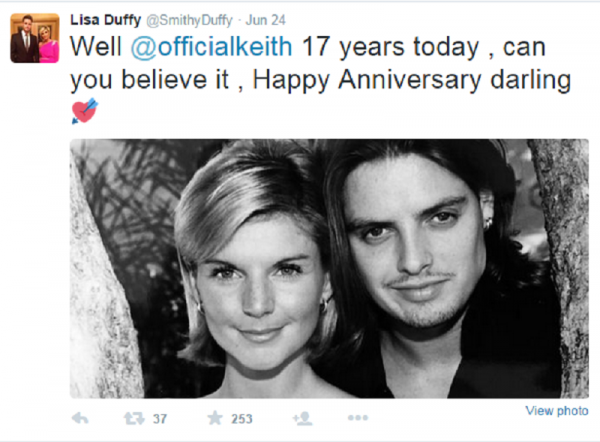 Coronation street actor Keith Tweeted a photo taken of the pair when they first started dating in which he is wearing a maroon shiny shirt, high-waisted trousers and his hair is slicked back in a ponytail. Lisa Tweeted a black and white photo from the nineties with the message:
Well @officialkeith 17 years today , can you believe it , Happy Anniversary darling."
Commenting on his long hair the Irish celebrity said he looked like Jennifer Aniston at the time and replied:
I'm like the fecking long haired lover from Liverpool."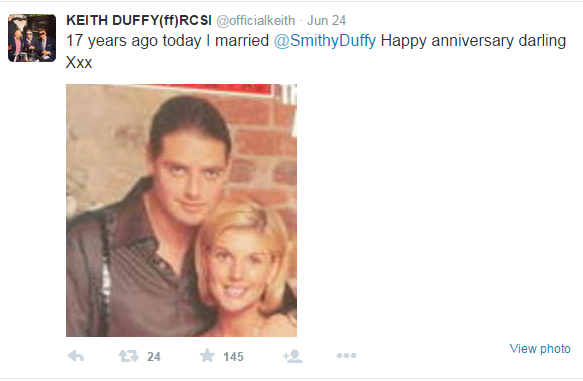 The couple first met over two decades ago when Lisa was working for a clothes shop in The Westbury Hotel in Dublin, and Keith was a budding architect dreaming of making it big with up-and-coming Irish boyband Boyzone. Initially Lisa wasn't attracted to Keith and even tried to set him up with a friend of hers – that was until he literally swept her off her feet one night. Keith spotted Lisa in a nightclub, came over, picked her up and spun her around.
In 1998 the couple married abroad in secret in the same Las Vegas chapel where Elvis Presley married Piscilla, and went on to have two children – Mia aged 14, and 18 year old Jay who is following in his father's footsteps by pursing an acting career. The pair are considered to be a rock solid couple despite going through tough times in the past, such as when they were told their daughter was on the autistic spectrum and may never talk.
The happy couple say the secret to their happy marriage is having a high level of trust, laughing together, and having the common bond of their children.
Featured Image- Mirror.co.uk