Justin Timberlake attended a friend's wedding and surprised the newlywed brides by serenading them
Justin Timberlake and his wife Jessical Biel attended a wedding of Jessica's old university friends Dana Panzer and Amy Wicker. The nuptials followed the US Supreme Court's landmark decision on Friday to legalise gay marriage.
Excited wedding guest shared snaps on Instagram of Justin performing and posing for photos with the shocked newlyweds who were thrilled by the surprise concert. Justin sang 2002 hit Señorita and played the keyboard, adding in impromptu lyrics:
Imma start something, and all the fellas gonna look at the ladies, who just got married tonight. And all the ladies gonna look at the ladies, you know what I'm saying."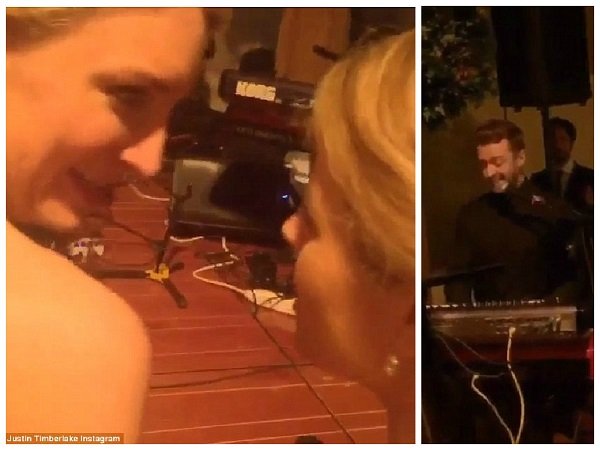 The guests cheered and clapped and the two brides wearing white wedding dresses looking adoringly at each other as Justin went on to sing Papa's Got a Brand New Bag. A wedding guest posted on Instagram:
@kimmystolz and then this happened justin giving a shout out to the lesbians, you know, again nbd. @wickywickerton@dmpanzer#amylovesdana#justintimberlake@justintimberlake#gaypride"
Another delighted guest said:
Justin really let loose and he started dancing in the middle of the wedding circle having an amazing time dancing to this great band.

Then Justin decided he wanted to put on a little concert for the two brides and he jumped on the stage. It was awesome and so special for the brides and all the guests who were so impressed!"
New parents Justin and Jessica left two month old baby Silas with a childminder to enjoy a weekend break. Proud dad Justin regularly posts photos of Silas such as this recently shared snap of him holding baby Silas wearing an 'I love Dad' baby grow – how cute!
Featured image photo credit: justintimberlake Instagram, bri_lownes Instagram Daily Mail