The Winter issue of Ireland's Wedding Journal is out now!
Want to read Wedding Journal on-the-go? Download the digital version from the iTunes store for instant access to all issues of Wedding Journal on your phone or tablet right here
In this issue:
Inside the new Winter issue of Ireland's Wedding Journal you'll find an exclusive 48-page RECEPTION PLANNER which offers everything needed to organise the ultimate wedding party. From venue suggestions, to styling, food and drink ideas and of course, entertainment, it's all covered here.
With lots of features aimed at inspiring brides to bring their own personality to their wedding day, we also share the wedding days of three Irish newlyweds who certainly brought their own unique slant to such a special day. As for brides wondering what to wear then our 2018 DRESS TRENDS are perfect for helping you find the perfect, aisle-worthy gown! Last, but not least we look at different honeymoon options; whether a cruise in Iceland, a once in a lifetime adventure in South Africa or an idyllic beach resort – there's everything to plan the perfect wedding from start to finish!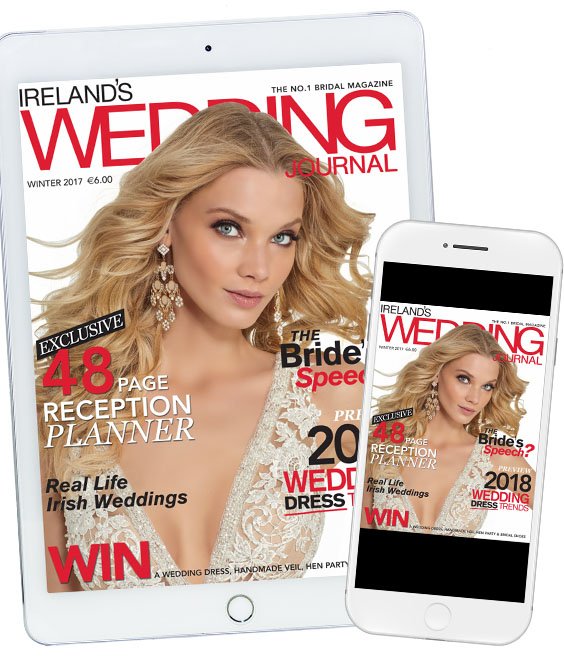 ABOUT
Ireland's No.1 bridal magazine, Wedding Journal has been helping brides-to-be plan their perfect wedding since it was successfully launched back in 1996.
Firmly positioned as Ireland's most popular wedding magazine, with an ABC-audited circulation of 14,064, the magazine boasts a readership figure of over 80,000.
Published quarterly, Wedding Journal is sold in newsagents and supermarkets across the north and south of Ireland and has won a number of awards for its strong local content, stylish fashion shoots, informative articles and award winning design.
Covering all aspects of the modern Irish wedding, Wedding Journal is essential reading for every bride-to-be with information and advice on planning the perfect day with suggestions for wedding venues, wedding dresses, bridal beauty, entertainment, wedding gift lists, honeymoons, competitions and so much more.
This quality editorial is supported by advertising from the leading names in the industry including Debenhams, Galgorm Resort & Spa, Justin Alexander, Watters and Dessy, alongside local boutiques and Ireland's leading wedding suppliers.Our winter issue is a seasonal special, packed with bridal fashion, 2018 wedding trend reports, local weddings, honeymoon locations, beauty advice and planning articles, dream gowns…in fact, everything a bride-to-be needs to plan her perfect wedding day.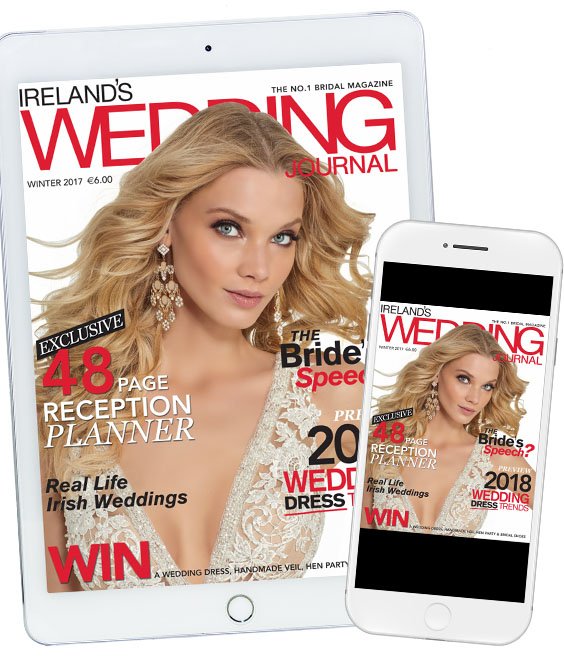 Subscribe to:

Why You Must Subscribe:
Enjoy FREE delivery to your door every issue.
Get Wedding Journal before it hits the shops.
Four print issues for £30/€35 PLUS FREE digital editions worth £9.99/€12.