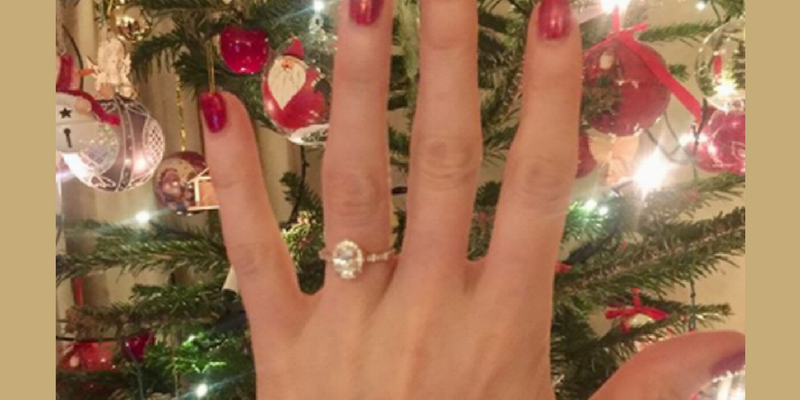 Fair City's Aoibheann McCaul Shows Off Engagement Ring!
Irish soap actress Aoibheann McCaul has taken to social media to share her engagement ring from her romantic pre-Christmas proposal, and it is gorgeous!
The 'Fair City' actress is engaged to Meath GAA star Brian Farrell, who has also been the financial controller for the Clayton Hotel over the past five years.
Aoibheann took to Instagram to share her incredibly thoughtful proposal a few weeks back, which consisted of a jigsaw puzzle of the couples photographs, with the words 'will you marry me?' etched across it! She captioned the photo: "So this lunatic gave me a jigsaw a few weeks ago and I said yes!!"
In a multi-photo Instagram post, the 31-year-old reminisced on all that happened over 2017, and said that getting engaged in Sri Lanka was the biggest highlight of the year for her. She also offered some handy advice on ring shopping for all those brides-to-be! Showing off her gold sparkler in front of her Christmas tree, Aoibheann captioned the photos:
"#instagram didn't really get my highlights of 2017. Getting proposed to in #srilanka was the biggest shock, and also the best part of my year! 2018 is going to be an insane year I never expected, but I can't wait for it! Apart from all the planning, as an incredibly indecisive individual… I love my ring, may I love all the rest as much! TIPS for anyone who got a token ring 💍💍💍 Christmas: 💎Choosing a ring is not as easy as you would think! I didn't go with what I thought I wanted – but you will fall in love with one!! (Kind I'd like the partner hunt!) I have to recommend the service from Martin Commins in @bespokediamonds So relaxed, so many options and an enjoyable experience, which took the stress and pressure away! #engaged #engagementring #wedding #rosegold💎Take videos to remind you / help you choose because you can't capture the rings at all through photos! #ring #sparkle #diamond #bespoke"
Recommending Martin Cummins from @bespokediamonds, the newly engaged star recommends that you take a video of your new ring to truly capture the sparkle and to keep an open mind when going to chose your ideal ring (if you geta choice that is). Brides, take note!
We're sure Aoibheann and Brian will have their hands full with all the future wedding planning- congratulations to the happy couple!
Set Featured Image Credit: @aoibheann_mccaul Instagram