Wedding Journal Show
Running successfully for 22 years, The Wedding Journal Show attracts 10,000 people to each event, creating a unique opportunity for businesses to connect the target audience of ABC1 women aged 25-45 who are getting married.
The Wedding Journal Show provides an exciting  platform for your company, products and services to engage with couples, hungry to spend the budget of a lifetime on their dream day.
What our exhibitors say
"The Wedding Journal Show is a landmark part of our B2C domestic sales calendar. The quality of the space, and the volume of visitors are unmatched on this Island and I can't wait to join the team again"
David, David Meade Events
"It was the best show that we had to date, it was extremely well run, the organisers were very approachable and friendly. We will gladly return as the level of enquires has increased tenfold"
John, Chic Events
"Thank you and your wonderful team for an incredible show. As always everything was so well organised with a great atmosphere over the whole weekend and we thoroughly enjoyed it!"
Carmel, The Wedding Shop

Honeymoon & Destination Pavilion
– 92% of couples will go on honeymoon
– Meet face–to face with couples who want advice on wedding destinations and are keen spend their budget of a lifetime
– 72% of couples who attend the show have not booked their honeymoon yet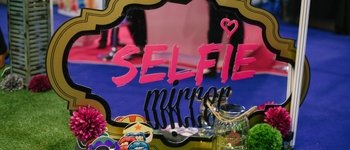 Alternative Wedding Village
-Hugely popular with couples who are looking for something different
– 92% of attendees to the Wedding Journal Show are looking for new products and services
– Featuring unusual wedding services and products from hand-picked suppliers

Catwalk Show
-Have your dresses seen by an audience of thousands!
– Collections showcased by international model-dancers
– Receive a free video of your scene for social media sharing
– Engaged and captive audience

Bridal Boulevard
– Reserve a spot to showcase your dresses in an intimate setting
– Hugely popular for both brides and bridesmaids dresses
– Available at the Belfast show only
Our marketing campaign & marketing support for you
The Wedding Journal Show is supported by a huge marketing and advertising campaign including online, TV, radio & print.
Our marketing campaign delivers for your business on all levels, guaranteeing the maximum possible attendance. We are passionate about creating the ultimate experience for exhibitors, sponsors and visitors.
Each show is supported by an extensive marketing and advertising campaign that includes:
Promote the Wedding Journal Show on social media!
Download Facebook sharing images for the show