Are you currently planning your honeymoon? With so many beautiful locations and exclusive resorts across the world, choosing a honeymoon can be a daunting task, particularly when it's supposed to be the most memorable trip of your life!
However, there's one destination that springs to everyone's mind when honeymoon planning commences- The Maldives. These stunning islands in the Indian Ocean have been a hugely popular honeymoon destination for decades, but what is all the fuss about we hear you ask?!
Here, we look into why the Maldives has become one of the most sough-after honeymoon destinations and everything you need to know about this little slice of paradise. Here are our top five reasons why this stunning tropical country has become a hot-topic in the world of honeymoons…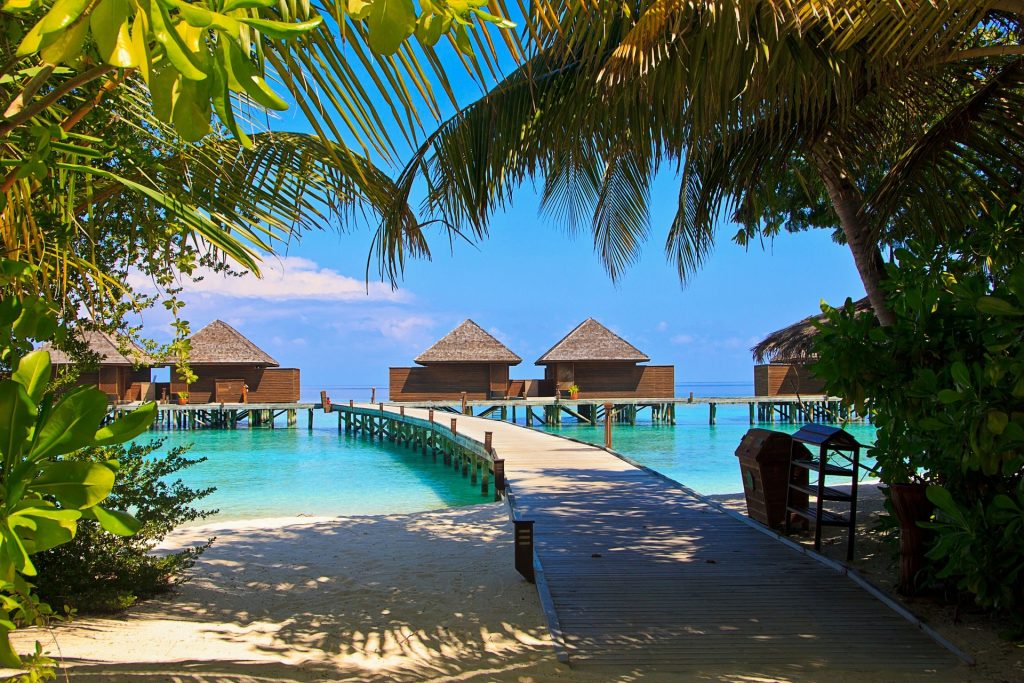 Made up of 26 ring-shaped atolls with hundreds of coral islands in the Indian Ocean, the Maldives is a haven for anyone whose idea of paradise is crystal clear waters, white sandy palm-fringed beaches and sunshine.  Unwind after the stresses of wedding planning in this tropical oasis- think beachside sunbathing, cocktail in hand and dining barefoot on the beach whilst watching the sunset across the vast blue sea.
The resorts in the Maldives are second to none, and many are known to be some of the most luxurious accommodation providers in the world. The Maldives is synonymous with their over-water bungalows, and you will find these in almost every resort! With open access to the ocean in your own private villa, you can avail of panoramic views across the ocean, and in many cases you will even have your own private pool, sun lounging terrace and Jacuzzi! If you're on a budget – not to worry you can still find out what true luxury means by staying in an exclusive beach villa.
Although the Maldives is a popular place for honeymooners and tourists alike, you can still experience pure seclusion, peace and tranquillity on one of the 1000's of islands. Only about 200 of the 1,200 islands are inhabited, making Maldives a honeymooner's heaven and guaranteed relaxation. You can truly escape the stresses of everyday life in this tropical paradise, and is a great place for a digital detox too! Without the hustle-bustle of distracting tourists, here you can truly enjoy not just the flawless beauty of nature but also each other's undisturbed company. So why not escape reality and enjoy the intimate and romantic getaway you deserve.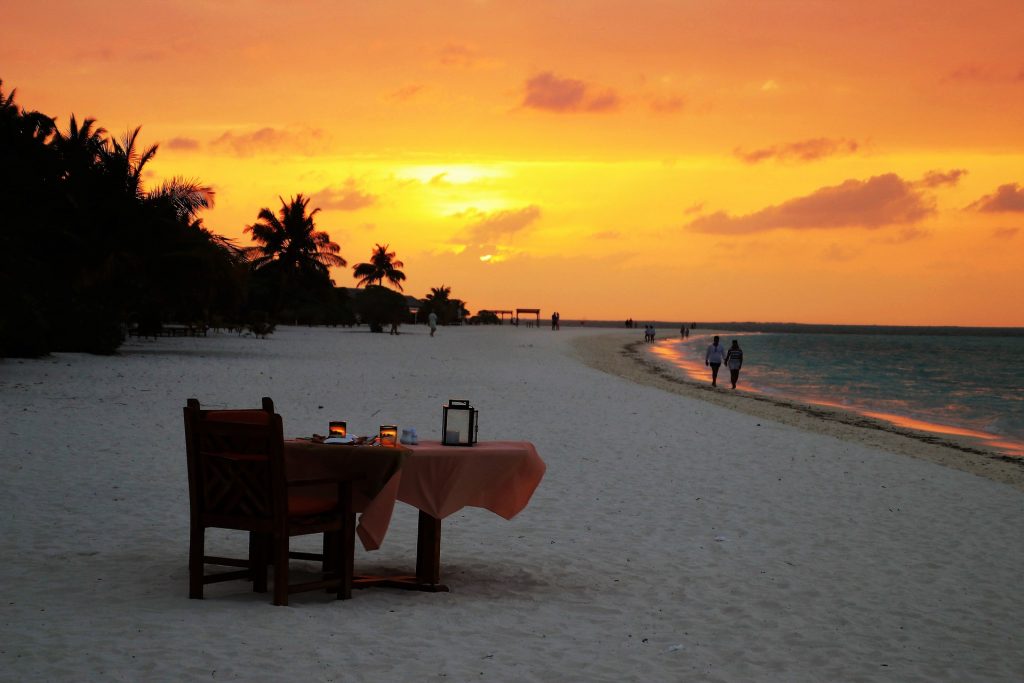 What better way to enter married life than to retreat to the paradise islands in the Maldives. Everything in these resorts is geared towards romance, ensuring you have the most memorable honeymoon possible. Think of a deserted island beach at sunset, strewn with candles and flowers whilst dining and sipping on champagne under a blanket of stars – just one example of the private romantic dinner packages that many resorts offer.
The Maldives is a world-renowned scuba diving destination, and there's no better place to try it as a novice – the waters are warm, crystal clear and abundantly full of colour and life. A new shared experience such as scuba diving, to explore the rich marine life will create lasting memories together, whilst the possibility of a new hobby to share emerges! Other worldly experiences in the Maldives include dolphin watching and relaxing in world-class spas. Spellbinding treatments for couples in stunning surroundings with the sound of the ocean in the background will delight the senses and bring together mind, body and soul.