This lady has the most adorable reaction to two strangers getting engaged
When Jessica Rodriguez decided to propose to her girlfriend Chelsea Miller she had no idea that a picture of her popping the question would go viral.
Posting a snap to Instagram of herself getting down on one knee, Jessica said;
Baby I lied, there's no gala. I brought you here because of our love for art. We enjoy travelling to museums, having artsy dates and even showcasing art about our baby in our own home. If someone could describe our love it could only be done through a work of art. It is happy, fun, chaotic, inspiring and strong. I want to keep discovering art for the rest of my life by your side. Chelsea Miller, will you marry me?
The couple's friends were holding a sign above the balcony with the message 'Chelsea Miller, will you marry me?'
Their story quickly went viral and not just because it was an adorable proposal or because of the amazing ring Jessica picked out for Chelsea but because of the overjoyed reaction of an onlooker in the background.
My sister proposed to her GF today and look at that older woman's reaction pic.twitter.com/ifFl3mJNAr

— Carlos🖤Shook (@AreYouShook) December 18, 2016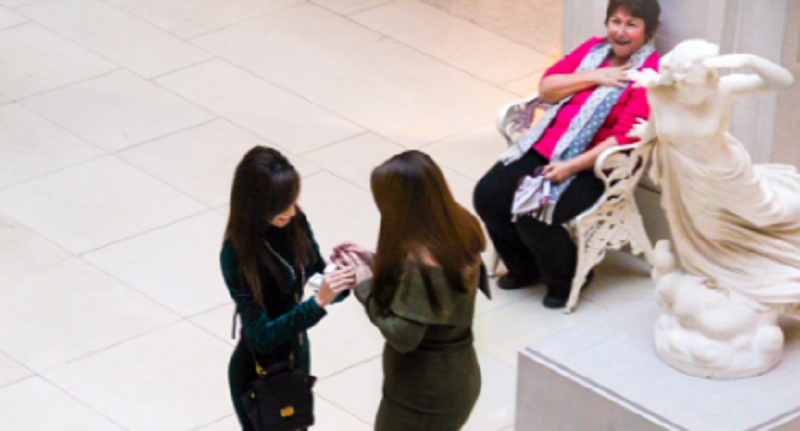 Jessica's brother Carlos posted the snap to Twitter saying,
My sister proposed to her GF today and look at this older woman's reaction.
The wedding party were so nervous that they didn't see the lady in the photograph until they got home.
Speaking to News.com.au Jessica said,
We were so nervous. We were going over the photos my friend Ed Sanchez took (and) we discovered that gem with her sweet reaction. It really made that photo even more special.
The wedding date is set for June 30th 2018!
Featured image: Jess Rodrigurez Instagram