A kind-hearted bridesmaid jumped into a lake on her friend's wedding day to do a good deed
Bride and groom Hannah West and Mark Jefferies were posing for their wedding photos with their bridal party when suddenly their bridesmaid Faye West went running on a nearby lake.
The kind-hearted maid had spotted a baby bird in need of saving. A gosling had been whisked away from it's mum by a large swan that was attempting to drown the baby goose. Faye ran into the lake, scared the swan away and saved the little guy.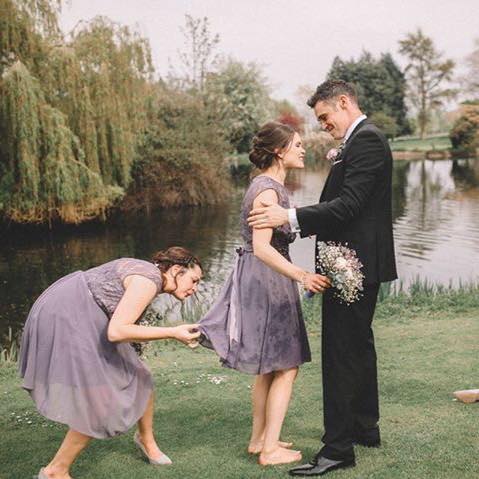 The wedding photographer Rosie Hardy captured the dramatic rescue mission and shared the images on social media with the caption:
Shot my first wedding wedding of the spring yesterday with Adam Bird supporting, knew it was gonna be difficult with everything going on. Didn't, however, expect a bridesmaid to jump into the lake mid-formals to save a baby gosling being stolen from it's parents and drowned by a big black nasty swan! Faith in humanity: restored. What a hero!"
The post attached lots of attention with people congratulating the bridesmaid, to which Faye replied:
Thank you so much Rosie Hardy, I'm so pleased you managed to capture this. I don't think I will ever live this down."
Featured image credit: Rosie Hardy, Facebook