Bride Leah Rice plans Harry Potter themed wedding despite the groom never having read the books.
Bride-to-be Leah reconnected with childhood crush Dax after a local funeral when she offered him a shoulder to cry on. Soon the couple from Burton were an item and it wasn't long before Dax got down on one knee on Boxing Day. Leah had always known she wanted a Harry Potter themed wedding since first reading the popular series in 1998, however Dax had not watched any of the films, or read any of the books.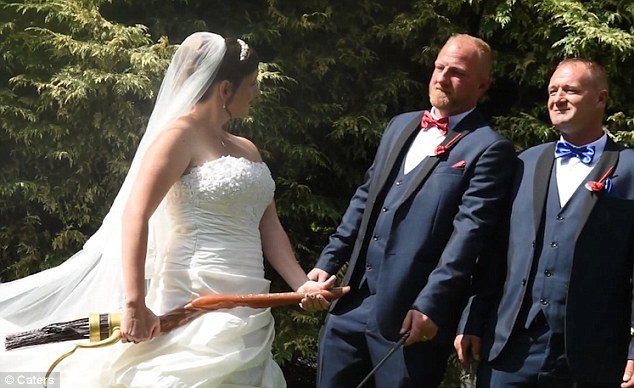 The couple jumped into wedding planning straight away, with Dax initially shooting down the Harry Potter themed wedding idea. This didn't stop Leah, who kept adding wizarding touches to the big day.
Speaking to Caters Clips Dax explains,
I said no for ages but she kept doing stuff so I had no choice really. I was worried it would be really gothic but it wasn't. You're only supposed to get married once so you're supposed to make it memorable.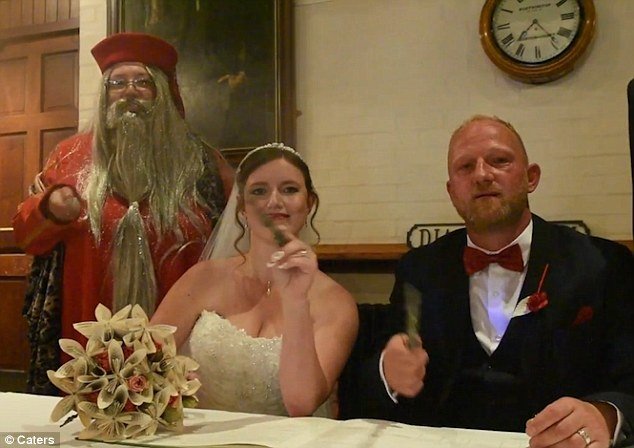 Leah spent £10,000 recreating a magical atmosphere, with an owl ring bearer and bridesmaids on broomsticks. Their chosen venue, The National Brewery Centre was selected for the giant steam engine outside which bears a striking resemblance to the Hogwarts Express.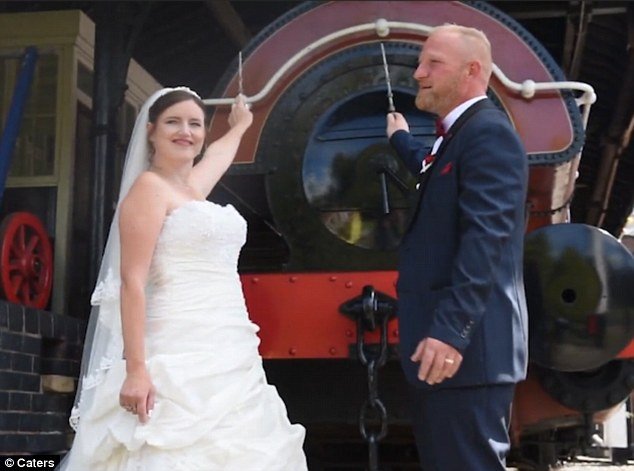 Organising most of the wedding herself, Leah dressed each bridesmaid in Hogwarts house colours and opted for bouquets and boutonnieres made from pages of the spell binding series.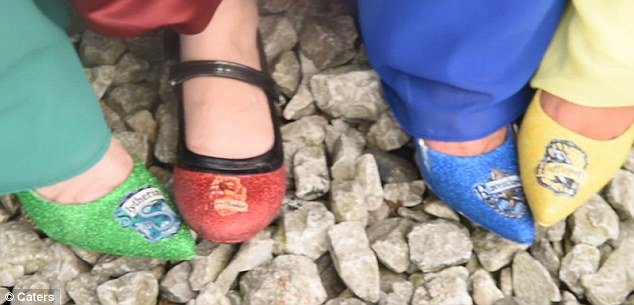 The bride added lots of themed touches to the day including, a 'sorting hat' table plan, Ford Anglica cars to transport the bridal party and centrepieces made from birdcages, quidditch sets and potion bottles.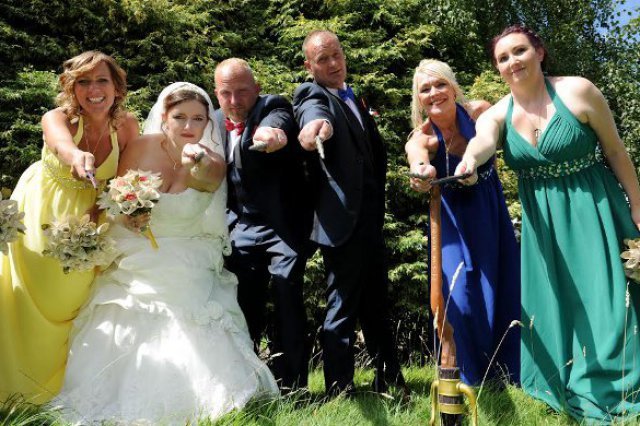 Leah's sister, Jo surprised even the bride, when she arrived at the venue dressed as Dumbledore to walk her down the aisle.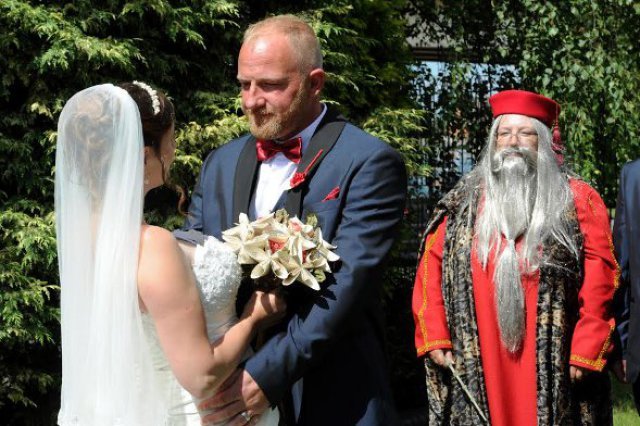 Speaking on camera the bride says,
It's not Harry Potter, it's the whole magical thing…..I'm such a collector of Harry Potter stuff and this wedding is a dream come true. I've got all the books in the first edition, every version of the movies, boxed figures and loads of games. I'm Harry Potter mad.
Groom Dax has put his foot down with the honeymoon though, insisting they go on a relaxing break to Mexico instead of Leah's dream honeymoon destination- Harry Potter World in Orlando.
Featured image credit- Leah Parker Facebook